Sundance Horse Stall Mat Kit Black 3/4 Inch x 10x12 Ft.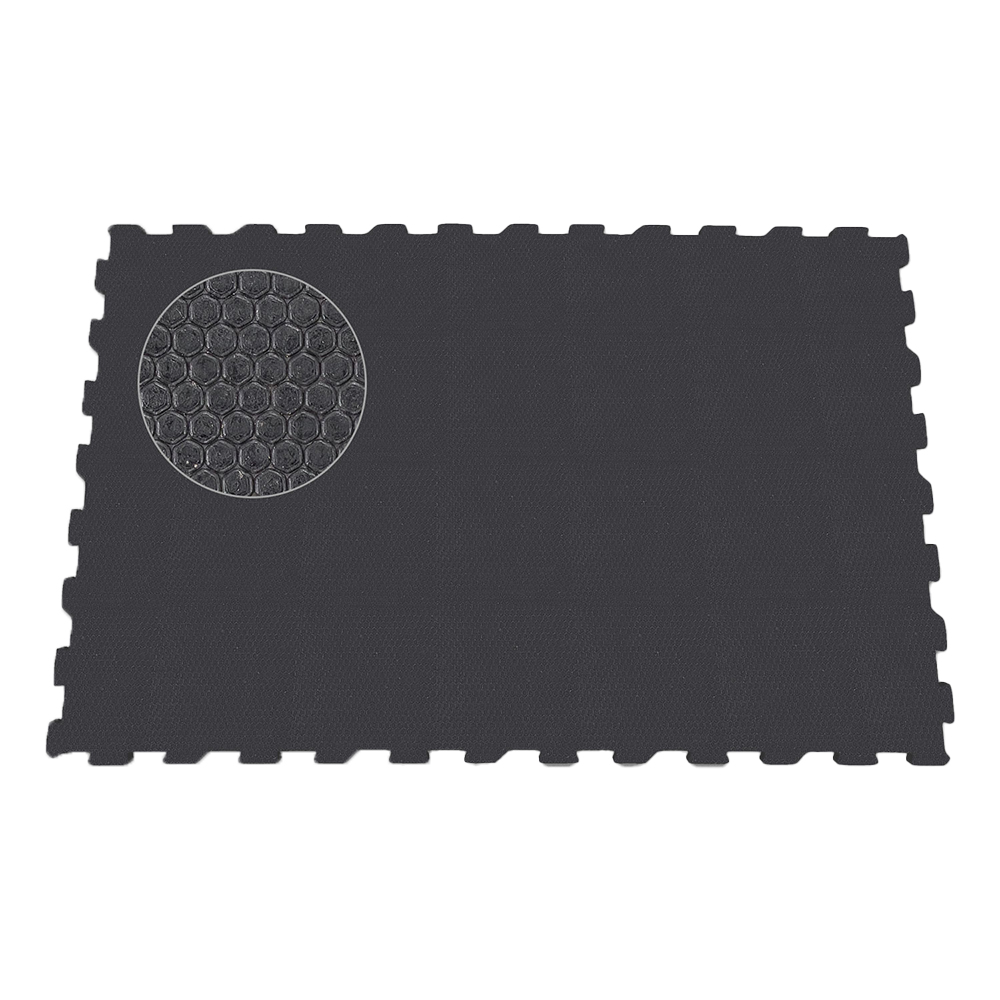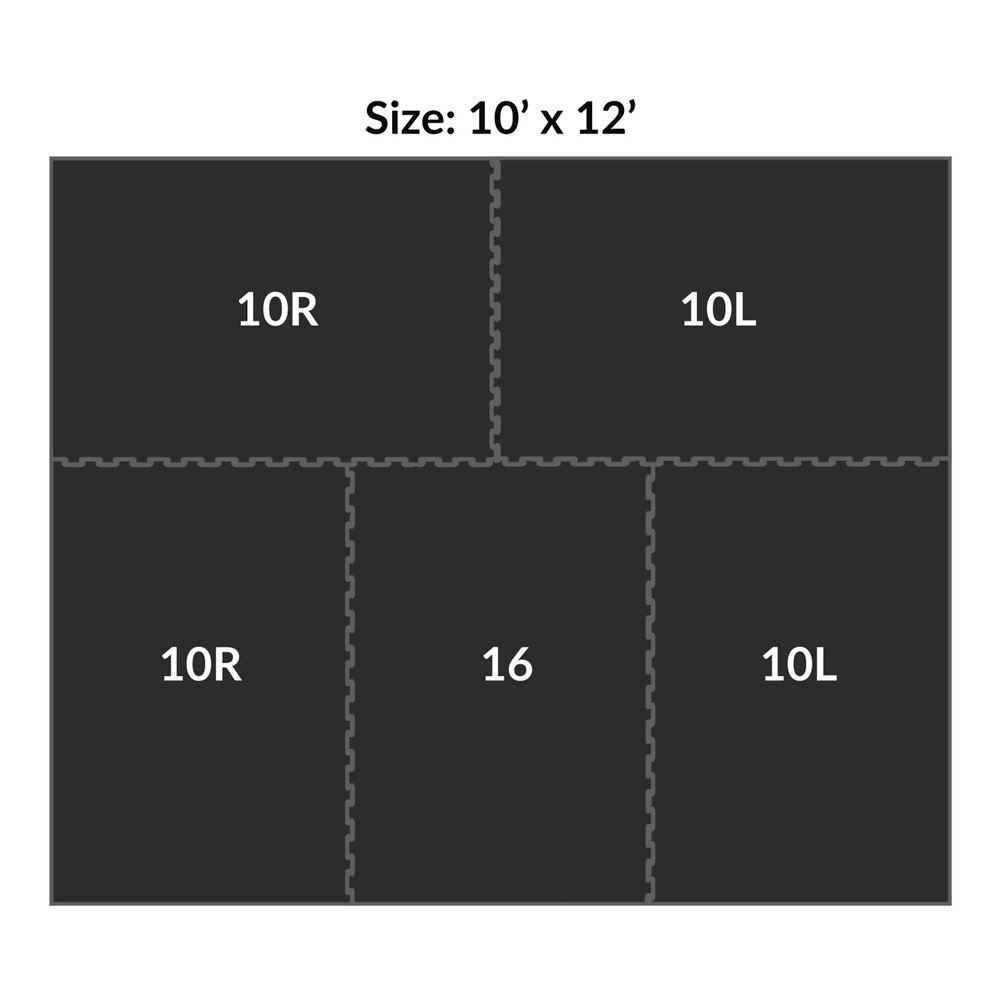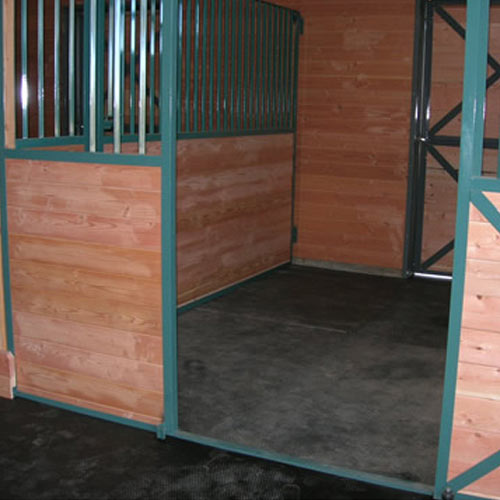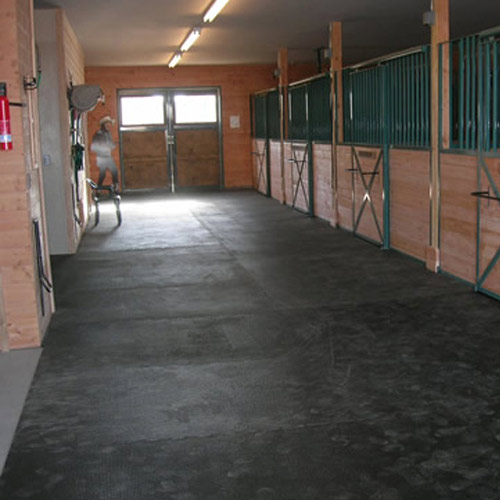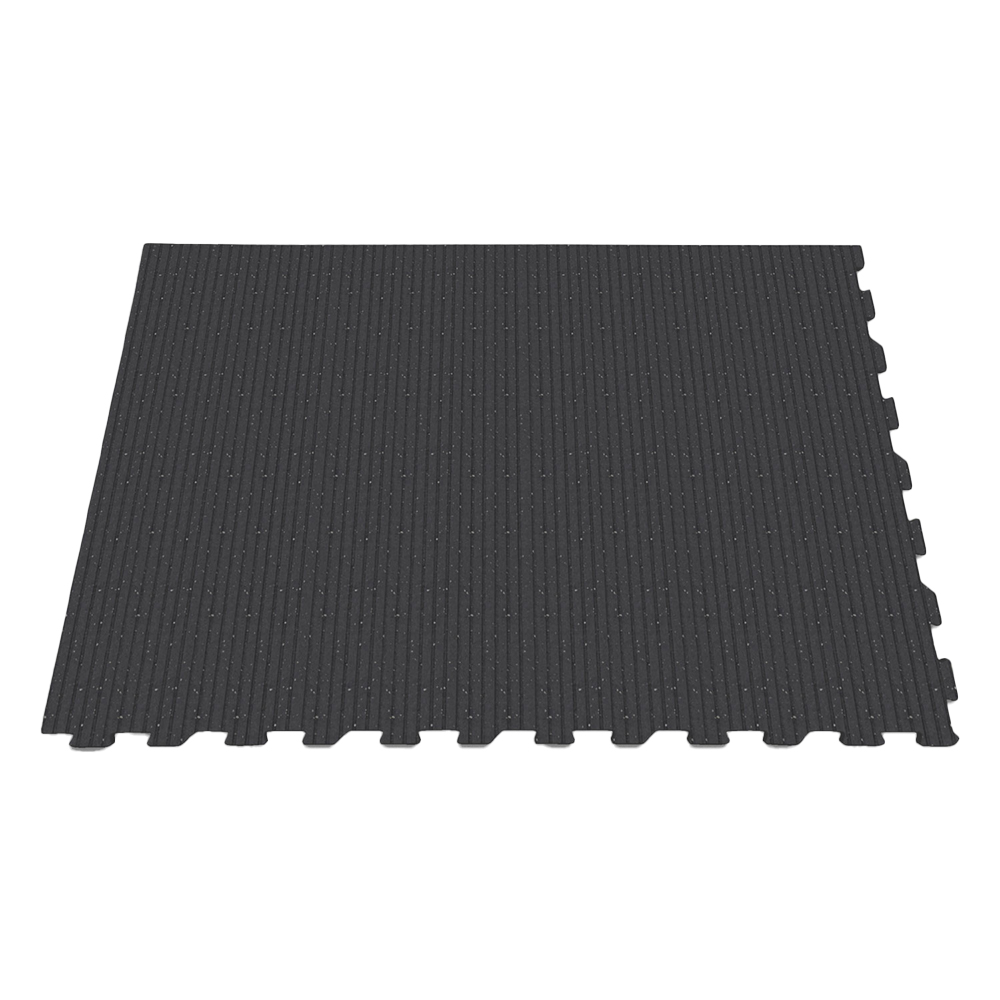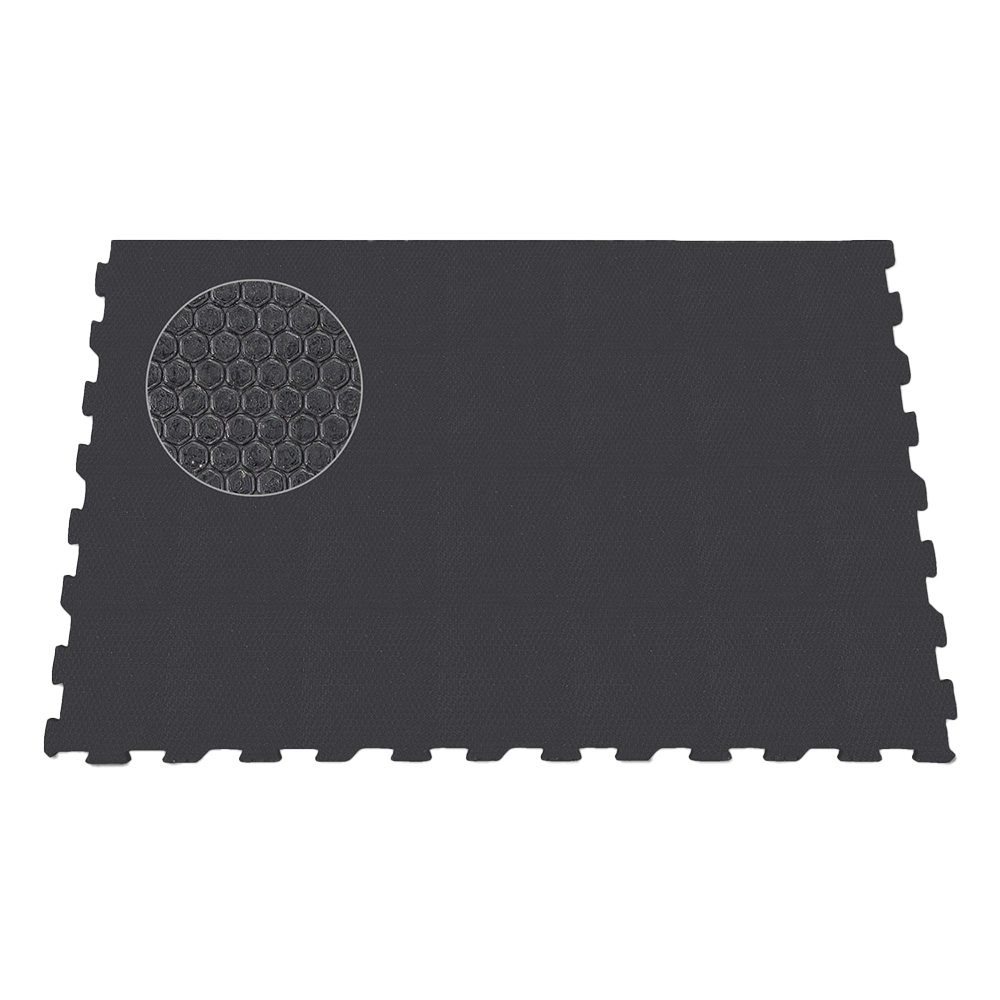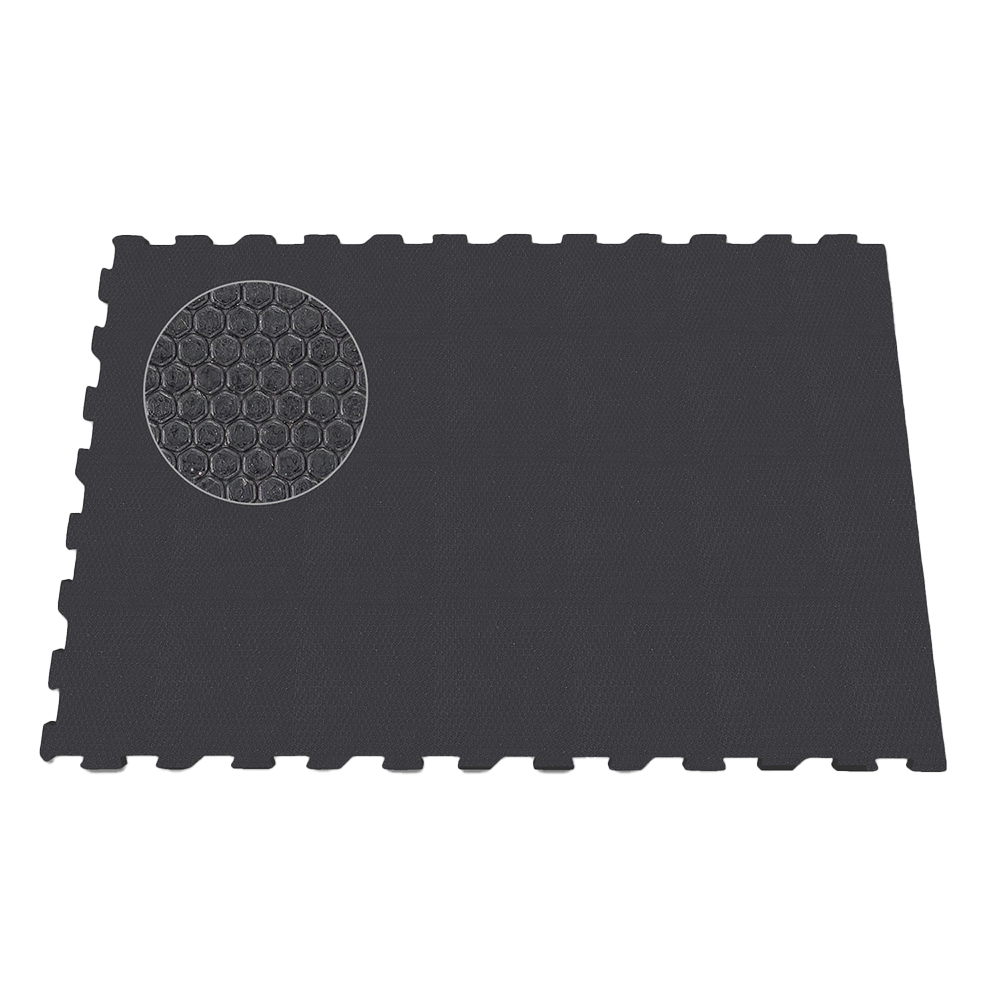 Affordable horse stall kits, custom sizes available
Made from 100% recycled rubber material
Kit includes five 4x6 ft interlocking mats
Handling Time Estimate: 3-4 Weeks on Average

Black
Affordable horse stall kits, custom sizes available
Made from 100% recycled rubber material
Kit includes five 4x6 ft interlocking mats
No adhesive needed
Hexagon surface texture
Long lasting rubber stall mats
Interlocking tiles makes for easy cleaning
Assembled size 9 ft 7 in x 11 ft 7 in
Horse Stall Mats, Stall Aisle Ways, Weight Rooms, Commercial Gym, Functional training, Fitness Center, Weightlifting, Gym Floors
NOTE: This item is a custom order and is not returnable.
Sundance Horse Stall Mat Kit Black 3/4 Inch - 10x12 Ft.
Super durable and affordable Sundance Horse Stall Mat Kit Black 3/4 Inch x 10x12 Ft. This rubber horse stall kit features the interlocking version of our very popular Sundance Mats straight edge 4x6 ft stall mat. Use this product for horse stalls, Cross Fitness gyms and weight rooms where the smell of rubber is not a concern indoors. The benefit of this rubber floor tile is the interlocking design, 3/4 inch thick durability and its affordable cost.

When looking to give a horse a more comfortable place to stand in a stall, 10x12 horse stall mats from Greatmats are the best option. Rather than leaving the horse standing on bare soil or on gravel, our rubber mat kit creates a space that has some cushioning and is easy to clean.

Some people will choose to install these mats in a gymnasium with free weights or in another location where they need cushioning against a hard subfloor. Rubber cuts down on unwanted noise generation and delivers anti-slip capabilities.
Size and Shape Options
When ordering our kit of 10x12 horse stall mats, you will receive five rubber mats that each measure 4x6 feet. When assembled, the five pieces will create the 10x12 rubber mat kit. (The actual finished coverage size is about 9 feet, 7 inches by 11 feet, 7 inches.)
Each mat has a 3/4 inch thickness measurement, ensuring the best results for supporting the weight of a horse. This extremely thick mat will not buckle or fold under the weight of a horse or of heavy exercise equipment in a gym, as long as the subfloor or the ground underneath the mats is sturdy and flat.
Because these 10x12 horse stall mats for sale are extremely heavy, Greatmats stocks them in several locations around the United States. The entire kit weighs 500 pounds, which would result in significant shipping costs if we did not ship from multiple locations, cutting down on the mileage between our warehouse and the customer. Our shipping locations include:
North Haven, Ct.

Atlanta, Ga.

LaGrange, Ky.

Orlando, Fla.

Denver, Colo.

Colton, Calif.
Material Options
Durable rubber is one of the best materials to use to support heavy items, such as a horse or exercise equipment. Rubber has significant durability, meaning it can stand up to tough conditions without showing wear and tear. These 10x12 horse stall mat kits carry a 10-year prorated manufacturer warranty.
These mats are made in Canada, which means customers can trust the quality of the rubber in use with the mats. They also can trust the manufacturing quality and tolerances, which ensures the mats do not have weak spots.
A cheap, poorly manufactured mat may have weaknesses in the design, potentially leading to cracks in the material or other failures when under the stress of significant amounts of weight. This product is made from 100% recycled rubber material.
Pattern and Texture Options
These black 10x12 horse stall mats make use of a hexagon-like top pattern across the top of the rubber material. This pattern offers added traction and grips to your flooring for people walking across the top of it.
Common Use Options
Although our 10x12 kit of horse stall mats works especially well for an installation inside a horse stall in a barn, customers can use this kit in a wide range of areas.
Make this kit into a 10x12 gym mat when you want to convert an old bedroom into a weightlifting area at home. The 3/4 inches of thickness in the mats is perfect for protecting the subfloor from dropped barbells and other heavyweights.
Another option for use in a gym is to place this rubber mat kit underneath stationary bicycles for a spin class or to use them underneath a series of treadmills. Rubber cuts down on noise from these machines, while also holding the machines in place with the grippy surface texture.
Installation Options
Each of the individual 4x6 mats in the kit has a mixture of interlocking edges and flat edges. To create the final layout, the installer must lay out the mats in the proper order, or they will not fit properly. The flat edges must line up around the perimeter of the layout.
The interlocking edges have a design resembling a jigsaw puzzle, allowing the installer to place the tabs on one mat into the slots on the adjacent mat before pressing the edges together.
With the weight of the rubber, the assembled mats will stay in place without the need to add glue to the underside of the individual mats or to the interlocking edges.
Although the installer can attempt to cut through the rubber mats to reduce the size and to create a fit for a stall area that is smaller than 10x12 feet, the better option is to order a Greatmats horse stall kit that is a smaller size and perfectly fits the stall where the installation will take place.
Cleaning and Maintenance Requirements
When used in a horse stall, customers can simply sweep hay off the surface of the mats. They can scoop feces to remove them from the rubber mats without worrying about damaging the material.
Rubber does not absorb moisture, so urine and spilled water will not soak into the tiles. You can rinse away urine and other solids with a garden hose or a gentle power washer. Mopping the tiles with a neutral pH cleaner also works.
Straight edge 4x6 ft tiles of the same product are also available at a cost savings. Interlocking pre-designed kits in standard sizes are available.
The surface pattern has changed from Pebble to Hexagon as of March 2023.
Shipping
Freight shipping only on pallets only.
This Product Ships Freight Only.
Please review our shipping disclaimer.
| | |
| --- | --- |
| SKU# | RSMHVV4-10x12KITC |
| In Stock | Yes |
| Product Type | Mat |
| Material Type | Rubber |
| Product Edging | Straight |
| Thickness | 3/4 inch |
| Width | 9.70 feet |
| Length | 11.70 feet |
| SF per Item | 120.00 |
| Weight | 475.00 lbs |
| Packaging | Shrink Wrapped on Pallets |
| Number of Pieces per Package Type | 5 |
| Non Absorbent | Yes |
| Special Adhesives | No |
| Universal Interlock | No |
| Interlock Loss | 0.00 feet |
| Material Hardness | Shore A 65 |
| Interlocking Connections | Yes |
| Made In | Canada |
| Surface Finish | Hexagon top |
| Surface Design | Solid color |
| Installation Method | Dry lay, interlocking |
| UV Treated | No |
| Reversible | No |
| Border Strips Included | No |
| Manufacturer Warranty | 10 Year Prorated |
Product Questions:
Q: Will the urine absorb threw the mat?
A: This rubber horse stall mat will not absorb any moisture.
Q: I would like price on 10'x36' run of mats. That run full length of my three box stalls. What would be the actual overall measurement of that? What is the overall dimension of a 10' x 12' kit ? Please let me know soon. Thanks Merlin Yoder
A: Please call 877-822-6622 to speak with a member of our sales team to obtain a quote for this product.
RELATED PRODUCTS