Martial Arts Crash Mats Blue 8 x 15.5 ft x 20 cm Quad-Fold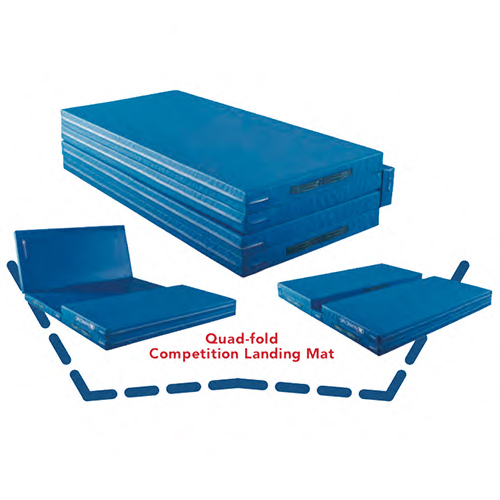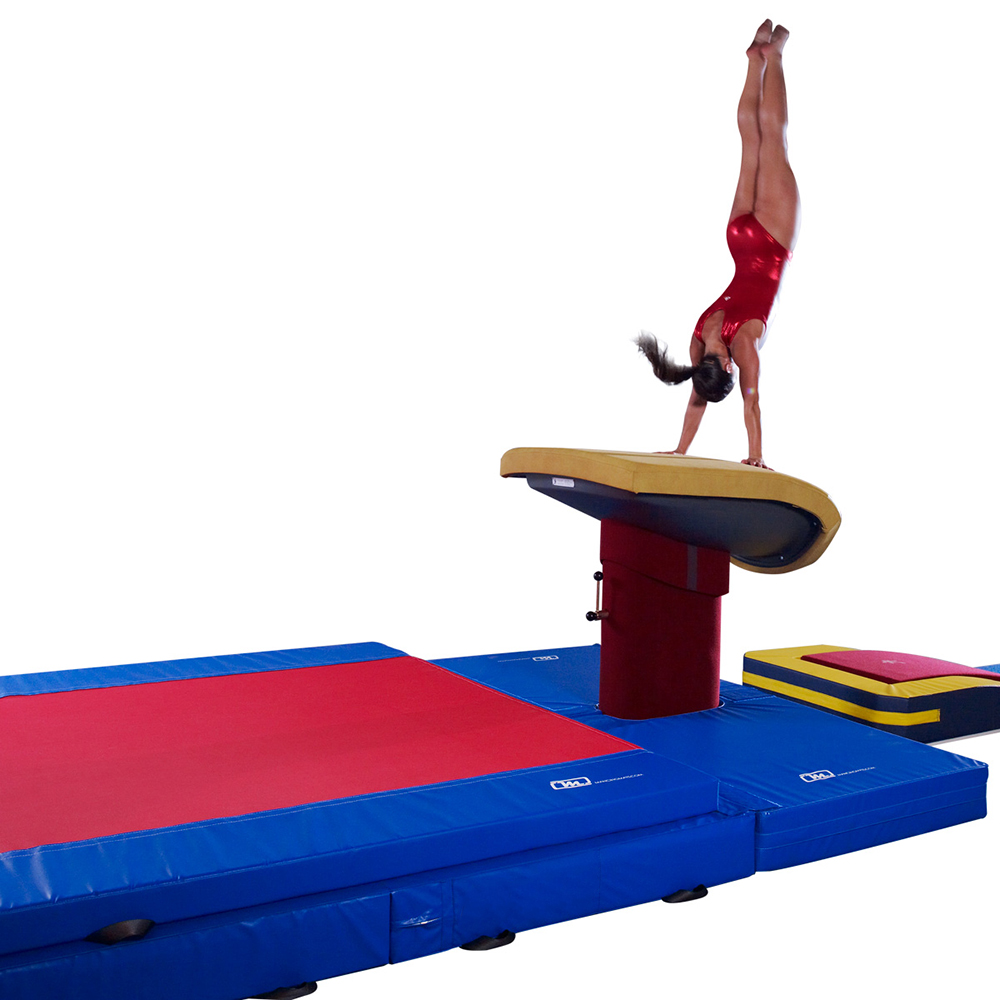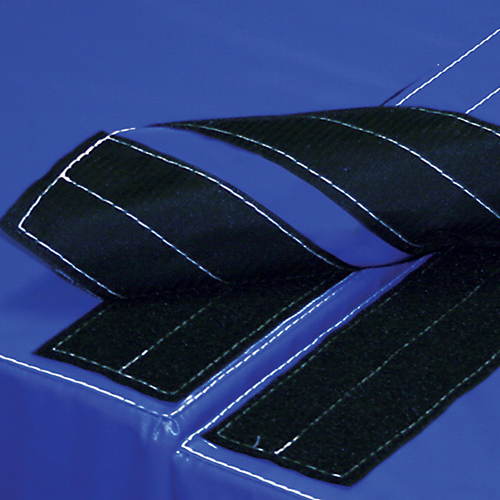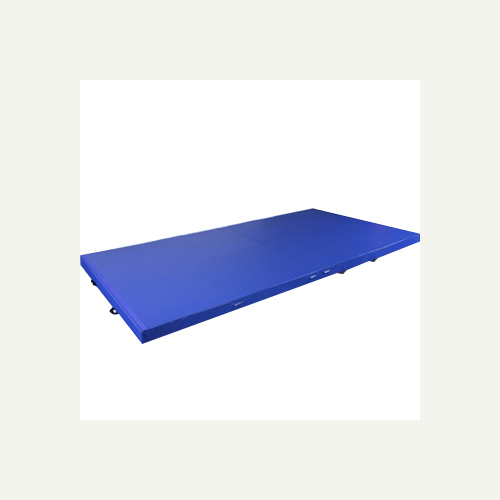 Premium 18 oz. Matte Textured vinyl coated polyester
Double stitched top edge and number 10 YKK, molded zipper
2 inch polyester web handles for easy moving
Handling Time Estimate: 3-4 Weeks on Average

Royal Blue
Premium 18 oz. Matte Textured vinyl coated polyester
Double stitched top edge and number 10 YKK, molded zipper
2 inch polyester web handles for easy moving
Hook and Loop attaching systems on the ends for attaching.
Manufactured in royal blue only

Martial Arts Programs, Judo Crash Mats, MMA Training
NOTE: This item is a custom order and is not returnable.
Crash Mats for Martial Arts Throw Training
We offer large Blue Martial Arts Crash Mats in an 8 x 15.5 ft x 20 cm size and quad fold design, which features a bottom layer of custom-formulated polyurethane foam as well as a 1-3/8 cross-linked polyethylene foam to provide longevity for your mats. Judo practictioners can especially take advantage of thick martial arts crash mats, which create a cushioned landing area for throw practices. Martial Arts training landing mats can pair with all of your existing flooring or matting and will give your athlete and gym added safety value.
These 8 ft x 15.5 ft x 20 cm Quad-Folding crash mats with a blue vinyl cover are great for allowing athletes to work on falling safely during throw training. They work for public demonstrations as well as training in the dojo. You can use these blue landing mats as cushioning for landing areas to protect the Uke during throws.


Comfortable Thickness

We offer these pads in two thicknesses measurements of 12 and 20 cm (about 4.7 and 7.9 inches). With these thickness options, you can select the appropriate amount of cushioning depending on your training purpose.

Different thicknesses in mats will give you varying results, so it's important to select the proper mat thickness in landing mats to meet your team's specific needs.

Greater height impacts require a thicker mat. At nearly 8 inches thick these crash mats are great for working on sky falls. Use the 12 inch thick mats for the ultimate cushioning during hard and aggressive throws.

Our blue landing mats have nice mid-range thickness levels, which give them a good versatility in your studio. They have the best combination of shock absorption and footing.
Comfortable Foam
You also can choose among non-folding, bi-fold, or quad-fold vault mats from this product line of Landing Mats. Foldable mats can be reduced to a smaller size to make them easier to carry. Additionally, you can fold the mats for added thickness during your training.
All of these landing mats are topped with a laminate layer of 1-3/8 inch crosslinked polyethylene foam. By laminating the crosslinked polyethylene foam to the bottom polyurethane layer, you'll receive sturdiness in the mat. There is no loose foam in the covers, which enhances the high level of performance that you'll receive from the mats.
Our mats also feature a bottom layer of custom formulated polyurethane foam. This premium formulation ensures optimal shock absorption and mat performance during years of use, giving your athletes safe landings over and over.
Making Use of Multiple Layers
Martial arts mats are put through a lot of stress as they're used for training and competitions. You need these landing mats to provide a safe landing zone for your athletes. So when you're trying to find the right blue landing mats for your students, it's important to select products that have the proper construction quality and durability.
Understand that for a landing mat to be most effective, it needs to consist of multiple layers and materials. This type of construction yields the best shock absorbing properties, making these mats more effective.
The mat's construction starts with a high impact foam core, and this foam gives the mat its ability to compress quickly. The compression provides the safe landing zone your athletes need. The foam then takes its original shape, which results in a long-lasting mat that maintains its integrity over thousands of landings.
By using multiple layers in our blue landing mats, we're ensuring that you will receive the perfect combination of cushioning and support.
Vinyl Covers
It's important to select a landing mat that contains a sturdy cover as well. No matter what type of mat you're picking, it needs a cover that helps give the student a firm landing area, while also protecting the foam inside the mat.
Our blue landing mats feature an 18-ounce vinyl cover, which is a common material to use with these types of mats. Having a cover with an 18-ounce weight provides great traction for the athletes, while also delivering additional strength to the mats.
Long Lasting Product
These landing mats are custom made to order by a leading manufacturer in the United States, which means you can count on the materials used in the construction process.
Many of our customers choose these blue landing mats for the durability and longevity they offer for a school or studio. Here are some the key components of the competition landing mats that you'll appreciate.
Strong Stitching: The Competition Landing Mats product features a double-stitched top edge and a number 10 YKK molded zipper. You need tough stitching in a mat that athletes will be landing on constantly during a practice session.
Thick Handles: Each mat has 2-inch thick polyester web handles. These allow you to easily carry the landing mats from location to location. And they also feature heavy-duty stitching that attaches the handles to the mats, ensuring they won't tear loose.
Tough Cover: Each of these mats features an 18-ounce vinyl cover with a matted texture that will stand up to rough treatment without tearing or splitting. Additionally, we do not use heat-sealed top seams to connect the vinyl. Instead, we use one piece of vinyl on the tops of the landing mats, which provides better longevity. You don't have to worry about your bare-footed athletes landing on an uncomfortable, thick seam on the top of the mat, either.
Warranty: Each mat contains a 3-year limited manufacturer warranty, which means you can count on the value and longevity you're receiving.
Optional hoop and loop connector strips are available at an additional charge.
We do not recommend using these competitive landing mats outdoors, as they are not waterproof and are not UV stable.
Mat Uses
Before ordering this type of mat, you will want to spend a bit of time thinking about how you plan to use it.
For a mat that needs to provide the maximum shock absorbing capabilities where athletes may be falling from a height, a thicker mat is a smart option. You also can pick a thinner mat that has a folding option to create a thicker landing area when needed. If you're unsure about which thickness level you will be needing, a smart rule of thumb is to pick a mat slightly thicker than what you think you will need. You don't want to end up with a shock absorbing mat that is thinner that your needs.
Durability is another key consideration with cushioned mats. No matter what type of team will be using your mat, you want to receive a good value for your purchase, and for most people, that involves receiving a high level of durability. Choosing a durable mat also gives you a safer mat, as you don't have to worry about the mat failing or tearing as an athlete lands on it. You can find a high-quality mat that will last by looking for products that have double-stitched seams and multiple layers of foam, for example.
Finally, for some studios and schools, versatility will be the most important aspect of a mat. If you need to use a single mat for multiple purposes, for example, or if you have a studio that caters to students of varying ages, a versatile mat works great. Versatile mats will have mid-thickness levels and should be able to fold.
We make ordering the blue landing mats an easy process for your studio. Please contact our customer service team for answers to any questions you may have, as well as for some advice on picking the best products for your needs.
Shipping
Ships via ground service or freight delivery.
This Product Ships Freight Only.
Please review our shipping disclaimer.
| | |
| --- | --- |
| SKU# | GM20CM815.5QF |
| In Stock | Yes |
| Product Type | Mat |
| Material Type | Vinyl covered Foam |
| Product Edging | Straight |
| Width | 8.00 feet |
| Length | 15.50 feet |
| SF per Item | 160.00 |
| Weight | 330.00 lbs |
| Packaging | Bags |
| Number of Pieces per Package Type | 1 |
| Non Absorbent | No |
| Special Adhesives | No |
| Interlock Loss | 0.00 feet |
| Interlocking Connections | No |
| Made In | USA |
| Surface Finish | Smooth Flat |
| Surface Design | Solid Color |
| Installation Method | Layout Flat |
| UV Treated | No |
| Reversible | No |
| Border Strips Included | No |
| Floor Score | No |
| Green Label | No |
| Manufacturer Warranty | 1 Year Limited |
RELATED PRODUCTS