Folding Gymnastic Mat Options, Analyzing the Foldable Gym Mat
By Kif Richmann Created: June, 2017 - Modified: October, 2023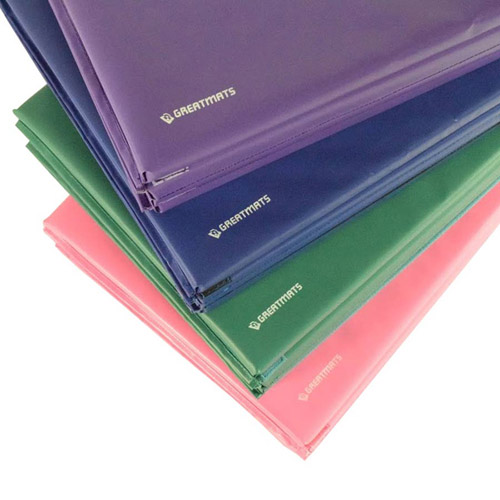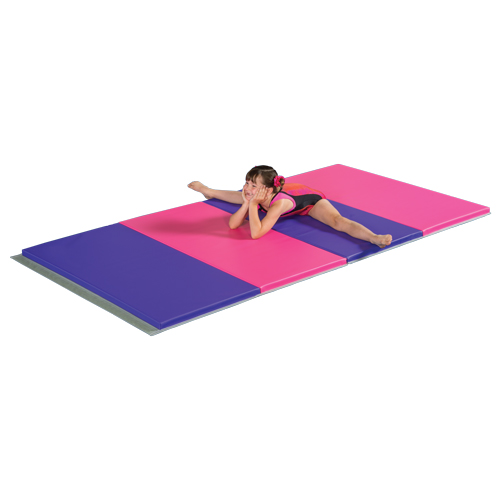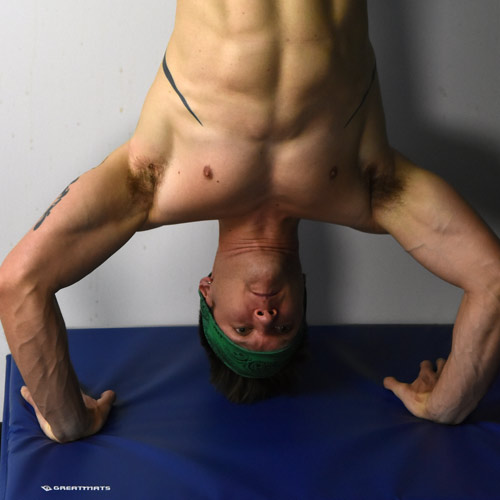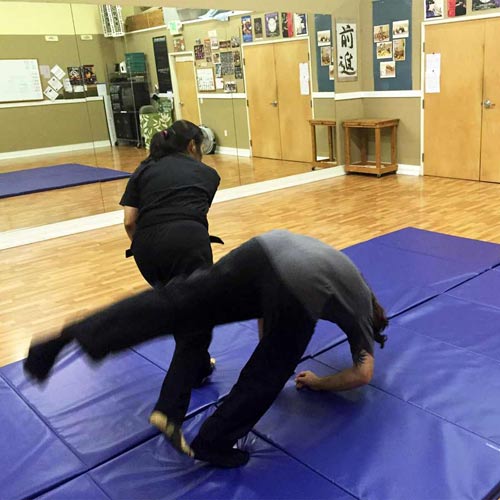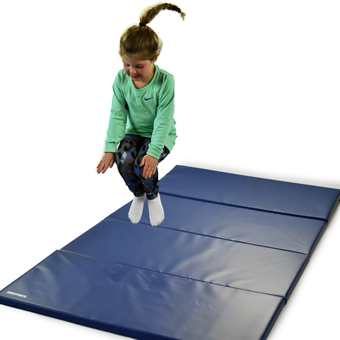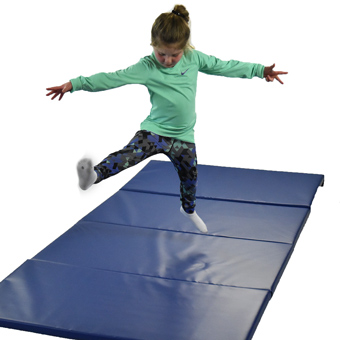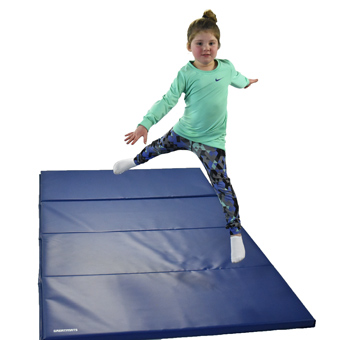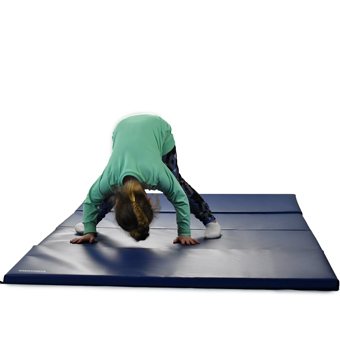 Selecting the right gym flooring can seem like a bit of a hassle. There are so many options and so many details that finding the exact product for your home or recreational space can seem daunting.
However, if you understand the basic factors for folding gymnastic mats, you'll know how to find the right padding. Folding gymnastics mats seem to be listed in a complex code (V2, 18-oz vinyl, 2.5-inch, 5x10, polyethylene; the list goes on), but when you are knowledgeable about the products, you will quickly find the right option for your needs.
We'd like to take a look at some of the important specs for folding gym mats to help you make the right decision...
Comparing Folding Gymnastics Mats
4V vs. V2
(Connectors on 4 sides vs. 2 sides)
One of the main factors you need to decide on is having hook 'n loop connector strips on four sides of the mats, which is identified by ''4V,'' or hook 'n loop connectors on two sides of the mat, which is identified by ''V2.'' Depending on how you want to layout the mats, either 4V or V2 will fit your needs.
4V has velcro on all four sides of the mat, which allows you to make connections from any side and create larger mat spaces for activities such as wrestling or martial arts. If you have a large, wide space that needs to be filled, you will likely prefer having velcro connections on all four sides.
V2 mats can be used for many different purposes, but because they only have connectors on two sides, they are best used for creating strips or runways of padding as opposed to completely filling a room. V2 mats can also be used as wall padding in training areas and gyms. The mats on the wall behind basketball hoops are often V2 mats.
18 oz vs. 19 oz vinyl
One of the aspects you'll want to choose from is 18-ounce or 19-ounce vinyl for the cover of your mat. The vinyl protects the mat and provides traction for feet while allowing the mats to do their job, which is to deliver a soft landing.
If you are going to have a lot of friction and the potential for ripping, tearing, and wearing away the mat's covering, then you will probably want to choose the 19-ounce options. This will give you reliable support and will hold up under years and years of abuse. However, the lighter 18-ounce option can still provide quality results to your gym.
1.5 vs. 2 vs. 2.5-inch thickness
The thickness of the mat will also matter. The thicker your mat is, the more cushioning and protection it will provide. However, as the mat gets thicker, it also gets heavier and bulkier to store, which makes many people choose the thinner option.
The 1.5-inch thickness gives you a lightweight mat with plenty of cushioning. It can be effective for kids' gymnastics and light workouts, and the lightness makes it better for temporary surfaces, such as gyms that host basketball as well as wrestling or judo.
The 2-inch thickness provides a well-balanced combination of strength and weight. It is thick enough to provide cushioning for heavy adults who participate in wrestling or jiu-jitsu, but can also be moved around fairly easily.
The 2.5-inch thickness provides the most cushion but can be heavy to move. This version also utilizes a combination of both closed and open-celled foams. If you have a permanent space that needs lots of padding on the floor, you will likely want to choose 2.5-inch thick mats.
4 vs. 5 vs. 6-foot width
Depending on the size of space you need to fill or the exact surface required for your activity, you can choose between mats that have widths of four, five, or six feet.
Four-foot mats are often the preferred choice if you simply need a narrow strip of padding. They can be used for activities like fencing, and they can also be effective for tumbling and other types of gymnastics.
If you need a slightly larger strip of padding, or if you simply want to fill a larger room, you can choose five-foot widths as well. These give you a quality space but are not as large and cumbersome as mats with larger widths.
When you are filling a room with permanent padding, you will likely want to choose six-foot mats. These will help you cover a large space quickly and allow you to get the large footage of padding you need. Six-foot widths are often preferred for covering walls, as they provide head-to-toe protection for most people.
The Number of Panels
The number of panels in your folding gymnastics mats will determine the overall length. Most panels are two feet wide, so the mats go up in overall length by increments of two. You can easily find mats with three panels (six feet), four panels (eight feet), five panels (10 feet), and six panels (12 feet).
Deciding what size you need, and whether you want to stack the panels and use the mat as a raised cushion, can help you choose the perfect folding mats.
Color Options
There are lots of different color options for your folding gymnastic mats. In most cases, the mats you select can come in blue, red, yellow, green, and many other colors. You can also select combinations and interchanging colors to add variety and character to your surface.
One use for the different colors is organization. For example, you might have a taekwondo class that you want to split into groups. You can use different floor coloring for different groups and send, as an example, students under 12 to the blue mats and students 12 and over to the red mats. Coloring can also be used to mark the boundaries of a competition space, such as fencing strips or wrestling boundaries.
Polyethylene (Closed Cell) vs. Polyurethane (Open Cell) Foam Cores
There are two types of materials that are very popular for folding gymnastic mats. The first is polyethylene and the second is polyurethane. Understanding the differences and advantages of each can help you choose the right mats.
Polyethylene is the most common type of foam available. It has a high-impact strength and can absorb a lot of energy without breaking. It is used in a cross-linked design, creating a closed-cell foam that is resistant to mildew and mold, as well as bacteria and rot. In most cases, polyethylene is wrapped in vinyl to help the material avoid cuts and gouges. It is a preferred material for cheerleading, gymnastics, and wrestling.
Polyurethane is an open-cell material that provides better cushioning. It has the consistency of a sponge or a loaf of bread, with air throughout the material to provide a softer landing. Because it is so spongy, it's often not the best choice for activities that involve walking, running, or jumping. This form of foam is generally used in combination with polyethylene foam in folding gymnastics mats that are 2.5 inches or thicker.
Choosing a Few of the Best Options
Gym Mats 4x8 Ft x 1.5 inch 4V 18 oz
This 4x8 gym mat has four panels and velcro on all four sides. The layout makes it perfect for many different uses, including gymnastics and tumbling. It can be one of the most effective mats for filling a small space, and the 1.5-inch thickness makes this smaller mat perfect for temporary use, as it only weighs about 20 pounds. Even kids can handle these mats, making them perfect for temporary cushioning on a gym floor.
Gym Mats 5x10 Ft x 2 Inch 4V 18 oz
When you are looking for one of the finest gym mats for your space, this 5x10-foot foldable mat will be perfect. It has two inches of thickness, giving you plenty of padding and support, but the entire mat only weighs about 36 pounds, so most people can pick it up and fold it when needed. If a single person can't carry it, two people working together can easily lay it out and put it away when needed. This is one of the most commonly used folding mats for judo or wrestling due to its thickness and connection versatility.
Gymnastic Mat 6x12 ft x 2 inch V2
Available in 16 colors, this effective gym mat is perfect for flooring on many different surfaces. With six panels, the mat is 12 feet in length, so you can cover a large area quickly with this mat. It has velcro on two sides, so it can be laid out side-to-side with other mats if needed. One of the longest mats available, it is great for tumbling runs.
Gymnastic Mat 4x6 ft x 1.5 inch V2
With a small profile and 1.5-inch thickness, this is one of the lightest and most compact mats you can own. It comes in multiple colors and only weighs 18 pounds, so creating a padding surface and quickly removing the material is no problem at all. It also comes in many different colors, giving you variety and character.
Gymnastic Mat 4x8 ft x 2.5 inch V2
When you need lots of padding for tough activities or heavier adults, this folding gym mat will fit your needs. It has velcro on two sides so you can create long lengths of padding, and it has a total weight of only 26 pounds, making it manageable for many people. With a cross-linked PE layer topped with a PU layer in the core, it offers a much softer landing than any of the previously mentioned mats which strictly utilize the denser PE foam.
Great Mats Has Your Folding Gymnastics Mat
You can have high-quality flooring that lasts for years by working with Greatmats.
When you need excellent gym floors, browse our selection of materials and you'll find everything you need for any home gym or recreational space!