Inexpensive Garage Flooring Ideas - The Top 5
By Brett Hart Created: June, 2017 - Modified: October, 2023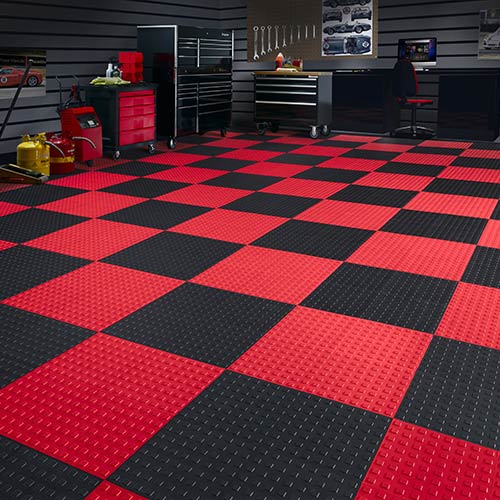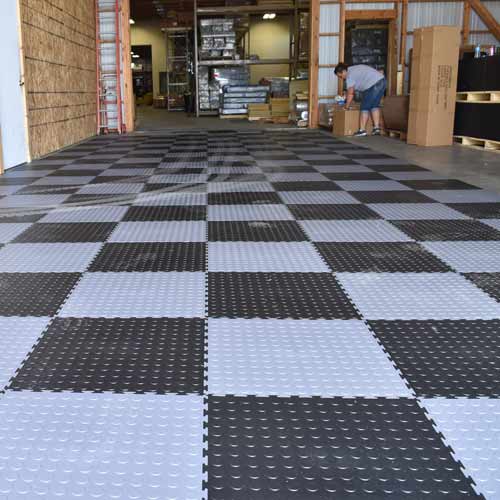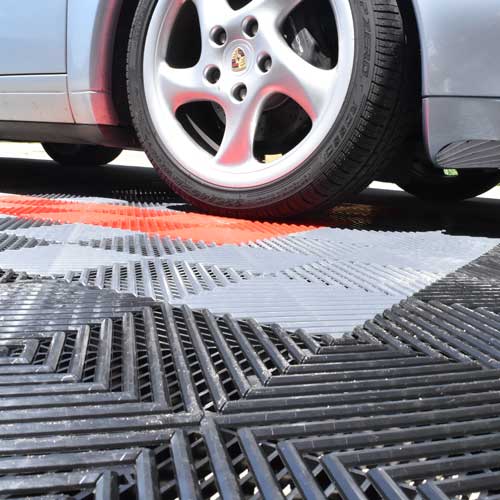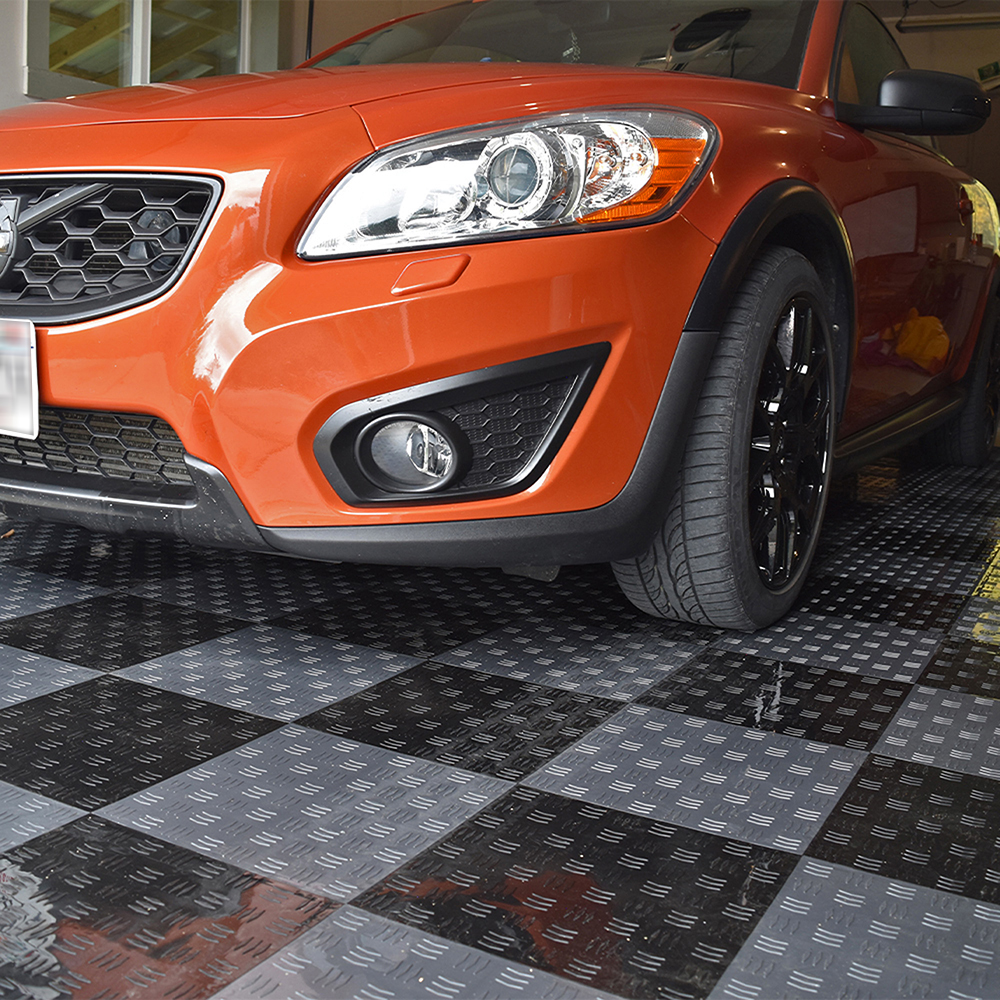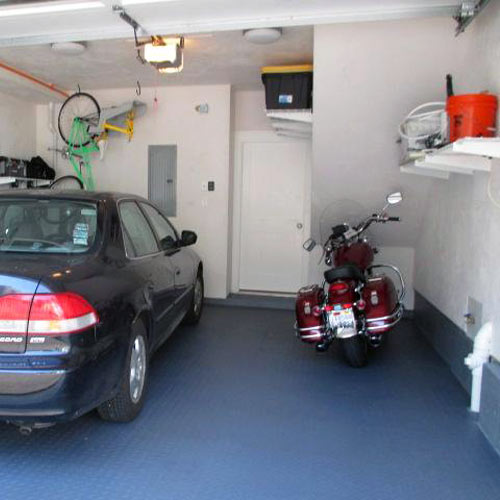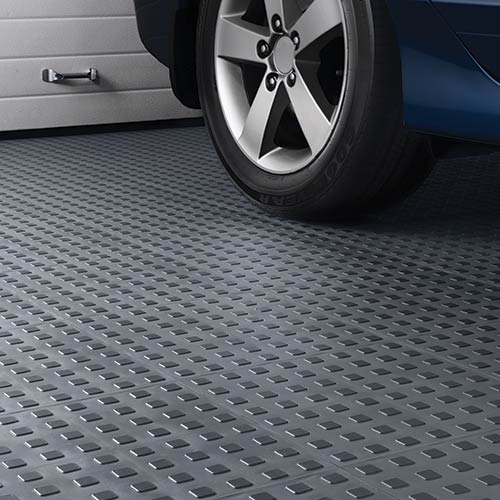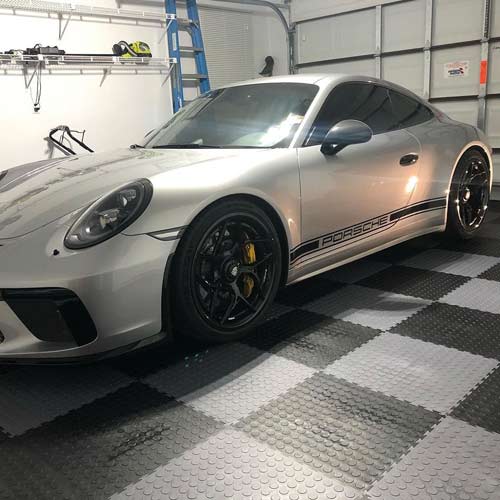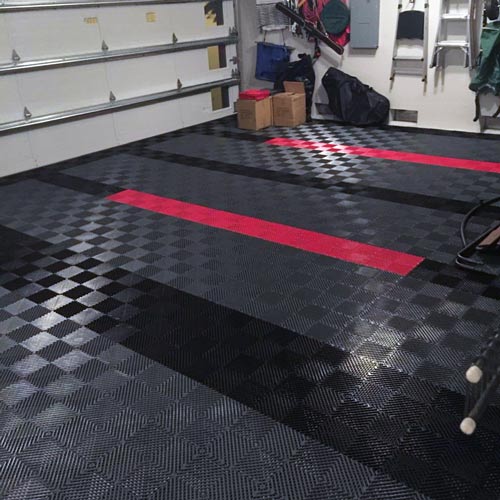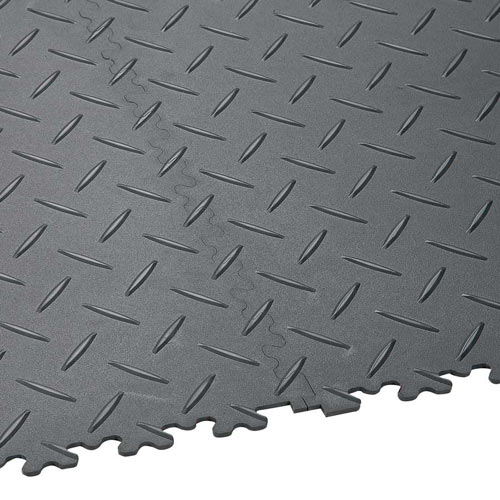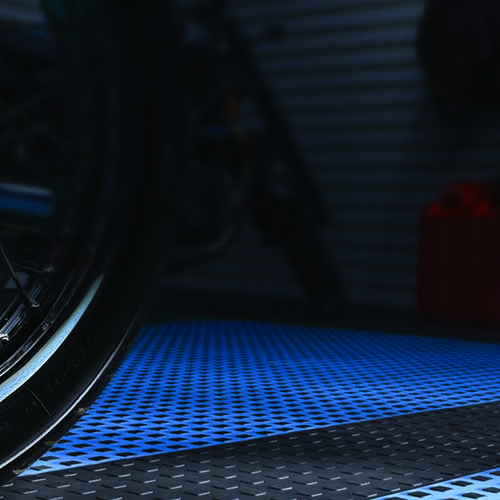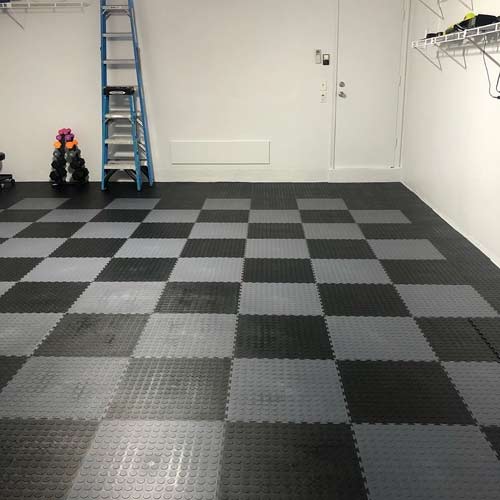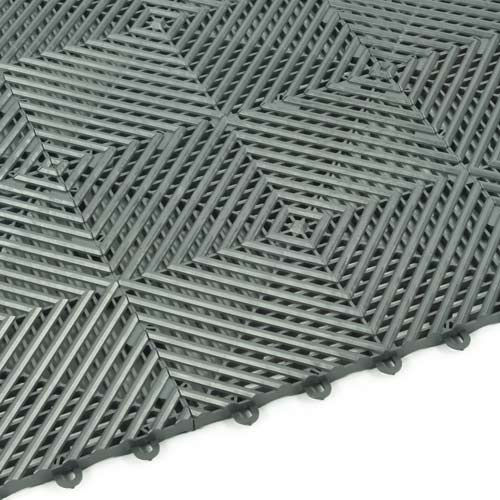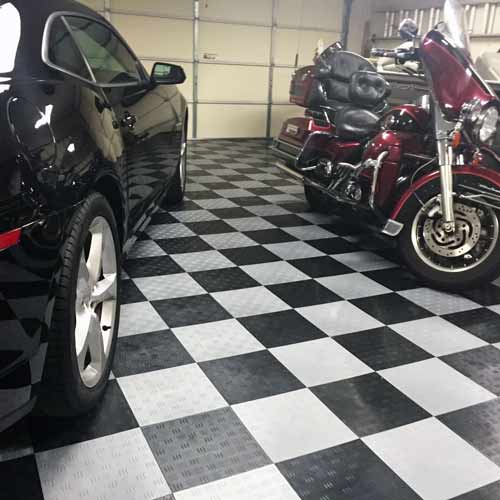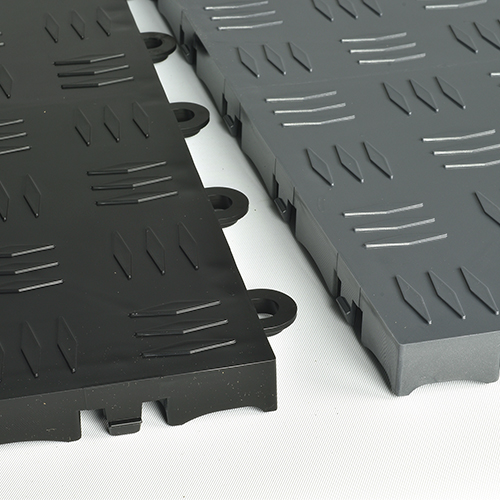 If you're looking to add a little spice and style to your garage, flooring is a good place to start. The installation of garage floor tiles is a simple way to add color or patterns to your garage, and in many cases, you can even match the decor of your walls, work benches and even automobiles.
Let's break down the top 5 affordable garage floor tiles that will help you stay within your budget. Each of these tiles can be installed simply as a DIY project, saving you money when compared to professionally installed surfaces.
TechFloor Solid Tile with Raised Squares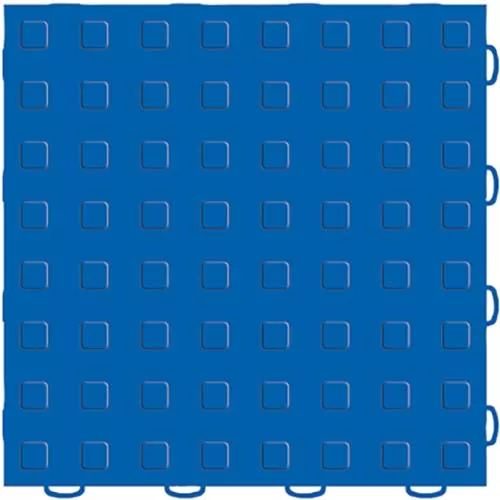 Available in seven different colors, including black and white, these
TechFloor tiles
create a stylish garage floor for around $2.75 per square foot. They are made in the USA and connect together using a tab and loop system. This floating floor is made of a durable polypropylene material raised squares on the surface for additional traction. The 1x1 foot tiles carry a limited lifetime warranty.
Coin Top Home Floor Tile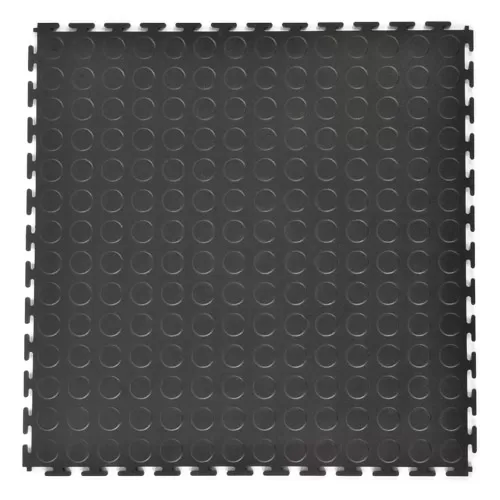 If you like a low profile flooring system and a circular raised coin surface texture, the
Coin Top Home Floor Tile
is worth checking into. These tiles are much more flexible and pliable than the rigid polypropylene option and connect together using puzzle style interlocks. The PVC squares are made from recycled material and resist oils, gas and chemicals, making them perfect for automotive environments. They also remain unaffected by heat, cold or humidity, unlike most other floating floor systems. Another benefit of the tiles 4.5 mm thick squares is that they are 1.66 feet across, making coverage of larger areas much quicker than the 1x1 tiles and cover your garage floor for around $3.64 per square foot.
Perforated Garage Tile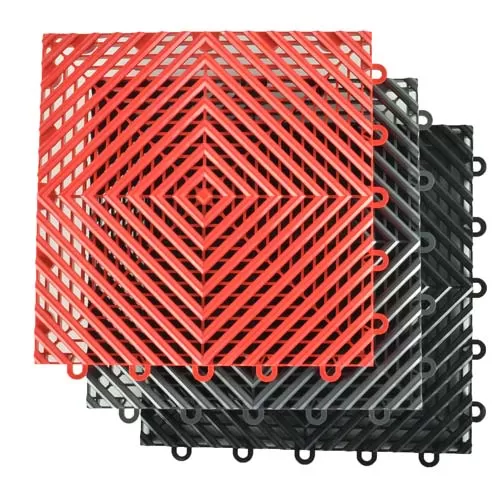 Staying under $3 per square foot are the
Perforated Garage Tiles
. These 1x1 polypropylene tiles also utilize a tab and loop connector system without the need for adhesives. The ribbed surface and raised base provide for maximum drainage and excellent slip resistance. As a fairly thick tile, ramped border strips are available as well.
SupraTile 4.5 MM Diamond Pattern Black/Grays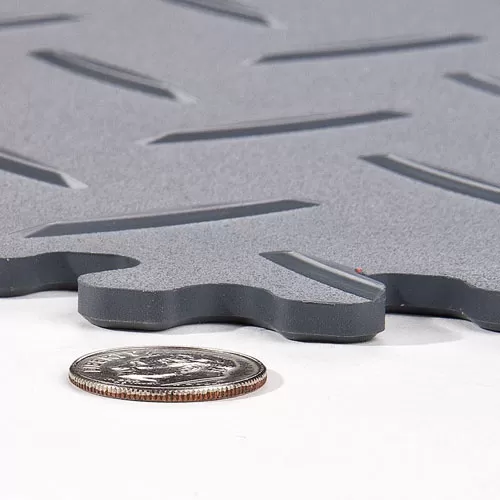 Much like the 20x20 inch tiles above, the
Supratile
is another low profile PVC tile with similar dimensions. It's universal puzzle style interlock makes for a simple DIY installation while its diamond textured surface gives the floating flooring system a rugged look and feel. Selling at around $3.80 per square foot, these tiles carry with them a 20 year warranty and are oil, chemical, mold and mildew resistant. They can even be installed over uneven or contaminated subfloors and will reduce noise in your garage.
Garage Floor Tile Diamond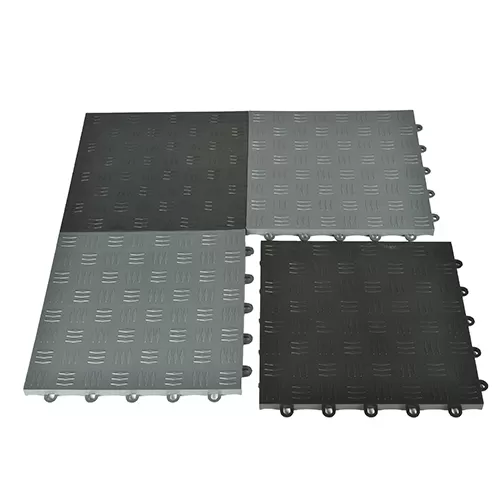 If you're looking for the quickest and easiest garage floor tile system for repeat installations, the
Garage Floor Tile Diamond
is the flooring system of choice. The raised polypropylene tiles click together in a flash and dissemble just as easily when desired. The tiles are static load rated for 10,000 pounds and are made in the USA. They also carry a 5 year warranty. The diamond textured tiles add unmatched showroom style to your garage - typically for around $3 per square foot.
As you may have noticed, the vast majority of garage floor tiles are made of either PVC or Polypropylene plastics. This is due to their non-absorbent nature and durability. Both also offer a nice buffer between your feet and the cold, hard concrete subfloor. If you plan to park vehicles in your garage, you'll want to stick to the plastic tiles.
For other purposes, such as home gyms or game rooms, Greatmats also has rubber, vinyl and foam flooring options. If this is your intention, please contact a Greatmats customer service representative at 877-822-6622.