TruTread Black Mat 3x15 Feet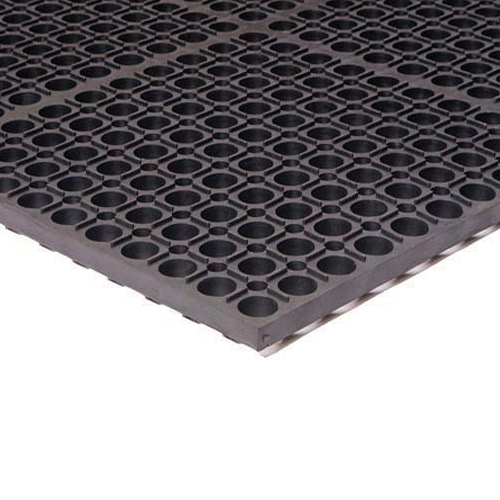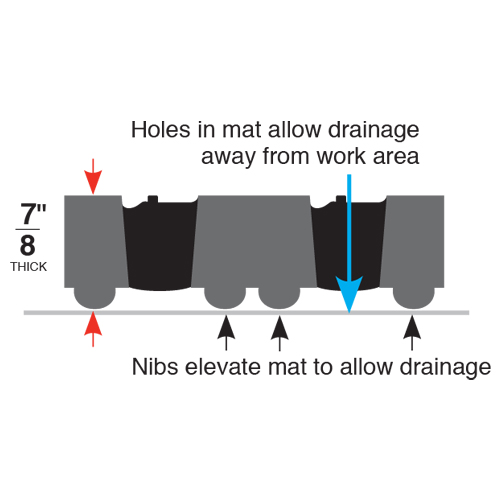 Drainage holes allow liquids and waste to pass through matting
Available in a greaseproof red or grease resistant black color
Comfortable construction eases fatigue and increases productivity
Ships Out: Estimate 4-6 Working Days
TOP FEATURES
Drainage holes allow liquids and waste to pass through matting
Available in a greaseproof red or grease resistant black color
Comfortable construction eases fatigue and increases productivity
TruTread black is also available with a gritted surface for extra traction
Oil and grease resistant
Anti slip traction
Water repellant
Anti fatigue
Use Types
Kitchens, Industrial, Cafeterias, Machine Shops, Service Counters, Bakeries, Restaurants, Automotive
NOTE: This item is a custom order and is not returnable.
TruTread Black Mat 3x15 Feet - Grease resistant
The heavy duty grease resistant construction of the TruTread eases worker fatigue and increases productivity. Drainage holes allow liquid and waste to pass through, making this mat an excellent choice for dry, wet or greasy environments. Use the TruTread X-Connector to join multiple mats together for larger spaces.
TruTread Black Rubber Perforated Industrial Mats, 3x15 Feet

Industrial settings can be harsh for employees to deal with, but our TruTread Black Rubber Perforated Industrial Mats will give employees a safer area in which to work. These mats provide a comfortable area for standing and working, and they reduce the possibility of slipping on wet floors.

These large industrial mats measure 3 by 15 feet, delivering 45 square feet of coverage. Many customers will use them almost like a runner, providing a long coverage space in front of a long food prep area or a buffet in a restaurant or along the length of a factory line where moisture is present.

These versatile mats deliver anti fatigue properties for employees who must stand in one place for a large chunk of the work day. With their ergonomic benefits, they allow the employee to avoid excessive stress on the lower body joints, such as in the ankles, hips, and knees.
Liquid Draining Industrial Mats
The drainage holes that extend through the entire 7/8-inch thickness of the black rubber will prevent liquids and water from pooling on the surface. This adds to the comfort level of employees versus standing in a puddle of cold water for an entire shift.
These large drainage holes quickly allow water or other spilled liquids to move through the mat and onto the subfloor. Even with the large holes, the overall integrity and anti fatigue properties of these mats remain in place.
To allow the liquid to move toward a floor drain after running through the perforated holes, the base of the mat has nibs that lift the bottom surface off the ground.
Simply by lifting the lower edge of the mat away from the subfloor a fraction of an inch, this design creates drainage channels for the liquid to follow as it flows through the perforations and moves toward the floor drain. The liquid will move efficiently and quickly toward the drain when using this system.
These industrial mats work equally well against the presence of grease and oil in almost any environment, ranging from restaurant and commercial kitchens to car repair businesses. Factories that deal with greases and oils regularly will appreciate the long-lasting value with these black mats as well.
Rubber Commercial Mats With Ergonomic Benefits
Versus standing on a hard concrete or tile floor for the entire day of work, our mats are sure to save the legs of the employees. Standing for an entire day is a challenge, leaving employees fatigued in their lower bodies.
This can create the possibility of more frequent errors as the workday progresses. Employees who have physical pain or fatigue toward the end of the work shift may make mental mistakes as a result.
Our mats have just enough natural cushioning in the rubber to create a surface that removes some of the stress from the knees and ankles.
Employees standing to work do not want an excessive amount of cushioning, though, causing them to sink into the material too far. Mats that have too much cushioning can cause extra fatigue, as the employee may end up off-balance.
Rubber delivers the firmness needed for employees to be able to stand in a perfectly balanced alignment. The firm rubber surface encourages employees to adjust their positioning a little bit throughout the work day, keeping the blood flowing and relieving pressure on the joints.
An overly soft mat would not encourage movement. When the employee remains locked in place for long periods of time, it's easy to develop leg fatigue and back aches by the end of the work shift.
Heavy Duty Non Slip Kitchen Mat Specifications
Width: 3 feet

Length: 15 feet

Thickness: 7/8 inches

Coverage: 45 square feet

Weight: 108 pounds

Color: Black

Texture: Perforated
Maintenance and Care
Those who work in an environment with frequent spills of grease and grime will appreciate the ease of cleaning found with these TruTread mats. These are best for jobs that often involve plenty of mess.
Our grease resistant mats do not soak up water, grease, or oil, which greatly simplifies the cleaning and maintenance process. This is a big advantage in a kitchen, a garage, or a factory setting, where flooring that requires a detailed cleaning process at the end of a long work day simply isn't practical.
Our industrial mats are water repellent and water resistant, which means they will not soak up water during cleaning, allowing them to dry faster and be ready for a new work day far more efficiently than mats that absorb some water and require long drying periods.
Customers can machine wash these mats, if desired, and the rubber material will continue to perform well. Another option is to rinse the mats with a power washer, removing soils and dirt from the top of the mat.
As the mats age, it is possible that they will begin to curl at the edges. When noticing this problem, always remove these mats from usage, as this could present a significant tripping hazard for employees.
Maintenance
Clean with a non detergent cleaner such as Simple Green. Do not clean with detergent based cleaners.
Shipping
This Product Ships UPS Ground, FedEx Ground and/or Freight.
Please review our shipping disclaimer.
SPECIFICATIONS
| | |
| --- | --- |
| SKU# | A311-39-171-3x15 |
| In Stock | Yes |
| Product Type | Mat |
| Material Type | Rubber |
| Product Edging | Straight |
| Thickness | 7/8 inch |
| Width | 3.00 feet |
| Length | 15.00 feet |
| SF per Item | 45.00 |
| Weight | 108.00 lbs |
| Packaging | Cartons |
| Number of Pieces per Package Type | 1 |
| Non Absorbent | Yes |
| Special Adhesives | No |
| Universal Interlock | No |
| Interlock Loss | 0.00 feet |
| Interlocking Connections | No |
| Made In | Sri Lanka |
| Surface Finish | Drainage holes |
| Surface Design | Solid color |
| Installation Method | Lay flat |
| UV Treated | No |
| Reversible | No |
| Border Strips Included | No |
RELATED PRODUCTS
RELATED BLOGS