TruTread Black Mat 3x5 Feet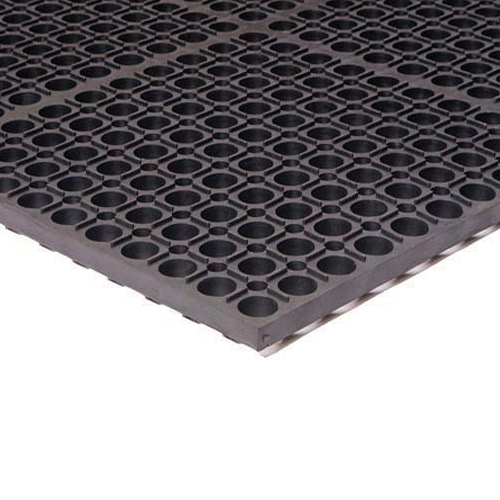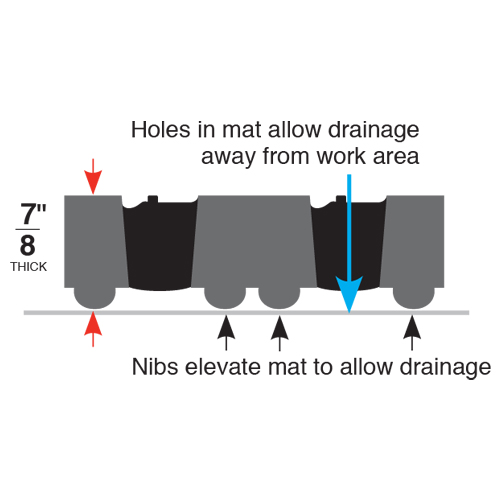 Drainage holes allow liquids and waste to pass through matting
Available in a greaseproof red or grease resistant black color
Comfortable construction eases fatigue and increases productivity
Handling Time Estimate: 4-6 Working Days
Drainage holes allow liquids and waste to pass through matting
Available in a greaseproof red or grease resistant black color
Comfortable construction eases fatigue and increases productivity
TruTread black is also available with a gritted surface for extra traction
Oil and grease resistant
Anti slip traction
Water repellant
Anti fatigue
Kitchens, Industrial, Cafeterias, Machine Shops, Service Counters, Bakeries, Restaurants, Automotive
NOTE: This item is a custom order and is not returnable.
TruTread Black Mat 3x5 Feet - Grease resistant
The heavy duty grease resistant construction of the 7/8 inch thick TruTread Black Mat 3x5 Feet eases worker fatigue and increases productivity. Drainage holes allow liquid and waste to pass through, making this mat an excellent choice for dry, wet or greasy environments. Use the TruTread X-Connector to join multiple mats together for larger spaces.
Black TruTread Cushioned Kitchen Mat, 3x5 Feet

In areas where people must stand and work for multiple hours consecutively, having an anti fatigue mat is a significant benefit. Our Black TruTread Cushioned Kitchen Mat not only delivers cushioning for the lower body joints of the worker, it also provides protection in potentially wet working conditions.

Rubber has a natural firmness that provides maximum stability for people who are standing on it and working. However, it also has slight cushioning properties and a natural give that leads to better overall results for the worker.

Standing on our rubber mat will allow the worker to feel fresher and more energetic at the end of the shift, versus standing on a hard cement or vinyl floor that has no give. After standing on the hard floor for hours, workers may have pain in the knees or hips, leaving them unable to focus on their work. Rubber mats can alleviate this problem.
Cushioned Flooring for Restaurants and Food Prep Areas
Those who work in food service often are on their feet for long, busy shifts. Whether someone is preparing food in the kitchen, serving food in a buffet line, or standing behind a food service counter, hard flooring can yield a painful experience by the end of the work day.
At 7/8 inches in thickness, this mat has a high level of cushioning. Because it has a little more thickness than some other options, it will provide a long lasting design as well.
For those who want a gritted surface texture in the cushioned kitchen mat or who want built-in grease resistance, we offer similar mats with these features. This particular black cushioned kitchen mat model is a smooth textured, general purpose mat that does not have grease resistance built into it.
Water Resistant Commercial or Residential Mat
In areas where people may be working around pooled water from spills, our cushioned kitchen mat is an excellent choice. Each 3x5 foot mat has hundreds of holes that extend through the entire thickness of the mat.
When a liquid spill occurs that goes onto the mat, the liquid will fall through the round perforated holes to the subfloor below. This keeps the surface layer of the mat free from standing water or liquid, which could be cold and uncomfortable for workers. It also could create a slip hazard.
On the underside of these mats, our manufacturer placed tiny nibs that lift the bottom of the mats off the subfloor. This allows the liquid that falls through the drainage holes to reach the subfloor and flow toward a floor drain. The nibs do not affect the stability of the mats when someone is standing on them.
Our mats are highly popular in locations from restaurants serving fine cuisine to home kitchens and everywhere in between.
Restaurants may place the mats in food prep areas, allowing workers to stand on the cushioned surface, rather than on the hard floor. Should they spill anything, the liquid will pass through to the subfloor.
Another common use case is to install them in front of a sink. When someone is rinsing or washing dishes, spills and splashes frequently occur. Those working in the area with the standing water will be able to stand on the mat and avoid the water. Should a dropped plate or glass fall on top of the mat, the cushioning may protect it from breaking.
Anti Fatigue Rubber Drainage Mat Specifications
Width: 3 feet

Length: 5 feet

Thickness: 7/8 inch

Coverage: 15 square feet

Weight: 36 pounds

Color: Black

Texture: Perforations
Maintenance and Care
Cleaning rubber mats is an easy process that does not take much time. This is one reason why our cushioned kitchen mat products are so popular. It takes very little time to keep these commercial mats for sale clean and looking like new, which is a key selling point for a busy retail location or restaurant.
Rubber provides a natural level of water resistance, which makes our mats easier to use in areas where spills and standing water are common. In addition, customers can clean these mats regularly without having to worry about them absorbing water. Water resistance allows the mats to dry faster as well.
For general cleaning, use a power washer on both the top and bottom side of the mat. Soapy residue that falls through the perforations on the mat could cling to the back side.
Customers who do not want to use a power washer also have the option of applying warm water with a scrub brush on the mats. This will clean the majority of soils successfully. To provide a more thorough cleaning, you can add a mild dish washing soap or cleanser to the warm water. Do not use bleach or chlorine on the rubber, however.
After washing the mat, allow it to air dry before placing it back on the subfloor. Both sides will need to dry, to try to place the mat in an upright position on a rack, so air can reach both sides.
Maintenance
Clean with a non detergent cleaner such as Simple Green. Do not clean with detergent based cleaners.
Shipping
Ships via ground delivery, larger orders may ship via freight.
This Product Ships UPS Ground, FedEx Ground and/or Freight.
Please review our shipping disclaimer.
| | |
| --- | --- |
| SKU# | A311-39-171-3x5 |
| In Stock | Yes |
| Product Type | Mat |
| Material Type | Rubber |
| Product Edging | Straight |
| Thickness | 7/8 inch |
| Width | 3.00 feet |
| Length | 5.00 feet |
| SF per Item | 15.00 |
| Weight | 36.00 lbs |
| Packaging | Cartons |
| Number of Pieces per Package Type | 1 |
| Non Absorbent | Yes |
| Special Adhesives | No |
| Universal Interlock | No |
| Interlock Loss | 0.00 feet |
| Interlocking Connections | No |
| Made In | Sri Lanka |
| Surface Finish | Drainage holes |
| Surface Design | Solid color |
| Installation Method | Lay flat |
| UV Treated | No |
| Reversible | No |
| Border Strips Included | No |
| Floor Score | No |
| Green Label | No |
RELATED PRODUCTS