Rubber Mats for Dogs versus Interlocking Foam Mats and Turf
By Kim Butler Created: August, 2017 - Modified: July, 2020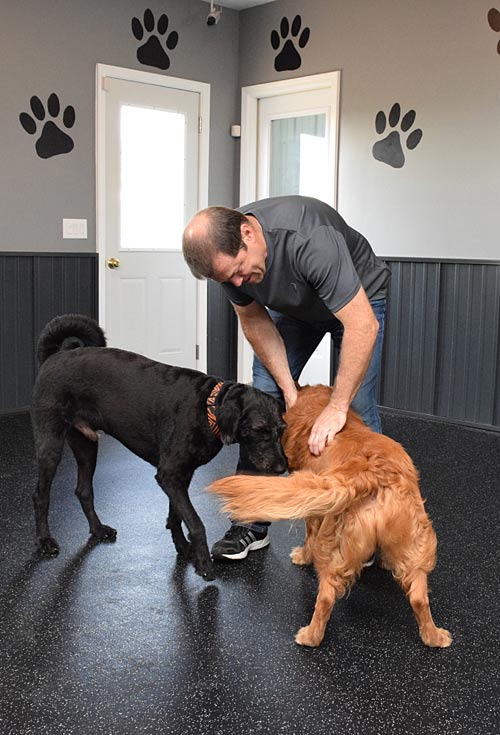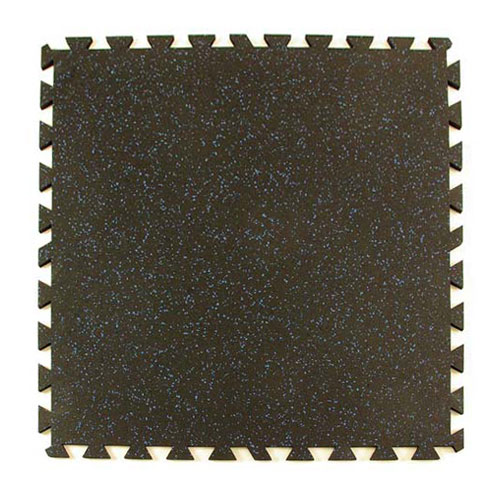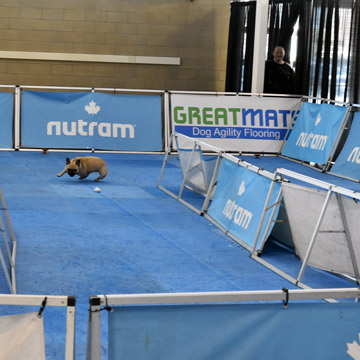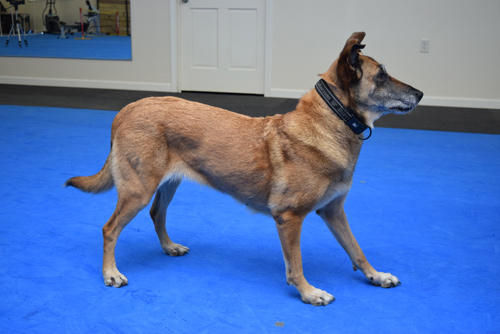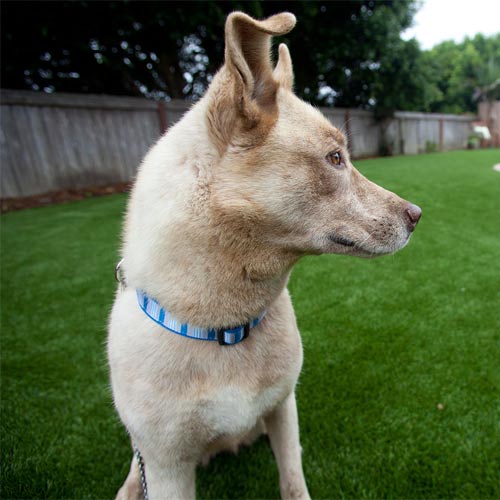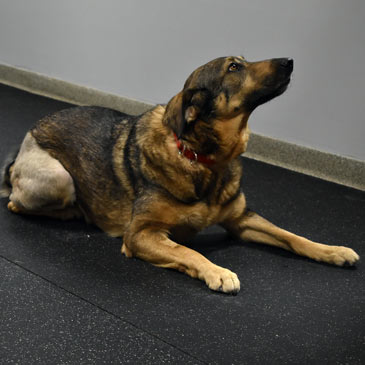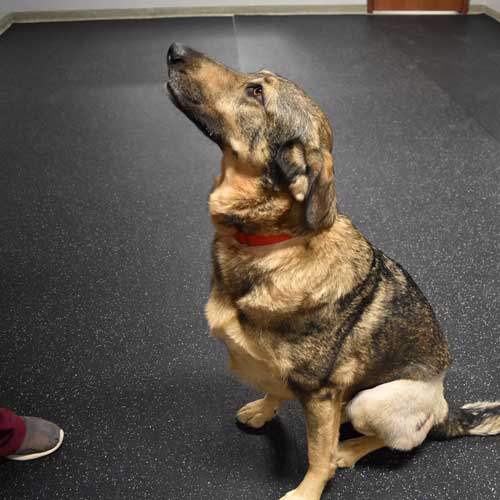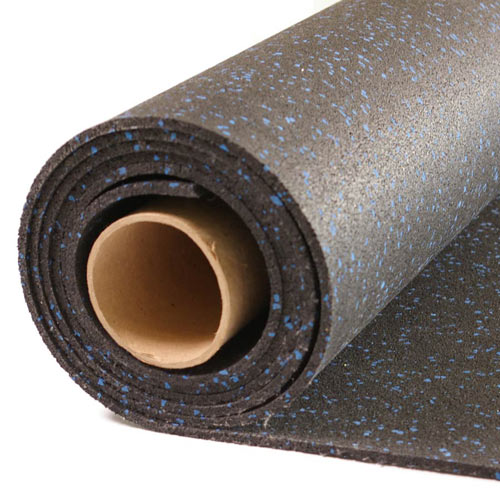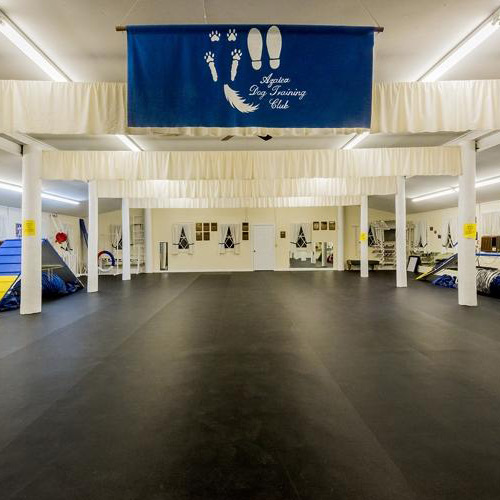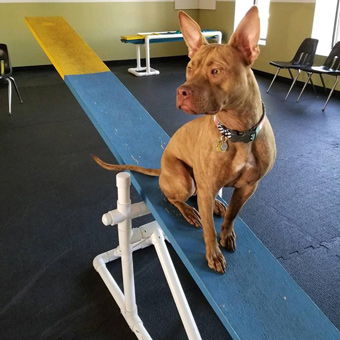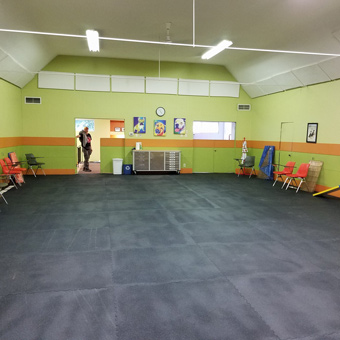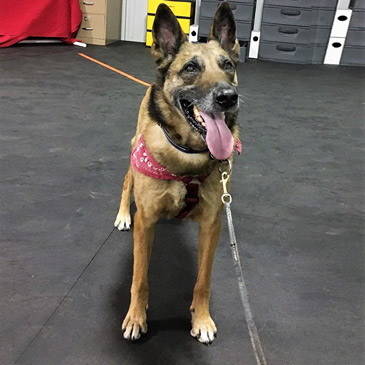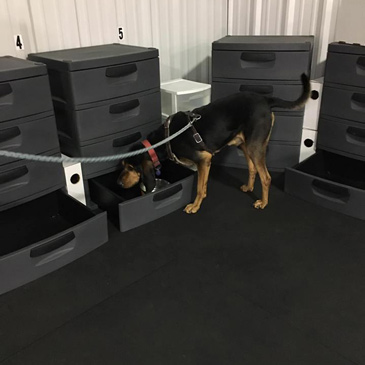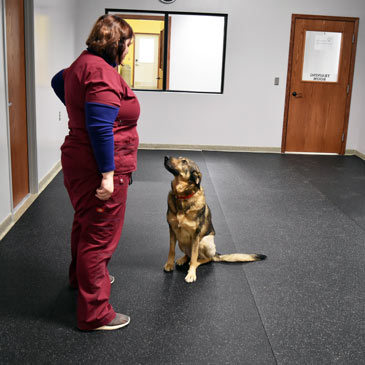 I live in the country, so our dogs spend lots of time outside, but also in their kennel and attached run, and in our mudroom. They even go to my husband's office. We've tried to make all their areas comfortable, safe and clean. But occasionally we need to board the dogs, and I have noticed a big difference in various boarding facilities. With the rise of doggy daycare centers, many dog owners have been learning more about what constitutes a good dog space. Believe it or not, flooring is a major factor in how healthy and happy a dog is.
The Humane Society of America advocates strongly against wire mesh flooring - like you find in a cage. Puppy mills are the biggest users of this type of flooring because dog waste can theoretically pass through the mesh. But the bottom line is the flooring is unsafe. Dogs' feet and toenails can get stuck in the mesh, causing pain or even injury. It is uncomfortable for the dogs to move around in a wire cage so they may stay put in one place, becoming depressed, developing sores, and more.
Outdoor runs featuring grass or dirt quickly result in dirty dogs, and can be difficult to keep clean. Gravel and wood chips can also be dirty and unsanitary.
Concrete is another option with some major drawbacks. It can be hot or cold, depending on the weather. If installed without a slope, water and urine can pool. Odors can be difficult to remove from concrete, and liquid waste can cause mold, mildew and bacterial growth. Concrete is hard on a dog's foot pads, joints, and elbows. Just like humans, dogs weren't meant to stand all day on concrete.
Fortunately, using concrete topped with foam or rubber mats for dogs can solve a lot of these problems, keeping your pooch comfy and safe.
Let's look at rubber mats for dogs. Rubber is super durable - it is the material used for horse stall mats, industrial flooring, etc. Often, you can buy a product made from recycled tires, which is a win win on several counts.
Rolled Rubber Flooring Mats for Dogs
When covering large indoor dog play areas, rolled rubber flooring is a great option. Made of recycled tire rubber, this flooring is durable, easy to clean and environmentally friendly. This type of dog flooring has been used in world renowned dog daycare centers for more than a decade and still looks like new. Rolled rubber mats for dogs is a great doggy daycare flooring as it is tacky enough to allow dog paws to grip, firm enough to prevent damage from claws and smooth enough to be gentle on the dogs' pads. Properly installed, dogs won't be able to chew it, and it is tough enough to not be shredded by their nails.
Be careful though, as some rubber flooring for dogs, particularly recycled flooring can have a strong sulphur odor. One online retailer that offers a low odor product is Greatmats.com.
Rubber flooring for pets and dogs
is also offered in straight edged mats and interlocking tiles, giving you a variety of options of sizes and thicknesses. Weight can also be a factor in choosing dog daycare flooring as rubber mats can be quite heavy and cumbersome to install without help. Greatmats interlocking mats for dogs help solve that problem as they come in easy to manage sizes.
Another benefit of buying through a specialty retailer like Greatmats.com is that they offer rubber mats for dogs from several manufacturers around the country, which can save on your shipping costs. Greatmats customer service reps can help you figure out the best option with the most affordable shipping.
EVA Foam Agility Mats for Dogs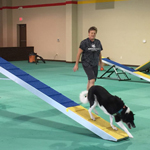 While rubber mats for dogs are tough, they are also heavy and potentially expensive to ship. It is also not as comfortable as foam, so for dog agility training, EVA close cell foam might be the way to go. One of the benefits of foam flooring is that it is lightweight, making it easier to install and cheaper to ship. However, it is not as tough or resilient as rubber pet flooring.
Interlocking foam mats for dogs
provide the ultimate in creature comfort. Long known by professional trainers as a durable flooring with superior cushion and grip, these tiles are also and slip resistant and provide great waterproof floor mats for pets. They are softer and lighter than rubber mats for dogs, but will show some puncture marks from the dogs' nails, which will not affect the dog flooring's performance. The shock absorption and cushion (and waterproof nature) make it the ideal surface for puppies whether training or just playing. It's easy on the developing bones and joints of active dogs of any size. The tiles come in green, blue, and black and are also reversible and easy to install and/or replace.
We've never bred our dogs, but we used foam mats all around the house when our kids were learning to walk, so I think they would be great for puppies as well. These mats are lightweight, portable, and each 3 by 3 foot tile weighs just 6 pounds. Customers like the heavy padding and ease of installation, and their dogs seem happy too!
Artificial Turf Dog Flooring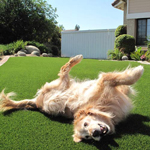 Also popular for outdoor dog areas, kennels and runs are rolls of
artificial grass turf for pets
.
Your pup can run on the same turf that 22 NFL teams use in their facilities. How cool is that? This artificial grass turf is made of a durable plastic material that won't tear or fade. The curled yarn intertwine is designed to feel soft on feet and paws. The grass is stain resistant, non porous and an antimicrobial infill option can inhibit the growth of mildew and odor. Plus the grass has a 100% permeable backing guaranteed to drain at over 250 inches per hour.
With an 8 Year Manufacturer's Warranty that is non-prorated, you're getting the best insured warranty in the business. The turf has a 15-20 year life expectancy, the longest in the industry, so your turf can entertain generations of dogs.
Dog daycares have special flooring needs and specialty flooring retailers have the answers. Greatmats has a long history of providing dog daycare customers with flooring for dog training and kennel facilities, and its flooring professionals will assist with free design layouts and installation methods. Greatmats has many flooring options for indoor and outdoor dog areas that are sure to make your canine companions happy and safe for years to come.