Does Cork Flooring Come in Different Colors?
By Kyle Schurman Created: October, 2022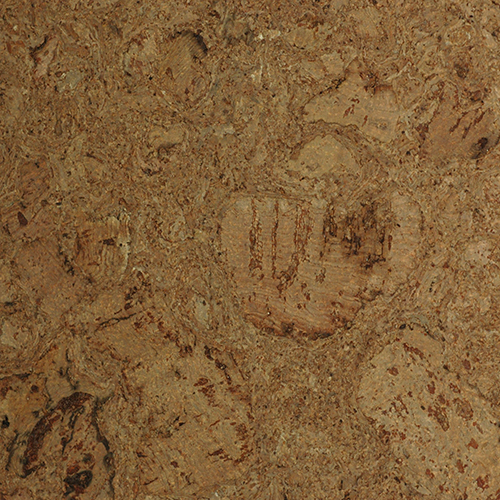 Although one of the most common uses for cork floors is an underlayment that you never see, cork flooring in colors meant to serve as a primary flooring is also a popular selection. Cork is a highly versatile option as a floor that delivers excellent durability and style.
At Greatmats, we offer cork flooring colors that will enhance the look of any room. Some of the various color options we have available include:
Dark brown with green and white flecks

Dark brown with light brown flecks

Dark brown with gray and light brown flecks

Dark brown with dark red and light brown flecks

Light brown with dark brown flecks

Brown with dark brown and light brown flecks
Advantages of Multi Colored Cork Flooring
By selecting cork flooring colors that will fit in with the decor and color scheme in a room, you can create a style of flooring that will serve as an accent to the existing color design.
The
warmth of cork flooring
and the multitude of colors available can result in a modern look that's difficult to duplicate with other styles of flooring. Although cork underlayments have their benefits, using cork as the main flooring creates a highly desirable look.
Tile Options for Cork Flooring Colors
We offer the FlexeCork Interlocking Cork Rubber Tile for customers who prefer the idea of installing tiles to create a cork floor. These tiles make use of a cork and rubber mix, which delivers impressive durability and creates a unique flooring texture and look.
The cork flooring colors available with this model include:
Bluff Oak Green

Leather Oak Brown

Gray Oak

Northern Red Oak
All these tiles include a random pattern that creates a natural-looking flooring using multiple complementary colors.
The cork and rubber materials used in these tiles consist of recycled materials, creating an eco-friendly type of flooring. Even with the inclusion of some rubber in these tiles, they do not have an overwhelming rubbery smell.
Customers can select among three different thickness options in these Made in the USA tiles of 1/4 inches, 3/8 inches, and 1/2 inches. Each tile has a 3-by-3-foot size.
Plank Style Cork Flooring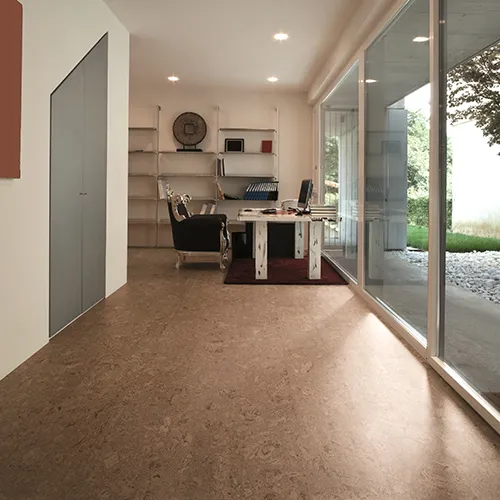 We also offer a style of cork floor in a plank shape. Our Cork Laminate Flooring measures roughly 1 by 3 feet in size. This is a beautiful flooring that works as a floating floor.
The cork flooring colors available with this plank-style model are:
Each color of this cork plank floor will include other shades of similar colors in a random pattern that contributes to the natural look that this flooring layout provides.
Each plank measures 1/2 inches in thickness, delivering a great size for lightweight flooring that remains durable. This is a dry lay style of floating floor that doesn't require a professional to do the installation.
Using Versatile Cork Flooring
No matter what color of cork flooring you choose to install, you will receive an impressive material that is perfect for a variety of use cases.
Gymnasiums like to install cork flooring, as this material requires very little maintenance and can stand up to heavy equipment and tough workouts without showing wear and tear. Gymnasium owners appreciate the value they receive with different types of cork floors.
Another option is to install these floors in a kitchen, as they provide a far more comfortable flooring for standing and working than traditional hard kitchen floors. Even though it has a comfortable feel, cork will last a long time as kitchen flooring.
When installers need to cut the cork tiles or cork planks to fit tightly against a wall or cabinet in the kitchen, this is an easier process than with some other styles of flooring. Simply cut the pieces with a utility knife and a straightedge to create the perfect fit for the size of tile or plank required.
Cork floors have the ability to absorb noise, which is ideal in a gymnasium setting or even in a room in the home where children may enjoy playing loudly.
Cork also delivers a greater level of warmth and cushioning than some other flooring options, making it extremely comfortable in areas where people will be walking in bare feet. It even offers thermal protection for those who are sitting on the floor.
Taking Advantage of Renewable Cork Flooring
Because cork is a natural floor that is also renewable, it is a popular selection as one of the
best environmentally friendly types of flooring
.
Cork flooring comes from the renewable bark of the cork oak tree. Harvesters take the bark from the tree every nine years.
This harvesting does not affect the health of the cork oak tree. In fact, these trees can live for up to 200 years and can go through as many as 20 harvestings safely. The cork grows back just as strong as it did prior to the harvest.
For more on this topic please review our
Cork Flooring
product page.