What Are The Dimensions of a Padel Tennis Court?
By Paige Cerulli Created: September, 2022
Whether you're looking to get started in padel tennis or want to expand your sports and recreation club's offerings, you might find yourself building a padel tennis court. Understanding the dimensions and overall construction of this court can help to make your project a success.
The Dimensions of a Padel Tennis Court
There are many similarities between a padel tennis court and a traditional tennis court, but the courts aren't the same. Padel courts are different dimensions, and they also have slightly different features.
A padel court is a large rectangle measuring 32 feet 8 inches wide by 65 feet 7 inches long. The courts have a net in the middle, as well as a second net on the edges that divides the playing areas up.
Padel courts also have solid walls, which help to keep the balls contained. The walls also help to keep wind to a minimum, and they serve to limit outside distractions and the direct sunlight that hits the court.
With a padel court, players enjoy a larger playing space than the sport of tennis allows for. The padel court net is also lower than the net used in tennis, and should measure 34.6 inches in the middle.
You will need to plan to create service lines that are 22 feet and 8 inches apart. Those service lines should be in a color that contrasts with the floor to maximize their visibility, allowing players to clearly determine whether a ball goes out of bounds or qualifies for points.
If you're constructing a padel court that will be used for competition, then it's important to follow the sport's rules. Black floors and white service lines are traditionally used, so you will want to choose a traditional color scheme.
But if you're building a court for your use at home, you can customize it with any colors that you choose.
Choosing Your Padel Tennis Court Flooring
The flooring that you choose for your court plays a key role in the court's safety and overall performance. As you explore different tennis court tiles available, look for the following qualities to determine which product is best for your padel court.
Traction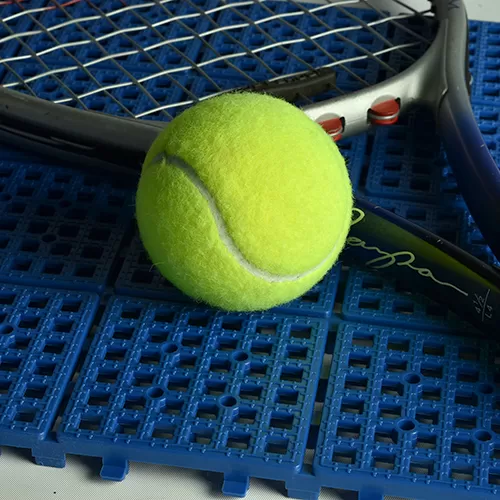 The tiles that you choose need to provide adequate traction against the athletes' shoes. Players need to be able to stop, spin, and run, and a tile that offers appropriate traction will allow for that.
The traction provided by the tiles also helps to prevent slips and falls, which can help to keep your athletes safer during each game.
Shock Absorption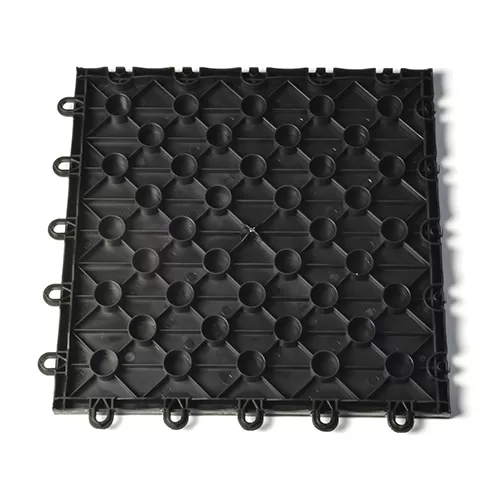 Choosing flooring tiles with some shock absorption can not only make your court safer, but also make it more enjoyable, leading to longer play times. Shock absorbing tiles can minimize the impact that athletes' joints feel, so athletes are more likely to use the court for longer practices and games.
That shock absorption is particularly important if an athlete does fall, and it may help to prevent serious injuries. It can also minimize the damage that occurs to a dropped racket.
While the tiles need to absorb some impact, they also need to be firm enough to provide a decent rebound and bounce for the ball. The tiles that we offer at Greatmats have been carefully selected to offer this precise combination of properties.
Drainage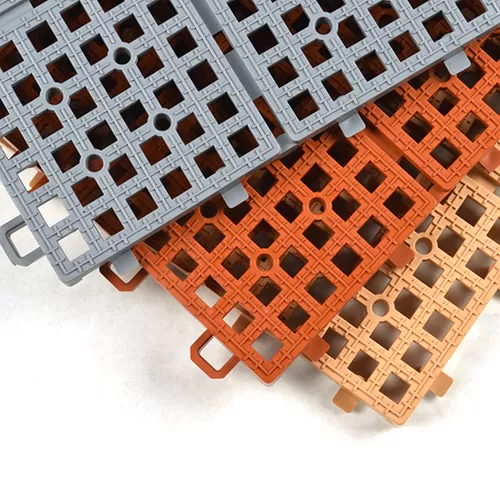 If you're installing a padel court outside, then it's essential to choose tiles designed to maximize drainage. Perforated tiles can help to prevent standing water from forming, and they can keep athletes' feet up out of the water, allowing you to use the court even after inclement weather.
Durability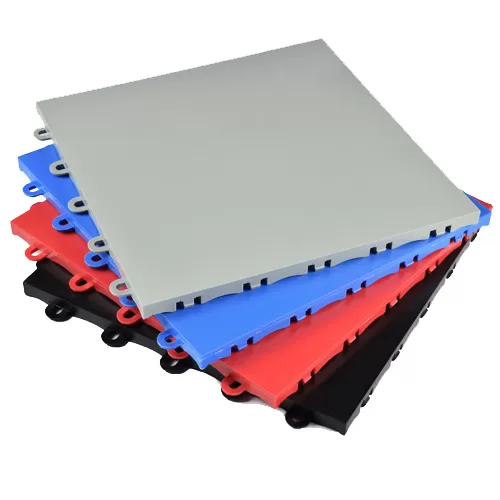 The flooring that you choose for your padel court needs to be durable in multiple ways. It needs to be strong enough to withstand the foot traffic and overall use that it sees, and if you are creating a court for commercial use, then it's particularly important to choose flooring that can withstand that commercial foot traffic.
The flooring used in outdoor courts needs to be able to withstand UV light. A UV treated product will be better protected and should help to prevent the colors from quickly fading.
When used outdoors, the court flooring will be exposed to temperature extremes, including freezing temperatures and ice and snow. A product that can withstand these fluctuating temperatures will be a long-lasting investment for your court that you can use year after year.
Installation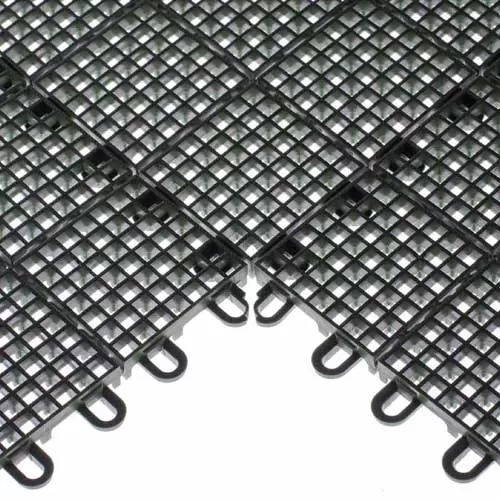 Consider the installation method that a court tile will require. Many of these tiles feature interlocking designs and can be dry laid, allowing for increased versatility.
When you dry lay your tiles, you can remove them and reinstall them again in the future if needed. If a tile is damaged or worn, you'll have the advantage of being able to replace that one tile, rather than having to replace an entire section of your court flooring.
These interlocking tiles also offer the benefits of a DIY-friendly installation. Whether you're installing a court in your backyard or want to ensure your commercial installation stays on schedule, being able to perform that installation yourself can save you time and money.