Rosco Heavy Duty Floor Cleaner 1 Liter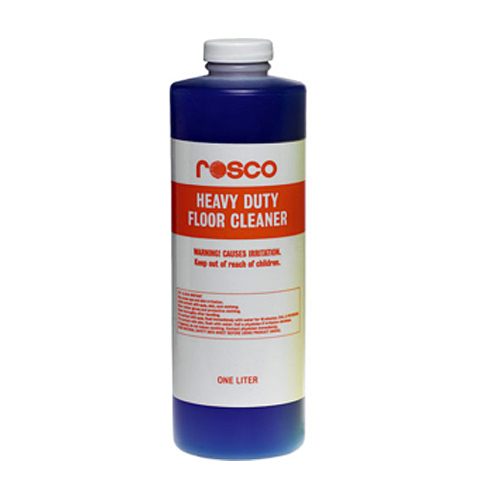 Use for daily marley dance floor cleaning
Use full strength to remove tap marks on marley floors
Dilute with warm water for standard cleaning
Ships Out: Estimate 1-3 Working Days
Please Call for Sample Options
VIDEOS
TOP FEATURES
Use for daily marley dance floor cleaning
Use full strength to remove tap marks on marley floors
Dilute with warm water for standard cleaning
2 oz cleaner per gallon of water for light cleaning
8 oz cleaner per gallon of water for moderate to heavy cleaning
Removes stains, oxidation marks, tape residue and wax
Also available in 1 gallon jug
Use on all Rosco floors
Use Types
Rosco Marley Dance Floor Cleaning
Rosco heavy duty floor cleaner 1 liter is specifically designed to be used on Rosco marley vinyl dance floors. Use diluted or at full strength.
Because a dance floor must maintain its finish and its smooth surface through all practices and performances, it's important to keep the flooring clean. At Greatmats, our recommendation for the best marley floor cleaner is the Rosco Heavy Duty Floor Cleaner.

This cleaner is highly effective at removing grime and other stubborn soils before they stain. It also will work to remove marks from tap shoes left behind on the dance floor at the studio or at home.

Even though our marley floor cleaner is a powerful cleaning agent, it is safe enough to use on a daily basis for a DIY cleaning process, allowing the flooring to continue to look like new with minimal effort on the part of customers.
For those studios that need a greater amount of cleaner, we also offer this product in a
1 gallon size (about 4.55 liters)
.
Material Options
If you are using a Rosco branded dance floor, Rosco recommends using this marley floor cleaner to keep it clean and to maintain its life. If a customer uses a cleaner other than the Rosco branded cleaner, it may void the warranty on the Rosco floor.
Rosco recommends avoiding any floor cleaning product that contains ammonia, as it could make the vinyl in the dance floor slippery.
Customers can use this liquid at full strength for spot cleaning, or they can dilute it with water for daily cleaning purposes.
Usage Options
Use this marley floor cleaner at least three times per week for the best results during normal usage patterns where the floor remains installed at a dance studio. You can use it more often for stubborn stains, spot cleaning, and heavy soils.
For touring companies that need to move the floor frequently, the manufacturer additionally recommends using the cleaner to remove soils before rolling up the floor for transport or storage.
Cleaning and Maintenance Requirements
To make use of this Rosco dance floor cleaning product, start by sweeping or vacuuming the surface of the floor to remove dry debris. Do not use a stiff bristle broom or a corn broom over the vinyl flooring, as these styles of brooms could leave scratches on the surface. A soft bristled push broom or a gentle vacuum cleaner will work best.
Regular Cleaning Process
After removing dry debris, dilute the Rosco cleaner according to the level of soil existing on the floor. Fill a bucket with 1 gallon of warm water. Do not use boiling water.
Light duty cleaning: For a general cleaning where excessive soils are not on the flooring, add 1 ounce of the cleaning fluid to the warm water. Apply the diluted cleaner with a mop and allow it to air dry.

Moderate duty cleaning: For cleaning where soils or tap marks on the floor are noticeable, add 2 to 4 ounces of the cleaning fluid to the bucket of warm water. Then apply the cleaner with a mop and allow it to air dry.
Do not apply heat to speed up the drying process. Use a floor fan, if desired.
Heavy Duty Cleaning or Spot Cleaning
For heavy soils, such as sticky substances left behind by vinyl tape, heavy tap shoe marks, or other grime, use the floor cleaner without diluting it.
Apply the cleaning fluid to a cleaning rag and scrub it directly on the spot. Afterward, apply either warm water or a mixture of cold water and a little bit of household vinegar to the spot to rinse away the cleaning fluid. Allow it to air dry.
Cleaning After Long Term Storage
After taking a roll of Rosco dance floor out of long-term storage, use our marley floor cleaner as a heavy duty cleaner and stripper. Excessive dirt and waxes may have built up on the floor before it went into storage, and this cleaner can remove those materials safely.
For using the cleaner after taking the flooring out of long-term storage, add 8 ounces of the cleaning fluid to 1 gallon of cold water in a bucket. Mop the entire floor. Then use a solution containing 1 gallon of cold water and 1 ounce of household vinegar to mop the floor as a rinsing agent. Allow it to air dry.
Shipping
This Product Ships UPS Ground, FedEx Ground and/or Freight.
Please review our shipping disclaimer.
ANSWERS
Product Questions:
Q: Does this product remove scuff marks on the floors?
A: This product is designed for use with marley dance flooring and can be used at full strength to clean tap marks off the floor.
SPECIFICATIONS
| | |
| --- | --- |
| SKU# | 09112-0034 |
| In Stock | Yes |
| Thickness | Less than 2 mm |
| Width | 0.00 feet |
| Length | 0.00 feet |
| SF per Item | 0.00 |
| Weight | 7.00 lbs |
| Packaging | Cartons |
| Number of Pieces per Package Type | 4 |
| Non Absorbent | No |
| Interlock Loss | 0.00 feet |
| Interlocking Connections | No |
| Made In | USA |
| Installation Method | Damp mop |
| UV Treated | No |
| Reversible | No |
| Border Strips Included | No |
HOW TO'S
RELATED PRODUCTS
RELATED BLOGS
Customer Reviews
4 out of 5
1 star ratings
Customer Rating:
08/15/2016
Fairly easy installation, Rosco Adagio is good quality and easy to work with, would definately recommend this product for a self installation, no need for a installer its that easy