Can You Install Vinyl Tile Over Ceramic Tile Or Other Vinyl Flooring?
By Lisa Hobbie Created: February, 2021 - Modified: February, 2023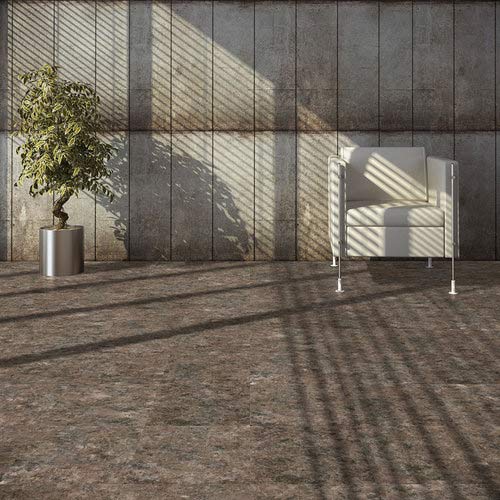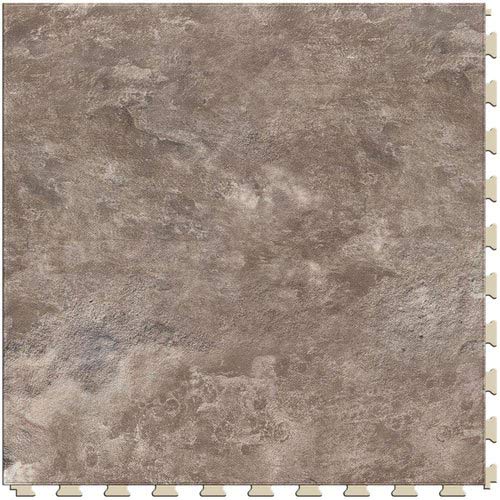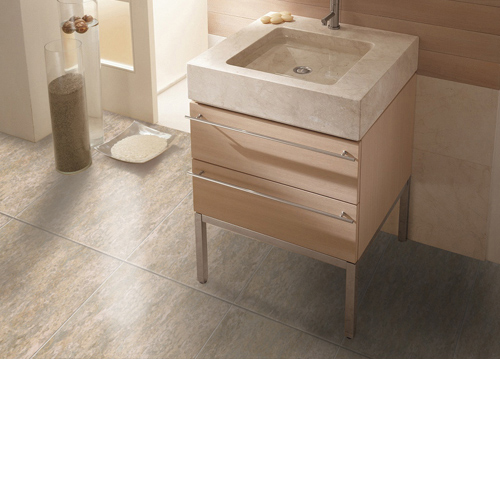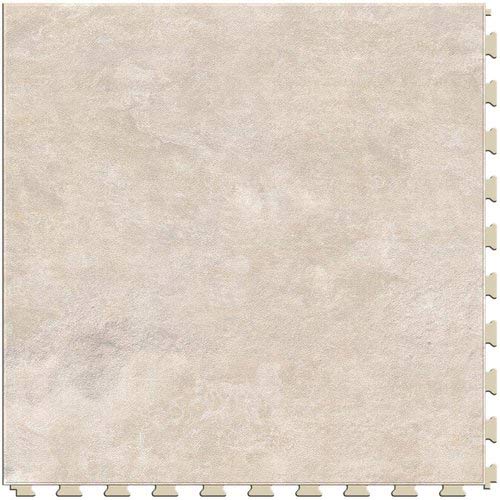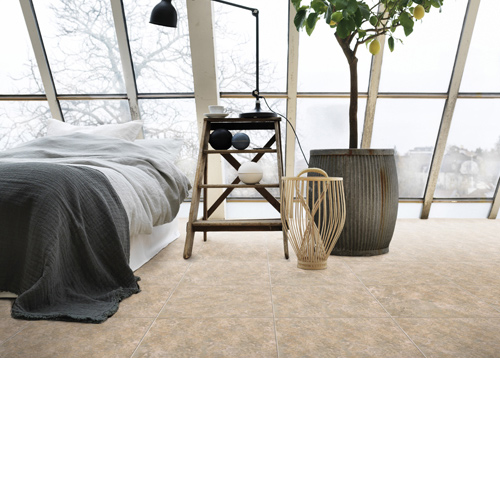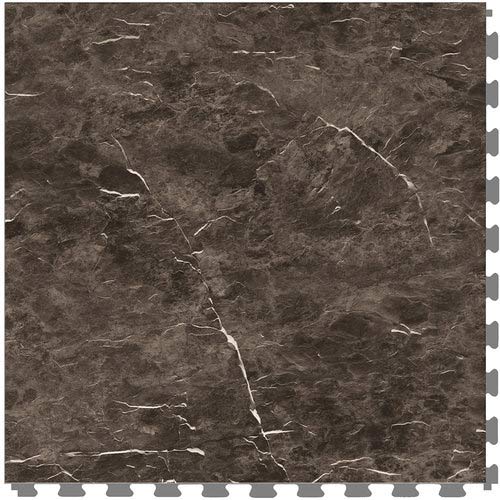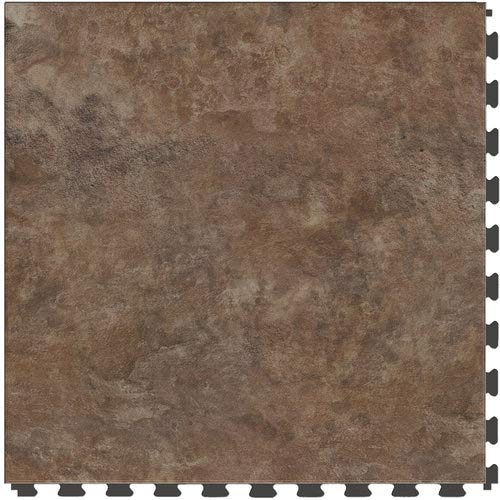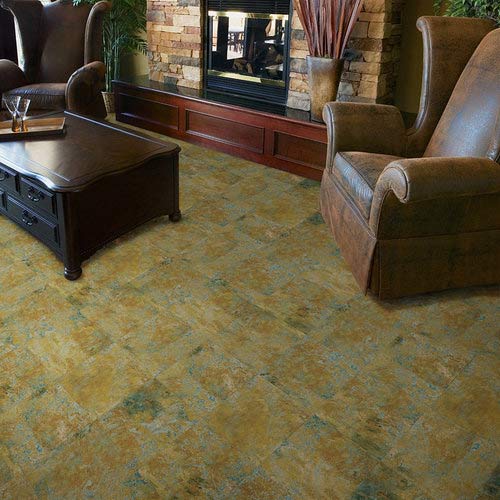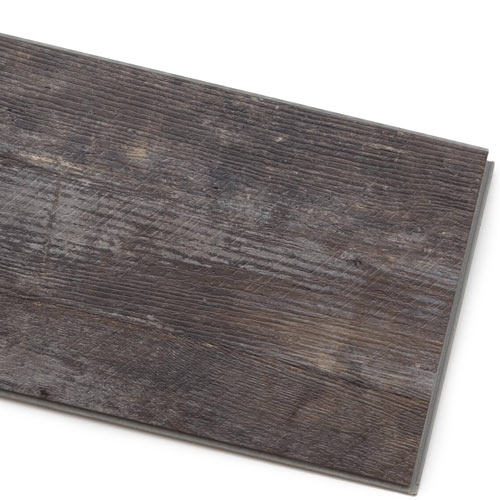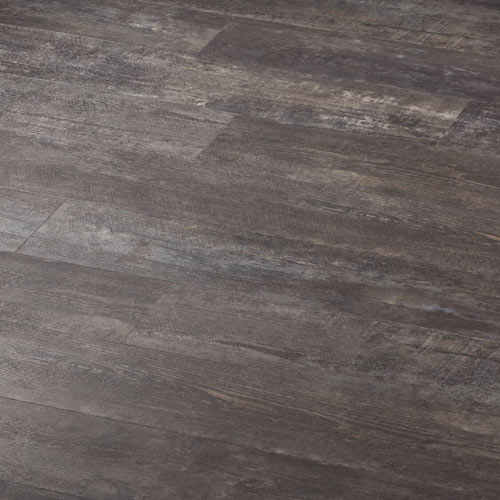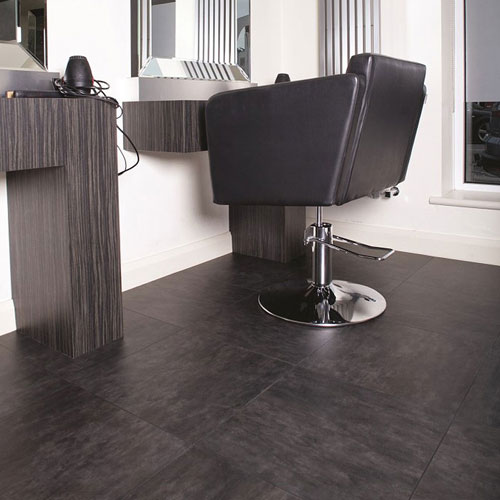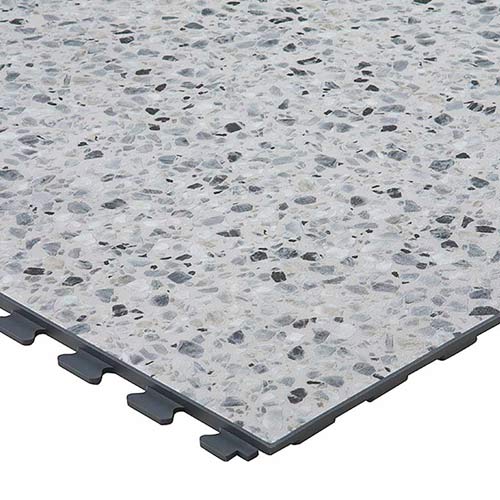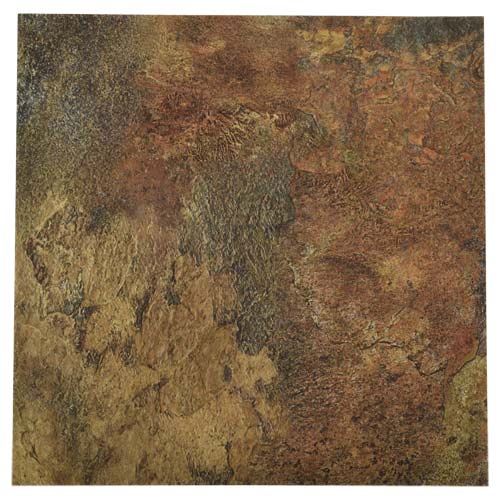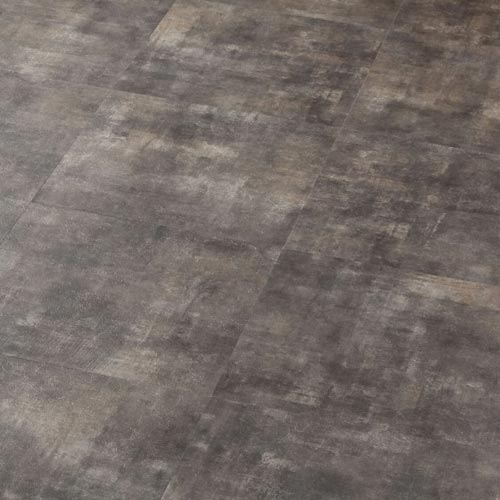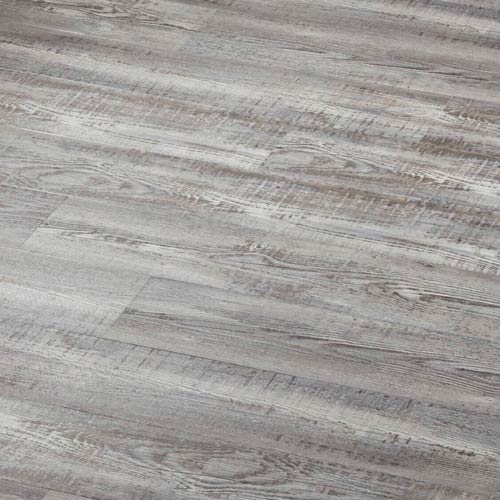 If you are considering an update to a space or place with an old ceramic tile or vinyl flooring, you may be wondering if you can install vinyl tile directly over it. While there are a number of products that would work for this type of application, the best option would be a thick, floating floor tile as the subsurface doesn't need to be as smooth and flat as it would for other products. Any vinyl tiles can be installed over existing tile, as long as grout joints are flush on ceramic tile. Installing them over other vinyl flooring isn't a problem either as long as the existing vinyl is in decent shape.
If you're considering
vinyl tile over ceramic tile
or other tile that isn't smooth or in good shape, you can easily solve that problem if you first lay a particle board product over the existing subfloor.
Greatmats offers 7 specific vinyl products that can be installed over ceramic and other tile, which include:
Can You Install Vinyl Tile Over Tile Flooring?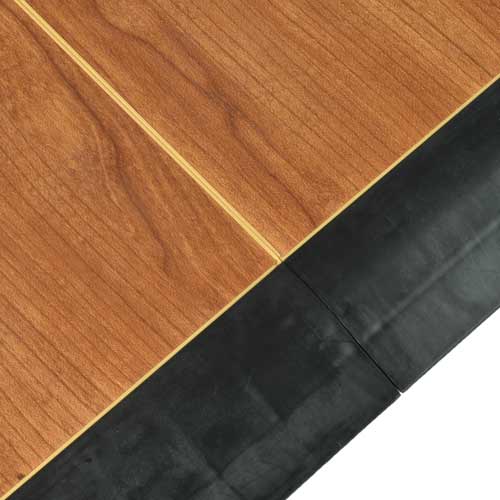 The quick answer is yes. Especially if you select
Max Tile Raised Floor Tile
. This flooring solution can be considered a viable vinyl tile over ceramic tile or any other type of tile because of its design. This product happens to be one of the most versatile products available at Greatmats, and it is a fabulous option for essentially any setting - from home to office to commercial building.
One of the best features about this vinyl tile over ceramic tile or other flooring - even carpet - is the ease of installation. Just thoroughly clean the old ceramic or tile floor, making sure it is free of dirt, dust, and debris.
Put the Max Tiles in the room where they will be installed and allow them to acclimate to the room for 24-48 hours. This is especially important if your tiles have been stored or shipped in the cold. Then, begin at one corner of the room and just work outward. The individual tiles interlock by aligning the nubs atop the adjacent loops, and stepping on them to lock them in place. It's an easy install for one person. Once assembled, this flooring provides a tight-fitting, secure surface that will not pull apart or leave gaps. If you want, you can even add optional ramped borders and corners to create a finished, clean edge.
If you choose this vinyl tile over ceramic tile, you will enjoy numerous benefits. First, because of its ease of installation without adhesives, it can be installed, removed, and reinstalled for temporary flooring over ceramic or other tiled surfaces. It is suitable for almost any indoor room, as its raised design allows it to float over the tile subfloor - permitting air to flow underneath - reducing the risk of mold and mildew growth in damp areas. It also has a robust, commercial grade vinyl surface that keeps the floor looking fresh and new for years. These vinyl tiles are waterproof, slip resistant, and scratch resistant. They are constructed in the USA from top notch materials, and to clean them, simply use a damp mop, hot water, and common household floor cleaner.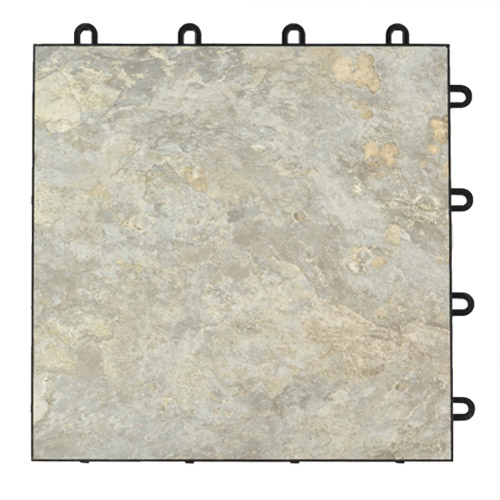 TileFlex Floor Tile
is another "yes'' answer to the question, can you install vinyl tile over tile flooring? This luxury product is a vinyl tile, similar to the Max Tile the can be installed over most surfaces, including linoleum and ceramic tile, that will help you achieve the look of an authentic wood floor, without ever having to resurface or refinish it.
This flooring is much more affordable than real wood, and unlike wood, it is waterproof and raised to allow underside air and water flow. It is a breeze to keep clean and it requires minimal, if any maintenance.
The modular design provides a no glue installation process very similar to the Max Tile product. This one is available in many different finishes and colors, and it can also be used in a more permanent setting, such as a basement floor, dance floor, workout room floor, church hall, or sport court.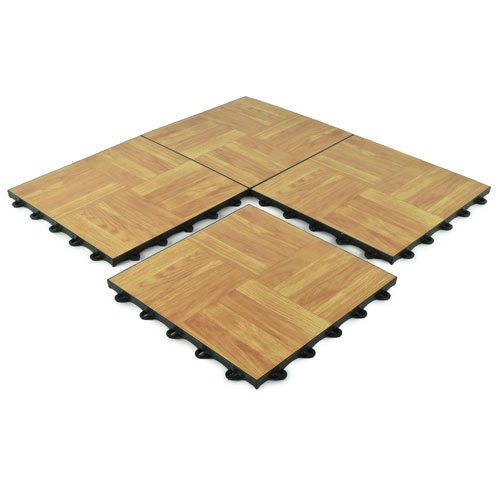 Basement and Portable Event Floor Tile
is another option in the family of raised snap together modular vinyl tiles. This product has a rich, wood look available at an affordable price. Like the other floating floors highlighted, this one is also super durable and waterproof, and it has a simple, snap together connection process that is quick and easy to put together and take apart with its unique interlocking tab design.
Each of the 12x12 inch vinyl tiles can be quickly installed with a raised modular base allowing for air flow and drainage - making it ideal for basements and other damp spaces with existing ceramic or other tile flooring. It has a polypropylene plastic base and features an attractive, vinyl top surface that will never need to be resurfaced or refinished. This flooring can be installed over most hard, flat surfaces, like concrete and ceramic, and ramped borders are available.
All three of the above products are plenty thick to hide blemishes in the existing floor below them.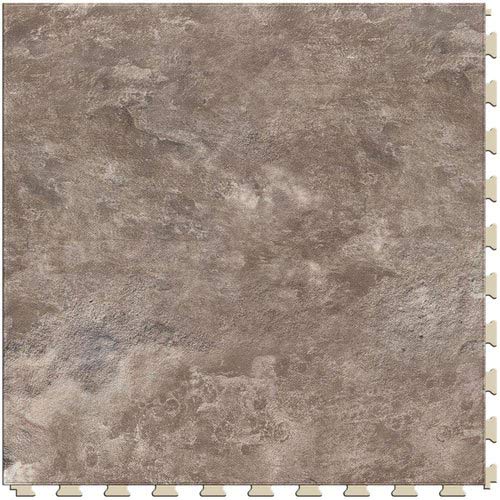 With the
HomeStyle Stone Series Tile
, you can have a lower profile vinyl flooring solution of tile that is very attractive. It looks like an authentic stone flooring product that features hidden, interlocking tile design.
This vinyl tile for over ceramic tile comes in many designer colors. It has a robust vinyl top surface texture that looks attractive and feels warm under foot. It's a super comfortable floor that can even be installed over uneven tile subfloors. It's also easy to uplift and reinstall, so it's suitable for a temporary or permanent application.
These tiles sit pretty close to the old tile floor, and they are easy to clean with a vacuum or damp mop.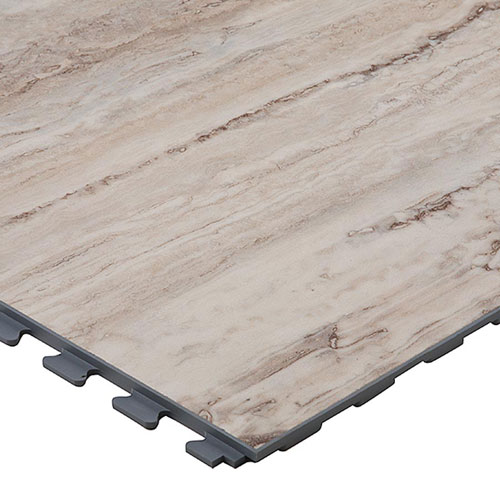 Designer Vinyl Top SupraTile
is a great polyvinyl chloride (PVC) tile over ceramic tile option. It looks like a real marble floor with its patented, hidden, interlocking joint system. The flexible tiles just snap together and are trimmed for a perfect fit. It can be installed over nearly any floor, so installing over tile is not a problem.
This flooring is super durable and versatile. It's made from five layers and bonded together under 50,000 pounds of pressure. The layers are then heated, creating an attractive product that's a breeze to install - resulting in a beautiful surface that is bonded to the tile and coated with two layers of clear coat. This flooring features color-coordinated edging that creates the look of grout, giving it a professional, rich finish.
Unlike authentic marble flooring, this product is affordable and never needs to be polished or refinished. It is also resistant to oils, chemicals, mold, mildew, impact, moisture, and abrasion. Compared to ceramic tile or concrete, it also provides a warm and comfortable flooring for an office, gallery, showroom, basement, lobby, hallway, or virtually any space.
This product is super tough and can support loads of up to 2,000 pounds. Each of the individual tiles is 18 inches square and 5/16 inch thick, and it is available in seven pattern options for your designing pleasure.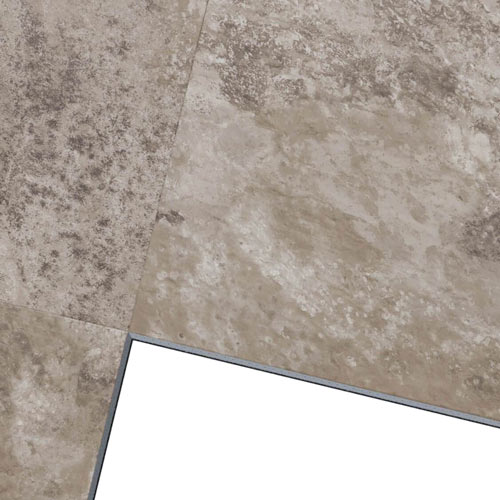 Envee Tacky Back LVT Tiles
are among the most luxurious vinyl flooring products. And this product can also be installed over tile flooring. This LVT tile is perfect for someone who prefers an upscale, chic look. It is a commercial grade product with a patented grip layer backing and dirt tight surface. It resists the growth of mildew and mold and is extremely clean and hygienic. It's also designed to perform well in high traffic areas.
Installing this vinyl tile over ceramic tile is a breeze, and the realistic textures and precision-trimmed finish result in an unbelievably tight fit. There is a color, pattern, or design to suit any color scheme, and It is also slip resistant and easy to clean by using a vacuum or damp mop.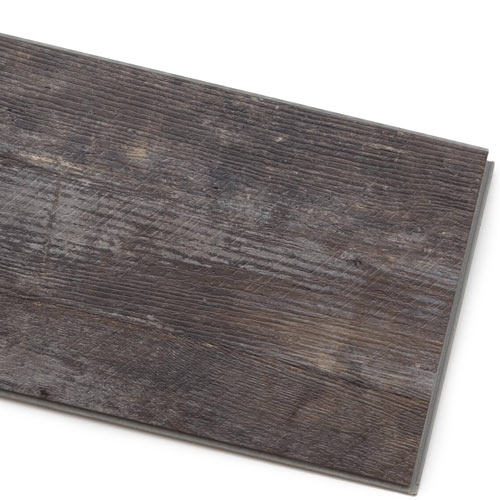 Envee Tacky Back LVT Planks
are among the most attractive tacky back LVT plank products that perform as vinyl tile over ceramic tile. This commercial grade flooring product is ideal if you like a clean, classic look. It looks like real wood, yet it is slip resistant with a patented grip layer backing and dirt tight surface.
The LVT planks perform well in high traffic areas, and they resist the growth of mold and mildew. They're a breeze to clean with a vacuum or damp mop. This affordable product has so many great benefits and comes in 10 different wood design colors.
Greatmats - For Vinyl Tile Over Ceramic Tile And More!
Exploring ideas for vinyl tile over ceramic tile is something you don't need to do alone. Allow the amazing staff at Greatmats to go to work for you!
With the numerous attractive and affordable flooring options to choose from with products to suit any design preference or budget, the team at Greatmats will help you find the product that is ideal for your project - whether one of those highlighted, or an alternative choice! Regardless of the solution you decide on, you simply can't go wrong when you purchase from Greatmats!