Can You Install Carpet Tiles Over Hardwood Or Vinyl Flooring?
By Lisa Hobbie Created: February, 2021 - Modified: February, 2023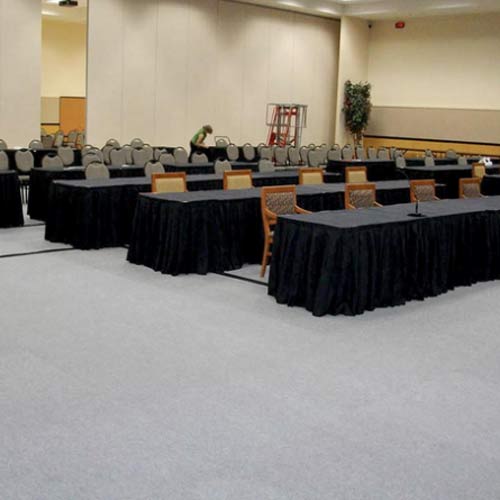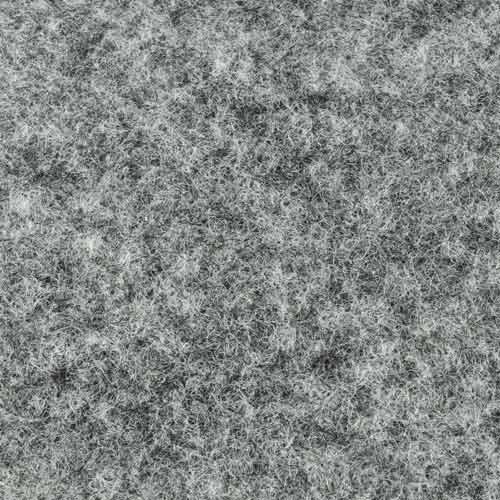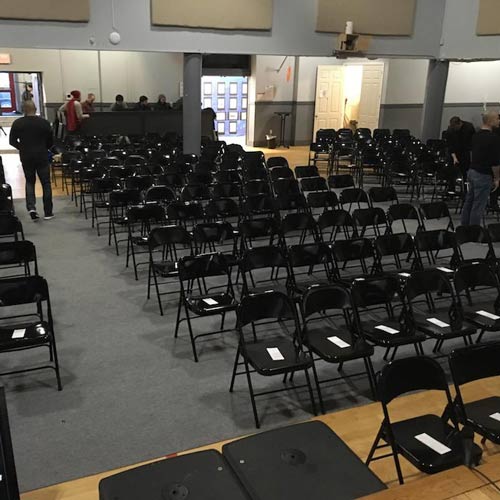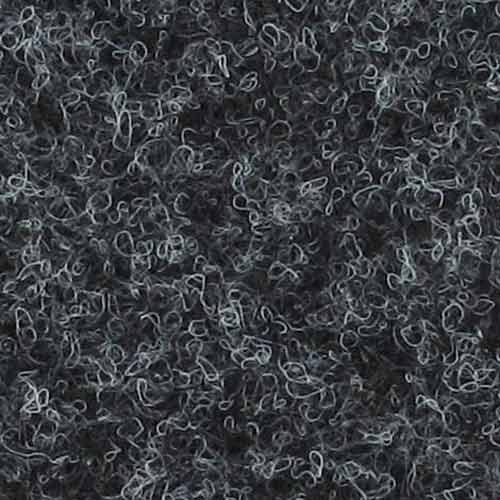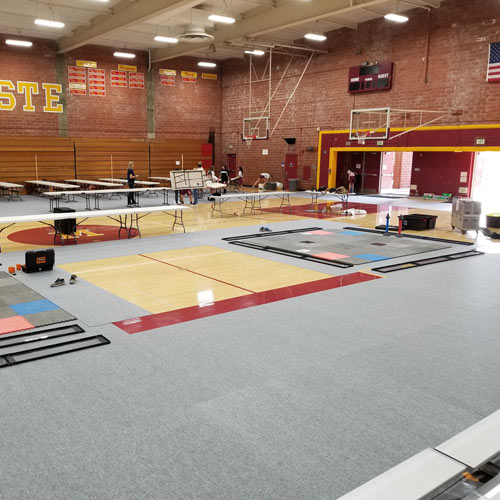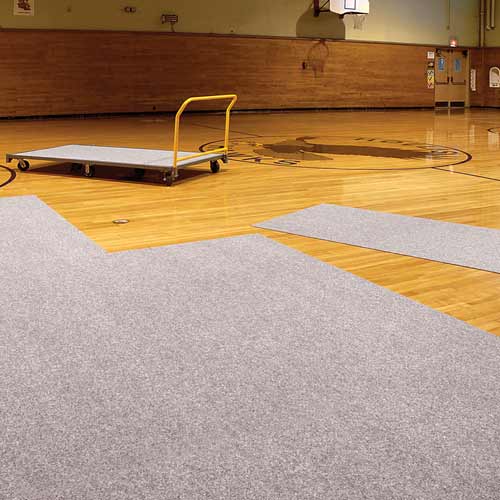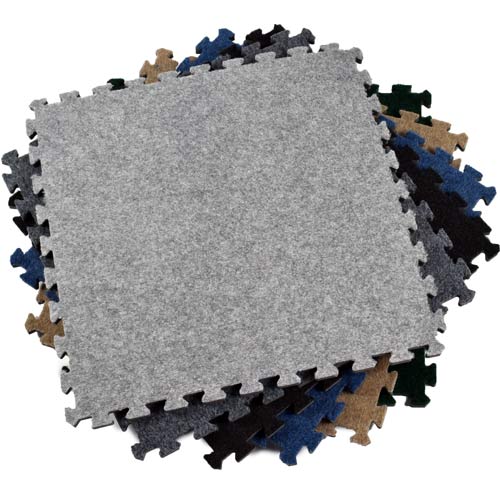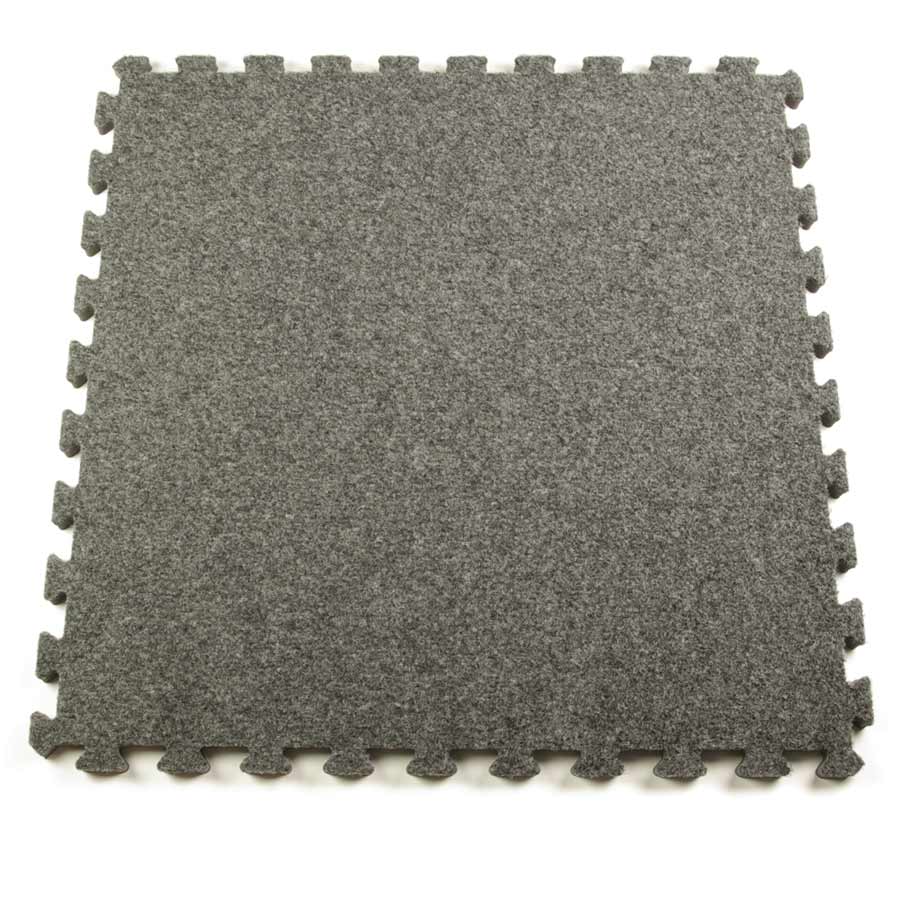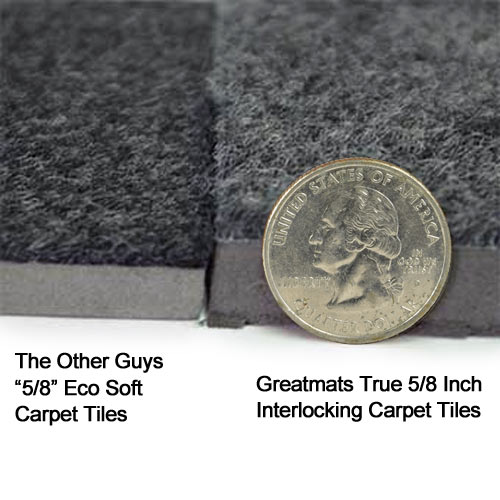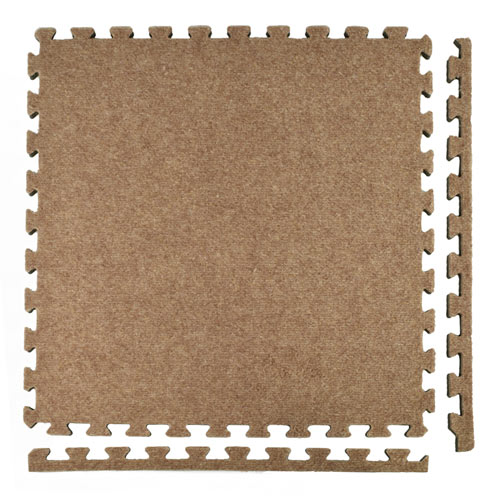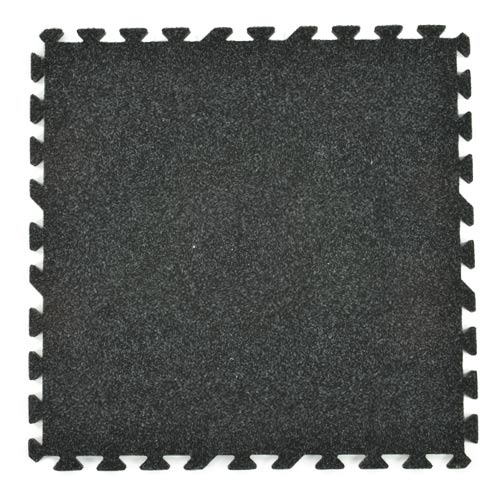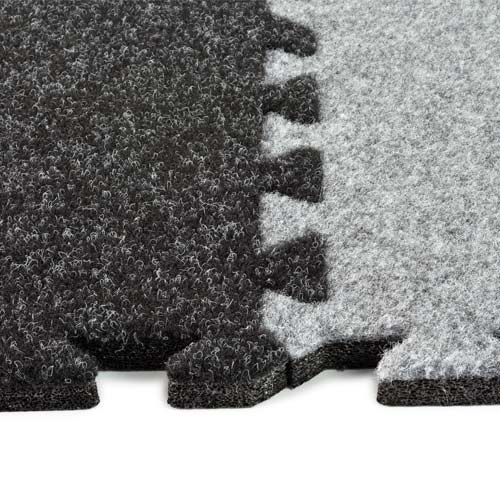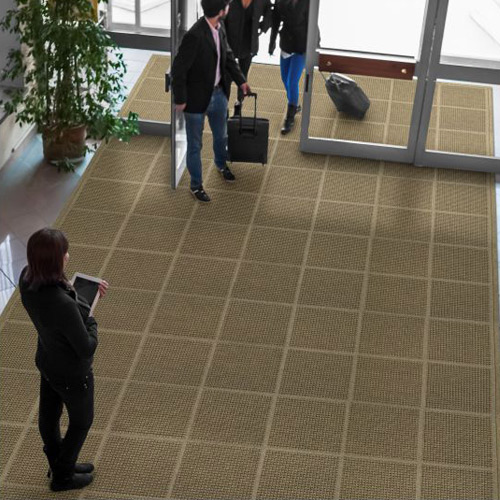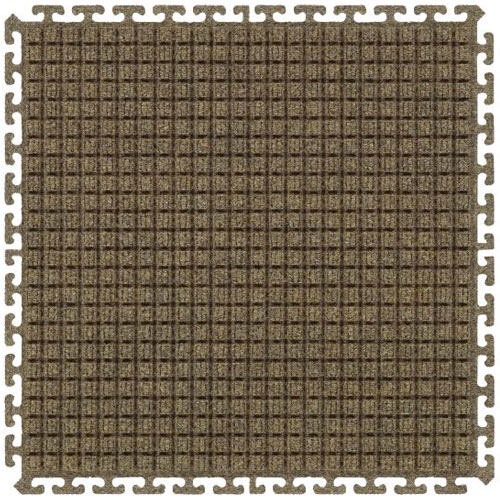 If you are looking to update an existing hardwood or vinyl plank flooring that you want a replacement for, without having to remove that existing subfloor, luxury carpet tiles are an excellent solution.
You may also be looking for options to put carpet over hardwood to protect the surface - such as in an auditorium or gym. As long as the hardwood or vinyl floors are relatively flat and smooth, there are many different options for carpet over hardwood or vinyl flooring.
To Put Carpet Over Hardwood, What Must Be Done First?
Proper preparation of an existing subfloor, whether hardwood, vinyl, or other existing flat surface is imperative to a successful carpet installation.
Make sure to clean the floor thoroughly. Before installing carpet over hardwood or vinyl, make sure that it is swept, vacuumed, dry mopped, and if needed, damp mopped, making certain that all dust, dirt, debris, tacky substances, or adhesives are completely eliminated.
Once the subfloor has been properly cleaned, make certain that it is free of large cracks and holes. If there are any larger than ⅛ inch (3.2mm), they should be filled or repaired to ensure nothing will damage the backing of the new carpet.
Once the subfloor is clean, smooth, flat, and free of potentially damaging flaws, simply follow the manufacturer's guidelines for installing your carpet over hardwood or vinyl.


Which Types Of Carpet Work Over Vinyl And Hardwood?
Greatmats offers a wide variety of carpet tiles - from peel and stick to interlocking to modular floating options. If you are asking, can you put carpet over vinyl flooring or hardwood, these products are among the best solutions:
All of these carpet tiles are options can be installed over hardwood, and they provide a great mix of quality, performance, and affordability. Each of the products has a number of notable benefits and features, with at least one of the solutions being perfect for your application.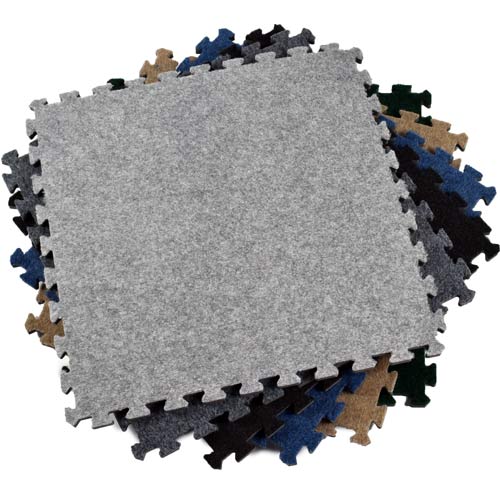 Royal Interlocking Carpet Tile is a durable and versatile carpet option to consider for installing over with hardwood or vinyl. This option can be used in a number of applications, from a basement to office, bedroom to playroom.
The surface of these interlocking carpet tiles are layered with a durable, plush carpeting that is bonded to a soft and closed-cell foam backing. This results in a robust product that can withstand heavy and constant foot traffic, furniture, and years of consistent use.
If you are looking for carpet tiles for a wall-to-wall installation, these provide the perfect solution. Not only can they be installed over hardwood, they can also be placed directly on a clean vinyl or cement floor without using glue, special tools, or additional pad. In a setting where moisture is present or spills and leaks could occur, this product is the perfect one to install. This carpet is also odor proof, simple to clean, and presents a cushioned anti-fatigue and insulation value similar to traditional plush carpet.
This product is simple to maintain and clean by putting a vacuum to it, as needed. The tiles can even be removed and scrubbed in a sink or hosed down. This low maintenance, high-performing carpet solution will cost under $2.50 per square foot and provide a 1 year limited warranty.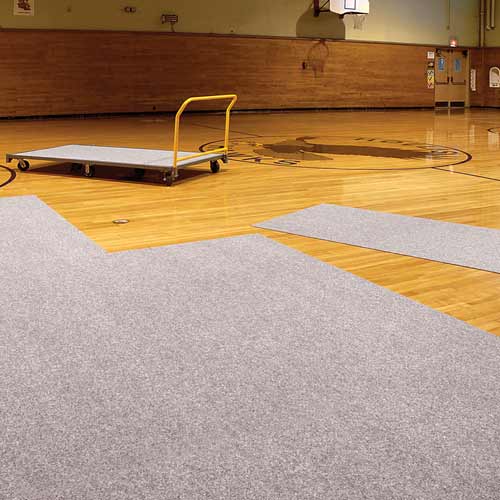 Protective Gym Floor Carpeting is another great solution if you're looking for a protector to go over a hardwood gym or auditorium floor to protect the high-dollar performance flooring from damage that could be caused by street shoes, chairs, and tables.
This carpet is among the best floating temporary carpets for guarding hard, flat surfaces and keeping a cozy and aesthetically pleasing surface. The carpet tiles are relatively heavy, weighing about 14 pounds each and are 3.28 feet by 6.56 feet. As a result, once positioned against one another, they will stay in place and not shift or slide. They also have straight lines on all four sides, so they sit tightly against each other. Their non-slip backing to help hold the carpet tiles in place.
This carpet protects existing floors while providing a comfortable surface for people standing for extended periods of time, compared to a hard floor. It also presents an attractive appearance and acoustical benefits. This product will last for many years, as it is robust enough to withstand having tables and chairs placed on it. It can be installed when needed, and you can then remove and store it when not needed.
The carpet tiles are water repelling and easy to clean and maintain. Each one costs roughly $45, which equates to 21.5 square feet. The product comes with a 3 year limited warranty.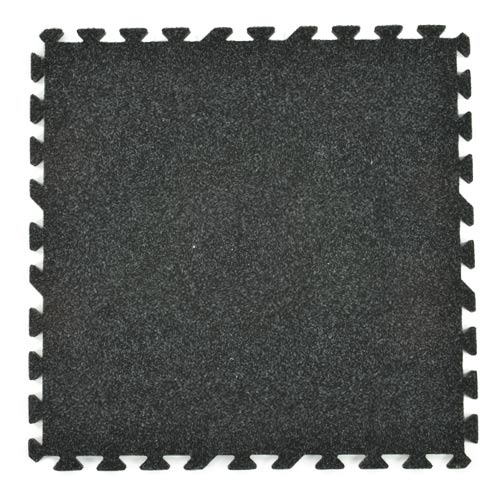 Comfort Carpet Tile is another "yes" product to the question, "Can you put carpet over vinyl flooring?". This one is perfect for a large space, as each carpet tile is 2 feet by 2 feet and commercial grade. This short hair carpet product is designed for continued, heavy foot traffic in a wall-to-wall application. It is very durable and reliable, and it features a padded foam base for extra comfort.
Install this carpet over hardwood if you're looking for a wide variety of colors with ramped edging options.
It can be used in numerous settings, including trade shows, showroom floors, basement floors, expo floors, booth floors, home theater floors, and more. It's also affordable, with an approximate cost of $3.25 per square foot.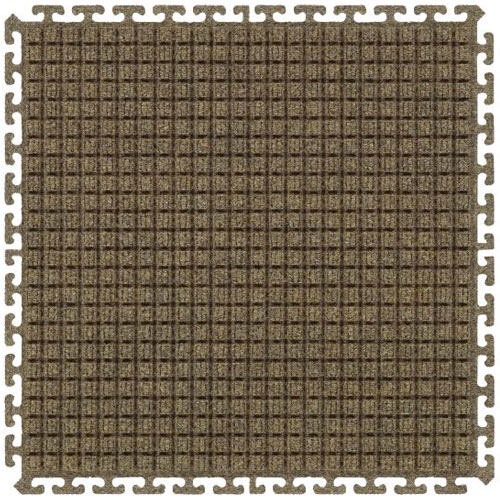 Waterhog Carpet Tile is a great product if you're needing a flooring solution for a space or place that will experience heavy foot traffic in a damp environment. This carpet can be installed over hardwood for a fast drying and stain resistant surface, and it is also extremely durable. If you are wondering if you put carpet over vinyl flooring also? With the Waterhog product, yes, you can.
This carpet tile is quickly and easily installed without adhesive. It can be cut for a custom fit, and each tile easily links together. It is anti-static, and it will not fade or rot - even in direct sunlight or damp areas.
This carpet tile is made in the USA and has a rubber reinforced, bi-level cleaning surface that can be vacuumed or hosed down as needed. Commonly used in high traffic entrances, commercial lobbies, transit stations, churches, and schools, this product will cost about $193 per carton of 10 tiles, which provides 22.50 square feet of coverage. It also comes with a limited lifetime warranty, so when you purchase this carpet system, it's money well spent.
Can you put carpet over vinyl flooring or hardwood? With Greatmats, you can!
Although some of the most durable, versatile, attractive, and popular carpet flooring options have been highlighted, the list of suitable products to go over hardwood or vinyl has only been skimmed. There are a number of other products that would look and perform really well over an existing hardwood or vinyl floor, whether in a home, commercial, or office setting. From many additional carpet tiles to raised modular tiles and other options in between, there is something for everyone and every space.
Regardless of your style preferences, budget, and needs, Greatmats has carpet tile and other flooring solutions that would look and perform perfectly in your space. Simply reach out to the friendly and experienced staff that will help you determine which option is ideal for you. No matter which product you choose, you simply can't go wrong when you make your purchase from Greatmats - offering the best quality, pricing, and service available anywhere.