What Are The Best Wood Grain Interlocking Foam Floor Mats?
By Paige Cerulli Created: March, 2022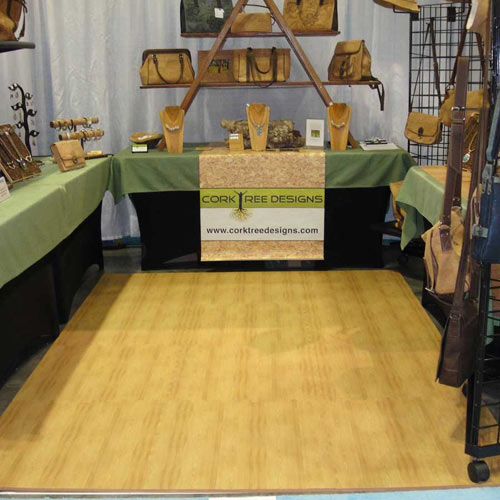 Wood grain interlocking foam floor mats offer many benefits, from their eye-catching appearance to their soft, comfortable surfaces. Like any flooring purchase, though, it's important to make sure that you're buying quality tiles that will last.
Qualities to Look for in Wood Grain Interlocking Foam Floor Mats
When shopping for wood grain interlocking foam floor mats, looking for the following qualities can help you to decide which product is right for you.
Thickness
Thicker mats offer increased shock absorption and cushion when compared to thinner mats. They can also offer greater insulation against cold subfloors.
Opting for a thicker tile may give you increased durability, too.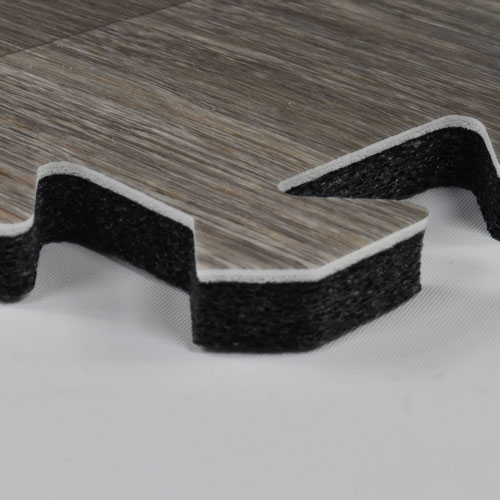 Realistic Pattern
The printed faux wood pattern on many of these foam mats is designed to look like real wood. However, it will only have a realistic effect if you choose a tile with a quality, accurate pattern.
As you shop for these mats, think about the overall aesthetic that you want them to have. These mats are available in many finishes, including light and dark wood grain patterns.
If you have an idea of just what type of pattern will best work for the space, you'll be able to quickly narrow down your tile options.
Strength and Durability
Depending on how you intend to use the foam floor mats, you may need to look for a tile that is extra strong and durable. Some foams are easily damaged, and most foam tiles can't withstand high heel traffic or support the weight of furniture with small diameter feet.
Think carefully about where you'll be installing the tiles and how the space will be used. A firmer, stronger, more durable tile may be the best choice if you'll be installing it in a high-traffic area that will see a lot of use.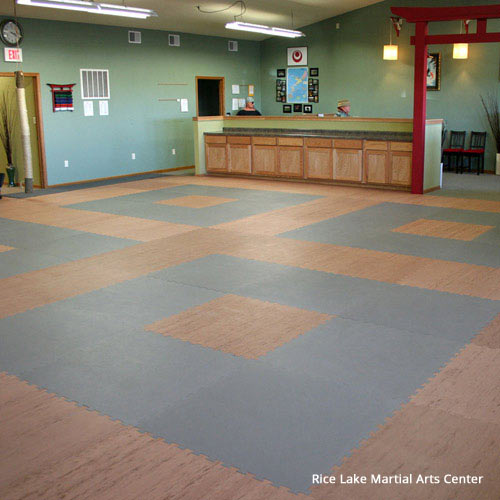 5 Top Wood Grain Interlocking Foam Floor Mats
At Greatmats, we offer several wood grain interlocking foam floor mats. Whether you're looking for a light pine pattern or a darker pattern resembling walnut, chances are you'll find just what you're looking for within this selection.
1. Wood Grain Foam Tiles Reversible ½ Inch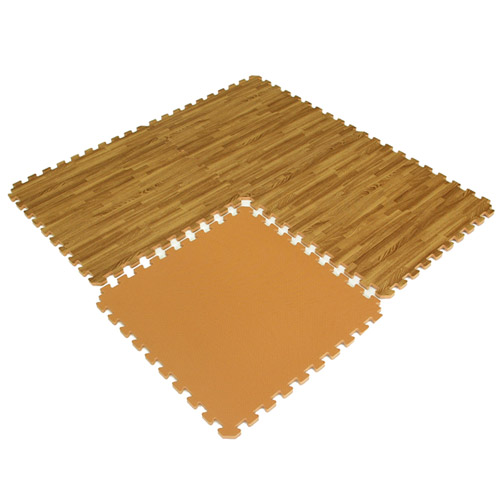 The Wood Grain Foam Tiles Reversible ½ Inch tiles are a highly durable wood grain foam tile. They feature realistic wood grain patterns on one side, and a scuff-resistant surface on the opposite side, so you can reverse them to maximize their lifespan.
The EVA foam is free of lead and latex, making it safe for use in family basements, trade shows, and more. The tiles are much softer than gym tiles, and the cushioned surface is perfect for kids who might want to crawl around and play.
These puzzle tiles interlock tightly, so they won't pull apart while in use. Border pieces allow for a clean, finished edge for puzzle installation, while the tiles are also easily cut for a wall-to-wall installation.
2. Martial Arts Karate Mat Premium 1 Inch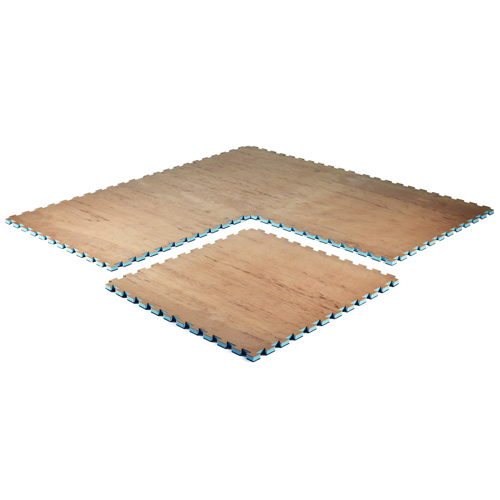 The Martial Arts Karate Mat Premium 1 Inch is designed specifically for the needs of martial arts and aerobic exercise studios. The high-density EVA foam supports quick spins and jumps, while also absorbing shock to help keep athletes safe.
The tiles are available in a wood grain option for a classic look, and their double-sided design makes it easy to create patterns and designs. Their leather surface texture allows athletes to wear shoes, and the tiles are waterproof for easy cleaning.
Measuring roughly 40x40 inches, these tiles are generously sized and will quickly cover larger areas, like dojos. The puzzle interlocks secure together tightly, and the tiles allow for an easy DIY installation.
3. Foam Tiles Wood Grain ½ Inch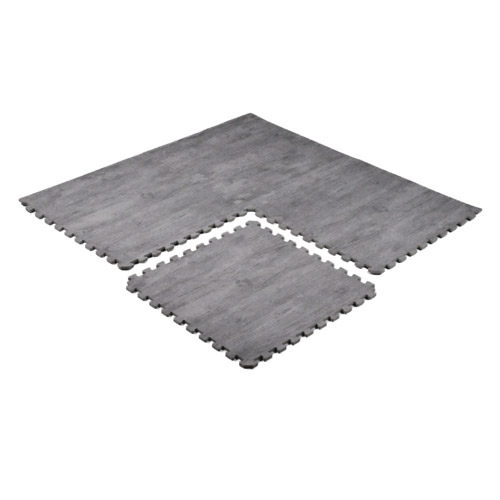 The Foam Tiles Wood Grain ½ Inch offer a realistic wood grain look paired with a soft, cushioned feel. They're ideal for use in basements and home settings, and are lead and latex free for your family's safety.
The tiles are waterproof and designed for longevity, but moisture can be trapped underneath, so you may need to remove them if your basement experiences a leak. You can choose from a variety of wood tones, including brown, gray, and black, ideal for nearly any decor.
Each tile includes two border strips for clean, finished edges. The tiles offer a high-end designer appearance at an economical price.
4. Rustic Wood Grain Trade Show Tile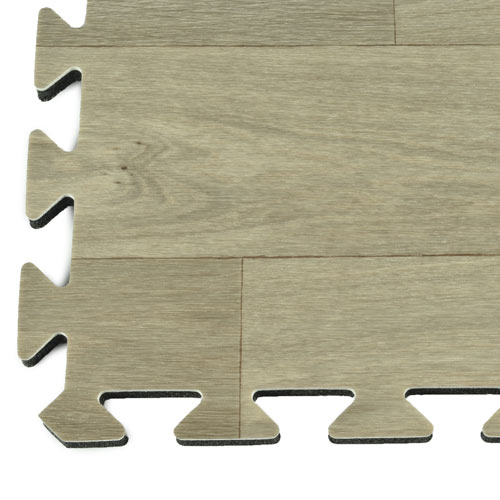 The Rustic Wood Grain Trade Show Tiles feature a distinctive rustic wood grain finish, yet offer valuable anti-fatigue cushion that's perfect for trade shows, events, and basements. The tiles are lightweight and easily portable for transportation or storage.
These tiles are waterproof and non-absorbent. They feature a durable vinyl top for extra longevity.
While the tiles can withstand most shoe traffic, they can be punctured by high heels. They're easy to install and remove.
You can order these tiles with an optional beveled edge, which makes for a smooth transition onto and off of the tile, ideal for trade shows.
5. Comfort Tile Plus Tile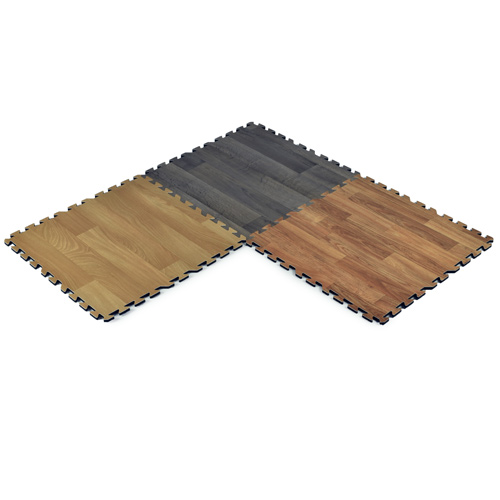 The Comfort Tile Plus Tile features a distinctive wood grain finish and anti-fatigue cushion properties. These tiles measure 2x2 feet, so they quickly cover larger areas.
Lightweight and portable, the tiles can be easily installed and removed. They're waterproof and non-absorbent, so they're versatile enough for use in trade show booths, events, and basements.
These tiles feature beveled edges and are nearly scuff- and cut-resistant for extra durability.