What Are the Best White Floor Tiles?
By Kyle Schurman Created: January, 2021 - Modified: August, 2021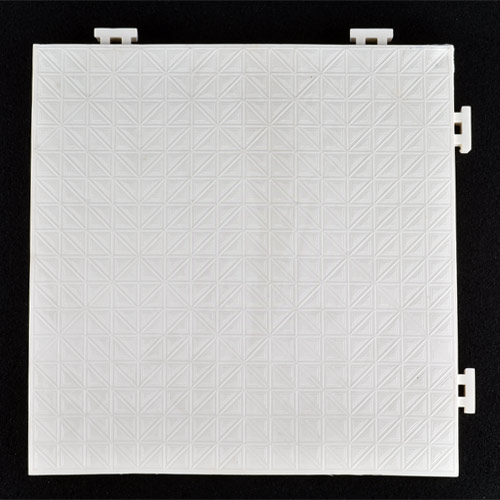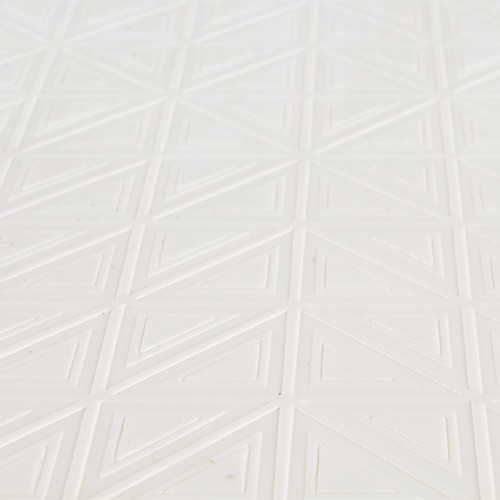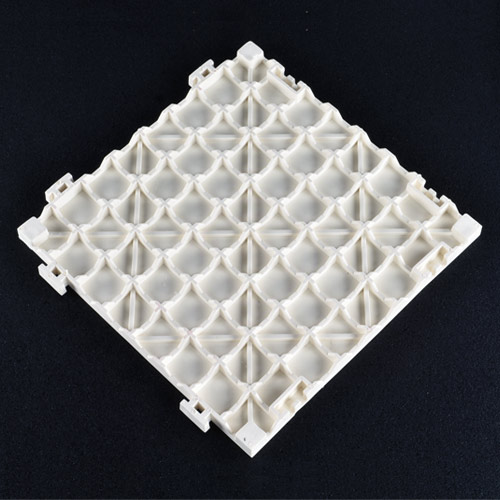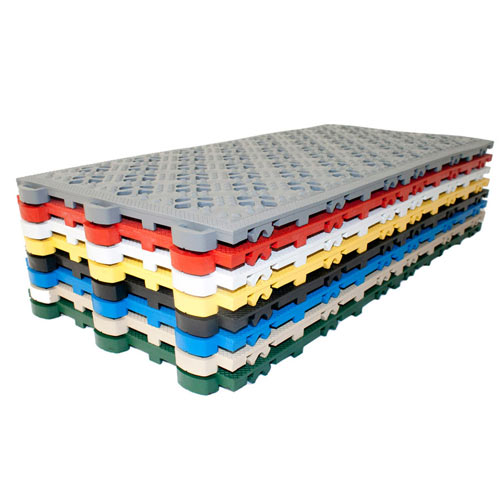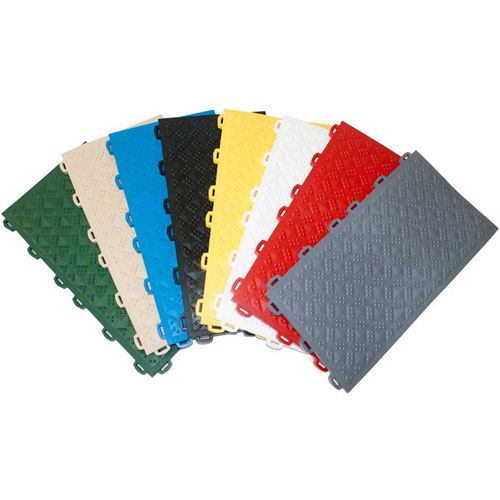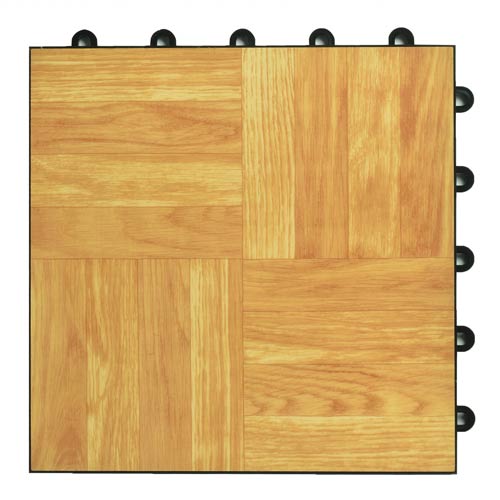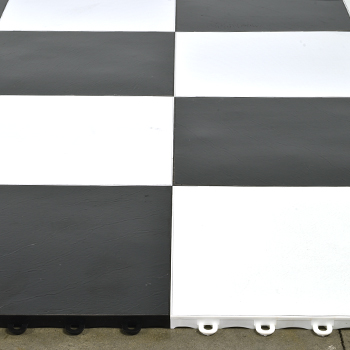 White floor tiles deliver a unique look for rooms in homes, in outdoor locations, or in commercial buildings. This is a striking color choice. Some materials that can create white floor tiles include:
Interlocking PVC plastic

Perforated PVC plastic

PVC plastic with a tread pattern

Vinyl surface layer over interlocking plastic base

Glue down or tape down vinyl or laminate
Some designers and homeowners may be wary of installing white flooring for dance floors, for use in a high traffic room in a home, or in a retail location. Light colors like white can be difficult to clean and can show scuff marks. Choose a durable material in the tiling to ensure it is easy to wash and maintain like new.
What White Floor Tiles Work for High Traffic Layouts?
When installing a light colored tile in a place that has quite a bit of foot traffic, it needs to be a durable material that will resist soils and maintain a like-new look. PVC plastic (short for polyvinyl chloride) delivers a bit of flexibility in the floor, but it also will resist the buildup of dirt and soils, making it a good choice for white floor tiles.
One of the best ideas for a PVC plastic flooring installation is the
White Solid Surface Tile
product. These tiles include an understated surface pattern of either embossed triangles or goosebumps, providing just the right amount of traction in a high traffic location to help visitors resist slipping.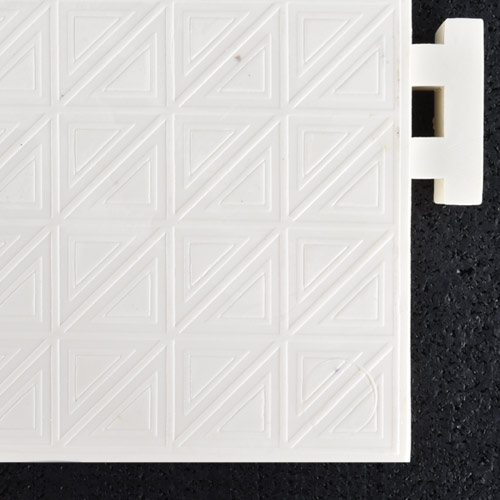 Additionally, with the flexible PVC material, this flooring has anti-fatigue properties, ensuring that those walking on the surface all day will have a reduced chance of ending up with sore knee and ankle joints.
This tile measures 3/4 inches in thickness and has dimensions of about 12 by 12 inches, which allows for a quick installation for a single person. This made-in-America tiling has outstanding durability.
Another tile that works well in busy areas is the
Ergo Matta CushionTred Solid
tiling.
These tiles have a bit more softness than the White Solid Surface Tile, yielding even greater anti-fatigue properties. For ergonomic flooring in a factory or industrial setting, these models will provide comfort for the workers who must stand to perform their jobs.
They even work as a playground flooring, protecting children who fall, thanks to the cushioning properties. With the grippy diamond shield tread pattern on the surface of the PVC material, children will have less of a chance of slipping and falling, though.
Each rectangular interlocking tile has a size that's ideal for one person to perform the installation alone.
For white floor tiles made for use outdoors, consider the
Ergo Matta Perforated Outdoor Tiles
, which have perforations in a diamond pattern that extend through the thickness of these 9/16 inch PVC plastic tiles.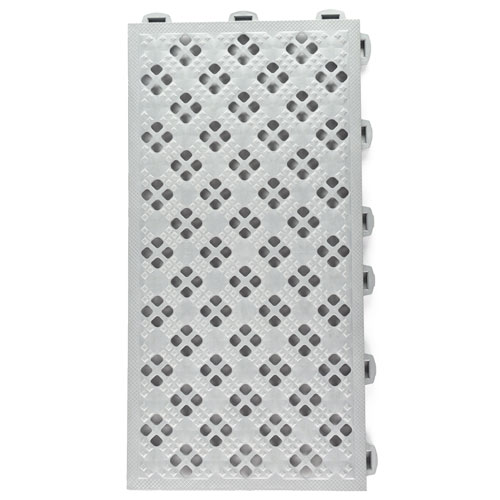 In terms of size, shape, and flexibility of the material, these tiles are very similar to the CushionTred. However, the perforations and slightly thicker design make these a good choice for use outdoors. Water from rainstorms will not collect on the top of the material, draining through the perforations instead.
They're easy to clean too, as customers can wash them with a garden hose or a gentle pressure washer, leaving them looking clean and new. To remove stubborn soils, try a mon-metal scrub brush.
Will Glue Down Tiles Work for White and Black Checkerboard Layouts?
For an all-white show floor or a checkerboard pattern, the
Rosco Tile TV Studio Flooring
is an excellent choice. This high gloss tile is available in white, gray, or black, meaning a single color layout is possible. A checkerboard pattern is possible by mixing colors.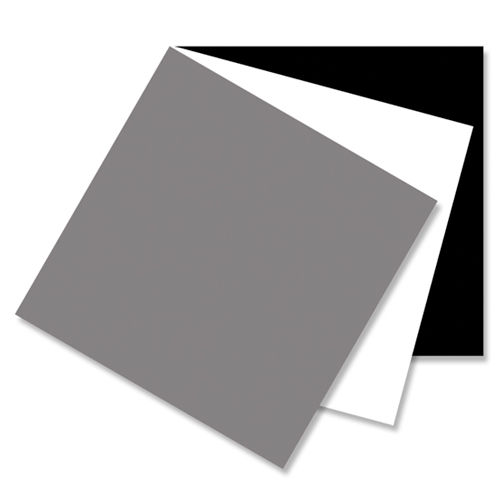 It lays out in very little time, using either a permanent glue down method or a semi-permanent vinyl tape method.
Each tile measures 3 by 3 feet, meaning installers can cover a large area in a short amount of time. The vinyl is thin, measuring only 3 mm in thickness (about 0.12 inches), so the layout will need to occur on a flat subfloor without cracks or sharp debris.
What White Floor Tiles Can Be Installed in a Basement?
A popular choice for white floor tiles in basements or other areas that can become damp is the
Basement and Portable Event Floor Tile
. It is available in a white color, a black color, or a wood grain finish.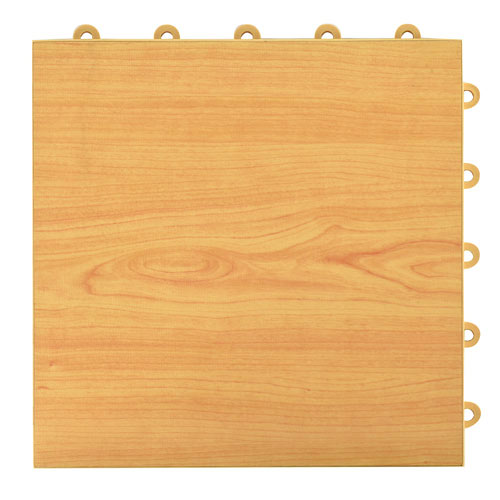 The colored finish exists in a thin vinyl layer that sits atop a plastic base. The base provides an interlocking edge to simplify installation. But the base also uses a geometric support structure to lift the base of the tile off the floor, allowing for a bit of airflow that allows for evaporation of dampness.
Beyond a basement, use this tile for events that require a dance floor or that will be held outside. (Just pick up the tiles after the event, as they are not made for permanent outdoor installs.)