What's The Best Surface For Military Dog Training
By Paige Cerulli Created: July, 2022 - Modified: October, 2022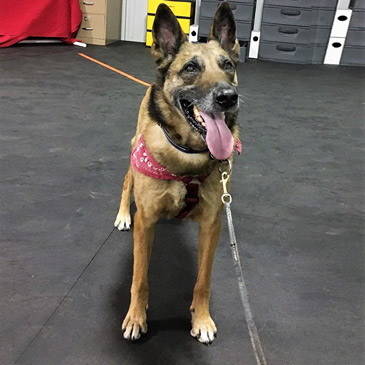 To develop young dogs into talented military working dogs, it's important to have a training facility that's safe and ideal for both dogs and their handlers. That safety starts with your flooring choice, and that flooring plays a key role in your military dog training.
Qualities to Look for in Military Dog Training Flooring
When training military dogs for patrol, search and rescue, and more, you will need a facility floor that provides certain qualities.
The floor needs to offer enough traction to keep the dogs from slipping and falling when responding to commands, during attack training, and during other athletic training. The floor should provide grip but not have a highly aggressive tread that could result in broken nails or strained or sprained paws and legs.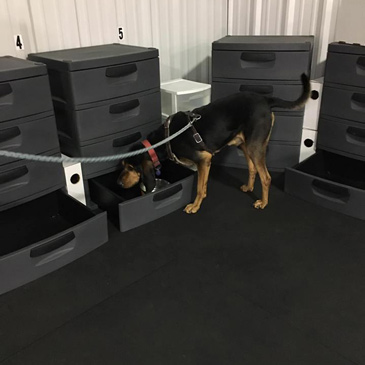 It's also beneficial for the flooring to have some give to it, which can help to prevent injuries in case a dog or handler does fall. A slightly forgiving floor can also help to keep police dogs and handlers more comfortable during longer training sessions.
Consider the installation method each product offers, too. Flooring that can be dry laid is particularly beneficial, since you can remove that flooring and easily replace worn portions as needed.
Finally, look for a product that is easy to clean and maintain. Waterproof properties are highly helpful, and they make a product more durable.
Surfaces for Military Dog Training
At Greatmats, we have several flooring products for sale that are ideal for police and military dog training.
True Turf Artificial Grass Turf Roll
The True Turf Artificial Grass Turf Roll creates a natural reaction underfoot, closely resembling the feel of real grass. This versatile turf is highly durable and delivers a consistent performance over time, so it's an investment in your training facility that can last for years.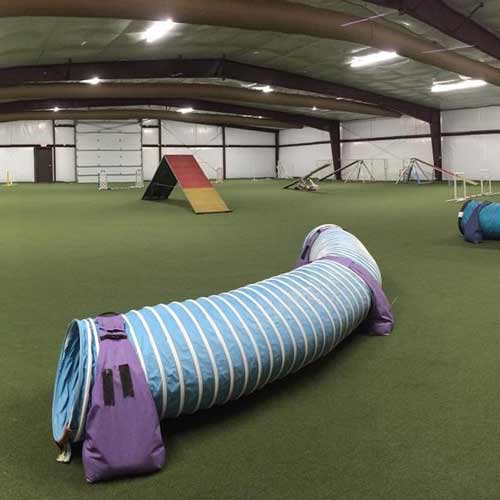 Unlike real grass, this turf is virtually maintenance-free. Your dogs and trainers will enjoy the perks of a grass surface without your having to deal with the downsides like mud, ruts, mowing, and watering.
This turf is suitable for outdoor and indoor installation, and it creates a comfortable, soft surface to train on. The turf provides traction, but if a fall does occur, the softer surface can also help to keep you safe.
You can flush the turf with water as needed for easy cleaning. The 15-foot-wide rolls provide generous surface area coverage, and there is no infill needed, saving you money on your installation.
Dog Agility Mats Interlocking Tiles ¾ Inch x 1x1 Meter
The Dog Agility Mats Interlocking Tiles ¾ Inch x 1x1 Meter offer plenty of cushion to maximize the comfort of trainers and dogs, making them particularly helpful for puppies who are entering training when their joints haven't fully developed. The mats provide valuable fatigue relief, allowing trainers to work for longer periods of time.
Designed specifically for dog training, these mats feature a non-slip grip top that provides the traction needed for high-speed exercises and agility. This EVA foam is resistant to nearly every liquid and is waterproof, so you can easily clean them up with a commercial cleaner and disinfect them with diluted bleach.
While the mats are highly durable and well-cushioned, they're also light and easily portable, weighing just six pounds each. That makes for a DIY-friendly installation, and you can install the mats without using glue or tape.
The 3.3 x 3.3 foot size lets the mats quickly cover larger areas. Each mat includes four border strips, so you can create an installation with clean, finished edges.
The mats are available in multiple colors, and they are also reversible. If one side of the mat becomes worn or damaged, you can reverse it, maximizing the use you get out of the product.
Horse Stall Mats Black ½ Inch x 4x6 Feet
Our Horse Stall Mats Black ½ Inch x 4x6 Feet also make a practical choice for dog training areas.
Robin Larson of Menomonie, Wisconsin
, owner of Fido's Nosework, opted to install these mats in her training facility.
Larson preferred the rubber mats because of how well they held up against dog nail punctures, creating a clean and professional look for her scent work training facility. These mats are ideal for odor detection, bomb and explosive detection, tracking, and obedience training.
Made of high-quality recycled rubber, these mats are highly durable and resistant to abrasions. They are completely non-absorbent, making for easy cleanup.
The mats are antibacterial and antifungal, so they contribute to a healthier, safer training environment. They provide excellent traction even when they're wet, and they create a safe, comfortable surface for both trainers and K9s.
These mats feature straight edges, so you can easily lay multiple mats together to create a training surface. They will not roll, buckle, or curl, creating a hazard-free surface for training.
The mats are backed by a 12-year manufacturer warranty, meaning they will be a long-lasting investment in your training facility.