What Are The Best Rubber Utility Flooring Options
By Paige Cerulli Created: June, 2022 - Modified: September, 2023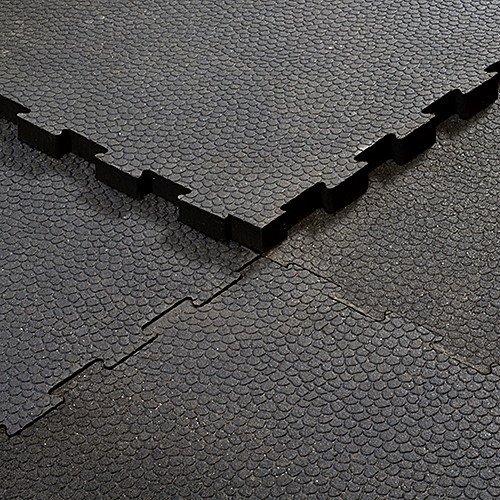 Rubber is known for its extreme durability, making it a popular choice for utility flooring. Whether you're looking for an affordable flooring option for your garage or an easy-to-install flooring product for your workshop or gym, you will find many rubber products that suit your needs.
The Best Rubber Utility Flooring Options
At Greatmats, we offer multiple rubber utility flooring products for sale. Easy to clean, cheap, and versatile, these flooring options are suitable for utility closets, storage spaces, basements, home gyms, commercial spaces, and more.
Horse Stall Mats Center 3/4 Inch x 4x6 Ft. Black
Horse Stall Mats Center 3/4 Inch x 4x6 Ft. Black are commercial grade rubber tiles that are extremely versatile. The tile provides protection to your subfloor and is a highly durable, tough flooring choice.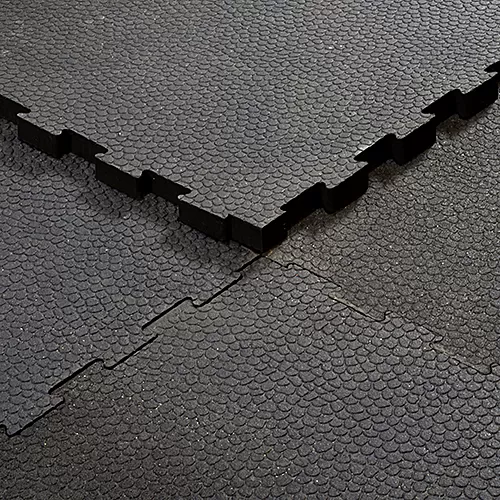 Measuring 4x6 feet, each tile weighs 100 pounds. The generous size means the tiles can quickly cover larger areas, so they are ideal for large-scale and commercial installations.
Installing the tiles is easy, thanks to their interlocking edges which hold them together tightly. There's no need to use adhesive, which means you can remove and relocate the tiles in the future as needed.
This flooring is also easy to clean. You can use a neutral pH cleaner for a deep clean, and you can sweep or vacuum the tiles daily.
Rubber Tile Utility Black Mix 8 mm x 3x3 Ft
The Rubber Tile Utility Black Mix is an economy tile that's made of clean out run rubber, meaning it has a mix of colors in addition to the black. The light color flec mix gives it a unique look, adding detail to a space.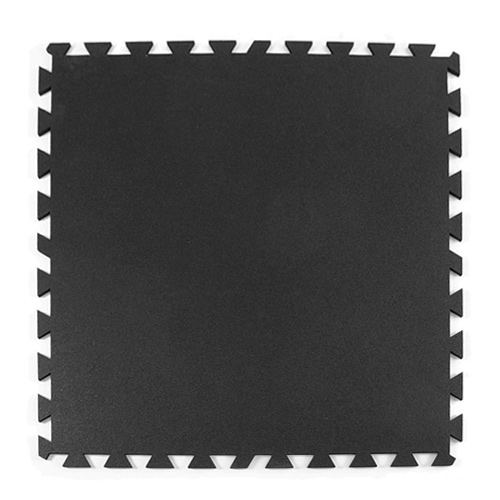 The tiles feature a non-slip surface that contributes to a safer area. They are highly durable and backed by a five-year warranty.
Measuring 3x3 feet, the tiles can quickly cover larger areas. Their interlocking edges make them easy to install and allow you to dry lay them without adhesive.
These tiles are reversible, so as one side gradually wears, you can flip the tile over for maximum use. This is also helpful if the tiles are ever damaged or stained.
Since the tiles are made of regrind clean out run rubber, they're an environmentally friendly choice.
Interlocking Rubber Tile Gmats Black ⅜ Inch x 2x2 Feet
The Interlocking Rubber Tile Gmats Black is made of recycled tires, so it's an environmentally friendly flooring choice. The tiles are made in the USA and feature a smooth surface that's scuff resistant.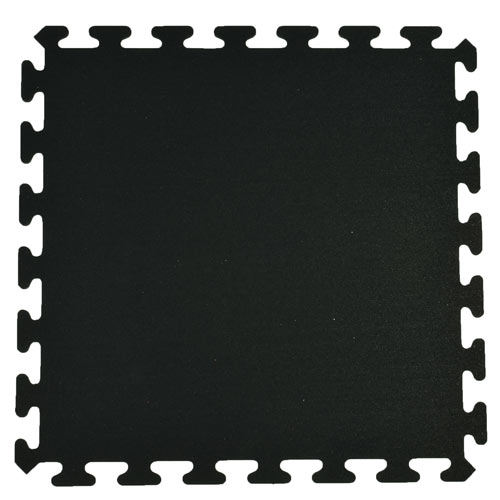 These tiles offer valuable impact absorption, so they're a great choice for basements, home gyms, and weight rooms. They can easily withstand the weight of exercise equipment.
With their water jet cut edges, the tiles fit together securely and won't separate while in use. They feature universal interlocks, meaning you can reverse them as needed; their seams will still fit together.
Easy to clean and maintain, the tiles are backed by a five-year limited warranty. Their low price makes them a practical choice for many applications, including large-scale installations where you need to stay within a budget.
Rolled Rubber Sport Regrind ¼ Inch per SF
The Rolled Rubber Sport Regrind ¼ Inch is an eco-friendly and economically priced flooring roll. The roll is created entirely from post consumer tires and post consumer EPDM rubber, so it helps to keep rubber out of landfills.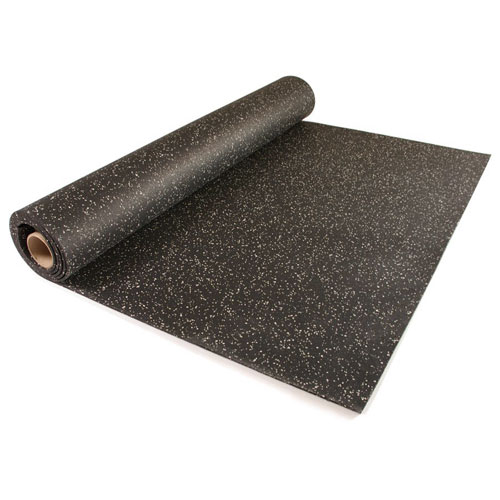 The rubber is highly resilient, but it also maximizes your comfort and shock absorption. These qualities make for more enjoyable workouts, and make this product a top choice for use in ice arenas, stadiums, golf facilities, and similar locations.
The rubber is highly durable and can withstand commercial installations and high degrees of foot traffic. It also helps to decrease the impact of a hard workout on your body.
Even when the rubber sees repeated, intense use, it doesn't show wear. It also features a non-reflective surface, so it's an excellent choice in bright, well-lit gyms.
The flooring absorbs sound, making for a more enjoyable environment. It may be eligible for LEED credits.
Since this roll is available by the foot, you can order precisely how much you need for your project. This helps you to stay in budget and also minimizes the amount of product that goes unused.