What's The Best Rubber Garage Gym Flooring?
By Lisa Hobbie Created: May, 2020 - Modified: May, 2020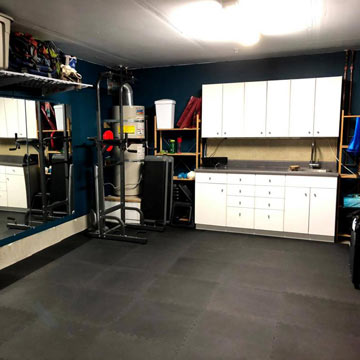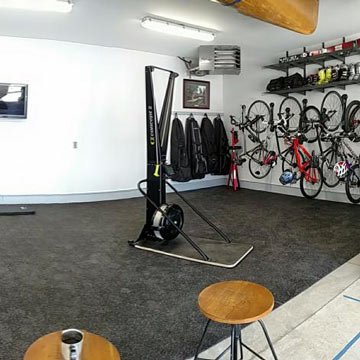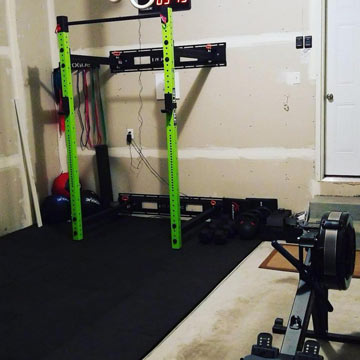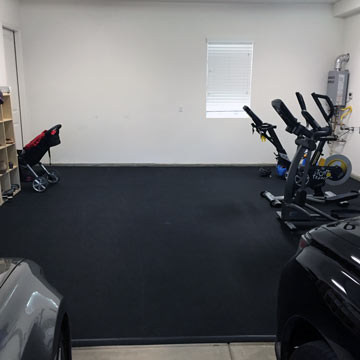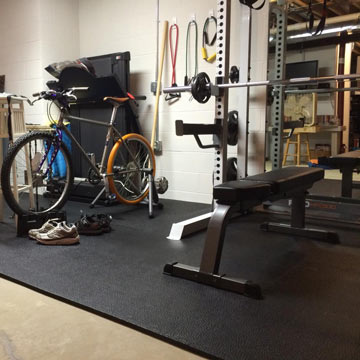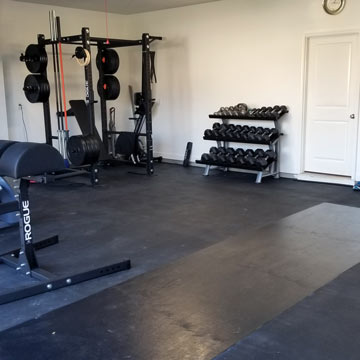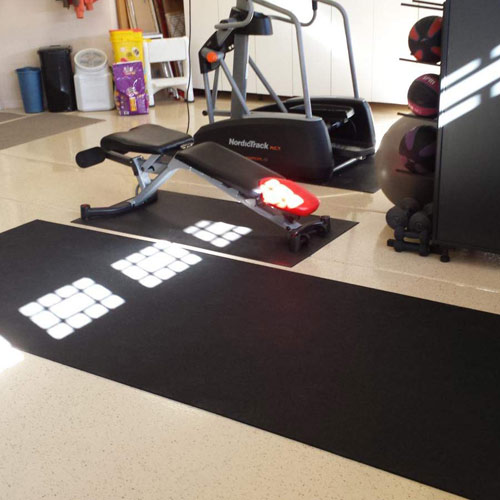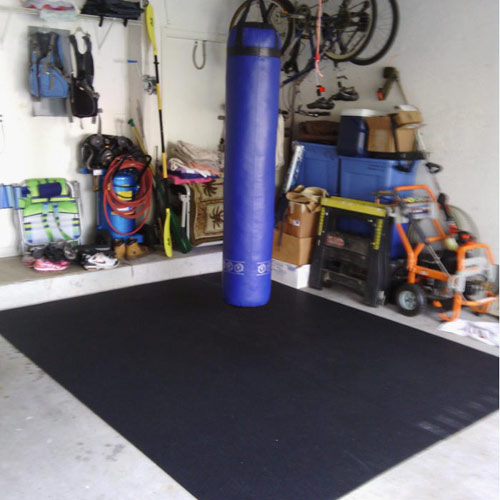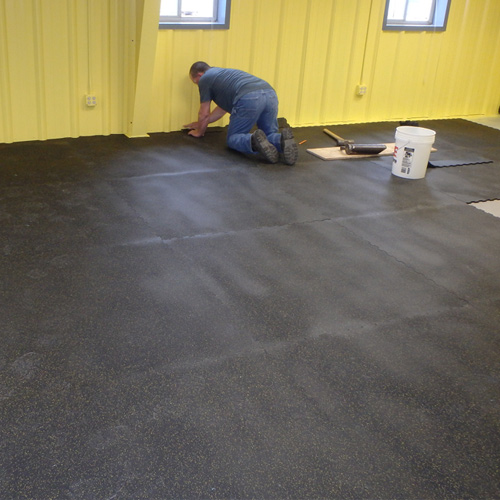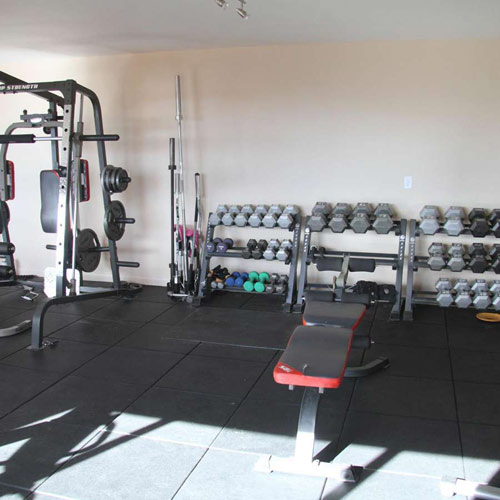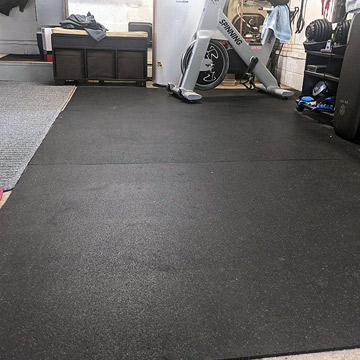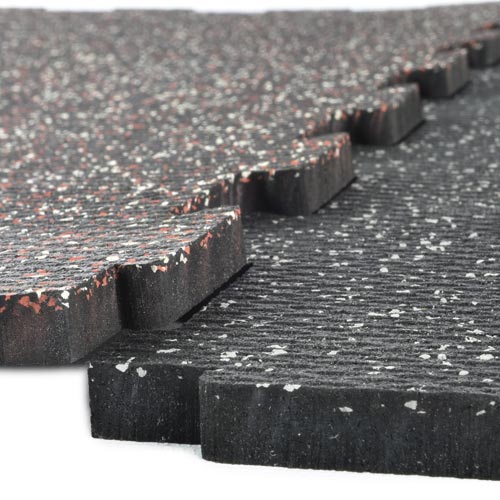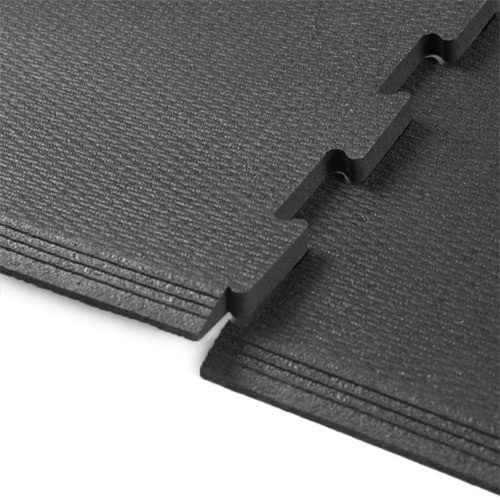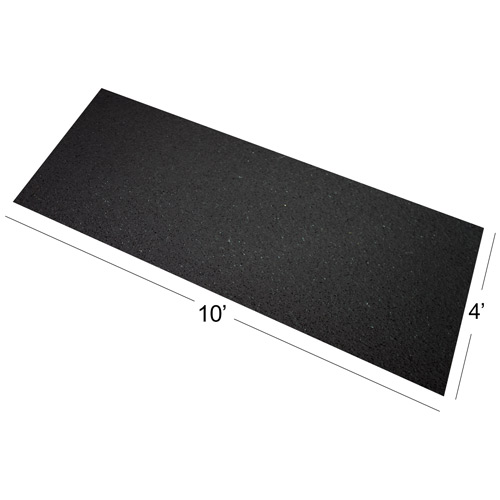 If you are considering a home garage gym, you are likely tossing around flooring ideas. Trying to figure out which material, style, quantity, and quality of flooring may seem like a daunting task when thinking about what it takes to convert a part of your garage into a gym. 
If you want a good place to start, rubber garage gym flooring is just that. Garages often take a beating sometimes tend to house moisture. A rubber floor is therefore a great choice, as it is water resistant and provides traction when wet. Rubber will not absorb water or other liquids, and it is extremely durable and versatile. It is also stain, mold, and mildew resistant, and it is very easy to clean and maintain. 
The 2 best rubber flooring options for a garage gym are rubber flooring rolls and rubber tiles or mats.
Greatmats carries a wide variety of rubber garage gym flooring options, from rolled rubber to various sizes and thicknesses of rubber tiles and mats, all of which adequately protect concrete or other garage base floors.
1. Rubber Rolls for Garage Gym Flooring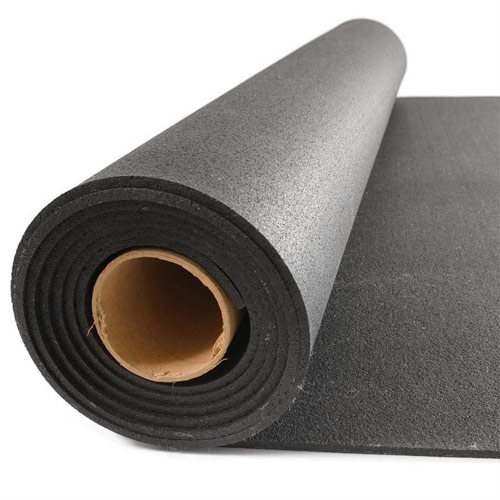 A very popular rubber garage gym flooring option at Greatmats is rolled rubber, with the
¼ inch rolled mat in 4 x 10 foot
among the best for this setting. This rubber roll is made of extremely tough material, and it is designed to protect any floor from heavy exercise equipment and machines. This is perfect rubber garage gym flooring for a smaller space, providing 40 square feet in coverage area. It's also an excellent option if you want the ease of being able to roll it up and store it when you need the space back in your garage.
The
Plyometric Rubber Roll
is another product that Greatmats offers as a rubber garage gym flooring solution. This flooring is designed specifically for repetitious and rigorous athletic workouts like plyometrics and aerobics. This lower density rubber roll is known for providing exceptional cushion and shock absorption. It will withstand the weight of exercise equipment, and it is made in the USA with the best materials and quality craftsmanship. 
Rubber flooring rolls are
easy to install over a concrete subfloor
with either glue or a more common double faced tape method and are available in a variety of colors and thicknesses. Once the rubber flooring roll is placed and secured, it requires little maintenance, with a
sweeping, vacuuming, or damp mop cleaning process
, as needed. 
2. Rubber Tiles for Garage Gym Flooring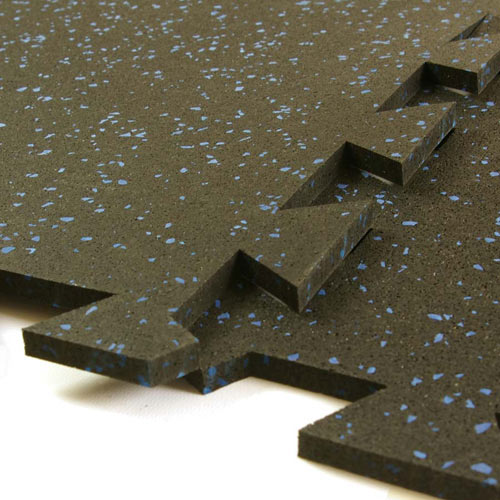 If you prefer to use interlocking tiles for your rubber garage gym flooring, Greatmats offers a large number of quality options, with the
Rubber Tile Diamond
option among the more popular. These 2 x 2 x ½ inch tiles are designed for a heavily used gym space, with the ability to stand up to a bench, barbell, dumbbell set, kettlebell collection, and other heavy equipment. They provide a very tight fitting installation, and the top surface texture is easy to clean and maintain. It does contain a rubber smell, so if you're sensitive to odors, other options may be more suitable.
For example, the
⅜ inch Geneva tile with 10 percent color
is another excellent choice. These tiles are a great option for your garage or any workout space, as they have a lower rubber odor than others. Manufactured in the USA from recycled rubber content, these 3 x 3 tiles are 18 pounds so you can easily cover a large surface area in limited time. They are waterjet cut and designed to stay put without curling or moving, and they also feature tight fitting seams. Finally, with the colored flecks distributed throughout the tile, the unique look of this product presents a classy finish. If 10 percent color isn't quite enough for your desired look, consider the
Geneva tile with 20 percent color
.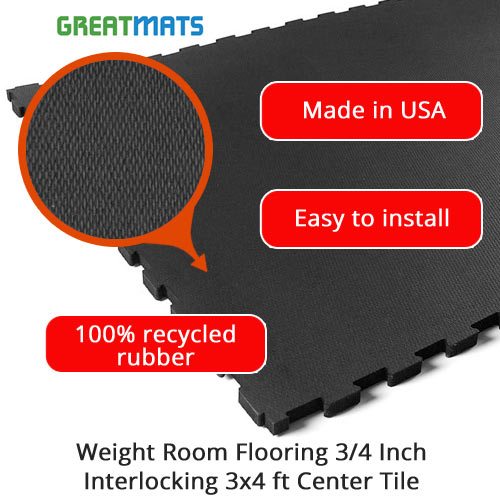 Extra Thick Garage Gym Floor Mats
If you desire a wall to wall, seamless floor, Greatmats'
Weight Room Tiles or Mats
are another rubber garage gym flooring option. This product is made in the USA of recycled, heavy duty and tough rubber that is 100 percent green content. If you are looking for the product that will withstand the toughest punishment that even a professional weight room would bring, this is the rubber gym flooring for your garage space. It is ¾ inch thick with a precision-cut, interlocking design. Each tile is roughly 34.5 x 46.75, allowing you to easily cover a lot of space in little time.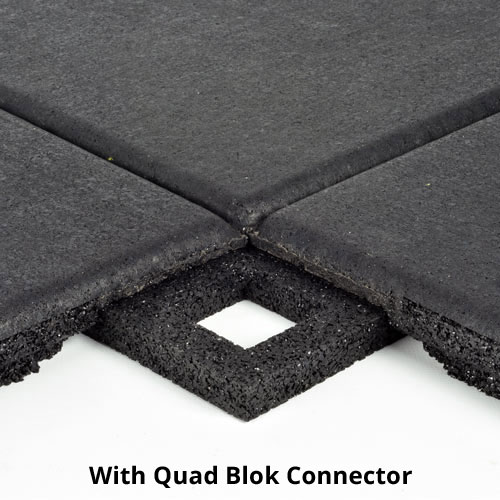 Finally, if a rubber garage gym flooring option that provides ultimate noise and shock absorption appeals to you, the
UltraTile Rubber
weight room floor is for you. This 1-inch tile comes in many different colors, and provides the best in terms of quality. It looks great and performs even better! This product features a pin together installation with a pedestal underside to keep cables and wires hidden and intact. These 2 x 2 foot tiles provide an excellent mix of durability and attractiveness, are made in the USA, and come with a 15 year limited warranty. 
Greatmats for your rubber garage gym flooring needs!
Aside from the products highlighted, Greatmats offers a wide variety of flooring options that would be suitable for a garage gym setting. Everything from
horse stall mats
to other types of
interlocking mats
, to other materials if you are curious about rubber alternatives. Simply reach out to a friendly and knowledgeable customer service agent who will gladly go to work for you to help you determine the best flooring solution for your space.