What Is the Best Outdoor Vinyl Flooring?
By Kyle Schurman Created: March, 2021 - Modified: August, 2023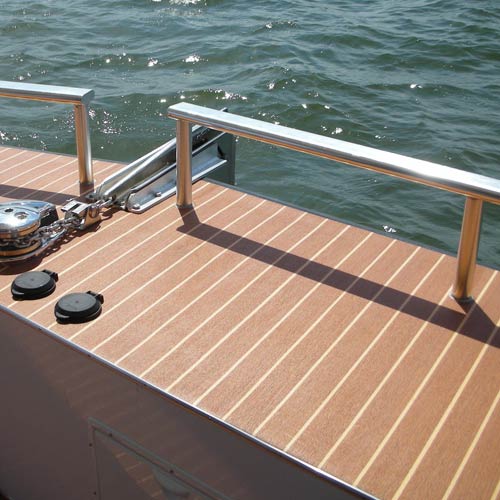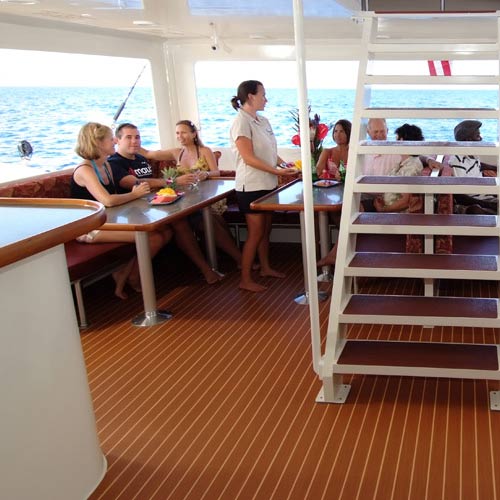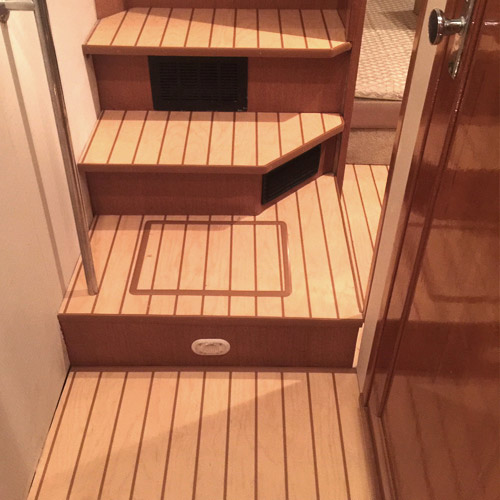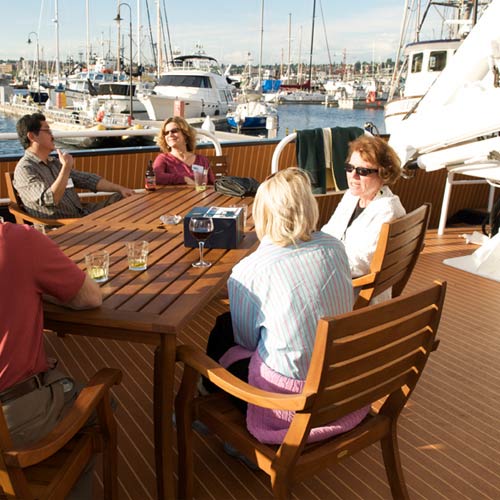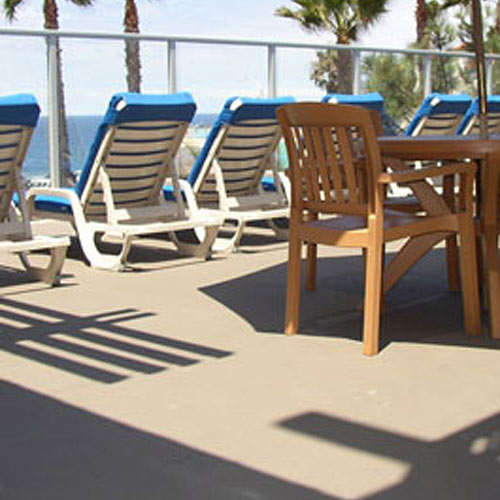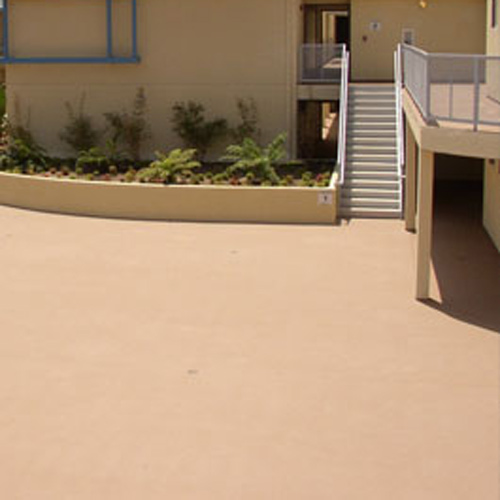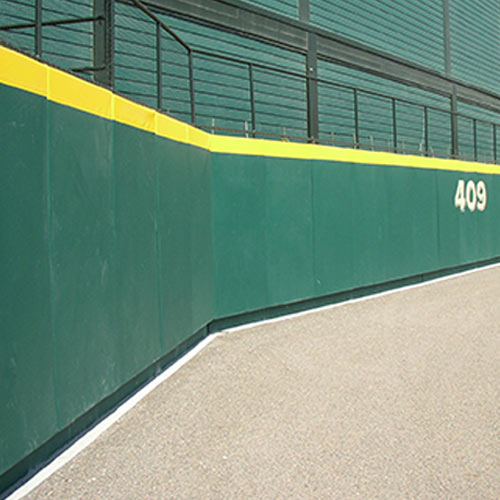 Outdoor vinyl flooring might not be the first choice people think of when preparing for an exterior flooring project. However, when used in the proper situation, it has quite a few benefits, including its durability, waterproof design, minimal maintenance requirements, and ease of installation. Some of the best options for outdoor vinyl products include:
LonEco Topseal Vinyl Rolls

LonDeck Commercial Vinyl Rolls

LonDeck Sierra Rolls

Outdoor Field Wall Padding for Chain Link Fences
When installed, outdoor vinyl flooring will be stain and scratch resistant, and it will not allow the formation of mold or mildew, even when used in a frequently wet location, such as on a boat or in a location that receives significant rainfall. Vinyl will be resistant to insect damage too, unlike some forms of wood.
When seeking a type of exterior vinyl flooring, it's important to think about the planned use case. The model of flooring selected will need to match the expected environmental conditions.
Outdoor Vinyl Flooring Ideas for Marine Environments?
When installing a roll of vinyl on a boat deck, it's important to find a model that looks great and will enhance the style of the boat. It should look like the type of high-end flooring the boat would have had when it rolled off the assembly line.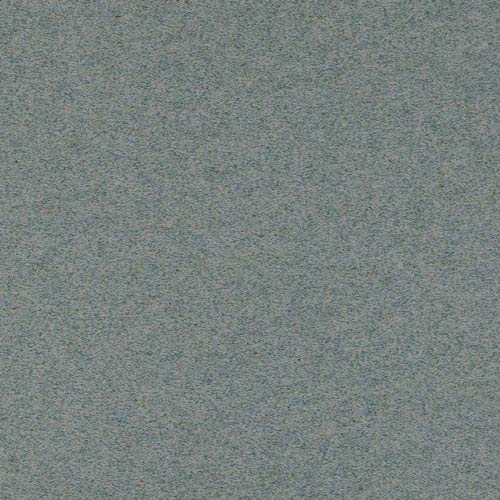 The LonEco TopSeal Vinyl Rolls product provides various earthy color designs that create a sense of luxury in the boat or yacht.
This LonEco TopSeal roll includes a urethane finish applied at the factory that reduces the expense of refinishing the flooring. This saves money in the long run by reducing maintenance costs. This flooring solution meets the highest industry standards in manufacturing and distribution. It's made of at least 50 percent recycled content by an environmentally-conscious manufacturer and provides the most functional, sustainable, and durable flooring available.
Installation requires the use of adhesive to ensure the best possible results for the installation.
Can You Use Outdoor Vinyl Flooring on Decks and Patios?
A few different types of vinyl rolls are perfect for an installation at a residential or commercial facility's outdoor patio, porch, or deck area.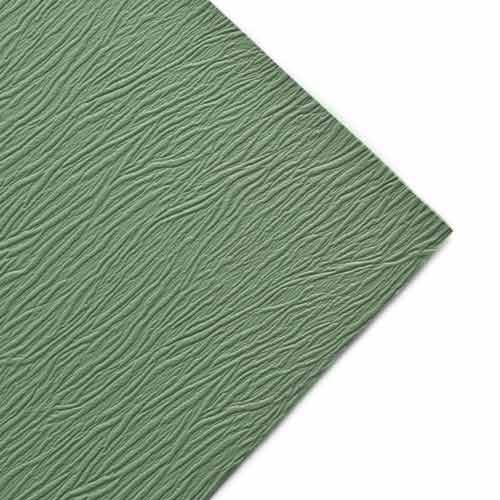 The LonDeck Commercial Vinyl Rolls have a design that's made to withstand any kind of weather in the area. These rolls will stand up to high levels of foot traffic while maintaining a like-new look.
Customers can select among several different colors in these rolls with a slightly-embossed surface to deliver the perfect sense of high-end style for the area. The rolls require a glue-down installation with the proper type of LonDeck adhesive.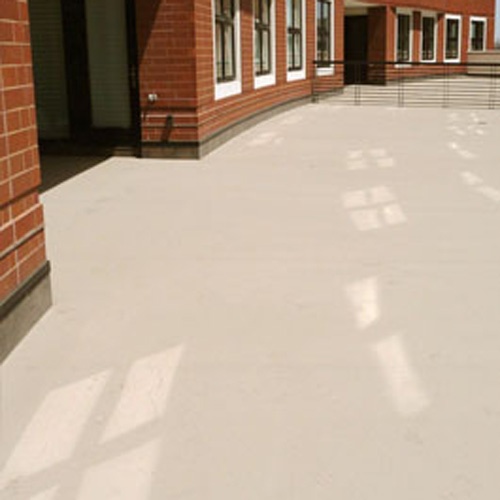 Another commercial grade outdoor vinyl flooring option is available in the LonDeck Sierra Rolls. These models appear in several earthy tones, making them a versatile choice that will match the existing color scheme in almost any outdoor patio location.
Install this roll in areas where it will experience extremely high levels of foot traffic, and it will continue to look like new, resisting wear and tear. These rolls have an embossed surface texture that creates a stylish look that's ideal in a high-end patio area. The textured surface also gives pedestrians a slip-resistant surface, so they can walk safely across it in all kinds of weather.
The LonDeck Sierra Rolls work nicely in outdoor locations, and they're suitable for indoor installations too.
Is Vinyl Covered Wall Padding Suitable For Outdoor Athletic Stadiums?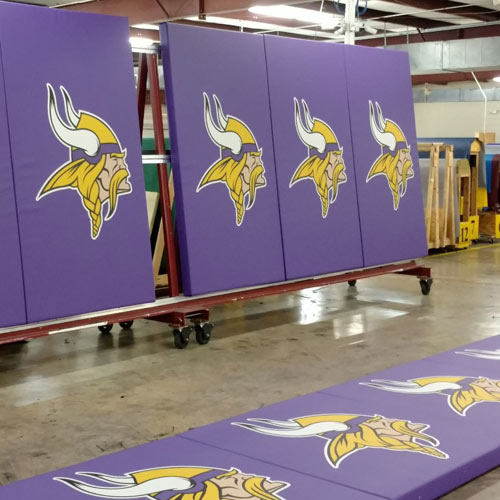 Some types of vinyl used outdoors don't necessarily qualify as flooring, but they still needs to stand up to effects of wind, sun, and rain, such as the Outdoor Field Wall Padding for Chain Link Fences. Install these vinyl-covered foam pads on fences at an outdoor stadium to provide cushioning for athletes who may be running too fast to stop before crashing into the wall.
Not only do these vinyl-covered pads need to stand up to all kinds of weather conditions, but they also need to be able to absorb athletes' impact with the pad as they try to stop themselves. These thick vinyl covers can handle significant abuse.