Best Options For Interlocking Carpet Tiles
By Paige Cerulli Created: August, 2023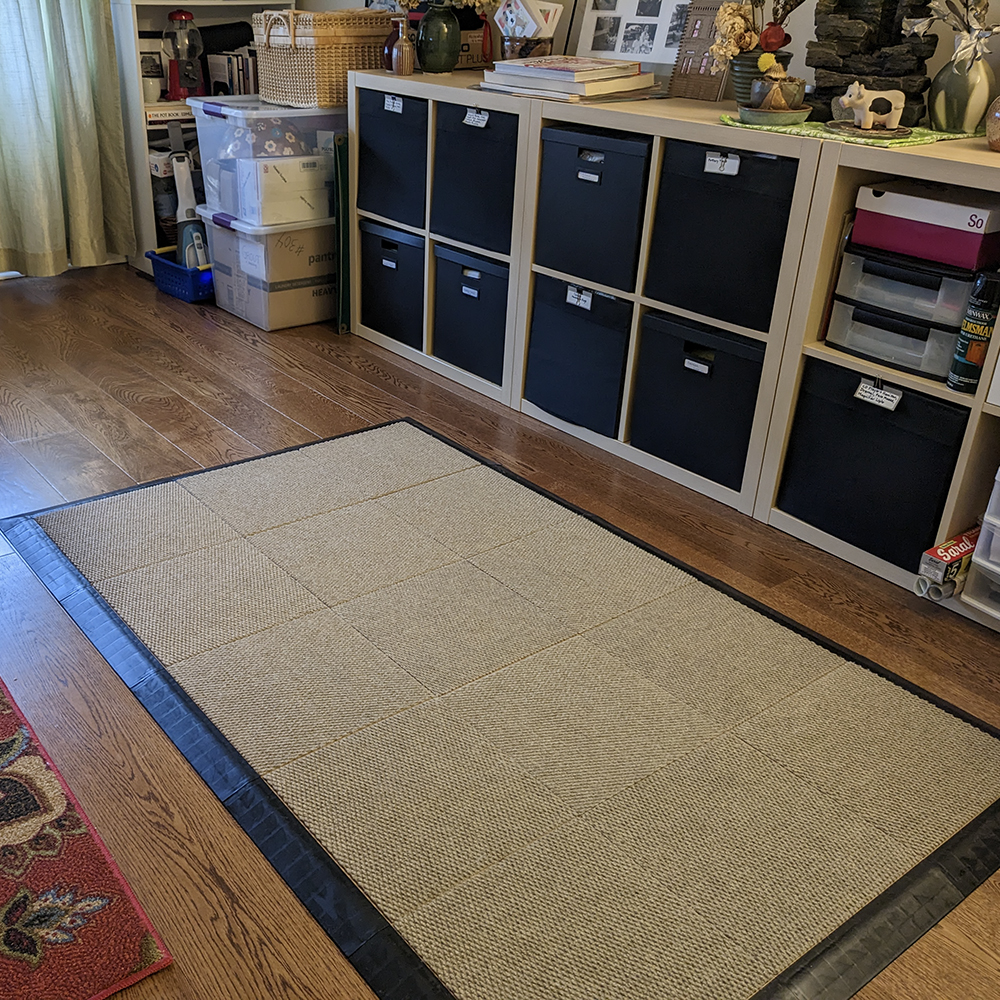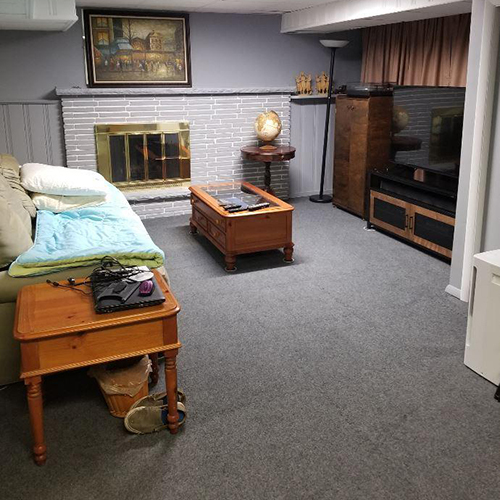 Interlocking carpet tiles are versatile, convenient, and durable. Whether you're looking for a flooring solution for your home, basement, garage, trade show, office, or commercial space, interlocking carpet tiles can be an ideal choice, and we have an excellent selection of them here at Greatmats.
The Benefits of Interlocking Carpet Tiles
Interlocking carpet tiles are a popular flooring choice for many reasons. They can be installed without any adhesive, and their sizing, often 12x12 inches or 2x2 feet, makes them easy to install. The tiles are lightweight, so you can install them yourself.
Most importantly, interlocking carpet tiles are waterproof, and while the foam base should be removed and dried if it gets wet, these floor tiles won't be destroyed by moisture like traditional carpeting can be. This makes them ideal for basement and garage settings, where moisture could be a problem, and some tiles are even washable. Since most of the tiles can be installed without adhesive, they can also be removed and transported or stored if needed.
If a tile does become worn, stained, or damaged, you can replace that single tile without having to replace your entire carpet. That capability can be a money-saving and time-saving benefit!
The Best Options for Interlocking Carpet Tiles
We offer an excellent selection of interlocking carpet tiles at Greatmats. To help you choose the best option for your project, we've highlighted some of our most popular tiles and their ideal uses.
Royal Interlocking Carpet Tile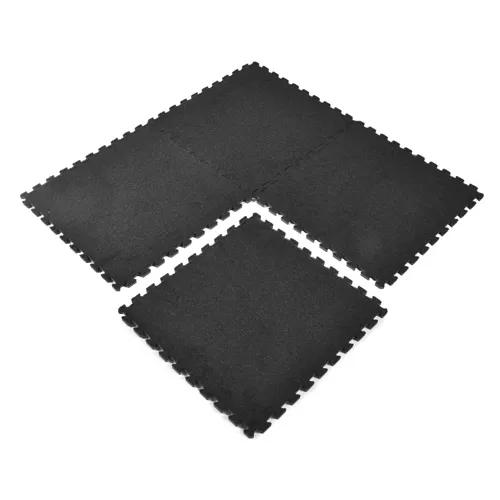 The Royal Interlocking Carpet Tile is best for garage, home, basement and trade show use. The tiles allow you to enjoy the comfort of carpet with padding, thanks to the foam base. The tiles are waterproof, ideal for basement areas and other spaces where moisture is common.
The tiles are available in four colors, so you can create multi-color designs. They're easy to install and include borders, so you can create a clean, finished island installation.
Plush Comfort Carpet Center Tile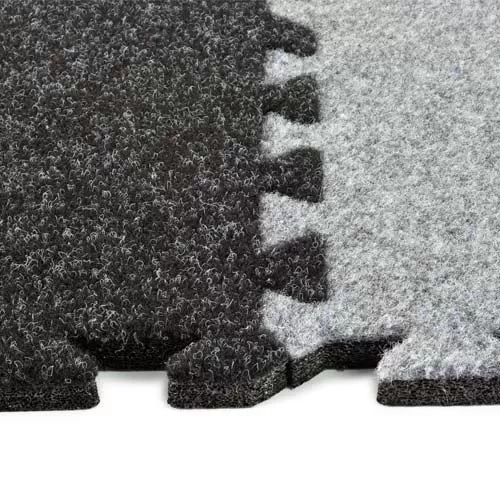 The Plush Comfort Carpet Center Tile is a top choice for home use, basements, showrooms, garages, and trade shows. It features a foam base to create a comfortable surface with valuable anti-fatigue properties. It also offers an insulative value that's similar to what you would enjoy with traditional carpet, a major benefit when you're installing the tiles in a basement space with a cold floor.
The tiles can be placed directly on concrete or tile with no need for adhesive, so you can remove them and reinstall them. You can purchase single tiles or several kit sizes, and will have your choice of several designer color options. The tiles are also available with beveled edges to make for a smoother transition onto and off of the floor.
Carpet Tiles Modular Squares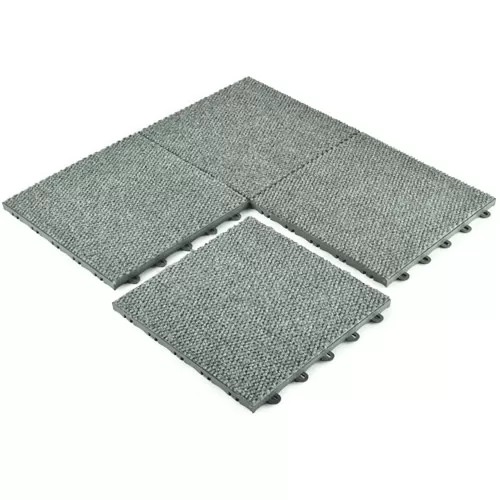 The Carpet Tiles Modular Squares are American-made tiles designed for idoor use. They're suitable for homes, garages, basements, trade shows, and offices. The tiles feature a raised base, so they're perfect for use in damp areas. The carpeting is comfortable but durable, and the tiles function as a buffer against a cold subfloor.
The tiles are available in gray or tan and they can be easily assembled and disassembled, thanks to their tab and loop edges. Click-in border pieces are also available if you would like clean, finished edges.
Waterhog Carpet Tile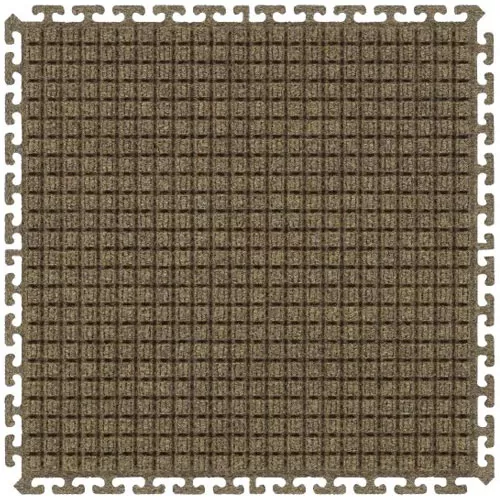 The Waterhog Carpet Tile is designed to withstand high traffic areas, including commercial lobbies, entrances, and schools. The rubber reinforced bi-level cleaning surface helps to scrape shoes to keep your interior space cleaner. The carpeting is fast cleaning and won't fade or rot, and it's resistant to staining, too.
The tiles can be installed without adhesive, and can also be cut to fit your space. They easily link together, and a cleated rubber backing helps to hold the tiles in place. Borders are available for purchase, too.
Entrance Linear Tile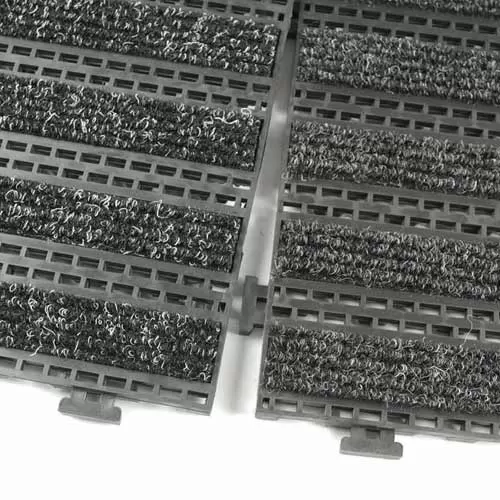 The Entrance Linear Tile is designed for high traffic spaces, including commercial buildings, school entrance ways, and outdoor shopping malls. It's suitable for indoor and outdoor use, and features a raised plastic base. The tiles are not made of solid carpet, and they feature a non-slip, ribbed surface to help clean shoes. Drainage holes help to prevent standing water from pooling on the surface. They are waterproof and are UV resistant for long-lasting use.
These tiles easily snap together, and there's no adhesive needed for the installation. Borders are also available. Since the tiles are made entirely from recycled materials, they're an environmentally friendly option for your business or commercial space.
Buying Interlocking Carpet Tiles
As you shop for interlocking carpet tiles, don't hesitate to contact the Greatmats customer support team. Our flooring experts are available to answer questions, provide shipping quotes, and help you choose the product that is the best option for your needs.