What Are the Best Laminated Floor Tiles?
By Kyle Schurman Created: November, 2022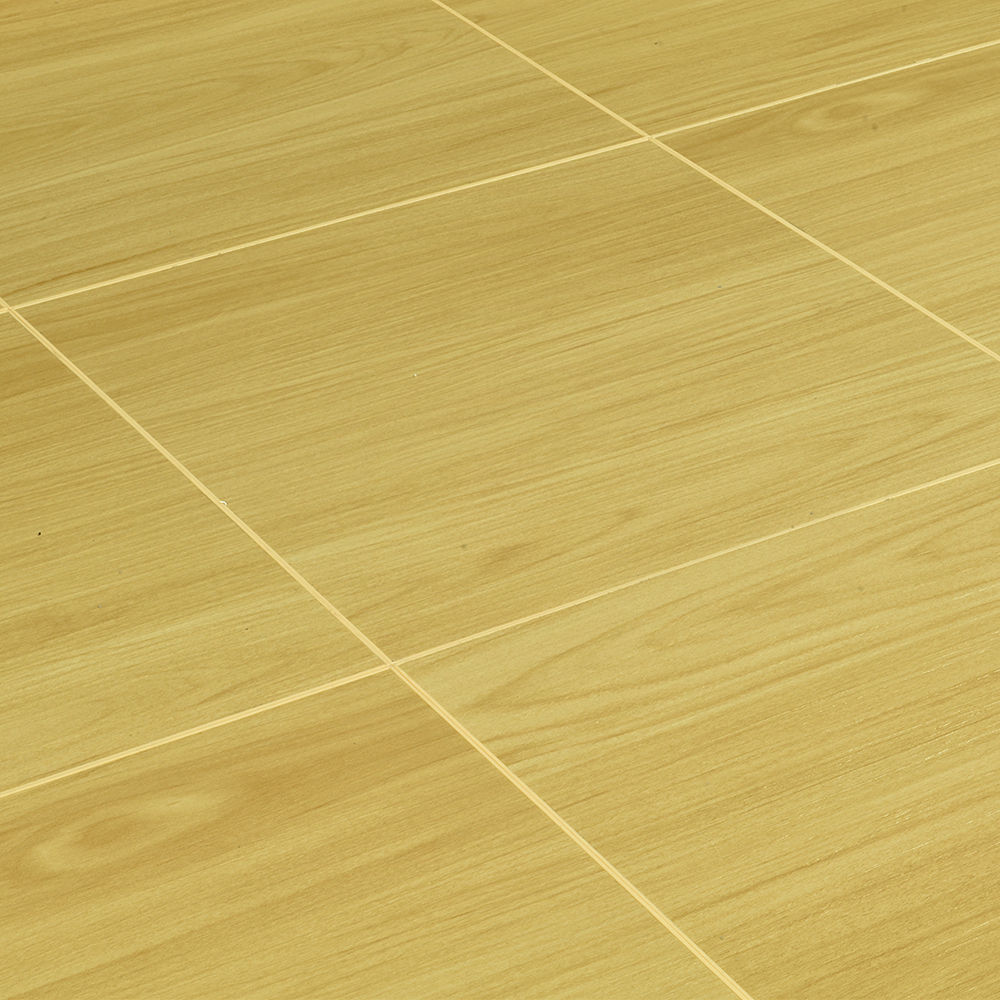 Laminated floor tiles are a great choice for customers who want to be able to perform the installation themselves. Such tiles offer interlocking edges, which greatly simplify the installation process versus using rolls of laminate.
5 Best EVA Foam & Vinyl Laminated Floor Tiles
Greatmats offers a number of luxury laminated floor tiles that look great and work for a DIY installation. We'll discuss the five best EVA foam and vinyl printed tiles for use at home or at a commercial location.
1. Max Tile Raised Floor Tiles
One of our most popular laminated floor tiles is the Raised Floor Tile from Max Tile. This design contains a vinyl layer over the top of a firm plastic base. The vinyl film includes seven different printed wood grain stain color options, allowing customers to pick the perfect color for the desired layout.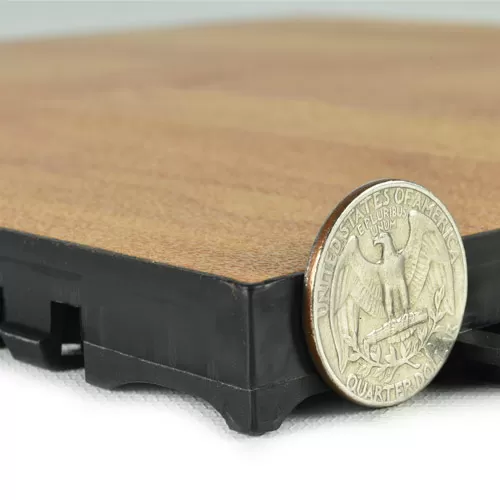 This model also is available in a slate design that resembles an LVP sheet. However, these interlocking tiles are far easier to install versus a roll of laminate. Our tiles have a high level of durability.
The interlocking edge on these tiles is hidden in the final installation, as the loops and tabs are part of the plastic base layer underneath the wood grain printed layer of vinyl. Having a hidden interlocking mechanism allows the final layout to feature clean lines.
Each tile measures 1x1 foot and measures 5/8 inches in thickness.
2. TileFlex Floor Tile
If you prefer a floor that resembles stone flooring instead of hardwood flooring, our TileFlex Floor Tile model is a great choice. It's available in either gray or beige.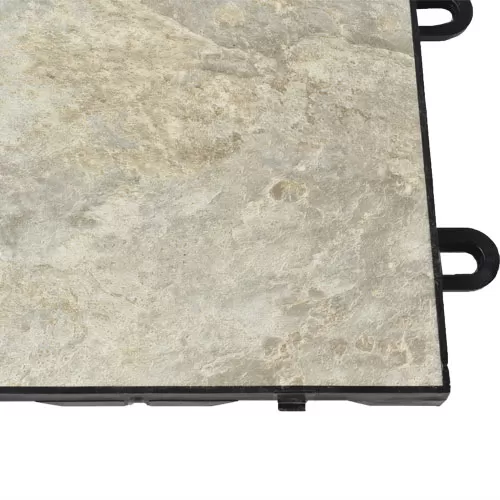 Each tile has a vinyl printed layer on the top of the tile, containing the faux stone design. The bottom of the tile has a firm plastic base.
These laminated floor tiles contain a hidden interlocking system that greatly simplifies installation. Just connect the tabs and loops that are part of the plastic base layer to finish the layout. Visitors only see the vinyl layer with the printing, rather than the interlocking base system.
These are waterproof tiles, containing a protective layer against moisture. They also have a raised plastic base on the underside, which allows a little bit of airflow underneath the tiles, which is important in an area, like a basement, where moisture may seep underneath the flooring.
3. Comfort Tile Plus
For a bit more cushioning in laminated floor tiles, while still receiving a highly realistic look in the wood grain printed layer, consider our Comfort Tile Plus model. Each tile measures 2x2 feet and has 1/2 inches of thickness.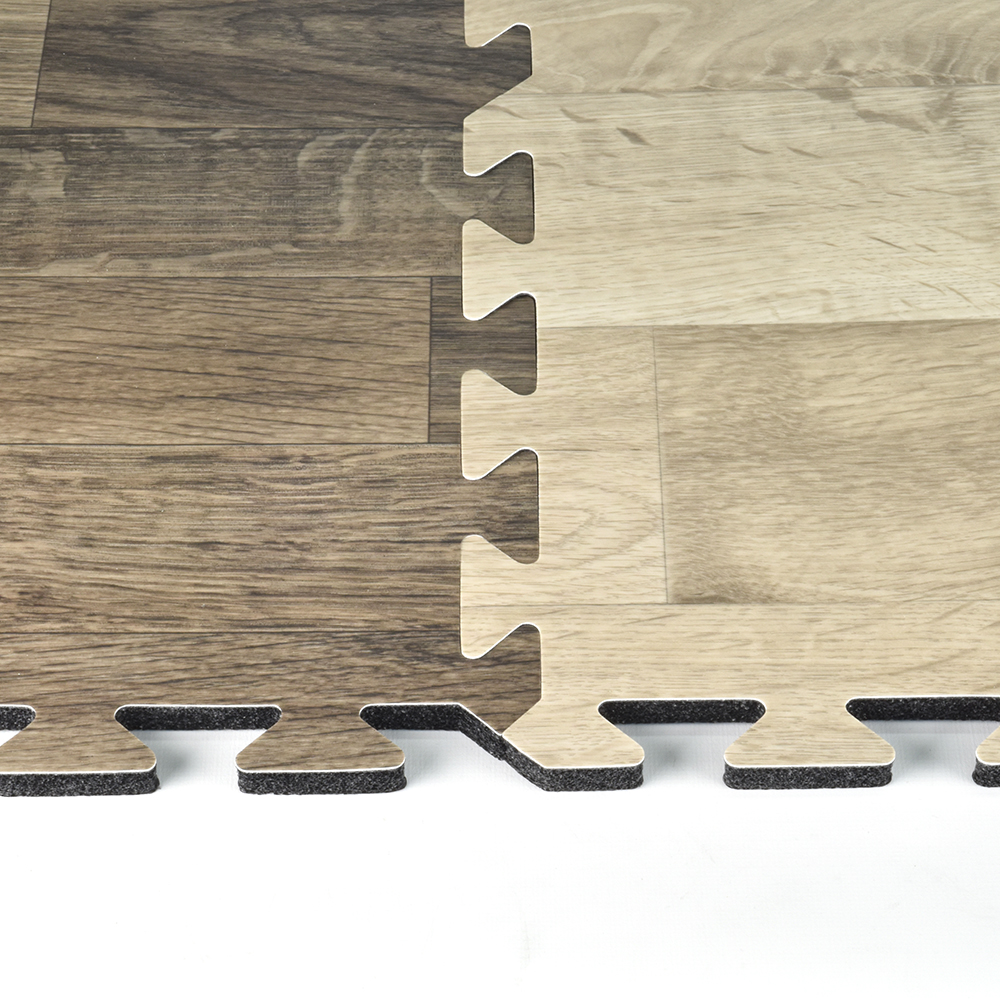 These tiles make use of a foam base layer with a vinyl layer on the top. The vinyl layer allows for the printing of a detailed wood grain pattern in any of three different stain color options.
These tiles make use of a puzzle-style edge to lock them together securely. The puzzle style edges frequently seem to disappear in the final layout, providing a look that's more realistic than you may expect from this type of interlocking tile. (However, depending on the layout and positioning of the wood grain pattern, some interlocking edges may be noticeable.)
4. Wood Grain Reversible Foam Tiles
For laminated floor tiles that resemble hardwood, our Wood Grain Reversible Foam Tiles are a popular selection.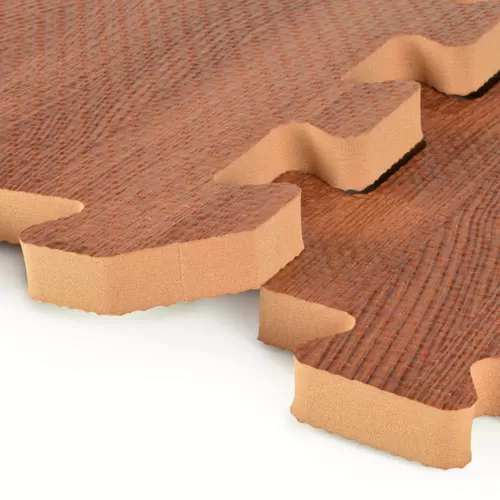 One side of these interlocking tiles contains a simulated wood grain over the top of the waterproof EVA foam, giving customers an inexpensive option for creating a faux wood floor.
The flip side of the 2x2 foot tiles has a textured tan colored surface that's scuff resistant for use in areas where heavy foot traffic frequently occurs.
By using EVA foam in the construction of these tiles, they have a slightly flexible design that delivers cushioning. For workout spaces or other areas where people will be standing and working, foam helps to create a comfortable feel.
Because of the waterproof design in these 1/2-inch thick tiles, they work especially well in a basement where customers have concern over water seeping through the foundation. Six different simulated wood stain colors are available.
5. Wood Grain Foam Tiles
To save a bit of money versus the reversible tile we just mentioned, consider our Wood Grain Foam Tiles. These tiles deliver a prefinished wood grain pattern that contains a realistic look, but the pattern is only available on one side of the tile.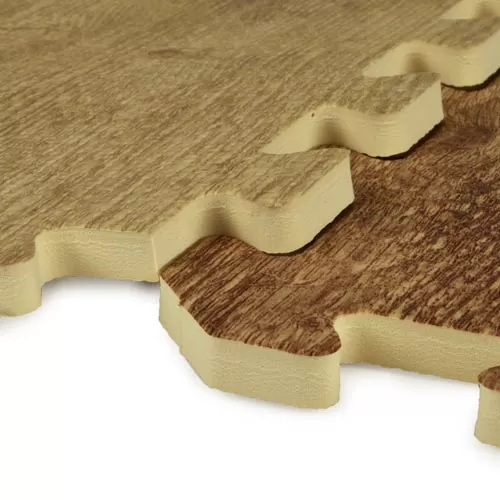 With these 2x2 foot prefinished tiles, the installation process goes faster than with smaller tiles. Each tile measures 7/16 inches in thickness, delivering the cushioning needed for workout spaces or in areas where people will be standing and working.
These tiles also have a waterproof design, making them an ideal selection for a fixed basement floor where you want to transform the space with a warmer flooring design.
Installation is an easy process with these tiles, as the edges of each tile look like a jigsaw puzzle. The tabs and slots fit together tightly without the need to make use of adhesive.