The Best Inground Pool Decking Options For Comfort & Safety
By Paige Cerulli Created: April, 2022 - Modified: September, 2022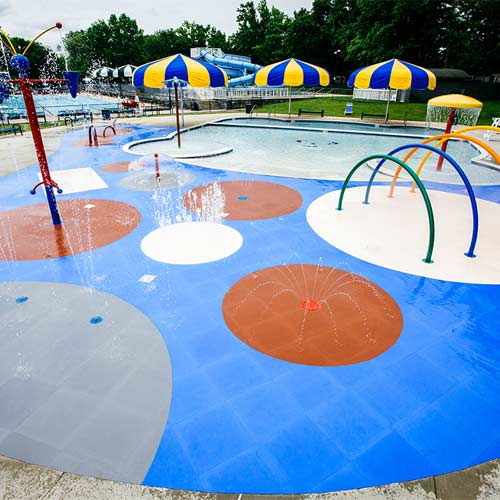 When you're designing a pool deck, you need to find the right combination of flooring that's cool underfoot in the sun, inexpensive, that drains water away, and that has a texture that helps to reduce the chance of falls. Whether you have an existing deck or are looking to build a new inground pool deck, we have many flooring options that can help.
Inground Pool Decking Options at Greatmats
At Greatmats, we carry several inground pool decking options that you can use to create a comfortable, safe pool surround. These in-ground pool decking options drain away water to create a safe surface that helps to prevent falls.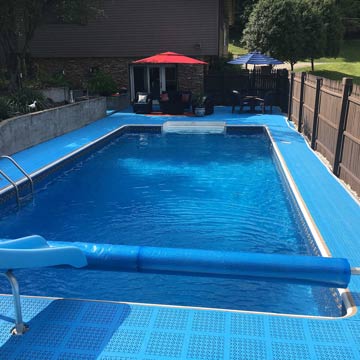 All of these decking options also feature an easy installation. You can lay them over your existing pool deck, and many can also be removed again if needed in the future.
If you have questions about which product is right for you, please contact our Greatmats customer service team. We're happy to help you compare your options and determine which product is best for your needs.
StayLock Tile Perforated Colors
The StayLock Tile Perforated Colors are ideal for decks, rooftops, pool surrounds, and wet areas. They're made in the USA and feature a durable PVC plastic.
The tiles feature a UV stable colorant plus an anti-fungal additive to maximize their lifespan and help to create a clean, healthy space. They're tough enough to withstand weather and temperature variations and are backed by a three-year manufacturer warranty.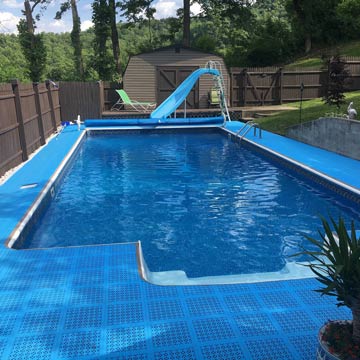 The tiles feature perforations that let water quickly drain through, so feet stay dry. The PVC is non-absorbent, and the tiles offer some shock absorption to help cushion falls.
Installing the tiles is easy, thanks to the tab locking system. The tiles connect together securely and won't separate while in use.
If needed, you can uninstall the tiles in the future. You can also cut them to fit an area.
3M Safety-Walk 1500 Wet Area Floor Matting
The 3M Safety-Walk 1500 Wet Area Floor Matting is a cushioned vinyl coil that creates a comfortable, safe surface for barefoot traffic. The slip resistant surface helps to decrease the risk of falls, and the cushioned flooring reduces impact.
This matting is antimicrobial and resistant to mildew, fungus, and odor, so it can keep your pool decking area pleasant and enjoyable. It's suitable for use in a deck that will see light to medium traffic, and can also be used in locker rooms and beneath water fountains.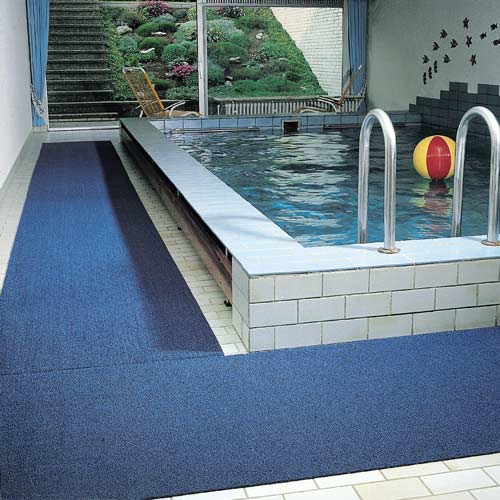 Cleaning the matting is easy, and you can just shake it off, hose it clean, or power wash it. This matting is a great choice for resurfacing existing decks.
Herontile Wet Area Tile
The Herontile Wet Area Tile features an EVA composition that makes it a comfortable, soft surface for your indoor pool area. The tiles feature a slightly embossed circular surface and are certified slip-resistant to maximize safety.
The open grid design lets water run right through the tiles, so you won't have to deal with dangerous pools of standing water. You can easily place these tiles over concrete to make a safer pool deck.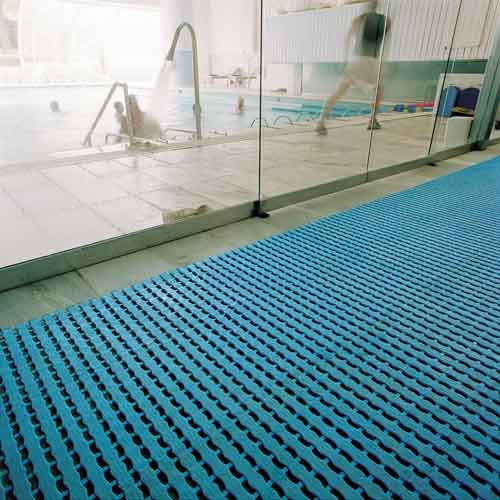 The tiles feature a lick-together edge that makes for a convenient installation, and you can also disassemble the tiles as needed. They're slightly flexible, so you can lay them over a deck that isn't perfectly flat.
These tiles are available in four colors and retain their vibrant shades.