What's The Best Flooring For Bungee Fitness Facilities?
By Lisa Hobbie Created: July, 2022 - Modified: July, 2022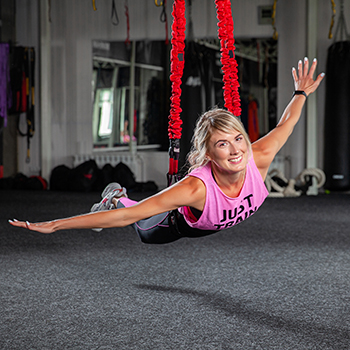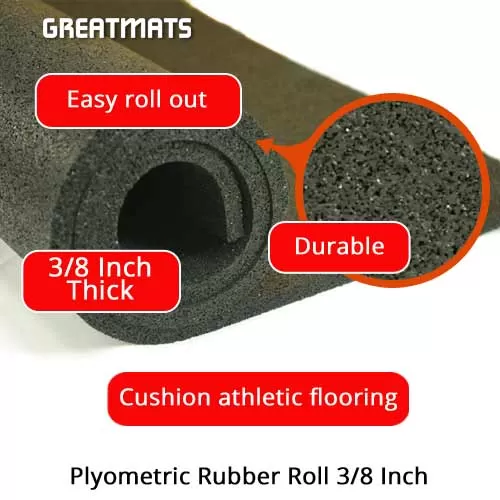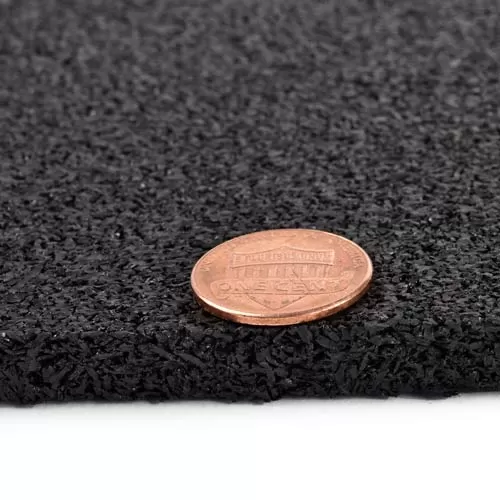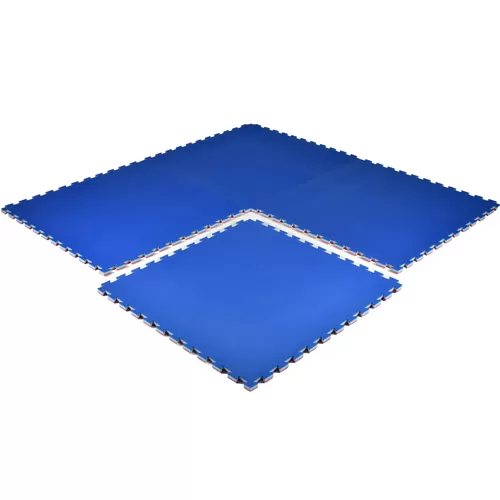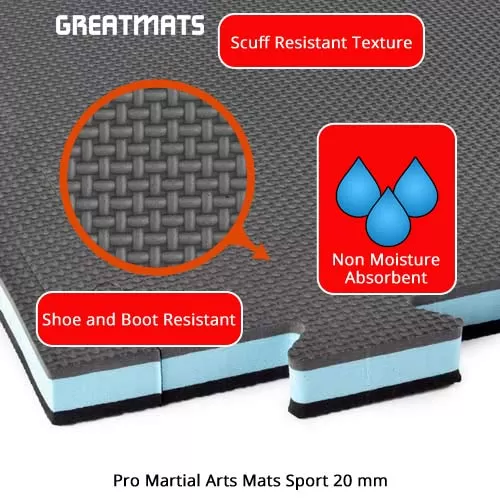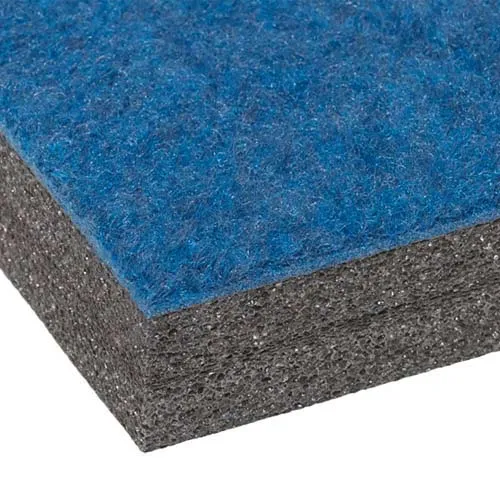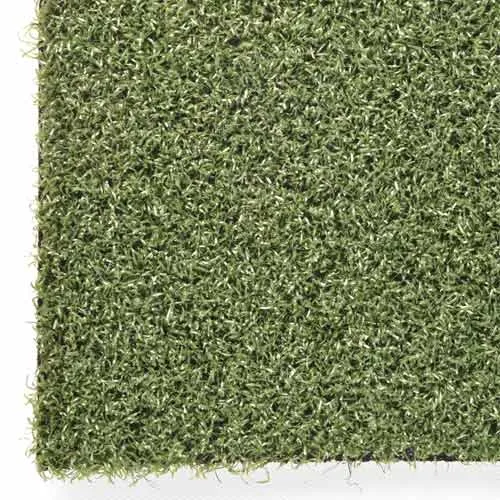 Bungee fitness is a great addition to any exercise regime, as it improves agility, increases speed, strengthens balance, and provides a fun experience while performing aerial and other tricks that defy gravity!
Different types of equipment are needed, such as a harness, bungee cord, daisy chain, swivel, and other classic elastic training bands and safety measures. Aside from the equipment, having a floor that will offer cushion and protection from a slip and fall situation, hard landing, or other gym related injury will make the bungee fitness experience a better one for the workout facility and the participant.
5 Popular Bungee Fitness Flooring Products
Each of these flooring solutions offer shock absorbing and anti-fatigue properties among many others, and they would look and perform extremely well in a bungee fitness facility. Offering durability, versatility, and ease of installation, you simply can't go wrong with any of them.
1. Pro Taekwondo Martial Arts Mats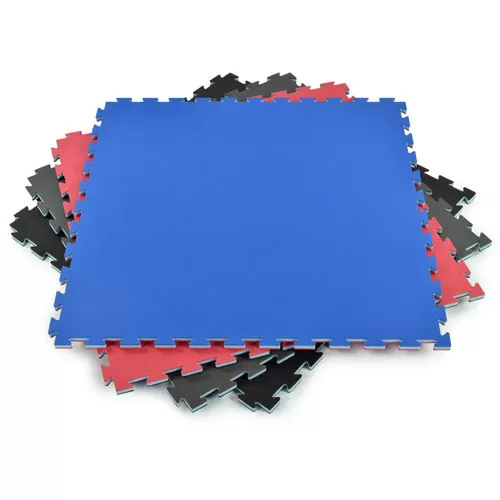 Pro Taekwondo Martial Arts Mats are very durable and versatile. They are a high quality economical option that are designed for bare foot use, or, with boots and shoes.
They offer a textured surface which is resistant to scuffs, indentations, and divots, and they are lightweight and easy to transport, install, and disassemble. Athletes are able to work harder and longer, because the mat provides pressure reduction and strain protection, and their very tight fitting interlocking tiles prevent trips and slippage of tiles.
Wall-to-wall installation is a breeze using the border strips and a utility knife to make cuts where necessary. These are very easy to clean with a vacuum and/or damp mop.
2. Plyometric Rubber Gym Roll
The Plyometric Rubber Gym Roll is another super versatile option that offers superior performance and support. These rolls come in lengths of 30 linear feet or longer and are 4 feet wide, which provides adequate space to go all out working out.
The ⅜ thickness provides impact absorption to reduce injuries that can sometimes occur during bungee exercises, but also allows for freedom of movement. This product is suitable for athletic shoes, and it can be taped or glued down for easy and secure installation. This option is great for commercial and home application.
3. Cheerleading Mats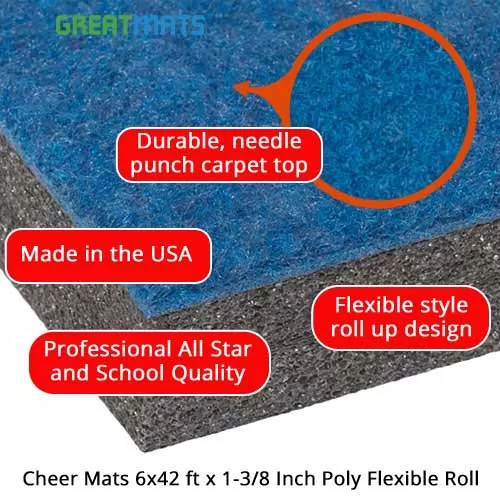 Cheerleading Mats, because they are designed for stunting, also work really well in bungee facilities. They are 6 feet wide by 42 feet long and 1 ⅜ inches thick.
The roll out mats boast a durable, needle punch carpet top that is designed to endure heavy use without looking worn or discolored. These mats are made in the USA and are portable and convenient with their flexible roll up design.
Available in several colors, they are professional quality and feature a mix of softness, traction, and durability.
4. All Sport Artificial Grass Turf Roll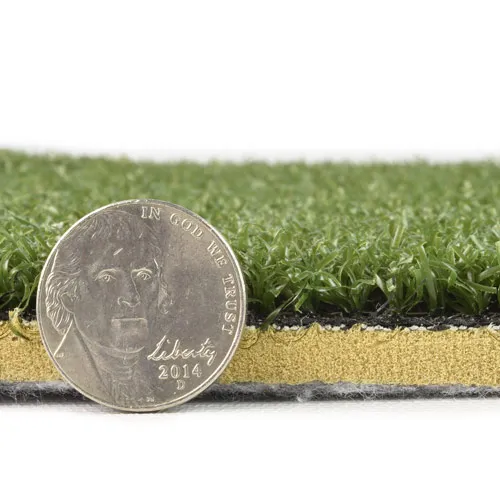 The All Sport Artificial Grass Turf Roll offers a short pile turf surface suitable for indoor or outdoor training facilities. It offers improved durability and safety on a surface that reacts naturally while being virtually maintenance free.
It features a 5mm foam backing, which offers a great layer of protection for your athletes, and it will provide consistent performance for a long time. This product is easy to clean, is versatile, and is durable.
5. Fit Turf Indoor Artificial Turf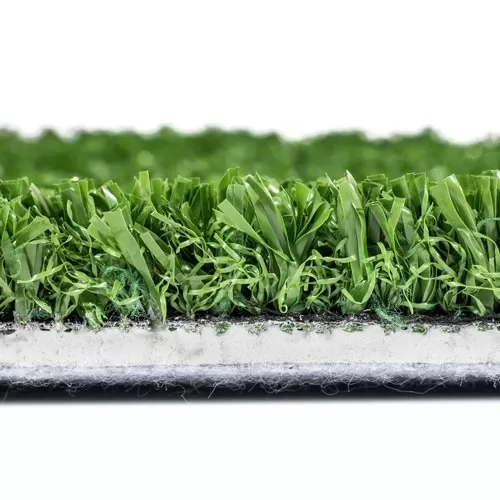 Finally, Fit Turf Indoor Artificial Turf is another excellent option that is available in a number of attractive colors, like black, blue, red, brown, and white. It is a very attractive and durable flooring product that features high tear resistance and is UV resistant.
Made with a 5mm foam backing and pile height of .75 inch, it is comfortable to stand and exercise on, with or without shoes, and offers perfect support for intense bungee workouts. This gym flooring is the perfect choice for fitness centers, and it is available by the square foot, in 15 foot widths. It is made in the USA.
Gym Rubber Flooring - For the Best Bungee Fitness Flooring
Bungee Workouts are becoming increasingly popular, and aside from having the necessary equipment available, installing a suitable flooring option that provides a low maintenance, protective surface that is suitable for the workouts, is just as important. Whether you prefer a rubber roll or matting system or an artificial turf product, there are numerous options available at GRF - far beyond the products highlighted.
If you are ready for workout facility flooring, Gym Rubber Flooring truly is your one stop shop! From the options highlighted to so many other top notch products available, there is an ideal option that will perfectly fit your space and budget. Simply reach out to the team at GRF, and together, you can determine which flooring solution is the right one for your gym and bungee fitness space.