What's The Best Carport Flooring?
By Paige Cerulli Created: October, 2022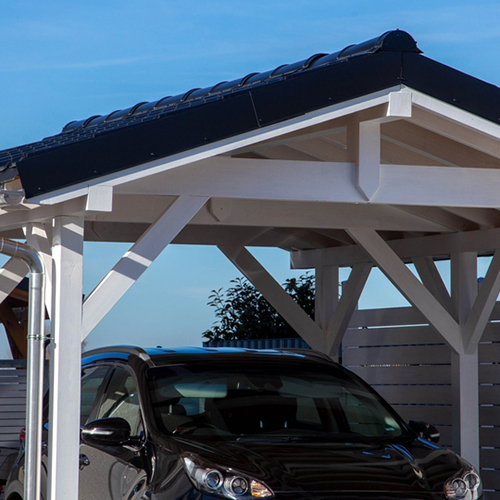 If you don't have a garage or need extra storage for a vehicle or other items, you can easily construct a carport by your home. While it's important to invest in a quality structure, the carport flooring that you choose will also play a key role in the success of your build.
Qualities to Look for in Carport Flooring
As you explore different carport flooring ideas, be sure to choose a product that offers the following qualities.
Durability and Strength
Look for a product that is rated to support the weight of the heaviest vehicle or object that you will place on it. It's also important to choose a product intended for outdoor use that can withstand extreme temperatures and moisture.
Many of our outdoor tiles feature generous manufacturer warranties, which are a testament to their durability.
Drainage and Traction
It's essential to choose carport flooring that will quickly drain water away, creating a safe surface and keeping your vehicles up and out of water. Look for a waterproof tile with generous perforations to help prevent standing water from pooling.
If you will be accessing the space in wet weather, then it's important that you choose a flooring product that maximizes traction, even when it's wet. That traction can help to prevent falls and potential injuries.
Ease of Installation
Choosing a product that supports a DIY-friendly installation means you can save time and money over hiring a professional installer. Be sure to carefully read the installation instructions for each product that you're considering to see whether it can be installed over concrete or what site preparation is involved.
The Best Carport Flooring Options for Sale
At Greatmats, we have many products available for sale that are excellent choices for your carport flooring.
Perforated Garage Tile
The Perforated Garage Tile is a highly durable flooring option with a quick-draining design. The perforated surface and raised base work together to keep your feet and your vehicles up and out of water, allowing that water to quickly drain away.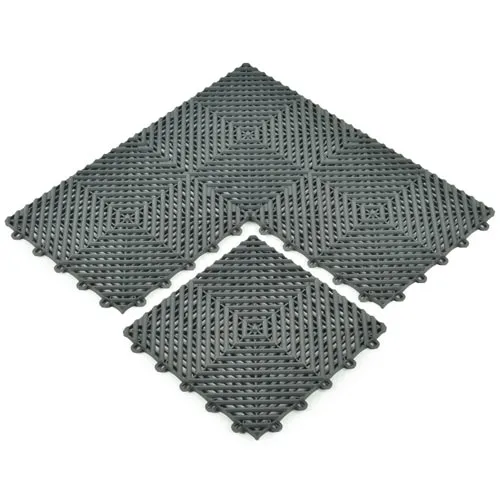 The tile's slip resistant top can help to keep you safe, and it's rated for a 10,000-pound static load, making it strong enough to handle most vehicles and machines. The tile is available in three color options, and you can even mix and match to create eye-catching patterns.
You can install the tile easily without any glue, and border ramps are also available. The tile's hook and loop system creates a secure closure, and you can also cut them to fit an area using a sharp utility knife.
Safety Matta Perforated Black
The Safety Matta Perforated tiles are highly durable tiles ideal for use in carports. They feature a raised design that allows for plenty of drainage, perfect for wet areas.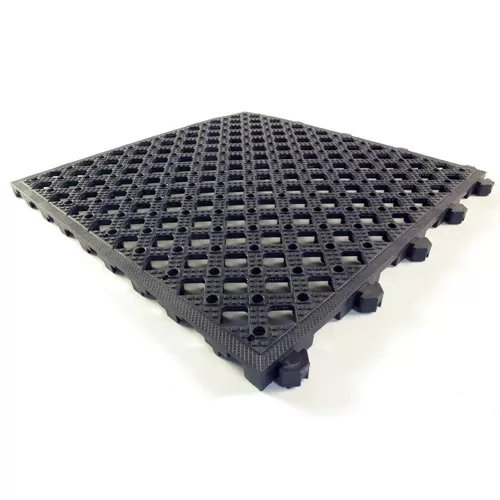 These tiles feature a non-slip diamond shield tread that maximizes traction, helping to prevent slips and falls even when the tiles are wet. The tiles also offer valuable antifatigue qualities, helping to keep you comfortable when you're spending time working on your vehicles in the carport.
As an added bonus, these tiles are made with recycled PVC plastic, so they're an eco-friendly choice. They measure just one inch thick, allowing you to easily drive a vehicle onto them, but border ramp pieces are also available.
These tiles feature an interlocking lug system, so you can easily connect them together and perform the installation yourself. You can also trim the tiles to fit your carport area.
Safety Matta Perforated Green
The Safety Matta Perforated Green tiles are designed for use in wet areas, making them a top choice for carport flooring. The tiles are perforated, allowing water to quickly drain through.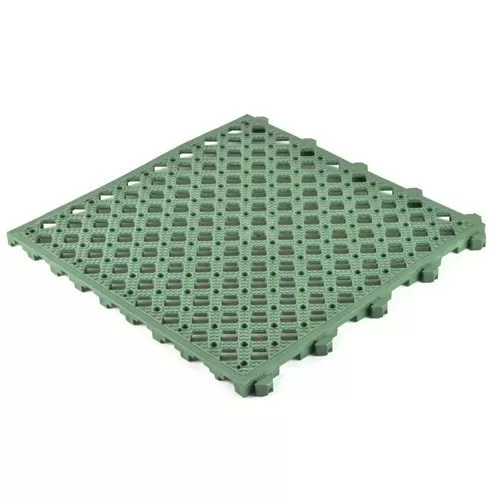 They also feature a diamond shield tread that offers plenty of traction when you're working in the carport on wet days. These PVC tiles are made of recycled material, so they are an environmentally friendly choice.
The tiles offer valuable ergonomic and anti-fatigue qualities, creating a cushioned surface that can help to keep you comfortable while working in the carport. While the tiles are comfortable to stand on, they are also highly durable and are backed by a five-year limited warranty.
The tiles feature an interlocking lug system that makes for an easy DIY-friendly installation. You can also trim them to fit your carport, and optional borders are available for a clean, finished edge.
Cleaning the tiles is easy, too. You can damp mop them with a common household floor cleaner as needed.
Portable Outdoor and Tent Tile
The Portable Outdoor and Tent Tile is a versatile tile that you can install not only over concrete, but also over dirt, grass, or gravel, minimizing the amount of site preparation you need to perform. The tile is made of a highly durable rigid plastic that can withstand any climate.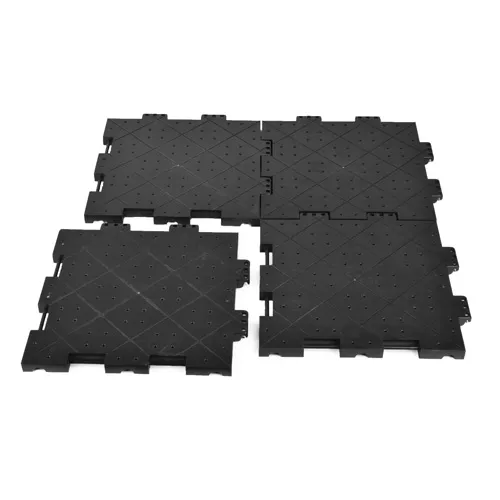 Drainage holes in the tile surface keep water from pooling, and the tile's anti-slip texture helps to prevent falls. The tiles feature a slightly raised base which allows air circulation beneath the tiles, speeding the drying process.
Measuring 12 x 12 inches, the tiles have a convenient clip together design that makes for an easy installation. They are backed by a one-year warranty.