What Are The Best 4x8 Ground Protection Mats
By Paige Cerulli Created: July, 2022 - Modified: September, 2022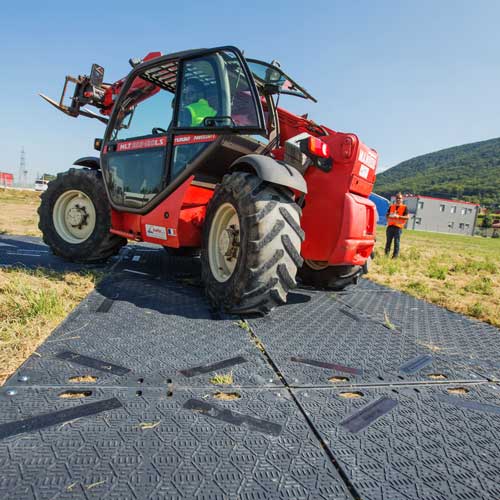 Ground protection mats are an essential investment for excavation, construction, and other heavy equipment companies. These mats help to prevent damage to the lawn or yard, and they're easy to use. The 4x8 ground protection mats work well with many different equipment types and are a must-have when navigating areas of grass or soft soil.
The Best 4x8 Ground Protection Mats
The 4x8 size is a popular choice for ground protection mats. It gives you good coverage but the mats are still sized so they're easy to move and store.
At Greatmats, we have a wide variety of these 4x8 ground protection mats for sale which support loads ranging from about 80 to 120 tons. Each is designed with quality, performance, and durability in mind.
Greatmats Ground Protection Mat ½ Inch x 4x8 Feet
The Greatmats Ground Protection Mat ½ Inch x 4x8 Feet is a highly durable yet economical choice. The mat can support loads weighing up to 80 tons, making it a highly versatile choice.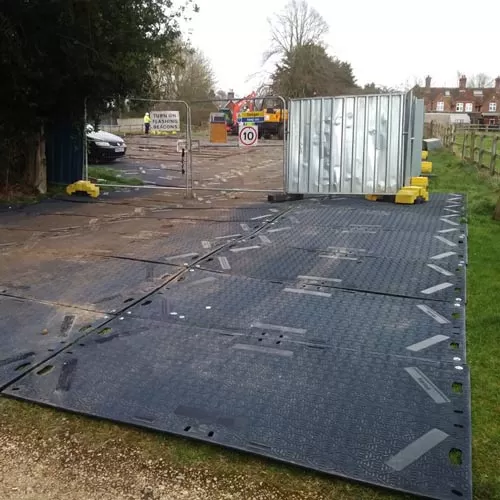 Made of polyethylene material, the mat is non-absorbent, so it will never become waterlogged. The polyethylene is 100% recycled, making the mat an eco-friendly choice.
Each mat features a slip-resistant surface created with rugged nubs, designed to improve vehicle grip. The mats are also reversible, and can be navigated with tractors, mowers, skid steers, trucks and trailers, and more.
Because the mats are somewhat flexible, they will follow the contours of the land, allowing you to create a roadway through all sorts of surfaces. They are also non-conductive, so they're ideal for use in electrical projects.
The mats are capable of covering slopes, and you can connect them together to form a variety of designs. The mats are lightweight and feature handholds for a secure grip.
They are available in black.
AlturnaMats Ground Protection Mats Black ½ Inch x 4x8 Feet
The AlturnaMats Ground Protection Mats Black ½ Inch x 4x8 Feet are incredibly strong, featuring a 120-ton load capacity. The ½-inch high density polyethylene is recycled, and the mats can create a temporary roadway that will protect the ground underneath.
The mats are designed to go on top of existing grass, and they are suitable for machine traffic as well as for foot traffic. You can also use them to create a bike path or a golf cart path around a property.
When you purchase these mats, you can choose from three traction patterns based on your needs. They include a full diamond tread and a smooth option, which you can order on one or both sides.
These mats are available in both black and clear. The clear design allows sunlight through, helping to preserve the life of the grass under the mats when installed for longer periods of time.
Liberty Ground Protection Mats Black ½ Inch x 4x8 Feet
The Liberty Ground Protection Mats Black ½ Inch x 4x8 Feet are strong enough to support 80 tons, but they weigh just 77 pounds each, making them easy to move and install. The mats are ideal for not only construction areas, but also for use as outdoor event flooring.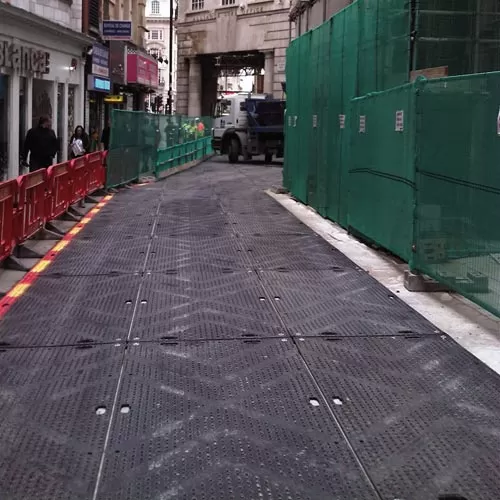 Made of recycled high density polyethylene, the mats have a chevron textured surface to help maximize traction, even in muddy conditions. They flex to follow the ground contours, so you can easily install them even on sloped areas.
The mats are also non-conductive and help to protect sensitive ground. They're a highly versatile option for constructing work pads, storage areas, roadways, and pedestrian walkways.
Ground Protection Mats Clear ¾ Inch x 4x8 Feet
The Ground Protection Mats Clear ¾ Inch x 4x8 Feet feature a rugged polyethylene construction that makes them strong, but their clear design lets UV rays through. That design helps to keep grass growing when the mats are installed, so the turf left behind is healthy.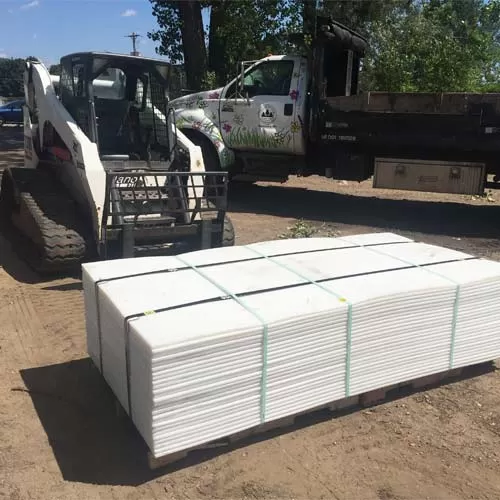 The mats feature a bold cleat design to maximize traction, while the opposite smooth side helps to protect grass and concrete surfaces. Once installed, you can use Turn-A-Links to lock the mats together, creating a road.
These mats are backed by a limited lifetime warranty.
Ground Protection Mats Scout 48 x 96 Inches
The Ground Protection Mats Scout 48 x 96 Inches weigh about 88 pounds each, but they're capable of withstanding loads up to 175,000 pounds. Made of solid heavy duty high-density polyethylene, the mats are ideal for tree trimming, Bobcat paths, temporary roadways, and more.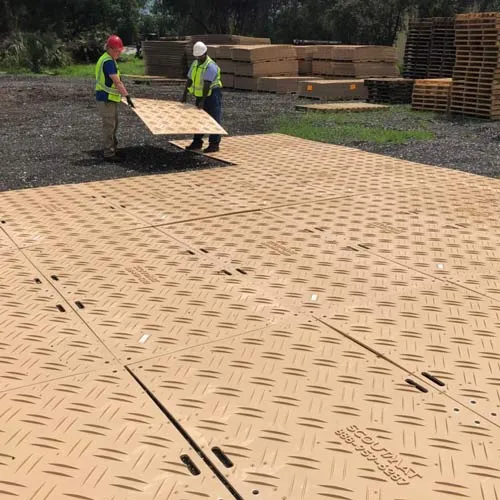 Resistant to acids, alkaloids, and solvents, these mats are weatherproof and highly durable. They are also chemically inert, so they're a safe option for use in eco-sensitive areas.
You'll find plenty of versatility in these mats. They're reversible, giving you plenty of installation options, and are non-conducive, so you can use them on electrical job sites.
They feature a one-year limited warranty, but you can expect them to last approximately 10 years in the field when used appropriately.