When Would You Use Artificial Turf Protection Mats?
By Lisa Hobbie Created: February, 2022 - Modified: June, 2023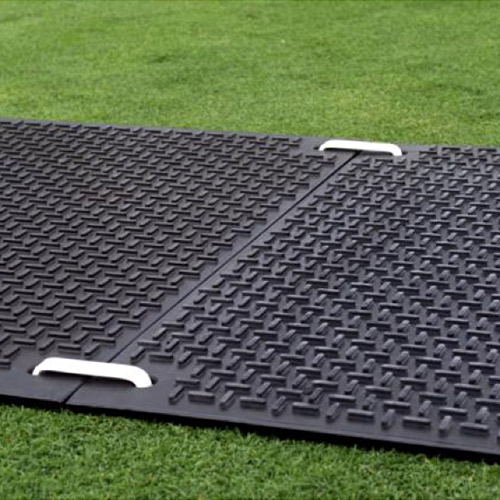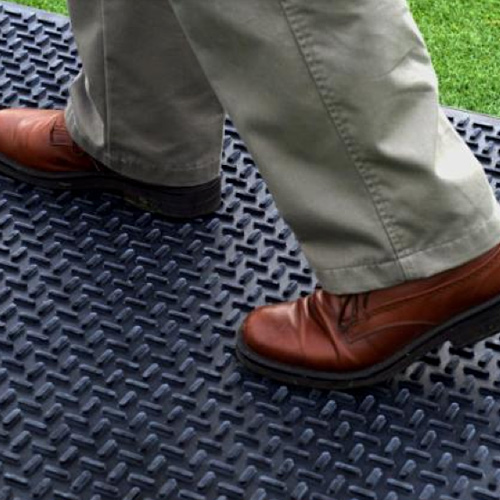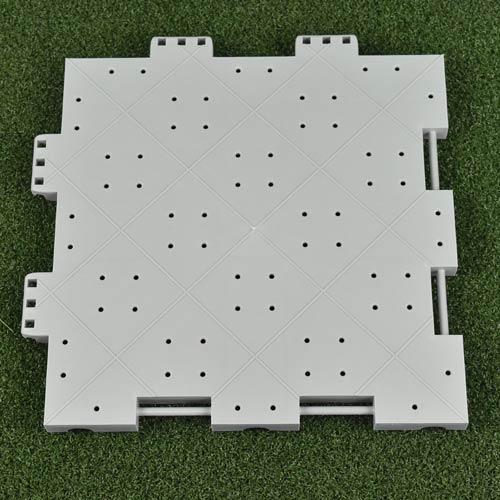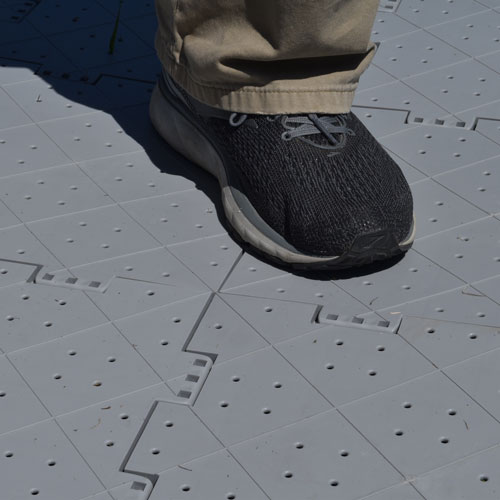 Artificial turf protection mats are often employed any time heavy equipment, construction vehicles, performance or concert staging, or event seating will be used over turf.
Whether large or small mats are used, temporary protection measures are often used to protect the synthetic turf, track infield area, when the venue will be used for any event or gathering that could submit the space to potential damage, stress, or overuse.
Greatmats offers the
best turf protection mats
designed to protect faux grass while offering a comfortable, durable surface. Of the many options from which to choose, the following represent a variety of resistant levels and price points:
These turf protection mats will do a fabulous job saving your fake grass from damage caused by vehicles, equipment, or excessive foot traffic. There are different styles, sizes, types, and price points available, with an option among these that would likely be perfect for your setting.
Protection Against Heavy Equipment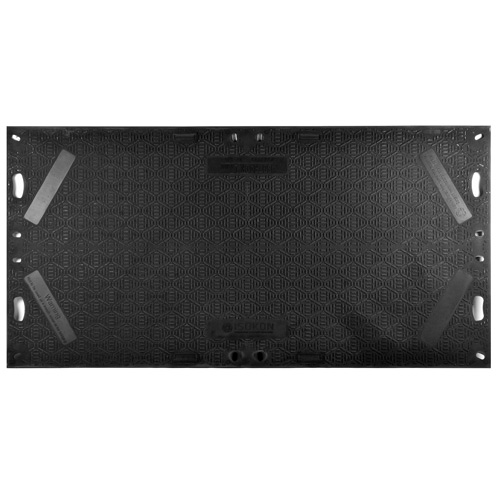 Gmats Ground Protection 4x8 Ft Mat is a versatile mat that is able to support vehicles and other loads weighing up to 60 tons. It's a high quality product that is made to be maneuvered easily with the hand holds.
These turf protection mats are relatively lightweight at just 80 pounds, and they are very durable, economical, and provide high traction for heavy equipment. These are a great option for temporary pathways or areas of your turf needing protection from heavy weight. They are made from non-absorbent polyethylene material that will never get waterlogged.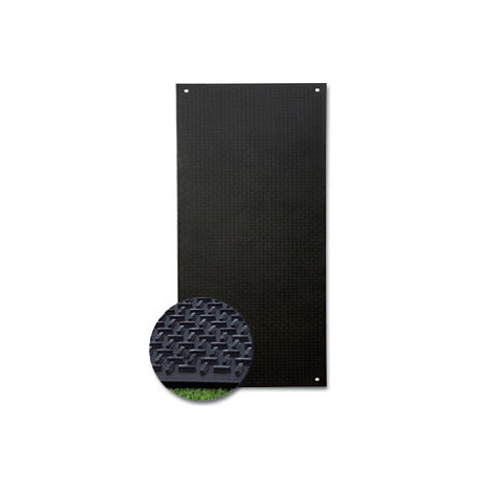 VersaMats Diamond Foot Mats are 3x8 feet black mats that provide temporary flooring over turf. They are strong enough to endure the weight of foot traffic, construction equipment, and anything else up to 120 tons. These represent the perfect solution to prevent damage to even the softest turf.
These turf protection mats offer a surface that's easy to walk on or work and drive on. They are slip-resistant and have diamond plate tread on the reverse side to deliver effective traction for vehicles. They are ½ inch thick and made of recycled polyethylene plastic material - making them among the toughest on the market with a Shore A 100 density rating.
This protective solution is non-absorbent and suitable for extreme hot or cold temperatures. They weigh 65 pounds, so once in place, they aren't going anywhere unless you want them to.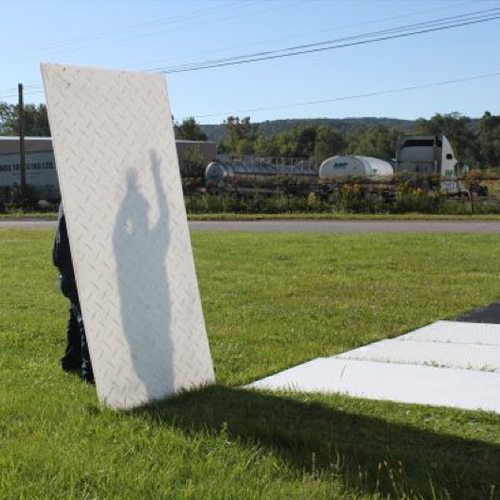 4x8 Foot Clear Ground Protection Mats are turf protection mats that do a great job protecting a surface from the extreme weight of equipment used by contractors and event set up companies.
They can be linked together, making turning in equipment a breeze, and they offer a solution that saves time, energy, and hassle as they will not break, splinter, waterlog, or warp like plywood does. They provide a clean, stable surface to go over your turf.
Protection against heavy foot traffic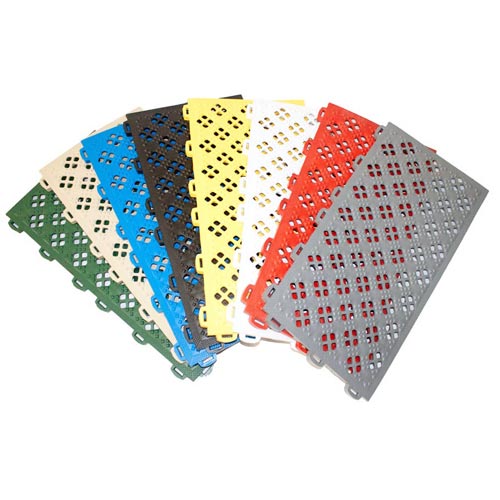 Ergo Matta Perforated Outdoor Tile is a very popular product available at Greatmats. It's a brightly colored tile that is vibrant, eco-friendly, and non-absorbent.
These PVC tiles boast a 20-inch ASTM fall height rating, and they can be installed directly over your turf to create a sure, sturdy, non-slip surface designed to endure foot traffic in hot or cold climates. The bright colors this product comes in will not fade from direct sunlight, and the excellent drainage surface design keeps the tiles safe and looking clean and dry.
Note: This product should not be used under heavy equipment.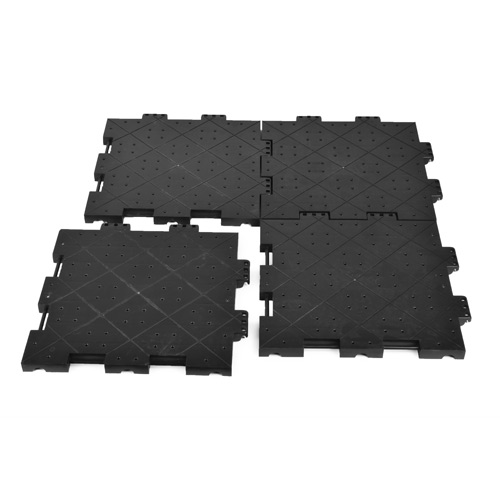 Portable Outdoor and Tent Tile 12x12 Inch is an attractive and effective temporary outdoor flooring solution that can easily go right over turf.
These tiles are made from super strong, no-break plastic, and they have a DIY clip together design. Each of the individual tiles has drainage holes for wet areas, is non absorbent, and features an anti-slip surface texture. It comes in convenient 3x3 foot sheets of 9 tiles for a fast and easy installation, and it will hold its shape even when placed under heavy weight.
Greatmats - For Turf Protection Tiles & Mats
There are so many outdoor flooring and turf protection options at Greatmats, and the products highlighted are just a sampling of some of the most popular solutions. Everything from patio decking to carpet tiles, temporary dance floors, and a variety of other mats - there really is a solution that would suit any turf surfacing need, preference, and budget.
If you have any questions about the featured products, simply reach out to the team at Greatmats. They can provide you with more information and help you with your order. They can even help you decide which product is the right one for you.
No matter which solution you decide on, you simply can't go wrong when you purchase from Greatmats!