What is the Best Flooring for an Outdoor Home Basketball Court
By Kyle Schurman Created: February, 2020 - Modified: May, 2023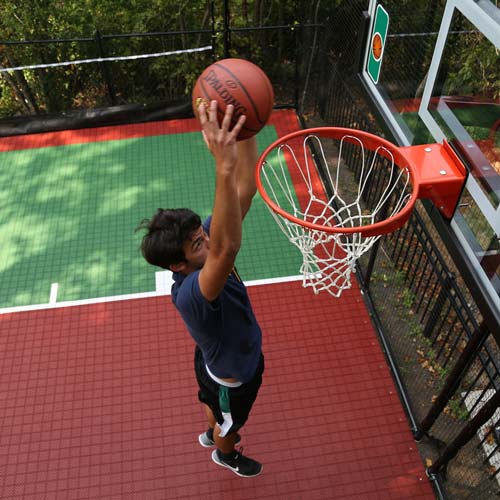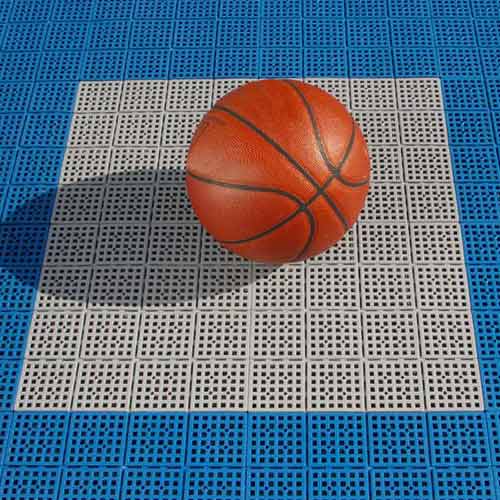 Using
home basketball court tiles
to create a playing surface outdoors is an inexpensive and efficient way to encourage your kids to work on their skills and get some exercise at the same time.
Our perforated outdoor tile kits help facilitate water drainage, giving players a safer surface than plain concrete. The tiles deliver the traction players need to avoid worries about a slip causing an injury. These home basketball court tiles are durable to use as flooring for your backyard sports court.
At Greatmats, we offer three specific models of home basketball court tiles. Any system you choose will be easy to install, while delivering a true bounce of the basketball that's required for enjoyable game play.
Outdoor Court Tile XT3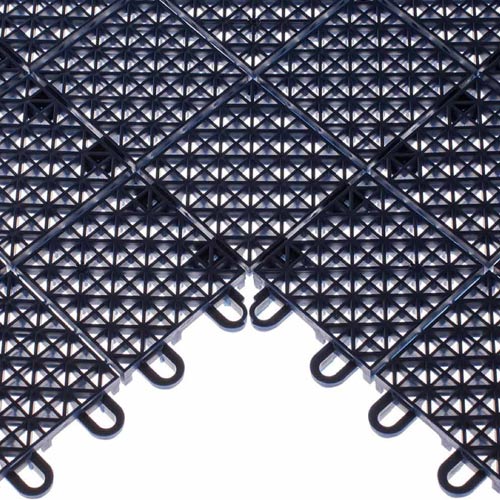 The Outdoor Court Tile XT3
product consists of a polypropylene plastic that creates a durable surface for basketball players. This tile design has a slight lateral give as basketball players cut on the surface, which protects the knee and ankle joints of the players.
When laying the XT3 home basketball court tiles over concrete, they will flex to conform to slight undulations in the slab, all while maintaining the integrity of the interconnected tiles. However, if the concrete surface has significant cracks or dips, you should repair those before laying the tiles over the top.
With the perforations that extend through the entire thickness of the tile, water will not pool on top of the poly material. Even with the drainage holes, each tile can withstand up to 16,000 pounds per square foot of pressure, resulting in excellent longevity.
Installation goes quickly, as the tiles have a snap together connect system, which hides the connectors underneath the tiles, resulting in a sharp looking finished floor with clean lines.
You can purchase the XT3 in multiple color options, and you can mix up the tile colors, as the interlocking system is consistent from tile to tile, allowing you to create whatever look you want in your home basketball court tiles design.
Tennis Court Tile MT2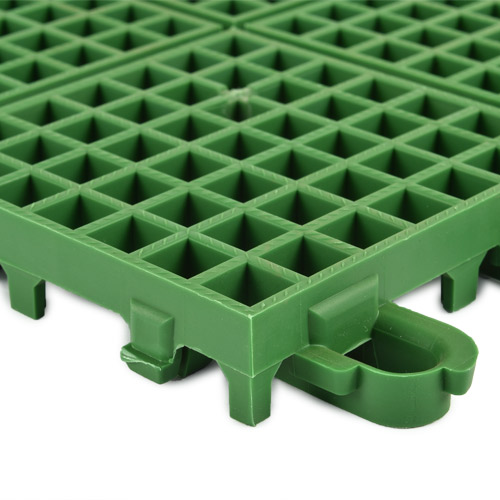 Even though the
Tennis Court Tile MT2
product has "tennis" in its name, it will work very nicely as an installation of home basketball court tiles.
Traction is one of the key features of the MT2 product. Players can make sharp cuts on these perforated sports court tiles without worries of slipping. Additionally, players will receive a true ball spin off these tiles when passing or dribbling, as the tiles yield just a little bit of traction for the ball, closely mimicking an indoor hardwood floor.
Even with the traction these interlocking tiles provide, they also have a little bit of a give to them as players make cuts. This reduces stress on the player's leg joints. The polypropylene plastic is extremely durable, maintaining its integrity in any kind of climate or weather. In many cases, outdoor basketball hoops will be placed in a fenced in tennis court for dual purpose athlete spaces. This is the perfect solution for those situations.
With the hidden interlocking system on the underside of these tiles, you'll only see clean lines when you're looking at the court. The square shaped perforations in these tiles contribute to the clean lines. The perforations penetrate all the way through the tile's thickness and allow water to drain through to the concrete.
You can order this tile kit in any of more than a dozen color choices. Because all of the MT2 tiles use the same interlocking system, you can mix and match colors if desired.
Patio Outdoor Tile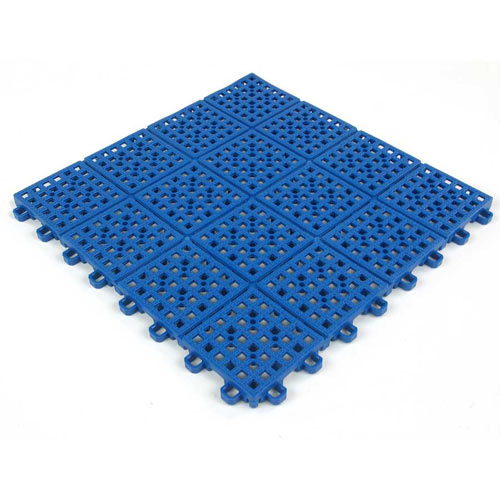 When you need to save some money on your outdoor court installation, consider the
Patio Outdoor Tile
product. Even though you'll receive a bargain with these tiles per square foot of coverage versus the others on our list, they provide a high level of traction that basketball players need in an outdoor court surface.
These tiles have a shorter warranty than the MT2 or the XT3 products, but they represent a good value priced option. They consist of PVC plastic, which stands up well to all kinds of weather.
The perforations that run the entire depth of the plastic tiles will allow water to drain through to the cement subsurface. The top surface will remain dry, preventing water from pooling on it.
The PVC plastic material is UV stable, so it will stand up to constant sunlight without breaking down. The color of the tiles will remain stable too, resisting fading from UV rays. A few different color choices are available, and you can mix and match colors using the hidden interlocking system on the edge of the tiles.
Durable Home Basketball Court Tiles
Count on Greatmats to deliver the best home basketball court tiles for use in a residential backyard, on an outdoor school playground, campgrounds, or for an outdoor court at a rec center or park. Beyond basketball, you can use these tiles for volleyball, tennis, inline hockey, and other sports.
We offer durable products that can stand up to any type of weather, while also delivering a highly competitive price per square foot of coverage area. Whether you need to cover a full court or a half court with these tiles, they'll have the level of performance you need over time at a good value.