Laminate Vinyl Tiles VS Traditional Wood Or Tile
By Paige Cerulli Created: November, 2022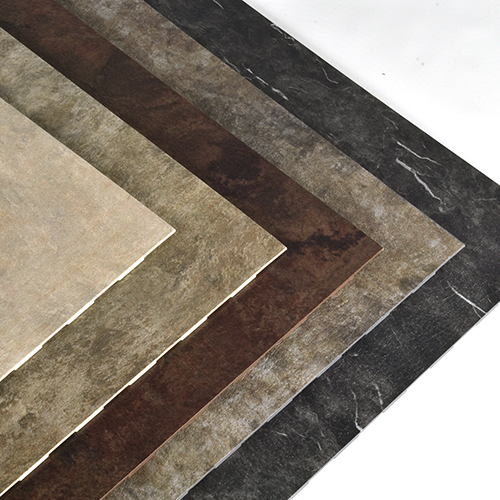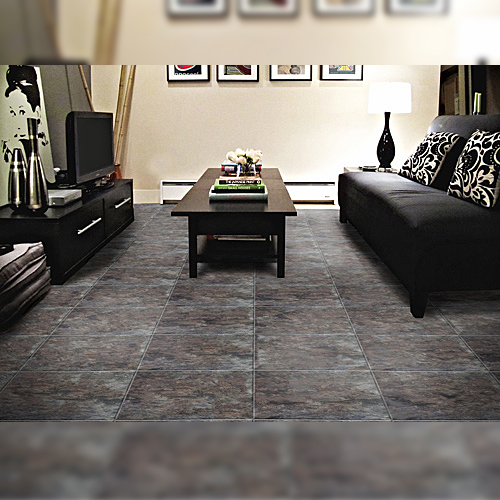 If you're looking for a luxury finish and a highly durable flooring product, a laminate vinyl tile might be the best choice. These specialized tiles are becoming increasingly popular because of not only their beautiful look, but also their versatility.
What Is a Laminate Vinyl Tile?
If you compare laminate vinyl tiles versus traditional wood or tile flooring, you'll notice several key differences. Laminate flooring offers the look of hardwood or tile at a much more affordable cost than what you would pay for the genuine flooring.
Laminate vinyl tile is made of synthetic materials, and many of these tiles are designed to look like hardwood or stone. These tiles feature multiple layers, including an interior core board, a decorative image, and then a top wear layer that helps to protect the floor against scratches and wear.
Laminate vinyl tile is affordably priced and comfortable underfoot. It can help you to get the look of real wood or stone, and is also available with different effects, like finishes resembling stone.
These tiles are also much easier to install than hardwood or tile flooring, and many tiles support a DIY installation. They're a versatile choice for residential and commercial settings.
Top Laminate Vinyl Tiles for Sale
At Greatmats, we carry a fantastic selection of laminate vinyl tiles for sale.
Max Tile Raised Floor Tile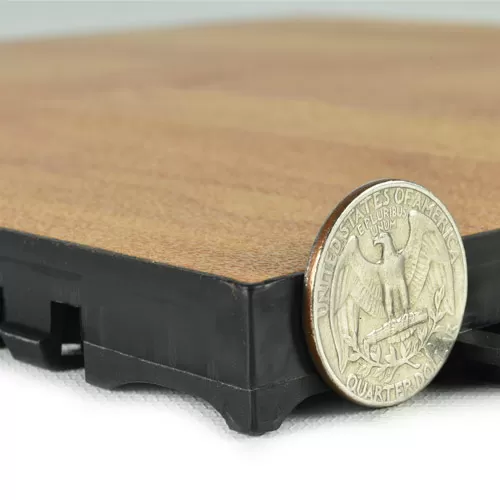 The Max Tile Raised Floor Tile is a high-quality waterproof tile suitable for residential and commercial installations. It's available in an assortment of realistic and upscale top layered wood designs.
The tiles are UV treated for durability, so you can install them near windows without worrying about their fading. They are also ideal for use as portable dance floors, basement flooring, and court flooring.
Equipped with durable snap-together ab and loop connectors, the tiles can be installed permanently. They are also durable enough to be repeatedly installed and uninstalled, making them a versatile modular flooring choice.
You can purchase border ramps for these tiles, creating a clean finished edge and making a smooth transition onto other surfaces, like carpet.
Comfort Tile Plus Center Tile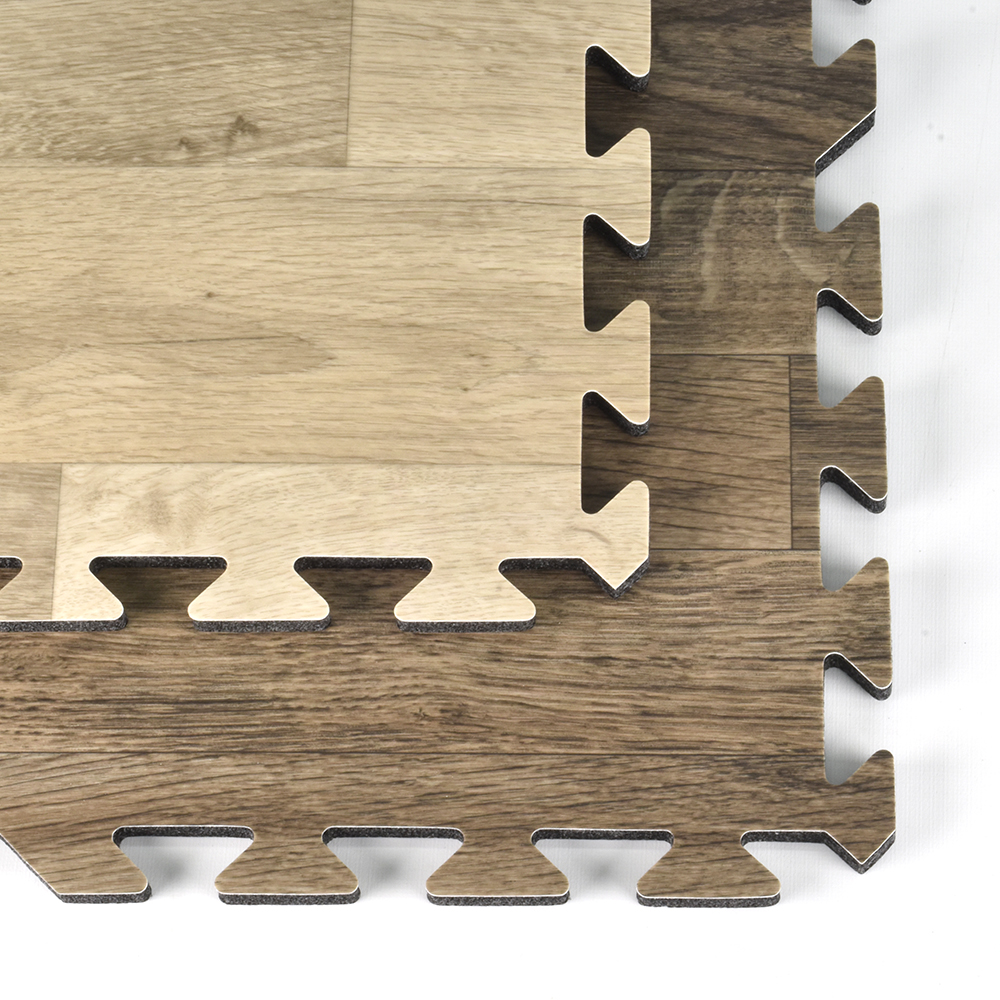 The Comfort Tile Plus Center Tile features a distinctive wood grain finish top layer plus the comfort and cushion provided by foam on the bottom. The tiles are lightweight and portable, making them ideal for use in trade shows and events, as well as in basements.
These tiles are waterproof and non-absorbent, so you can easily clean them with a damp mop. They provide valuable fatigue relief and feature beveled edges to help prevent tripping.
Thanks to their puzzle-style edges, the tiles quickly connect together for an incredibly easy installation. You can also easily remove them and store them as needed.
TileFlex Floor Tile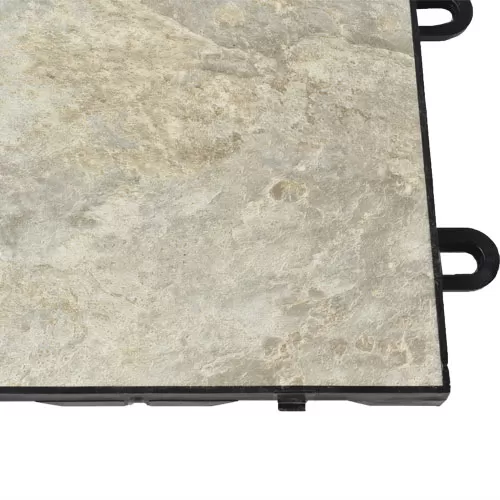 The TileFlex Floor Tile is a vinyl top layer tile that is waterproof and raised, which allows air and moisture to freely circulate beneath the tile. That design speeds drying and helps to prevent mold and mildew growth, so the tile is particularly well-suited to basements and other damp areas.
The tile is highly durable and will never need to be refinished. It's available in two neutral colors, so it complements many decor schemes.
The modular design means you don't need any glue to install the tile, and you can also remove the tiles if needed. Alternatively, you can add onto the floor and expand its size in the future.
These tiles require minimal maintenance, and they can be damp mopped with neutral pH household cleaners. They feature a 10-year limited warranty.
HomeStyle Stone Series Floor Tile
The HomeStyle Stone Series Floor Tiles are available in distinct, luxurious finishes like slate and leather, making for an impressive looking floor. The vinyl top surface is warm and comfortable underfoot, making these tiles ideal for offices, basements, and more.
These tiles feature a hidden interlocking design that makes for a DIY-friendly installation that doesn't require adhesive. The tiles connect together tightly and won't pull apart while in use, but you can also easily remove and relay them if needed.
You can install the tiles over uneven, old subfloors, reducing the amount of site preparation that you need to perform. Since the vinyl layer is moisture-resistant, you can even install them in kitchens and bathrooms.
Cleaning the tiles is easy, since you can use a vacuum or a damp mop.
SupraTile Designer Vinyl Top Series
The SupraTile Designer Vinyl Top Series is a highly durable flooring choice that's suitable for showrooms, galleries, offices, and basements. The tile is warm and comfortable to stand on, and it also helps to absorb sound, making for a more enjoyable environment.
The tile is not only highly water-resistant, but is also resistant to oils, chemicals, mold, and mildew. It resists impacts, moisture, and abrasion, making it a long-lasting addition to your business or home.
Most distinctive, though, are the available seven designer finishes. These finishes are highly realistic and full of rich details, and they're designed to enhance a space.
Thanks to their five-layer design, these tiles are also supremely strong and are able to withstand loads of up to 2,000 pounds. The layers won't pull apart and result in a sturdy construction.
The tiles have an impressive 20-year manufacturer warranty.