Laminate Vinyl Plank Flooring Looks Like Real Wood
By Paige Cerulli Created: November, 2022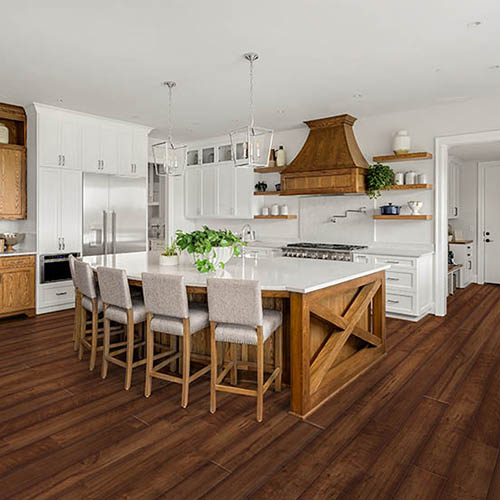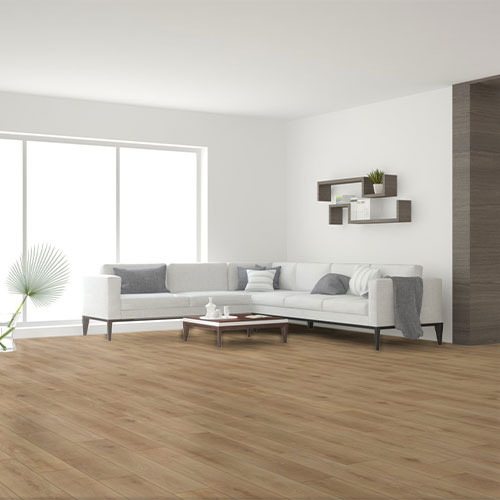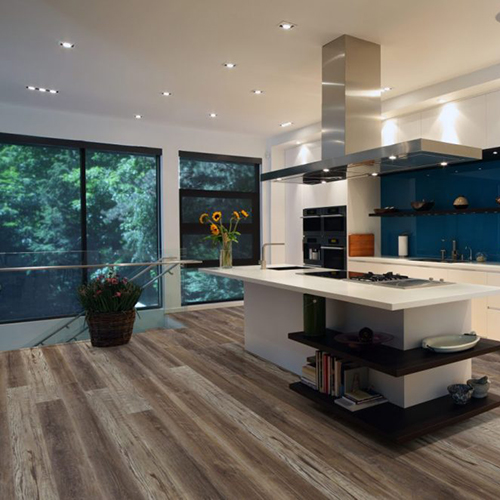 While hardwood flooring makes a beautiful addition to a home, its cost and high maintenance needs often make it an impractical choice. Laminate vinyl plank flooring gives you the same look as wood flooring, but it's often a much better and more practical option.
What Is a Laminate Vinyl Plank?
When you compare laminate vinyl planks versus traditional wood flooring, it's easy to see that laminate vinyl plank offers several key benefits that make it a desirable choice. The first main difference is in the product's construction.
Laminate planks are made of multiple layers of synthetic materials. An interior core board creates stability, and is topped with a decorative image, often with a luxury finish.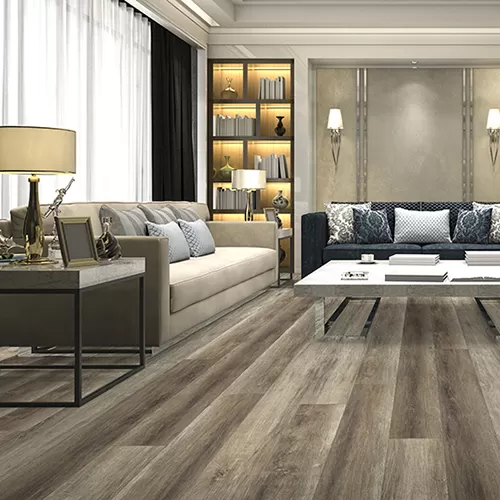 The planks also feature a top layer that adds protection and durability. That wear layer helps to protect the plank against wear and scratches, as well as moisture.
Laminate vinyl plank flooring is affordably priced, particularly when compared to the cost of genuine hardwood flooring. The long plank design creates a look that is highly similar to wood floor planks, and you'll also find that planks are available in different dimensions for unique looks.
These planks are much more comfortable underfoot than wood flooring is, and some of these planks are designed so that you can install them on your own. They are often used in residential and commercial settings that need a durable flooring product that creates a beautiful aesthetic.
Laminate Vinyl Plank Flooring for Sale
At Greatmats, we have an excellent selection of laminate vinyl plank flooring to choose from. If you have any questions, our customer service team is more than happy to help you determine which product is best for your needs.
Cottage Tour Laminate SPC Flooring
The Cottage Tour Laminate SPC Flooring offers the distinct look of reclaimed wood flooring planks that you would find in a vintage farmhouse. Its water-resistant style means it can withstand plenty of foot traffic, including in busy homes with kids.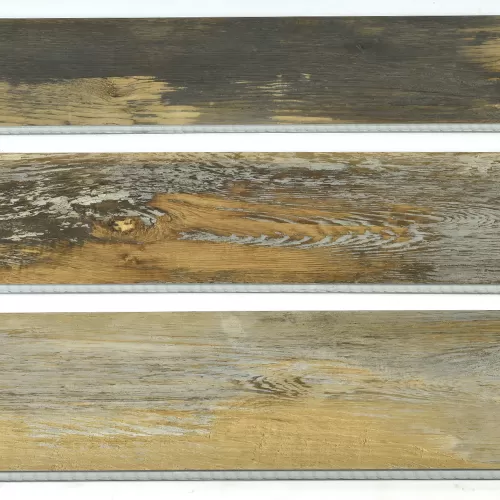 This flooring has a tongue-and-groove design that allows you to lock the pieces together without using adhesive or even hiring a professional. Since the lower layer of the planks is already equipped with an underlayment to help reduce the noise of people walking, there's no need to install an additional underlayment during installation.
Caring for the flooring is easy, too. You can damp mop it as needed, sweep it, and use a wood floor cleaner. The flooring is highly durable and backed by a 35-year limited manufacturer warranty.
Manhattan Edge Laminate SPC Flooring
The Manhattan Edge Laminate SPC Flooring is an ultra-durable flooring choice suitable for residential and commercial applications. It features highly realistic wood grain details and is available in multiple luxury finishes.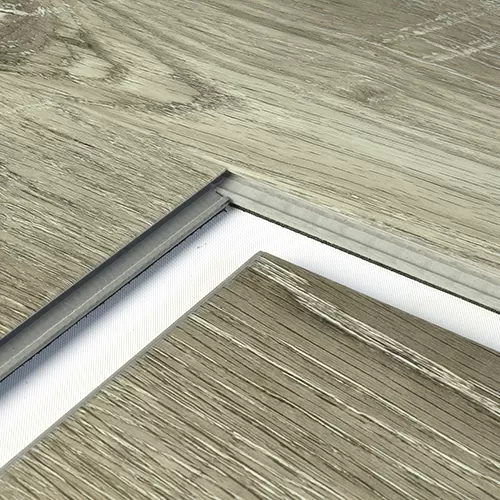 The planks are wide, which makes for a distinctive look, and feature beveled edges. The embossed surface adds detail and features a wear layer to protect the flooring from scratches and foot traffic, making it suitable for use in homes with kids and pets.
The planks feature click-together design for an easy and fast installation. WaterShield SPC Rigid Core technology helps the planks to resist scuffs, scratches, and stains, and they're backed by a limited 35-year manufacturer warranty.
Mediterranean Scene Laminate SPC Flooring
The Mediterranean Scene Laminate SPCA Flooring is available in four highly realistic wood grain finishes. That natural wood grain look resembles different stain options and complements many decor schemes.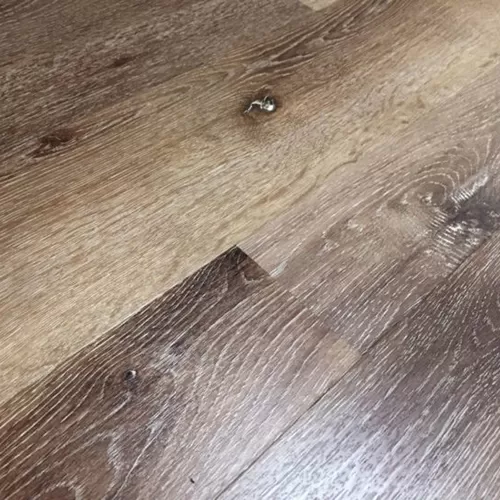 This flooring is designed to withstand scratches from kids and pets, and the GreenGGuard certification ensures that the planks contribute to a healthier indoor environment for your family. The foam provides valuable shock absorption and cushion to maximize your comfort, while also reducing noise generation.
The planks are equipped with a tongue and groove design that locks them in place without the use of adhesive. They can be easily maintained by sweeping and mopping.
Stock House Laminate SPC Flooring
The Stock House Laminate SPC Flooring is available in eight highly realistic, rustic wood finishes. These planks feature a 30-mil wear layer that is designed to withstand high foot traffic, maximizing the lifespan of the flooring.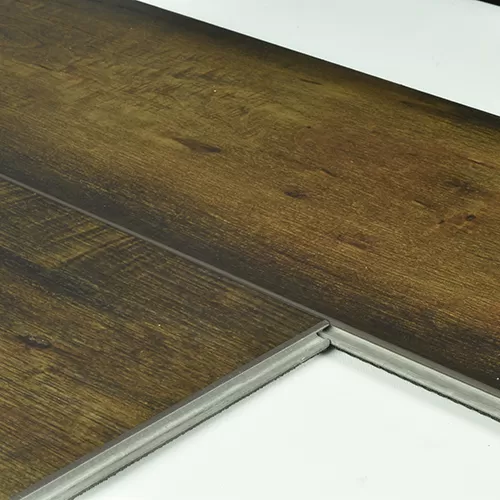 The foam attached to the underside provides cushion and shock absorption, and also helps to reduce noise, for a more enjoyable, quieter home. The planks even have beveled edges to closely resemble the look of a real wood floor.
Measuring seven inches wide, the planks add a distinctive look to a home. That width also makes for a faster installation when compared to narrower planks.
The planks' tongue-and-groove design allows for a floating installation without any need for glue. They feature a 35-year manufacturer's warranty.
Brew House Laminate SPC Flooring
The Brew House Laminate SPC Flooring is a waterproof flooring product that you can install in any room of your home. It is available in a variety of finishes, including dark and light tones, and is full of details like an embossed finish and beveled edges.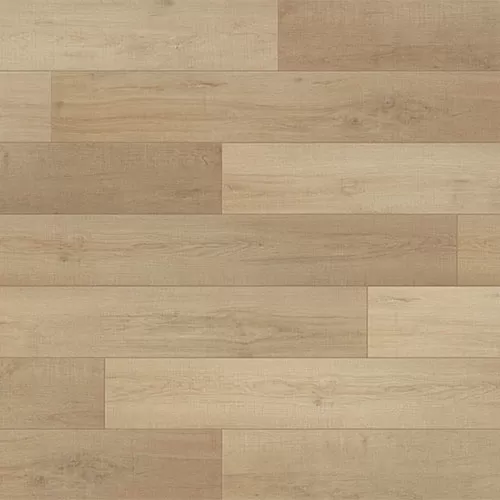 The planks feature an underlayment that helps to reduce sound, while the wear layer makes them scratch-resistant. They are easy to maintain with sweeping and mopping and planks used in residential applications are backed by a limited lifetime manufacturer's warranty.