What Size Is A Commercial Kitchen Floor Runner?
By Paige Cerulli Created: May, 2022 - Modified: May, 2022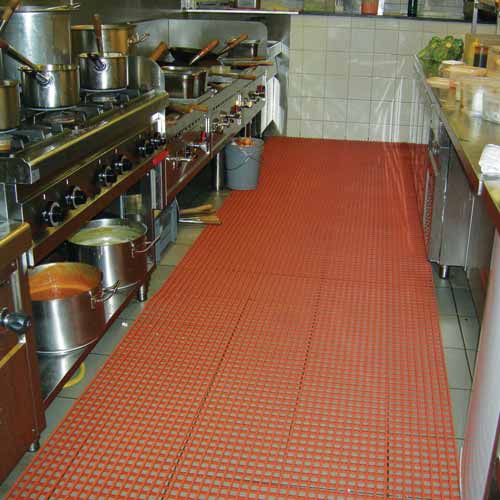 The flooring that you install in your commercial kitchen is essential to staff safety. A commercial kitchen floor runner can help you to quickly and easily maximize the safety of high-traffic areas in your kitchen.
What Is a Commercial Kitchen Floor Runner?
Commercial kitchen floor runners are long mats that you can lay on top of existing kitchen flooring. They can fit behind benches, in workstations, and along cooking lines, making these spaces safer for your staff.
Because commercial kitchen environments are particularly demanding, these mats are designed to be highly durable. They can not only withstand heavy foot traffic, but can also withstand water, grease, cleaning chemicals, and other elements that they may be exposed to in kitchens.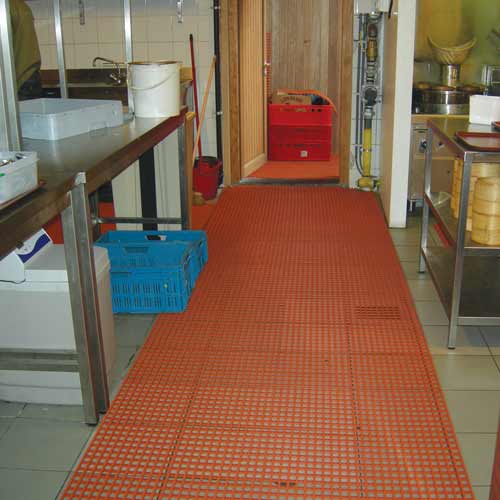 Most of these mats feature a non skid surface to help maximize staff safety, and they tend to be comfortable underfoot. They are also often perforated to let liquids drain through and keep staff feet dry.
The Best Commercial Kitchen Floor Runners for Sale
As you shop for a kitchen floor runner, consider which qualities are most important in your kitchen setting, like perforations or beveled edges. It's also important to choose a runner that's available in the dimensions that will fit the space you're working with.
We offer several quality kitchen floor runners for sale at Greatmats. These products are available in different lengths and many can be custom cut to fit your space.
VIP Topdek Junior Black Mat
The VIP Topdek Junior Black Mat is available in a 3-foot width and in several lengths ranging from around 10-20 feet. It is made of black ½-inch rubber and is perforated to maximize drainage for safety.
The mat features anti-slip and anti-fatigue properties to help keep staff not only safe, but also comfortable. It can be damp mopped for easy cleaning.
This Junior mat is a lighter weight option that is more easily carried and moved. It is ideal for use in non-grease kitchen areas, as well as in bars and service areas.
The mat features beveled edges on all of its sides, which allows for easier access with wheeled carts.
TruTread Red Mat 3x10 Feet
The 3x10 foot TruTread Red Mat is a heavy-duty grease-proof mat suitable for kitchens, bakeries, restaurants, and other areas that see heavy use. The mat features anti-slip traction and a water repellent construction, so it's a versatile option for many kitchens.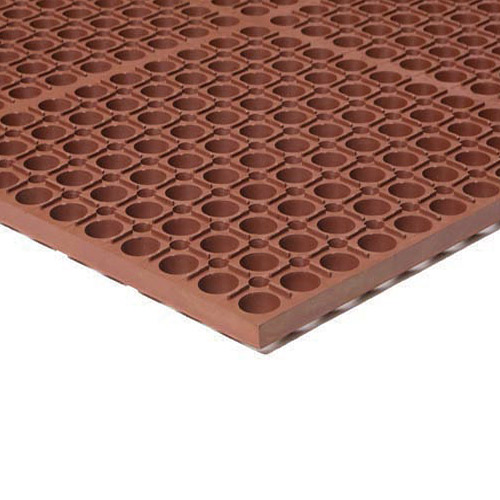 The mat's anti-fatigue construction helps to keep staff comfortable during long hours on their feet. The drainage holes let water flow through, keeping staff standing on a dry surface.
This mat is also available in a black color with grease resistance. You can use the TruTread X-Connector to connect multiple mats together, creating a longer surface to fit your kitchen's dimensions.
Herongripa Slip Resistant Matting Roll
The Herongripa Slip Resistant Matting Roll, available in 2, 3 and 4 foot widths, is 33 feet long and is designed to withstand the demands of commercial kitchens. This PVC floor mat has animal fat resistance, and it has been treated with anti-bacterial and anti-fungal additives to create a healthier environment.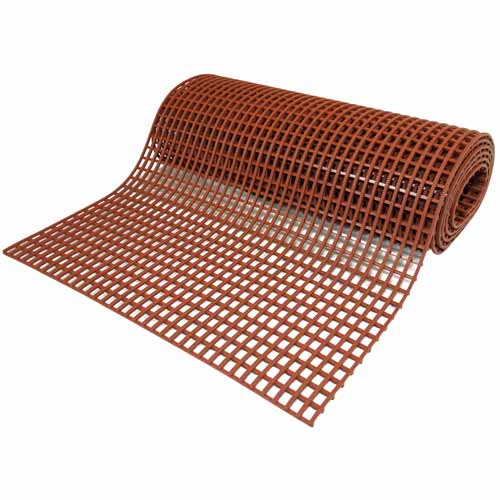 The mat is resistant to chemicals, oils, and acid, and its certified slip resistance contributes to a safer workplace. Its washable design means you can sweep or hose it off as needed.
It's easy to cut the mat to fit your site, and it contours to uneven surfaces. It can be loose laid and is a lighter option than nitrile rubber, making it easy to roll up for your daily kitchen cleaning.
SaniTop Anti-Fatigue Mat
The SaniTop Anti-Fatigue Mat is a perforated mat that's made of natural rubber for durability. It's 3 feet wide and available in a variety of lengths, ranging from 3-20 feet. It's suitable for use in both wet and dry areas, and its slip resistant design offers an extra employee safety measure.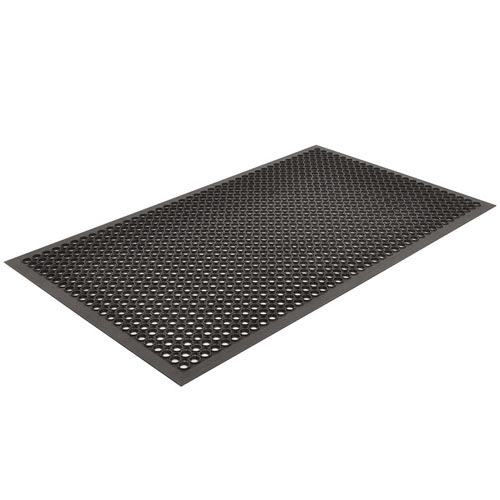 The mat is designed to withstand harsh chemicals, and it features large and small holes to effectively drain away liquids from the standing area. Its ergonomic and anti fatigue properties also contribute to employee comfort, making the mat ideal for kitchens, assembly lines, and more.
The mat features beveled edges on all of its sides to help reduce tripping for greater staff safety.
SuperFoam Perforated Anti-Fatigue Mat
The SuperFoam Perforated Anti-Fatigue Mat is a 75-foot long ergonomic mat that also adds safety to your kitchen. Available in 3 or 4 foot widths, its beveled edges increase safety and help to prevent the chance of tripping.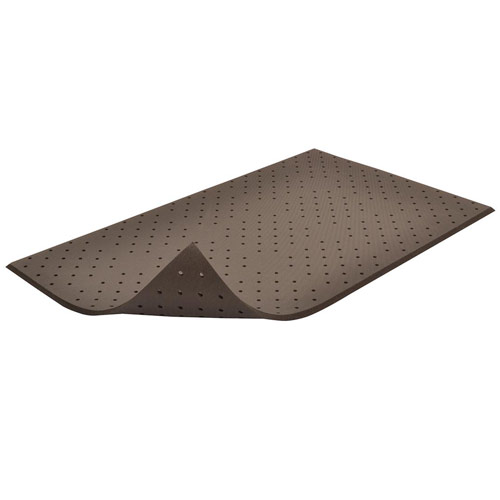 This mat is made of a closed cell PVC and nitrile foam blend that is non-absorbent, so it's suitable for use in wet, dry, and oily areas. The mat is resistant to grease, oil, and animal and vegetable fats, so it's ideal for food preparation areas and kitchens.
That extreme resistance also makes the mat uniquely suited to use in areas like dishwashing stations or bars, where it is exposed to more spills or overspray than other kitchen areas.
While the mat is highly durable, it's also lightweight, so you can easily move it when you need to clean the kitchen. It is slip and wear resistant, making it a durable and long-lasting addition to a kitchen.
Available in 75-foot lengths, the mat is an excellent choice when you need to cover larger areas in your kitchen. It can be swept and dry mopped, and can also be damp mopped with a mild soap for easy cleaning.