What Are The Best Chemical Resistant Floor Mats And Tiles?
By Lisa Hobbie Created: April, 2021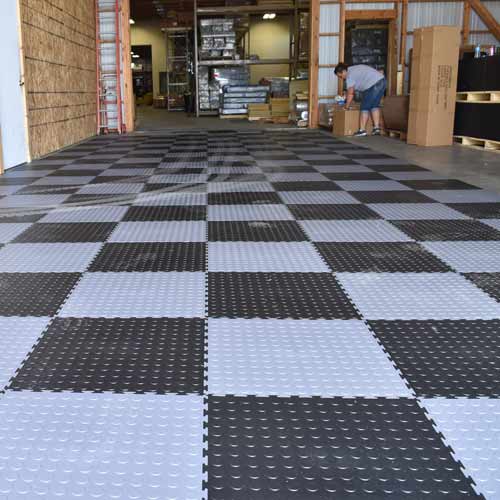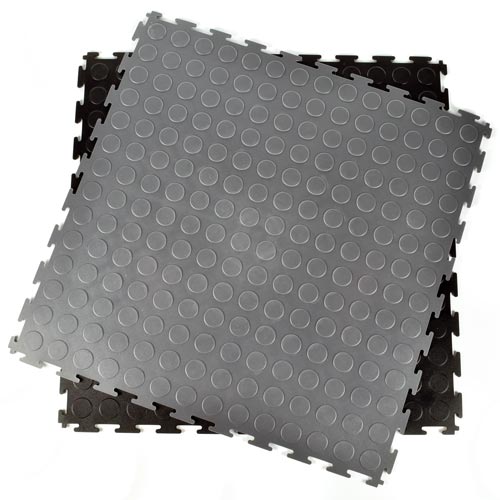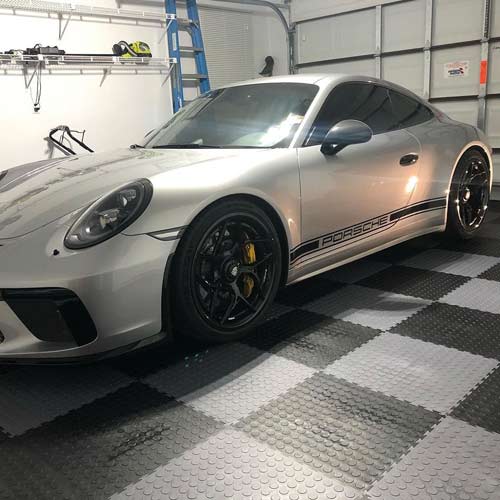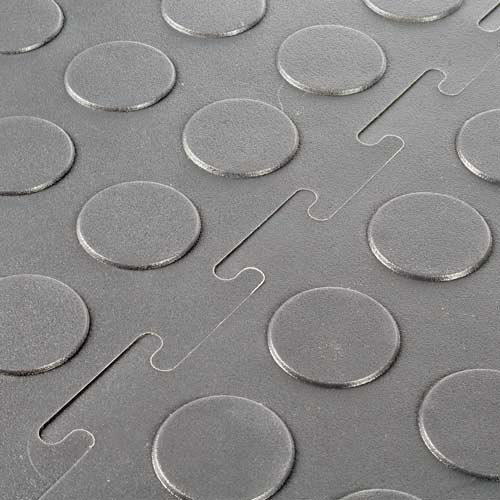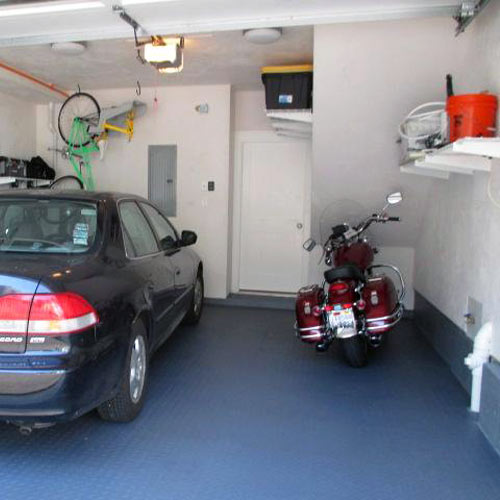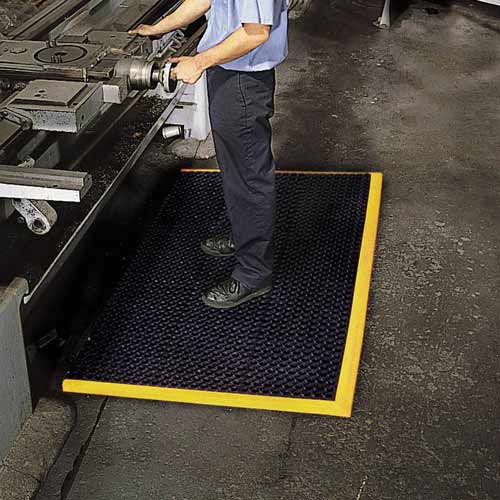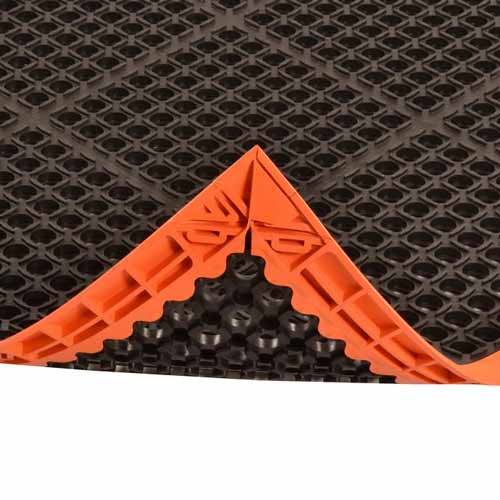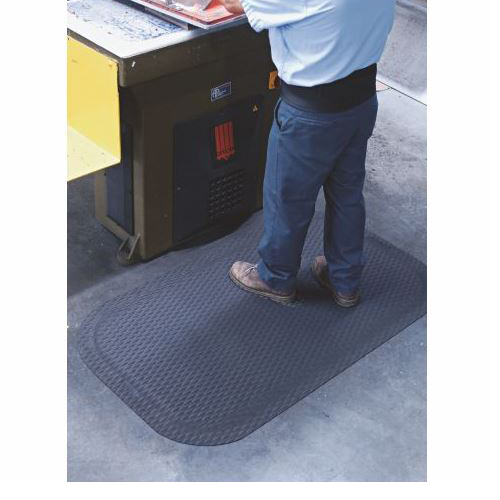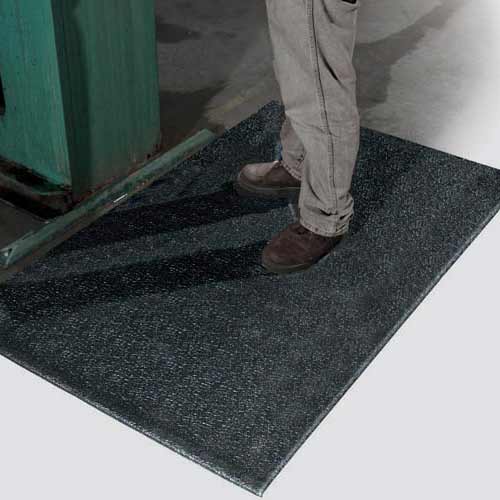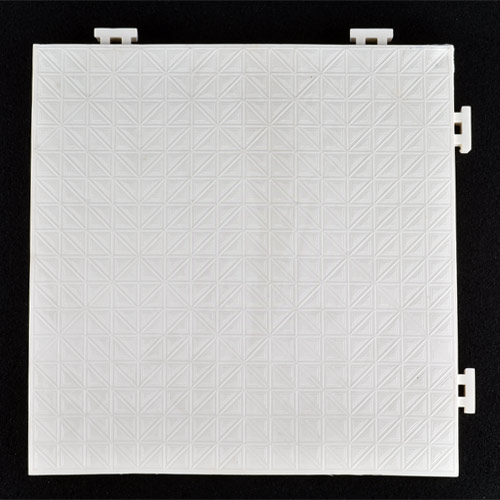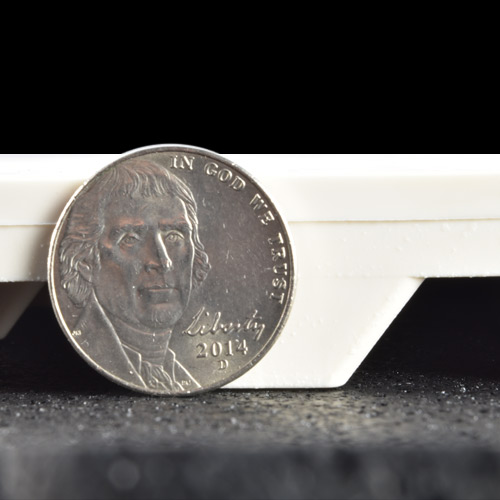 If you are looking for anti fatigue flooring mats that are also resistant to chemicals, you have come to the right place. Greatmats offers the best products for factory, industrial, laboratory, and other settings that need to provide a safe footing on which to stand and work, and that also need to endure chemicals they may be subject to. Of the many outstanding
chemical resistant floor mats
available, the following 12 are among the best and most popular:,
Purchasing one or a few of these chemical resistant floor tiles or mats will not only give you a product that will last, you will also be investing into the safety, protection, and comfort of your employees, yourself, and of your subfloor. Without adequate and appropriate floor mats in place, your existing subfloor - whether sheet vinyl, brick, wood, laminate, or other material - could become damaged from a chemical or paint spill or other accident. Because many of these products also offer anti fatigue benefits, they allow protection and comfort, as well.
Chemical Resistant Foam Options
The ArmorStep Pebble Surface Mat - 2x3 Feet is a pebble texture fatigue mat that will outlast a traditional, one layer foam mat three to one. This cost effective alternative to other laminated foam-based products resists common chemicals and fluids, and it offers anti-slip traction, anti fatigue benefits, and excellent wear resistance. These chemical resistant floor mats are often used in shipping and packing warehouses, workshops, service counters, and industrial settings, or anywhere that employees can benefit by standing comfortably for an entire day of work.
Chemical Resistant Rubber-Foam Blend Options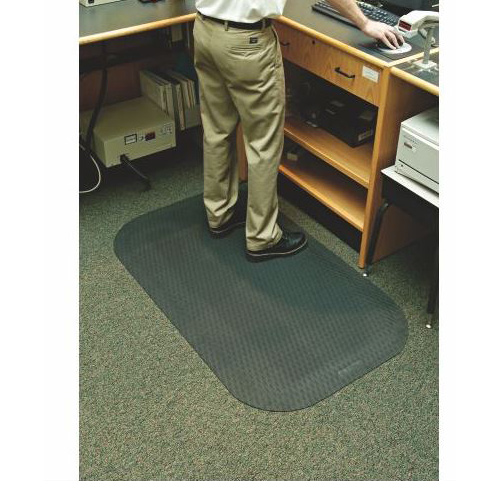 A Hog Heaven Anti Fatigue Indoor Mat - 33x58 by ⅝ inches is a specialty mat designed to endure welding sparks and slag up to 1800 degrees. It is also chemical resistant and grease and oil proof. They are long lasting and comfortable and made with 20 percent recycled rubber with a closed cell foam surface. The mats are electrically conductive, and they are recommended for interior commercial and industrial use.
Certified slip resistant by the National Floor Safety Institute, they are often used in commercial, industrial, and retail areas. The robust rubber borders on these mats will not crack or curl like some PVC mats do, as these mats truly are designed to last.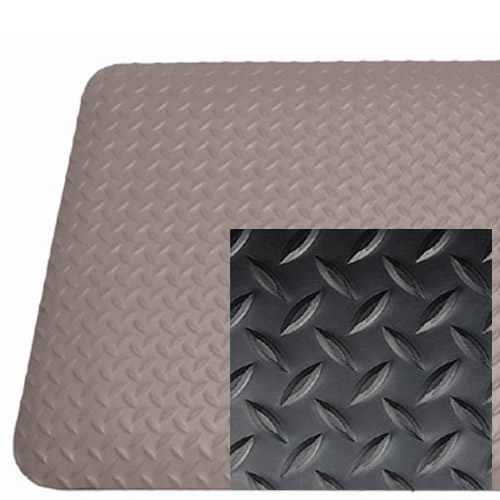 A Cushion Comfort Diamond Dekplate - 2x3 Feet mat is an embossed, cushioned vinyl product that offers anti fatigue comfort and anti slip properties. It is very chemical resistant, and it is permanently laminated to a durable sponge base. This mat offers beveled edges on all sides for extra safety, and the 9/16 inch thickness makes it a comfortable surface on which workers can stand for extended periods of time.
Although this mat can be used in multiple settings and applications, it is most often used in checkstands, work stations, assembly lines, and behind counters.
Chemical Resistant Polyurethane Options
The Ergo Comfort Anti Fatigue Mat - 2x3 Feet is a lightweight mat made of durable polyurethane. It provides excellent comfort and ergonomic benefits, as well as slip resistant qualities and safety features. It's perfect for stationary standing workstations, sit-stand desks, packing stations, offices, reception spaces, wait stations, assembly lines, and kitchens. It is wear resistant and suitable for wet, dry, or oily areas. They are stain and chemical resistant, and they are super easy to move around as needed.
Chemical Resistant Carpeting Options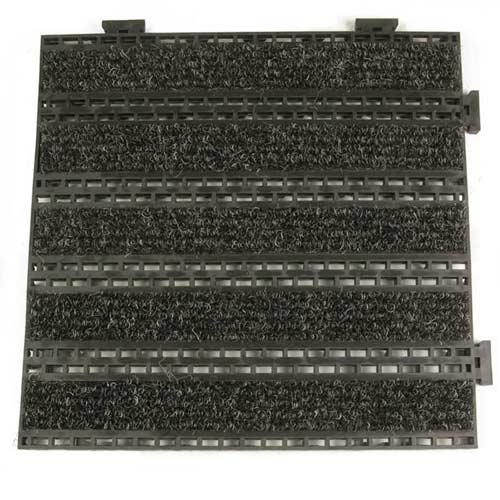 The Entrance Linear Tile - ½ inch is a great retail flooring solution for the entryway of a business or factory that is also resistant to chemicals. These snap-together, modular, chemical resistant floor tiles feature a commercial grade carpet top that allows customers to scrape snow, salt, and sand from their footwear as they enter a building. The 1 x 1 foot tiles are ½ inch thick and made in the USA from 100 percent recycled materials. It's a great solution for indoors and outdoors, as they are UV resistant. They are waterproof and non absorbent and easy to install without adhesive.
Chemical Resistant Rubber Options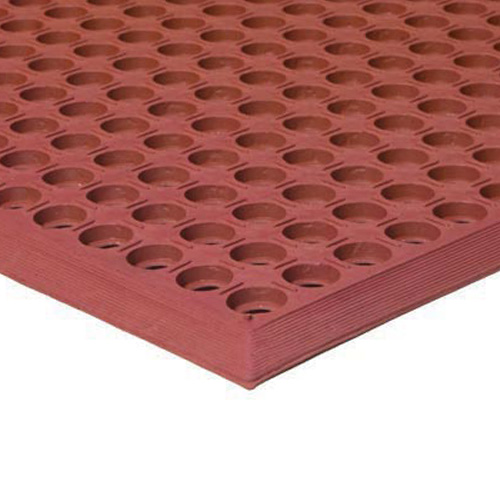 The WorkStep Red Mat - 3x10 Feet is a mat that offers a comfortable, anti-fatigue design with molded beveled edges. It offers water repellent qualities and chemical and grease resistance. The mat has anti slip traction and wear resistance. It is most often used in industrial settings, kitchens, service counters, restaurants, bakeries, machine shops, and shipping and packing centers.
This low maintenance, easy-to-clean mat is ½ inch thick and is customizable.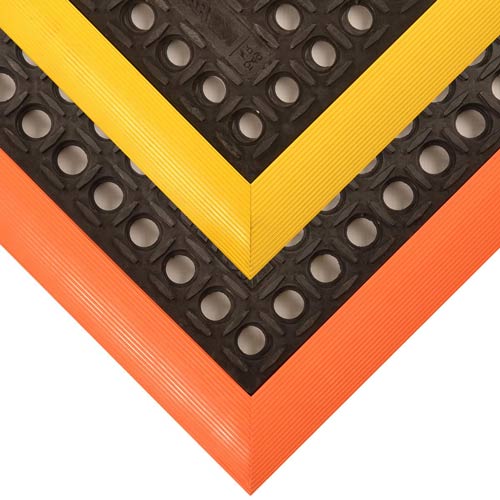 The Safety Stance 4-Side Anti-Fatigue Mat - 40x124 inch is a rubber product that is resistant to grease, oils, and chemicals. It has a beveled edge border that is made of 100 percent nitrile rubber that is more resilient to degrading than other mats on the market. These are typically used in wet or dry work areas, and they have large holes in them to allow for drainage and a mini dotted top surface to reduce slipping.
These anti fatigue, perforated chemical resistant floor mats are super heavy duty and ergonomic, and are suitable for food prep areas, bar areas, industrial workstations, assembly lines, production lines, and restaurants.
The WearWell 24/Seven NBR Solid Gritshield 3x3 Ft Mat is one of the highest performing anti-fatigue mats available anywhere. This 3x3 rubber mat option is an interconnecting, anti-fatigue mat that is used to cover large flooring areas or workstations where ergonomic benefits are needed. These mats are resistant to chemicals, grease, boric acid, and ethylene glycol. They are tough enough and thick enough to endure 24/7 shift operations, offering superior cushioned support where needed.
Chemical Resistant PVC Options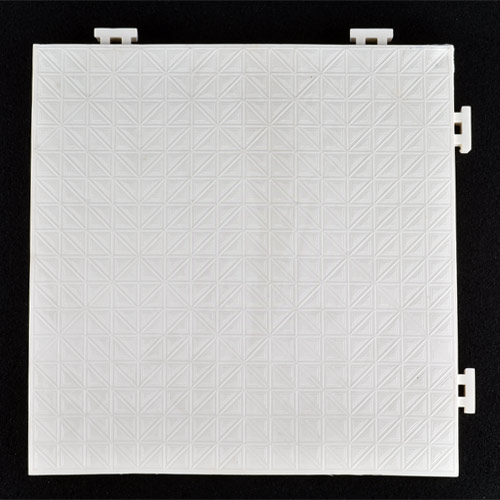 A Solid Surface Tile - ¾ inch is a perfect option for any space where a cushioned surface tile is needed without drainage properties. These chemical resistant floor tiles are for dry areas, and they provide excellent anti fatigue benefits. They are easy to assemble with an interlocking system, and once installed, they fit tightly together where movement between tiles is restricted.
Solid surface tiles are made of PVC and most commonly used in computer rooms and assembly areas, and they are resistant to oils, solvents, acids and many other chemicals and feature UV stabilizer and fungus inhibitor additives.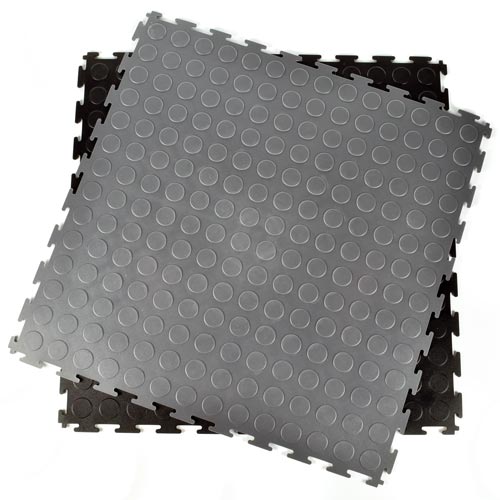 Garage Floor Tile PVC Coin is an example of a chemical resistant product that can be installed with very little cost or effort. It's a DIY project that can be completed by one person in no time - especially compared to pouring concrete, cement, or adding rubbery layers of a liquid coat or epoxy. Instead, you just snap these chemical resistant floor tiles together at the edges, using the interlocking design. Once installed, they provide a surface that is resistant to oils, gas, and chemicals, and it is not impacted by heat, cold, or humidity.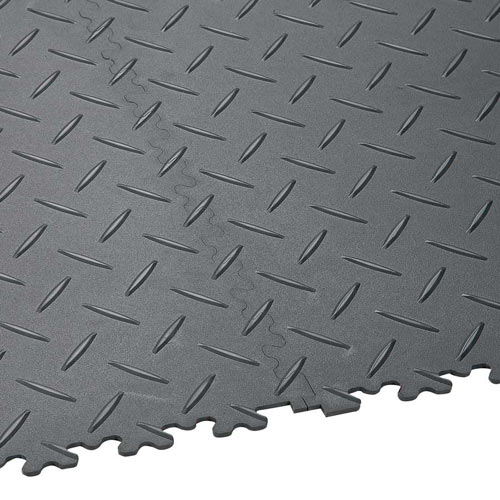 SupraTile 4.5mm Diamond Pattern Black chemical resistant floor tiles offer so many benefits. Suitable for garages, industrial settings, basements, and warehouses, these are quick and easy to install, and they are oil resistant, mold and mildew resistant, and chemical resistant.
They provide warmth and comfort underfoot, and can be installed over any old, uneven, or even contaminated subfloors. The industrial floor tiles offer superior sound absorption, and there is integrated ramp edging available for most styles. They are easy to remove and relay, and there are protective topcoats available.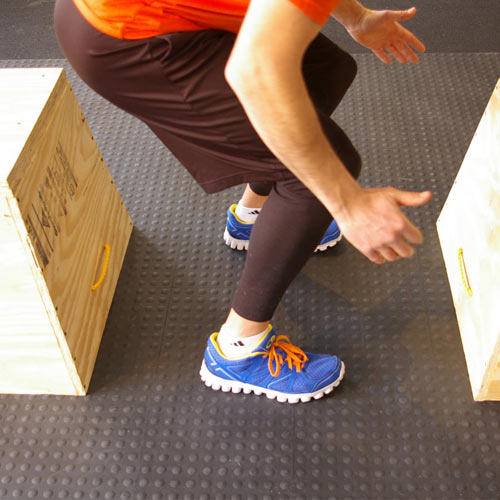 StayLock Tile Bump Top is among the most popular cushioned flooring options for a garage workshop or garage fitness center space. It can be used for so many things, as it is waterproof and resistant to most acids and oils, so it's perfect for a garage setting, and with its lightweight design and raised base, water will not get trapped beneath the chemical resistant floor tiles.
In terms of fatigue relief, this tile offers superior cushioning and a strong surface that reduces fatigue like mats and padding would.
Greatmats - For the Best Chemical Resistant Floor Mats!
There are many reasons why you should use chemical resistant floor mats for your business, garage, or industrial setting. They offer safety and protection, comfort, and anti fatigue relief. Although Greatmats offers a huge selection of suitable products, the options highlighted here are among the best. They are resistant to chemicals, easy to clean, affordable, and comfortable. Offering amazing features like being non-absorbent and anti fatigue, and boasting ease of installation, the laundry list of pros for the chemical resistant floor mats at Greatmats is super long.
Greatmats offers numerous chemical resistant products, with options for every space and place. Exploring these flooring ideas may feel overwhelming. If so, allow Greatmats to go to work for you! With the many safe, comfortable, and affordable options to choose from with options to suit any design preference or budget, the team at Greatmats will help you find the option that is perfect for you!