What are the 5 best protective gym floor covering options?
By Lisa Hobbie Created: August, 2019 - Modified: October, 2023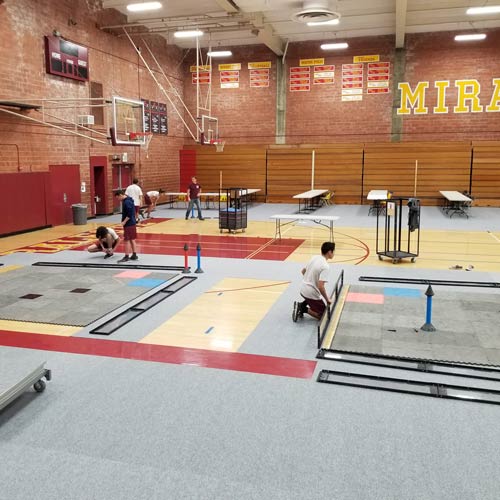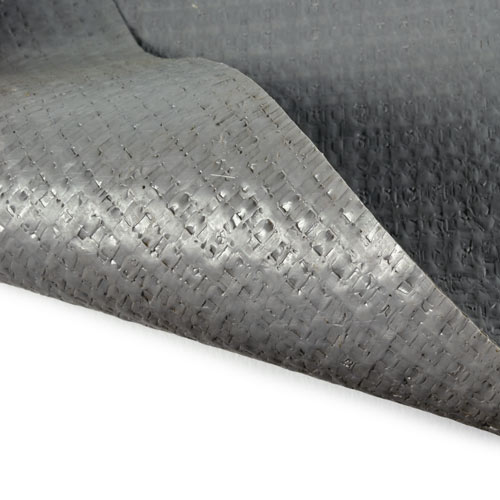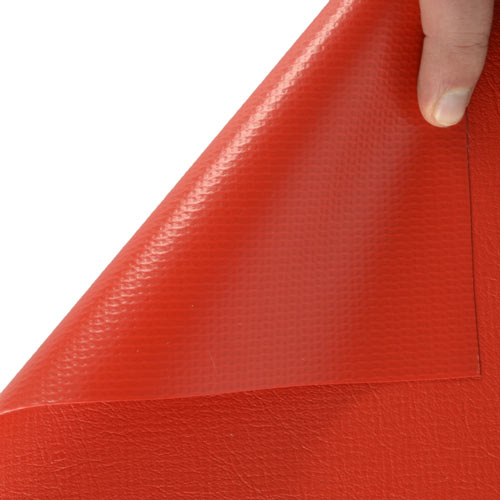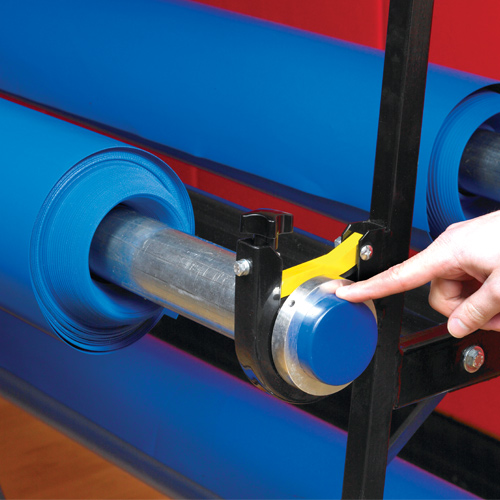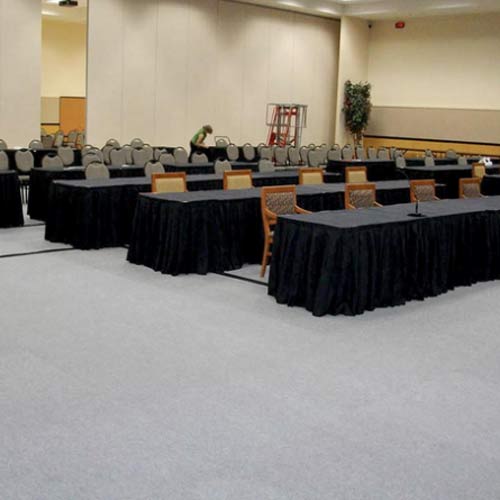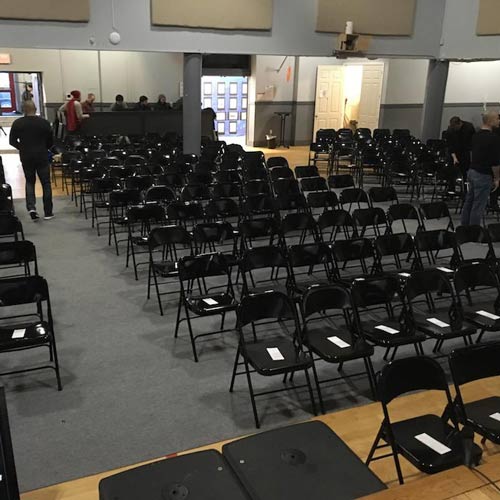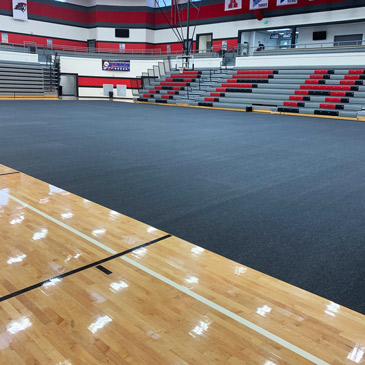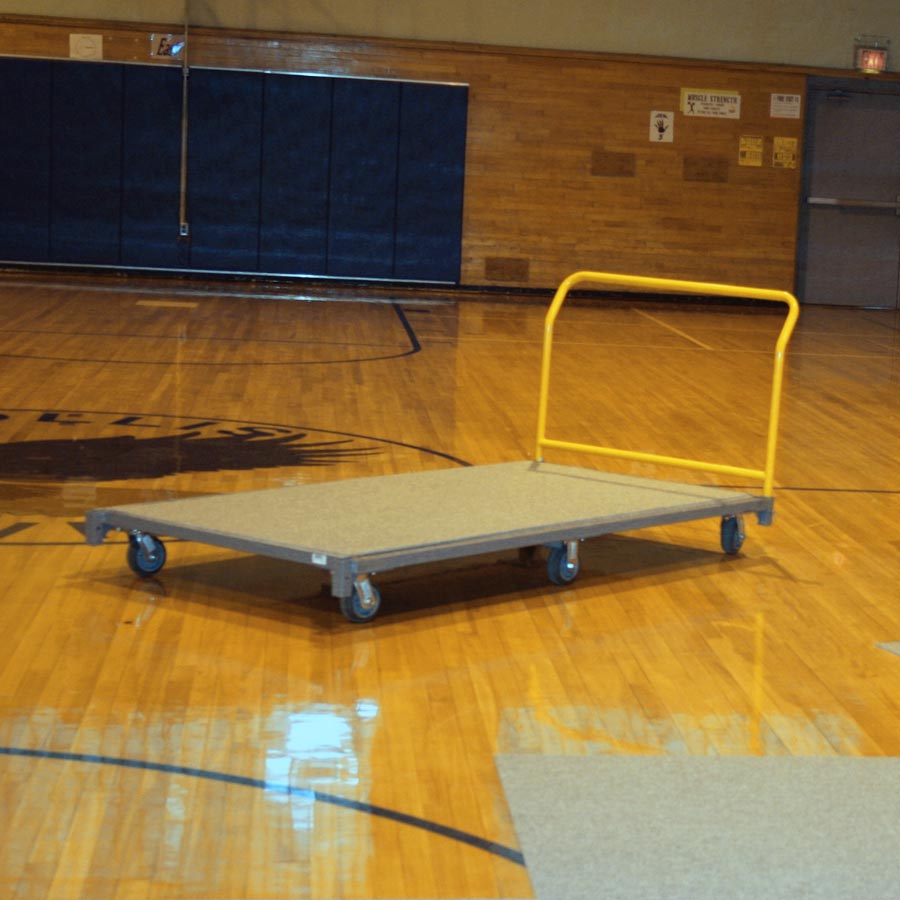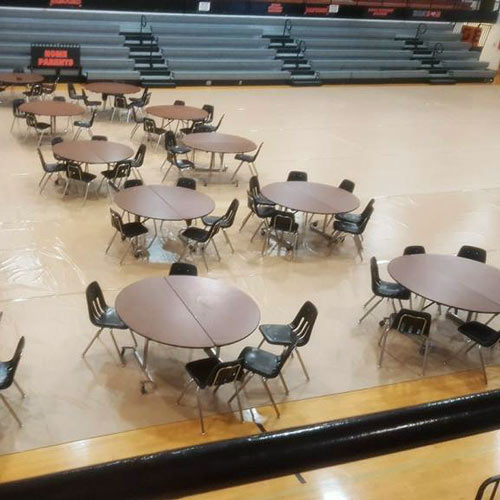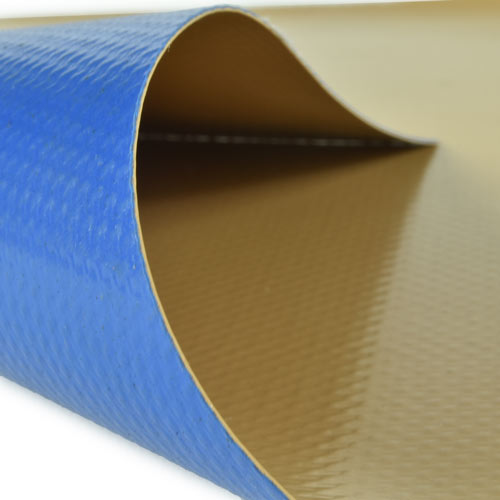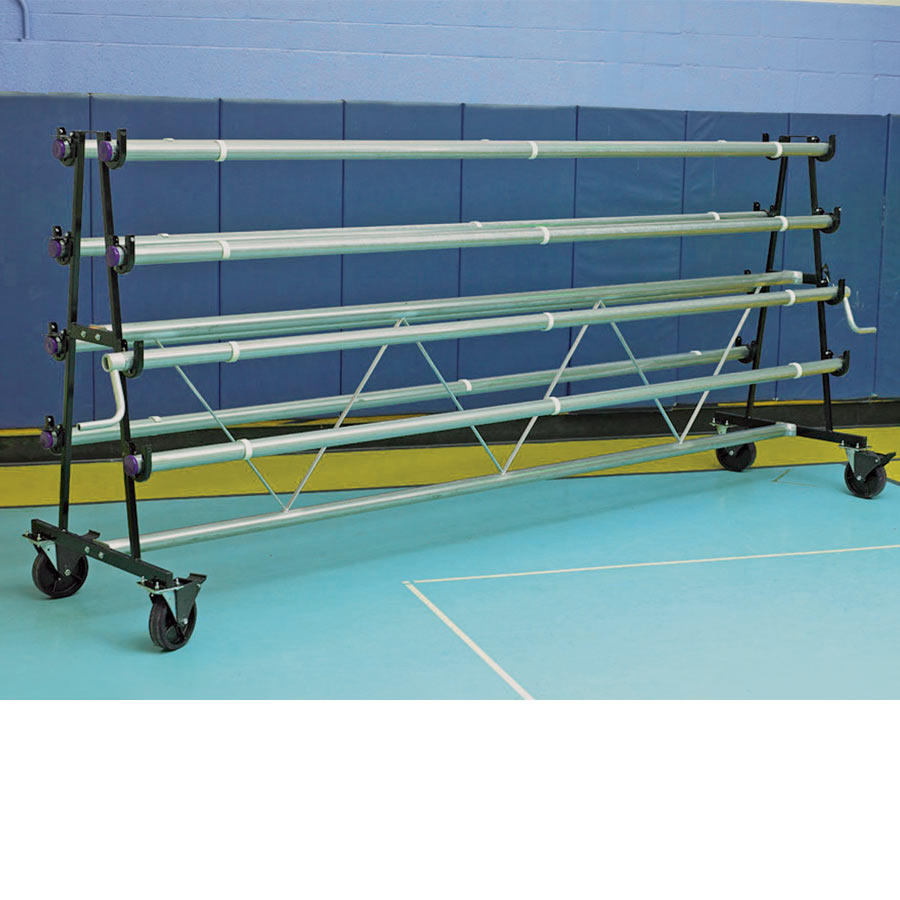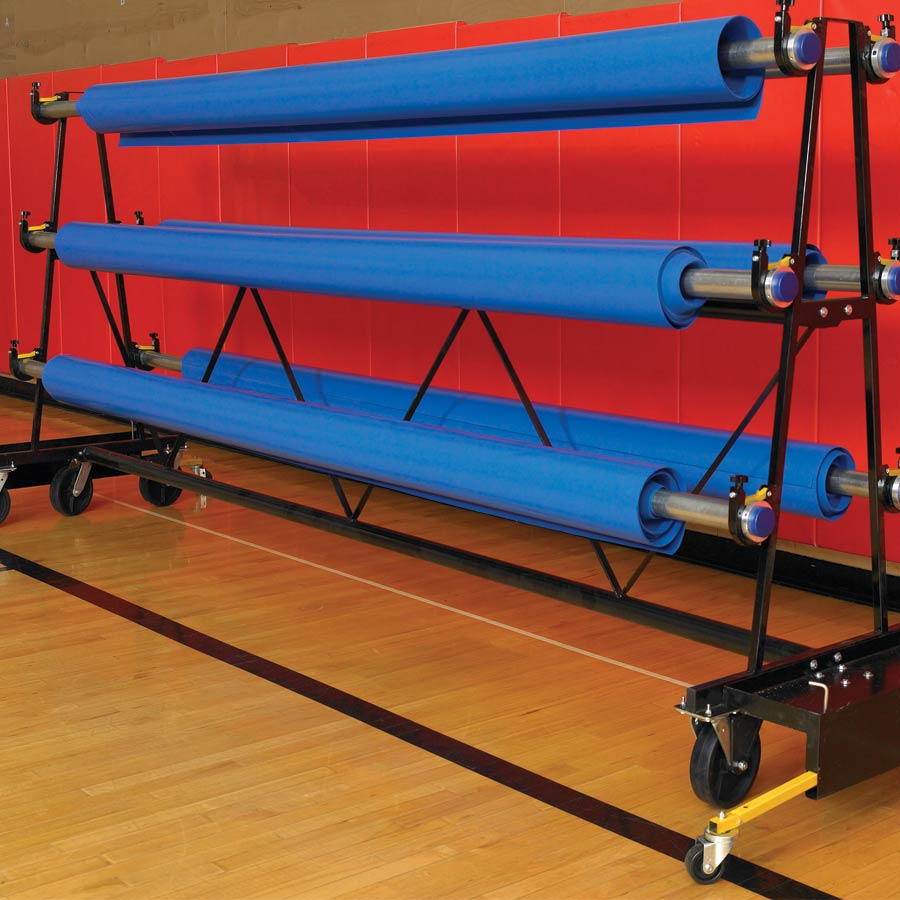 Gymnasiums are great locations for accommodating large crowds – far beyond traditional sporting events. The size and often central location of gymnasiums make them ideal for banquets, concerts, fundraisers, and other events. Some facilities are hesitant to host these events, as the concern for potential damage to their expensive wood floor exists. There are options, however, to protect gym floors with a variety of protective coverings. This allows for a high-traffic, "street shoe" event while still maintaining the excellent condition of the gym floor.
When considering protective gym floor coverings, the list of options may seem overwhelming and confusing. You certainly want to find an option that is durable, easy to install, and cost-effective. What are the different types of coverings? Do some provide better protection than others?
Tarp Floor Covers
Tarps are a desirable option because they are inexpensive, lightweight, and easy to lay down and store. They are available in a variety of colors are tear-resistant and are designed to stand up to foot traffic. A commercial tarp, although lightweight, is typically heavy-duty enough to lay down tables and chairs without worry of it moving around too much. They will usually have built-in grommets every 16-20 inches, providing the ability to tie down the tarp.
A few things to consider are the durability of the fabric that the tarp is made from, coatings on the tarp providing for slip prevention and even fire retardation, and whether or not sizing is standard or customizable. Additionally, will it maintain the same quality after each use? If a gym floor will need to be covered frequently, a heavier-duty option may be a better choice. If you are considering tarps, make sure you check to make sure they are recommended for this application.
Vinyl Protective Floor Covers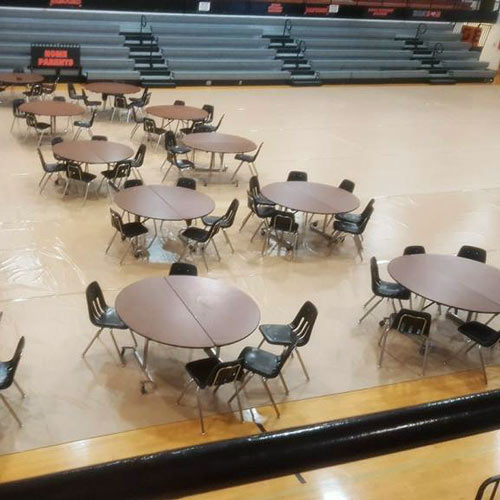 Another ultra-protective and durable gym floor covering is a vinyl floor cover. This type of covering is very popular and what many facilities choose. It is typically PVC-coated, fire-retardant, and slip-resistant. It provides for easy handling, allowing for just a few people to place it – resulting in a strong, smooth, flat surface. Vinyl coverings come in a variety of sizes and weights and are typically waterproof and mildew resistant, as well as anti-fungal and anti-bacterial. Simply clean with a broom before storing.
Protective Carpet Tiles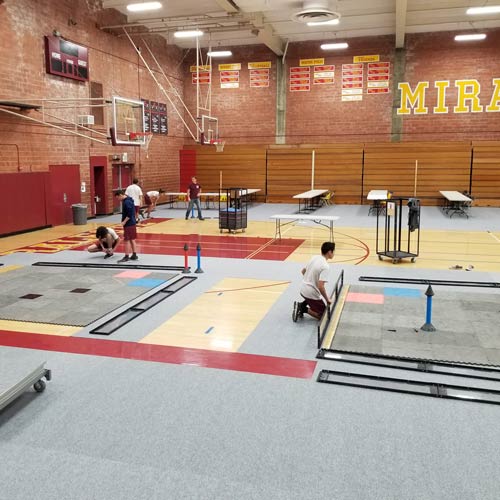 Large carpet tiles are another desirable gym floor covering choice. There is no adhesive required, they are comfortable and stylish, easy to install and remove, durable, and slip-resistant. If a professional and classic look with superior protection is what you're seeking, this may be the ideal option. The look and feel of the gymnasium will be completely transformed. There are no wrinkles or ripples that sometimes occur with other floor coverings, and with the carpet surface on the tile, the concern of people slipping is basically non-existent. Also, the tiles are designed for multiple uses – providing for years of protective beauty. They are simply vacuumed, steam cleaned, or spot scrubbed as needed and stored until the next use.
Even when other options are high quality and easy to lay, the use of adhesive and the potential for movement and rippling do exist. With protective carpet tiles, there is no adhesive or tape, as the weight of the individual tiles is heavy enough that they stay put once positioned next to one another. Also, where other floor coverings require 2 or 3 people to install, with carpet tiles, only one person is needed. The carpet tiles are simply piled on a large cart, the installer pulls one off and lays it, moves it forward a bit, and repeats the process. To remove the tiles, the reverse method is all it takes.
Rubber Roll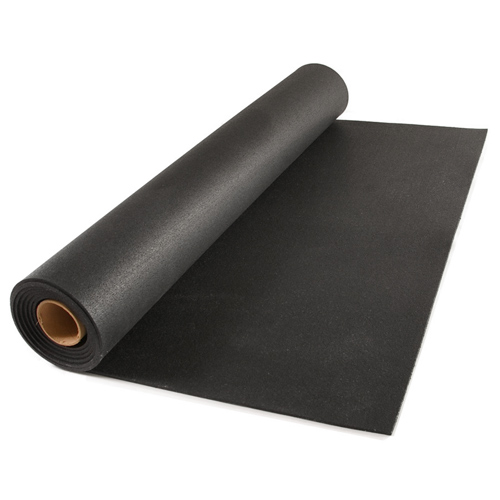 Another durable, long-lasting, and low-maintenance option is rolled rubber. Not only will the roll provide protection, but it will also absorb shock and sound. If environmentally friendly material is important to you, it's notable that most are made from recycled rubber material, and some could even contribute to LEED points in green buildings. Rubber rolls are a low-cost, resilient protective option.
Installation may be much more involved, however. Due to the weight of the rubber rolls, the installation will likely require multiple people and is generally reserved for times when high-impact protection is needed. Installation involves laying the rubber roll, unrolling it, and cutting the lengths to fit the area needing protection. They are designed to lay side-by-side with little to no space between rolls, and the use of double-sided floor tape or adhesive holds the rolls in place until it's time to remove them. When installing over hardwood, a protective paper under the rubber rolls may be desired to prevent chemical reactions between the floor finish and the rubber material.
Woven Poly Sheeting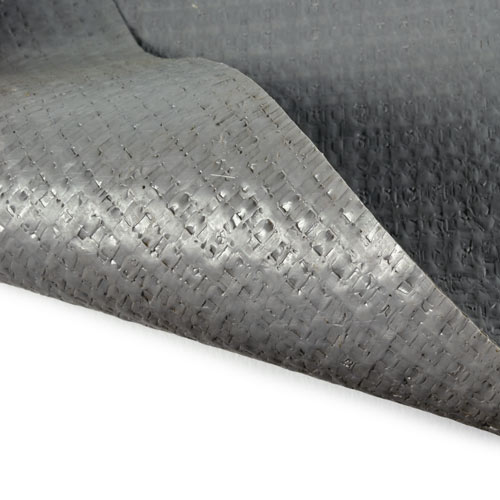 If you desire a gym floor covering that is custom cut for your space, waterproof, rot and mildew resistant, anti-fungal, anti-bacterial, durable, slip-resistant, and easy to handle resulting in a smooth finish, poly sheeting may be desirable. There are typically a number of weights and colors to choose from, depending on your needs. Typically, two people can easily cover a gym floor with woven poly sheeting within 30 minutes, and it simply needs to be cleaned with a broom before storing.
Storage Racks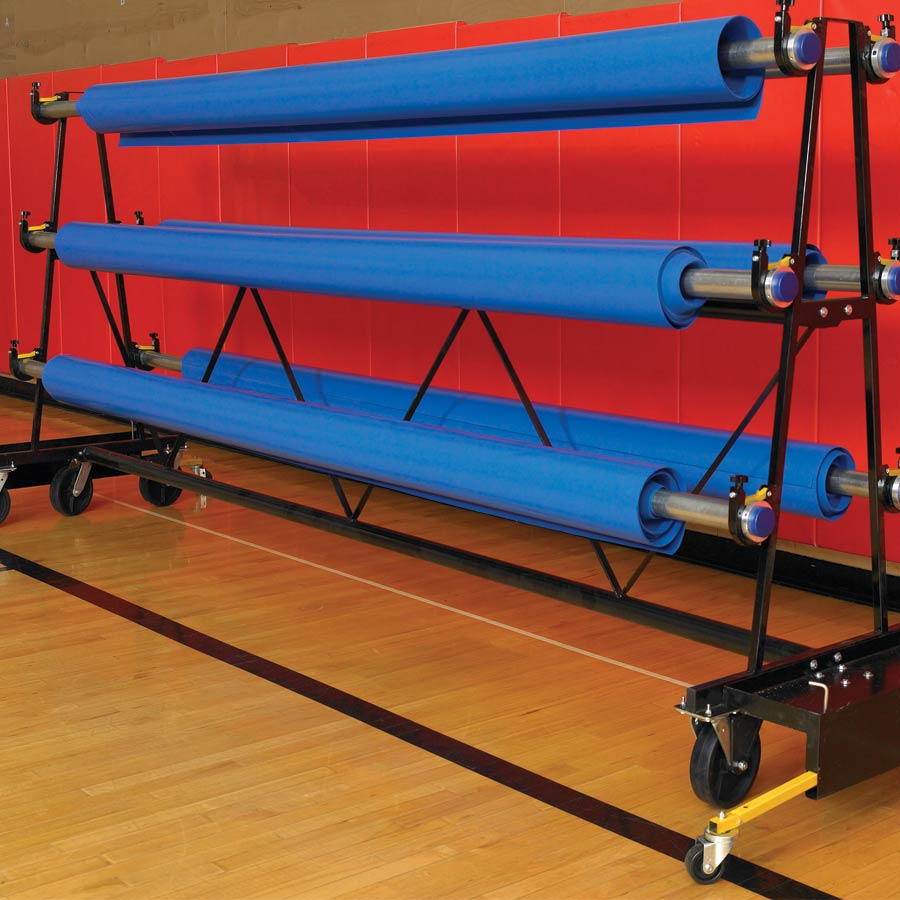 Regardless of the protection you choose, it's imperative to also consider how and where the flooring will be stored. A storage rack is an excellent choice – specifically one that has wheels to reduce damage to the floor by even weight load distribution. This will also allow for ease of movement. A good storage rack will also have extra trays to store any items you will need for laying or removing the covering, such as clips and cranks.
Choose Greatmats
Regardless of what you go with, Greatmats is able to provide you with what you need. Many reputable businesses and organizations have relied on the quality, service, and dependability Greatmats is known for, and they have been able to protect and transform their spaces with Greatmats products.
American Fork High School
, for instance, has had superior results from Greatmats and has been impressed by the ease of installation and storage of the protective carpet tiles, making it unproblematic to use their beautiful new gym for multiple purposes. Among other satisfied customers,
Event Rentals, Inc.
, found Greatmats to be the best option for vinyl cover rolls, as they provide unmatched durability without the wrinkles that occur with other brands.
When you're ready to go to work, it's time to let Greatmats go to work for you. With numerous options and price points, as well as value and service beyond comparison, Greatmats has it all. The exceptional and professional team at Greatmats is ready to answer any questions you have about protective gym floor coverings, and they will help you order the option that is best for your needs. Visit greatmats.com, or, call toll-free 877-822-6622.