What Are Rubber Roof Deck Tiles?
By Kyle Schurman Created: June, 2021 - Modified: June, 2021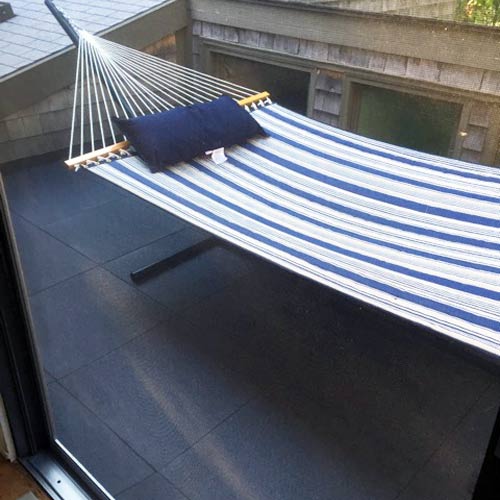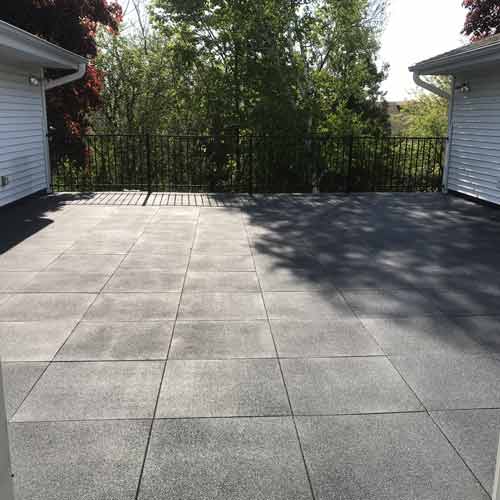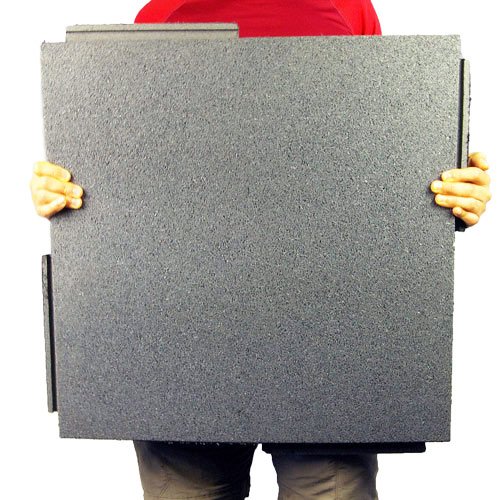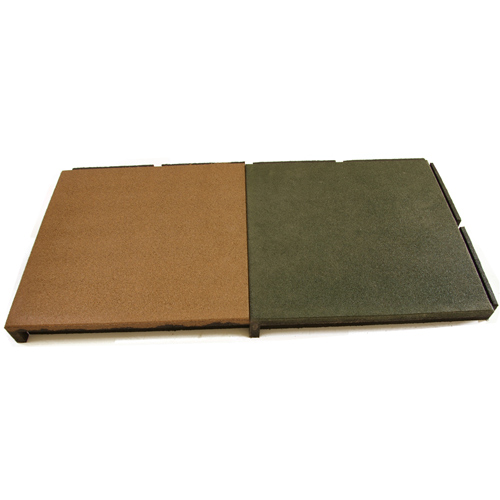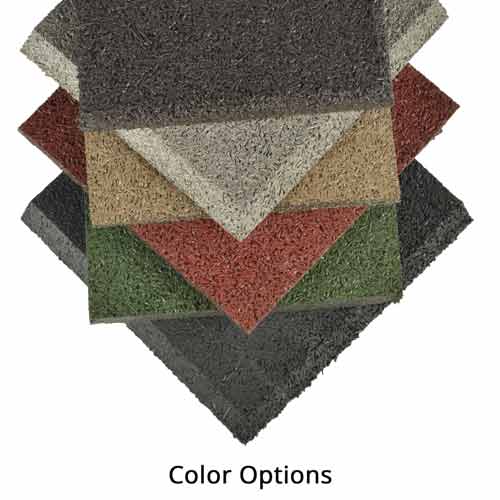 Rubber roof deck tiles are durable, long-lasting coverings for flat roof top patios. They go directly over a roof membrane, protecting it from the legs of patio furniture.
Rubber will withstand almost any type of weather, maintaining its integrity during below freezing temperatures and in the middle of a summer heatwave.
These tiles often have quite a bit of thickness, which ensures they can protect the rubber membrane adequately. Thicker tiles have a bit more cushion than a thinner tile as well, which is advantageous for the comfort of those using it.
Thicker tiles will have quite a bit of weight to them, which helps prevent wind damage to your roof deck flooring.
An interlocking edge design can make them easy to install. It often can represent a DIY job if more than one person is available to help with the work.
Rubber roof deck tiles provide excellent traction for those walking on the roof patio, even after a rainstorm. Rubber is waterproof too, so the tiles will not soak up water and create the possibility of mold or mildew formation.
Rubber tiles have a smooth surface, so they're perfect for a patio or deck area that will be holding furniture. The furniture can sit level on the rubber roof deck tiles, just as it would on a wood deck or a concrete patio.
Do Rubber Roof Deck Tiles Require a Glue Down Installation?
One of the biggest advantages of these tiles involves the installation process.
When selecting interlocking rubber roof deck tiles, installers don't always have to add lots of adhesive. Some of these tiles will work for a free floating layout, while others will require that the interlocking slots and tabs have glue.
By avoiding a type of tile that requires a full glue down install, the installation process is far easier with less mess. Some adhesives for rubber tiles can be difficult to use for people who are not familiar with the process.
Should the installers want to remove the rubber tiles to take them to a new location later, using a dry lay installation makes this possible.
A commercial installer at a hotel or apartment building may want to glue these tiles to the membrane or to the cement flat top roof patio, though, for a permanent install.
Can You Install Colored Rubber Tiles on a Roof Top Deck?
When installing rubber tiles on a roof, the area likely will receive quite a bit of sunlight. Because rubber tiles frequently appear in black, some people may dismiss the idea of using rubber on a roof top patio, as it may heat up to uncomfortable temperatures.
If this is a concern, a few models of rubber tiles made for roof top decks are available in colors beyond black. The color options also deliver a bit more style than black, which is ideal for a gathering area like a roof top patio.
The 2-Inch Sterling Roof Top Tile has multiple colors options, including a gray that will absorb far less heat than black. Some of the other colors available include blue, green, and terra cotta.
At 2 inches in thickness, this tile has outstanding durability. It carries a limited lifetime manufacturer's warranty.
Each square tile has slots on all four sides that slide into the slots on adjacent tiles to create a hidden interlocking edge. Installers will need to glue these slots to ensure a tight fit.
The tile has a 2-by-2-foot size, which allows the layout to go far faster than with smaller tiles. Each tile weighs 24 pounds, which means one person can do the installation alone, but it will go faster with multiple people available.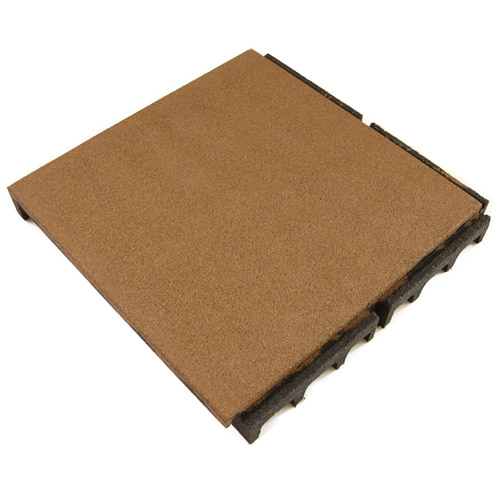 For multiple color options in a slightly thicker tile, the 2.25-Inch Blue Sky Outdoor Interlocking Tile is a popular choice.
In roof top areas where falls are a concern, these tiles have a 4-foot fall height rating. (For those who need a greater fall height rating, the Blue Sky tiles are available in even thicker configurations.)
These tiles have an interlocking design, which simplifies installation. Each tile measures 2 by 2 feet and weighs 27 pounds. Using glue to secure the layout is optional.
Additionally, for those who need ADA compliance for the layout, ramped border edges that connect to the tiles are available for an add-on purchase.
This tile is available in colors including:
Black

Brown

Green

Gray

Red

Tan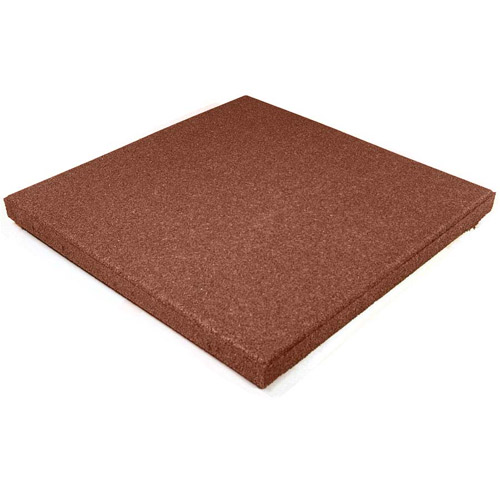 For a little more thickness and a slightly greater fall height rating than a thinner tile.
Under a typical layout, this Max tile provides a fall height rating of 5 feet. It has plenty of cushioning whether going atop a rubber roof membrane, concrete, or gravel.
These tiles use a hidden interlock connector system to ensure a tight fit between adjacent tiles. Installers can use glue, or they can dry lay the tiles.
These 2-by-2-foot tiles each weigh 24 pounds. They carry a 15-year limited manufacturer's warranty, which means they will deliver a good value over time.
The 2.5-Inch Max Playground Rubber Tile is available in multiple colors, including: