Playground Floors - The Top 2 Materials
By Lisa Hobbie Created: October, 2019 - Modified: August, 2023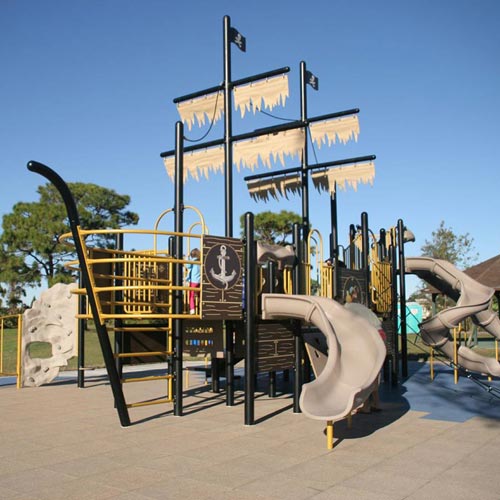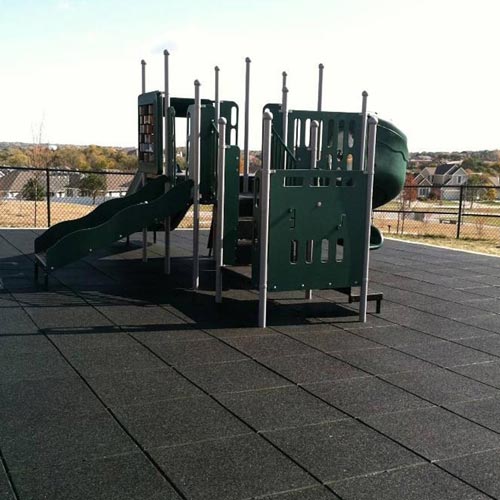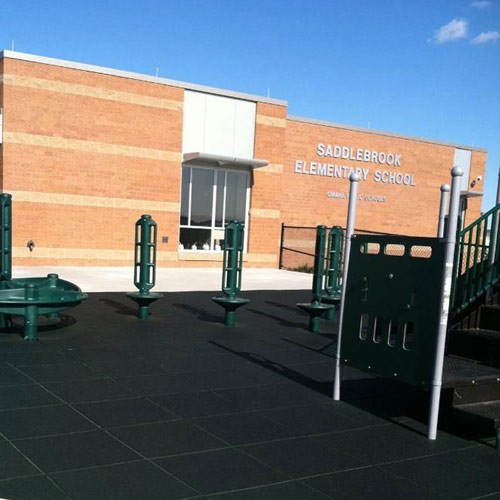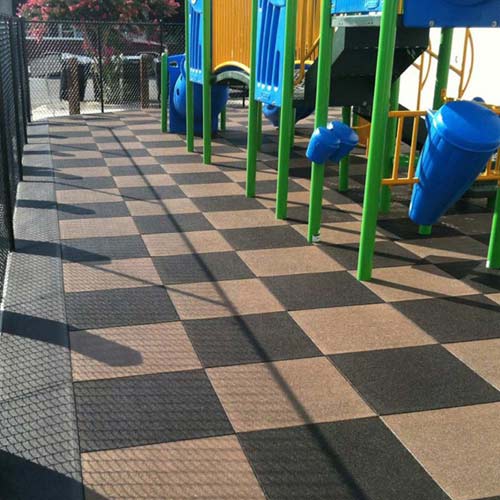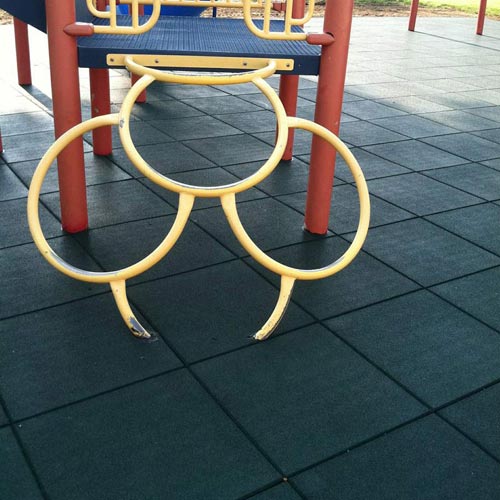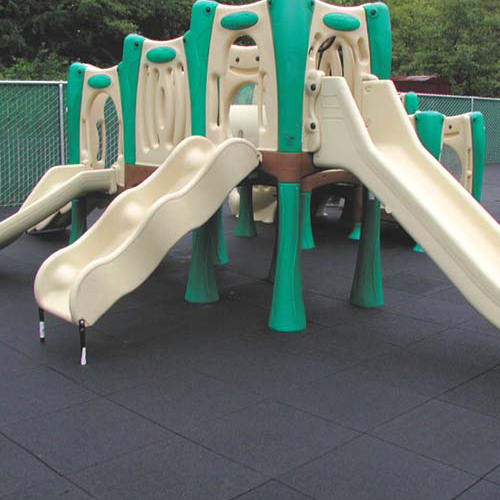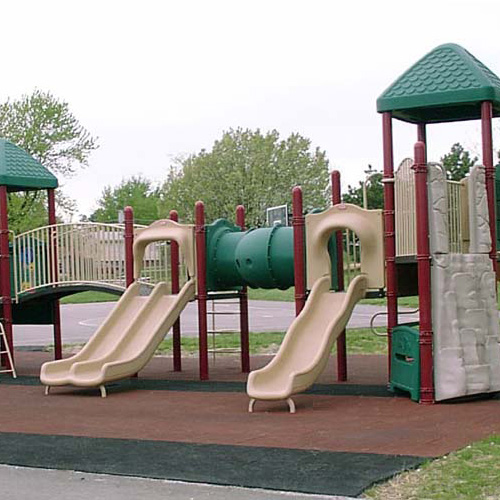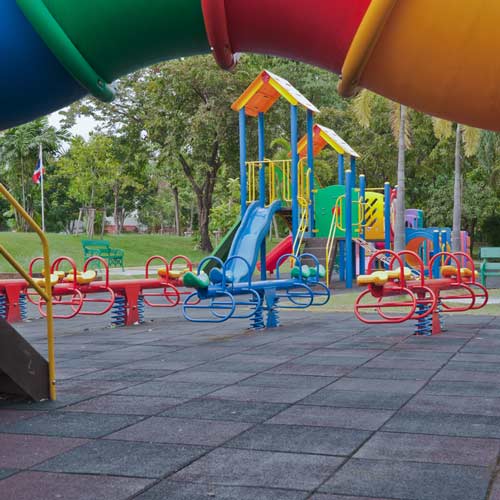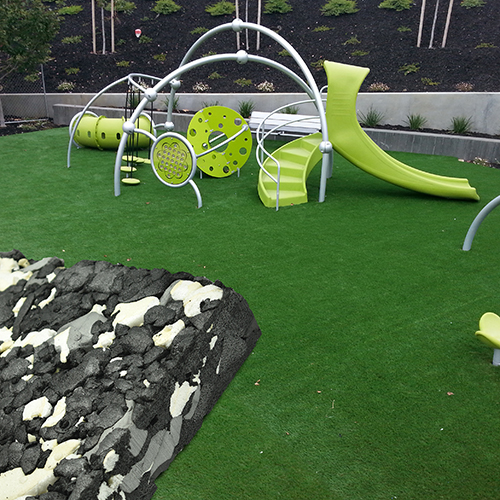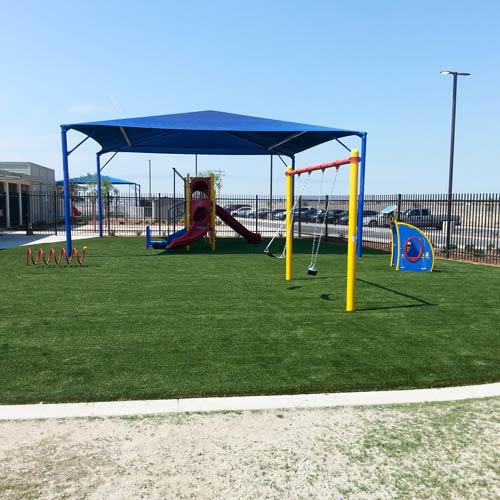 Playgrounds are home to memory-making playtime and hours of enjoyment for children. They also provide a little break for busy parents who find themselves entertaining kids all day long. The running and laughter seem to be endless, and the slide, swings, and monkey bars provide hours of physical fun... until someone falls and gets hurt. An important aspect that minimizes the severity of potential injuries is playground floors. Whether indoor or outdoor, commercial or in the backyard of your home, the floor or surface plays a major role in the playground.
Playground floors come in many forms. The surface you choose likely depends on the location, size of the area you need to cover, the cost, and other many other preferences and ideas you may have. Here are a couple of the most popular materials
playground floors are made of
.
Rubber Playground Tile
Greatmats has numerous rubber flooring options. Many safety playground surfaces are made from rubber that comes in many different colors and thicknesses. This type of surfacing provides a safe, dependable, and durable option that does not require raking like other options such as wood chips or sand. It fits beautifully under swings, playsets, slides, and more, and provides a comfortable, skid-free play area. The smooth surface also provides ADA accessibility options, allowing all children to safely enjoy a playground.
One of the most popular options is the
Blue Sky Rubber Playground Tile
which is made in the USA from recycled rubber content, is UV resistant, and features a 5-year limited warranty. Many users appreciate the ability to replace areas that wear down due to heavy use - without having to replace the entire surface like you do with some other playground floors. They also provide an excellent safety surface, and the 2.25-inch and thicker mats feature fall-height ratings for indoor or outdoor usage. These mats are essentially maintenance-free.
Another rubber option is the
Blue Sky Outdoor Interlocking Tile
, which features a full surface-to-surface interlocking system that will not mold or mildew. It is made in the USA and provides a high traction, non-slip surface when it is wet or dry. This DIY flooring option is installed over any flat surface without the use of a pad or adhesives and has options with up to a 10-foot fall height rating. They are available in numerous colors and styles.
A third popular choice among our customers is the
Max Playground Rubber Tile
. This product provides superior UV fade resistance, comes in multiple thicknesses and colors, and allows for water drainage around and under tiles. It is made in the USA and comes with a 15-year warranty. If recycling is important to you, you should plan to use this, as it is made from 100 percent recycled rubber and is designed exclusively to reduce the risk of injuries from slipping and falling.
Playground Turf
Not much beats the look of a lush, green lawn, but this type of landscape is also extremely high maintenance and unforgiving. If you want to enjoy the look of grass with the protection of a floor with a fall rating, artificial turf may be for you.
Our
Play Time Playground Turf
is an option that will look and feel like a nice, plush lawn, but will keep your kids safe if they ever suffer from a fall. This turf reacts naturally - allowing rainwater and moisture to flow through it, providing consistent performance over time. It features a 9-foot fall height rating and works well for indoor or outdoor installations with its UV protection. It also has a 2-inch pad that provides a soft and cushioned feel.
Another option for high-performance turf with the natural look and feel of lawn without having to pour hours of maintenance into it is the
Traffic Blade Silver Artificial Turf
. Where some playground floors may look too industrial for your liking, this option certainly does not. This product looks extremely realistic, with four different colors of yarn in the lawn. It features a 15-year manufacturer's limited warranty and performs extremely well in hot and cold climates. This product would serve you best in a playground area where the concern of falling from playground equipment is minimal or non-existent.
Greatmats offers numerous playground floors
If rubber or turf don't strike your fancy, Greatmats also has cushioned PVC plastic and EVA Foam playground flooring options. The EVA options can offer up to 4 feet of fall protection while PVC playground surfaces are designed to protect more against falls while running around, rather than falling off of equipment.
For a playground floor that looks inviting but provides safety and durability, Greatmats has an option for you. For fewer injuries, less liability, and more fun, choose a floor designed specifically with playground safety in mind.
Greatmats' friendly and knowledgeable staff will walk you through the process of selecting the option that best suits your needs, desires, and budget. Greatmats has numerous options other than those listed, so if you have a specific color or design in mind, chances are, Greatmats has it. Just pick up the phone and ask.