What Are The Best Interlocking Exercise Mats Made Of?
By Lisa Hobbie Created: March, 2023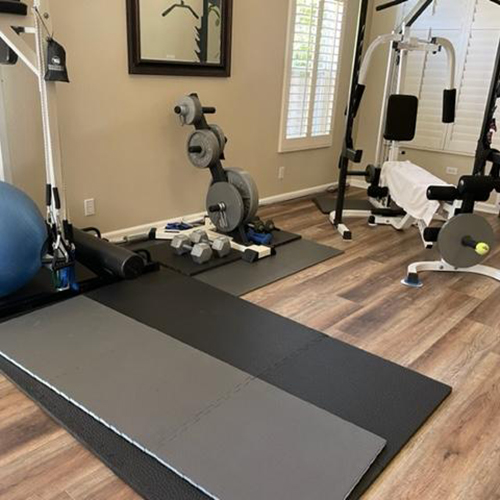 There are a number of different types of interlocking workout mats, with the most popular ones being made of rubber, eva foam, or pvc plastic.
Knowing which material to go with really comes down to personal preference and use type. If you want something that's lightweight and portable, eva foam puzzle mats are a good choice. If you want to install a workout floor in a room or space with moisture someplace you would also like to park a vehicle, a pvc plastic system may be the best choice. There are many shapes from which you can choose, like square or rectangle, and many colors - from black and gray to bright red and yellow.
Of the many different interlocking workout mats available at Greatmats, the following products represent some of the best products:
These interlocking workout mats, with options for home exercise room or commercial gym spaces, are made using the highest quality materials, resulting in the most robust workout flooring solutions. They also represent the three most popular materials used to make interlocking workout mats - EVA foam, rubber, and PVC plastic.
Popular Materials for Workout Mats
EVA Foam
EVA, or Ethylene Vinyl Acetate, is an elasticized, closed-cell foam with a cushioned softness and rubber-like flexibility. EVA foam mats and floor tiles come in many different colors, designs, and styles, and they have many attractive features such as affordability and fatigue relief.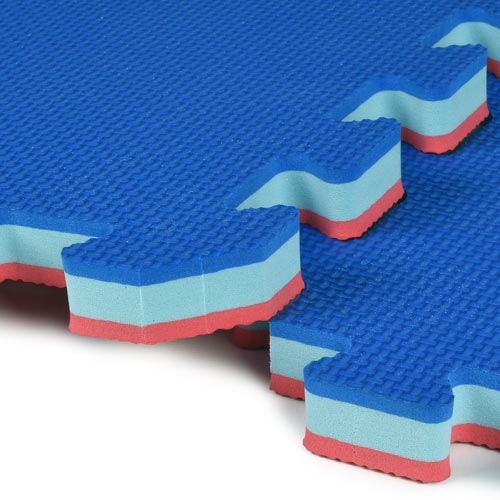 The Home Sport and Play Mat 3/4 Inch product is a square EVA foam puzzle mat that can accommodate workouts and exercise programs done barefoot, or, wearing boots or shoes. They are ¾ inch thick, delivering a level of cushioned protection that still allows for free, expressive movement.
These mats are fast and easy to install, lightweight, easy to transport and store, and stain resistant. They are also waterproof and scuff resistant, as well as easy to clean and maintain.
Product:
Home Sport and Play Mat 3/4 Inch
Rubber
Many rubber flooring tiles are made from recycled rubber products, keeping waste rubber out of landfills. This makes rubber an eco-friendly solution. It's also easy to clean and disinfect, rodent resistant, durable, comfortable, protective, easy to cut, affordable, and easy to clean and maintain.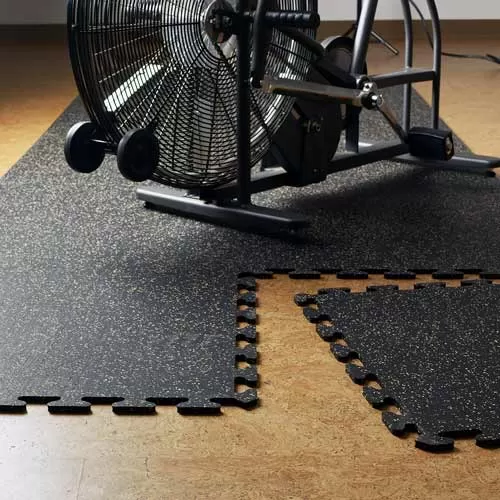 Interlocking Rubber Floor Tiles Gmats Light Gray 3/8 in is a 2x2 foot tile made rubber. This tile is black with gray specks, we also have a solid black option, and it's very easy to assemble and install.
These tiles are made in the USA. They are suitable for any space where extreme use and abuse are present, offering shock absorbency, non-skid properties, and wear resistance. After assembly, each tile provides coverage of 3.88 square feet.
Product:
Interlocking Rubber Floor Tiles Gmats Light Gray 3/8 in x 2x2 ft
PVC Plastic
PVC, or polyvinyl chloride, is the third most produced plastic polymer in the world. PVC and Vinyl flooring is very versatile and durable, and it's made to last.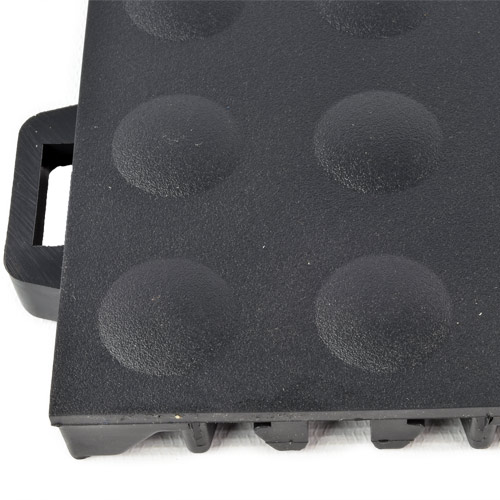 StayLock Tile Bump Top Black is one of the most popular and widely used PVC products at Greatmats. It's a great solution for various aerobic exercises and weight lifting programs, as it delivers a soft and cushioned feel like foam with the durability of rubber.
This flooring interlocks together tightly without separating over time - even when under pressure from weight of equipment or heavy foot traffic. It offers superior support, and the bump top surface texture delivers ergonomic benefits and anti-fatigue properties.
This waterproof PVC tile also features a raised base design that prevents water from getting trapped beneath it and from it sliding around. So, it's a tile that will stay put once installed, and prevent the growth of mold and mildew.
Product:
StayLock Tile Bump Top Black
Greatmats - For The Best Interlocking Workout Mats
The products featured here represent some of the best available if you're in the market for workout mats. They are made extremely well and designed to endure a lot of use and abuse in a fitness environment.
If you need more information about any of the highlighted products, just reach out to the staff at Greatmats. They can answer any questions you have, assist with ordering, and help you with anything else you need. Together, you can decide which mat is the right one for you and your space. Regardless of the specific product you choose, when it comes from Greatmats, you can be confident that you're getting the best.