What Are Industrial Rubber Flooring Tiles?
By Lisa Hobbie Created: October, 2022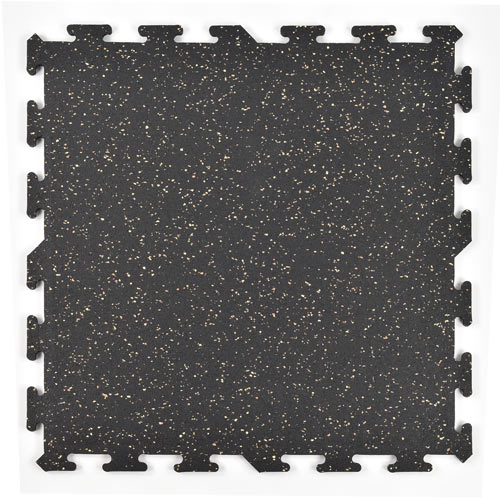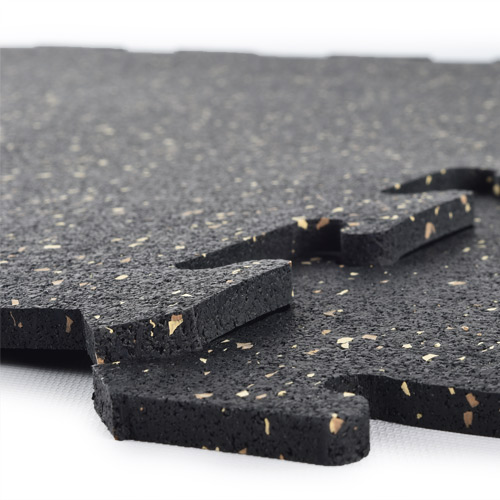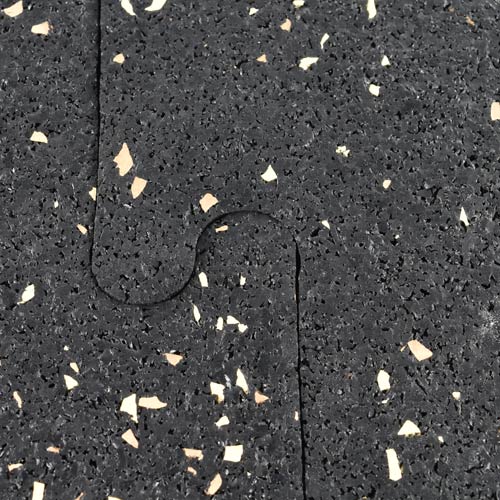 Industrial rubber flooring tiles are heavy-duty, robust tiles that can be used in many applications from gyms and fitness center settings to factories, and more.
Industrial rubber flooring tiles are commercial grade and designed to endure heavy and constant use. Some interlock and easily click into place, while others have a straight edge design. Some are decorative and large, others are available in bulk orders, and some are suitable for equine and barn use.
5 Popular Industrial Rubber Flooring Products
These top notch products are made extremely well with performance and durability in mind. They are each suitable for many types of applications, and they all deliver many features and benefits.
Sundance Mats 4x6 Ft x 3/4 Inch Interlocking Mats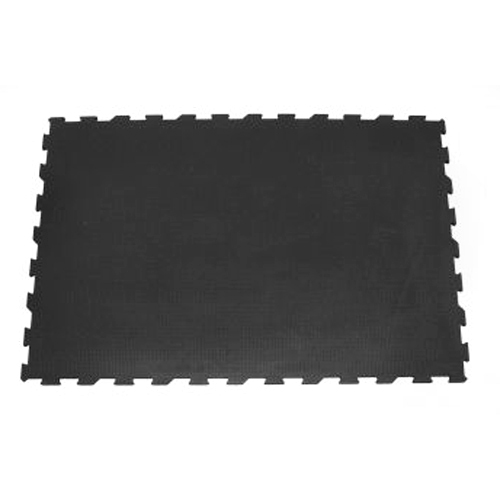 These mats are heavy, 100-pound mats that interlock and connect like pieces of a puzzle do without needing glue, tape, adhesive, or special tools.
These heavy duty mats are designed for equine use, so they are among the toughest rubber flooring tiles on the market. In addition to horse stalls, they are also suitable for weight rooms and CrossFit gyms, offering superior performance in even the harshest and most abusive conditions.
These rubber tiles are ¾ inch thick and feature a non-slip textured top. Because they are so heavy and interlock together, once in place, they will not move or separate unintentionally.
Geneva Interlocking Rubber Tile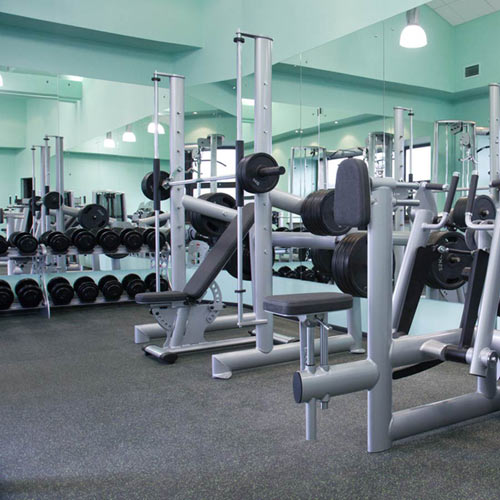 This is a low odor rubber tile option that is suitable for a commercial gym, weight room, rec center, home gym, and more. They are 3x3 feet, so perfect for a large gym space with fewer seams.
This economical rubber flooring solution offers a convenient, interlocking design that reduces waste. These interlocking rubber tiles are stocked at Gym Rubber Floor in black and standard colors.
Use these rubber tiles when you need interlocking gym flooring, rubber weight room flooring, home gym flooring, and rec center flooring.
ZipTile Rubber Flooring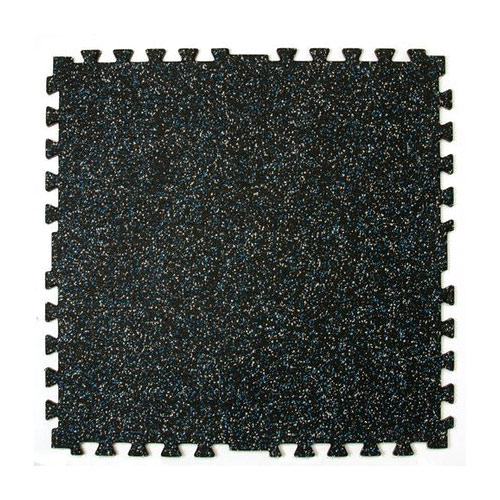 This flooring is a versatile interlocking tile option that works well for home gym floors, industrial settings, weight rooms, golf areas, locker rooms, and more. It comes in many different sizes, with the most common being 2.37x2.37 feet.
These industrial rubber flooring tiles are interlocking, so they are very simple to install and handle. Their unique tab design holds them tightly together, so they will not slip and pull apart. They are made in the USA of 100 percent recycled rubber and are simple to maintain.
2x2 Ft Interlocking Rubber Tile - 10% Tan/Brown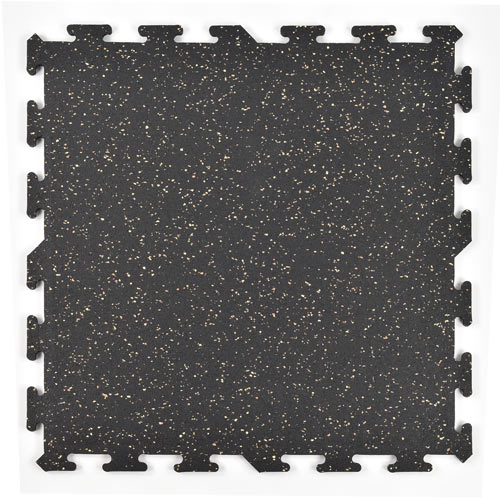 This tile is a highly versatile flooring solution that can be used in many settings, like gyms, basements, exercise rooms, and industrial settings. It's made in the USA with quality craftsmanship and the best materials.
This durable and resilient rubber floor interlocks for a fast and easy DIY installation. The tiles are 8mm thick, delivering a robust, long lasting surface. It's made to endure heavy weight and constant use, and it's easy to clean and maintain. With its 10 percent tan/brown color fleck, it's also very attractive.
Mega Lock Rubber Tile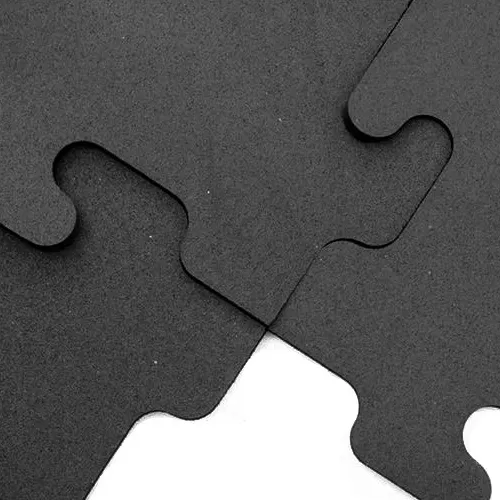 This tile is a ½ inch thick rubber tile with a low odor. It delivers excellent traction and is slip resistant.
These heavy duty rubber flooring tiles offer sound and shock absorbing qualities, and they are very easy to install with their interlocking design. This flooring solution can be used in weight rooms, locker rooms, gyms, skating rinks, and more. This fabulous product is made of the most durable rubber available and will last for years under the heaviest use.
The Best Industrial Rubber Flooring Tiles
Greatmats really does offer the best selection of industrial rubber flooring available anywhere. Aside from the fantastic products highlighted, there are numerous others available - including rubber rolls and options that make cutting and installing them a breeze. In settings where deep divots and scratches could occur from heavy use and weight, Greatmats offers top notch rubber flooring that will endure it all.
With different surface textures and patterns from diamond to coin or bump top to different sizes, thicknesses, and styles, there are rubber flooring or similar solutions for virtually any setting and application - home, office, commercial, and industrial.
For more information on the products featured, or, if you want to learn about any of the other rubber flooring solutions available, just reach out to the fabulous staff. They can answer questions, send you samples, assist with ordering, and so much more. Together, you can determine which rubber flooring solution is the perfect one for your project or space.
No matter which product or products you purchase, you can be confident in the fact that you're getting the best!