Anti-Fatigue Mat Materials & Top Options
By Paige Cerulli Created: February, 2023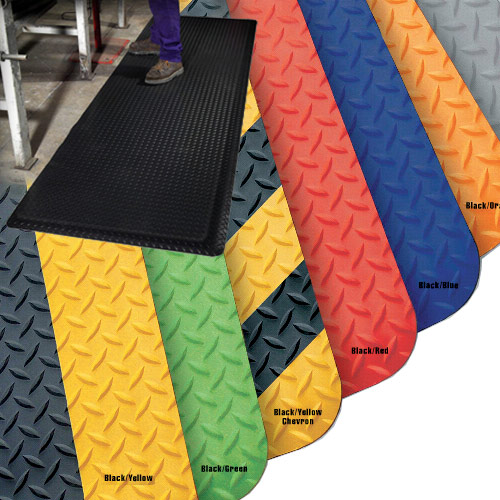 Anti fatigue mats are a popular choice for workspaces, homes, and anywhere else where you need to maximize comfort because you spend a long period of time on your feet. These mats are designed to be slightly flexible, promoting slight muscle movements to minimize the pain and stiffness that can result from hours of standing. As you shop for anti fatigue mats, you'll find that they're made of many different materials.
What Are Anti-Fatigue Mats Made Of?
The key to a quality anti fatigue mat is a design that offers some give, but that still provides the support you need to stand comfortably. The material also needs to be durable and easy to clean, and if used in a space like a kitchen or garage, the mat may need to be grease-resistant or fire retardant.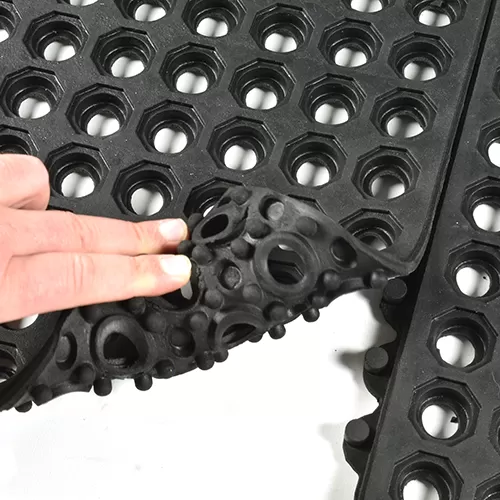 You will find anti-fatigue mats made of materials including rubber, foam, and PVC plastic. We've highlighted some of the best mats available at Greatmats to help you explore some of the top options to review.
Vinyl Covered Foam - Supreme Diamond Foot Colored Borders
The Supreme Diamond Foot Colored Borders mat features a vinyl covered foam that gives the soft cushion of foam, but that is a more durable option than a foam mat, alone, would be. This mat is designed for industrial settings, automotive and workshops, packing and shipping settings, and other environments that demand highly durable flooring.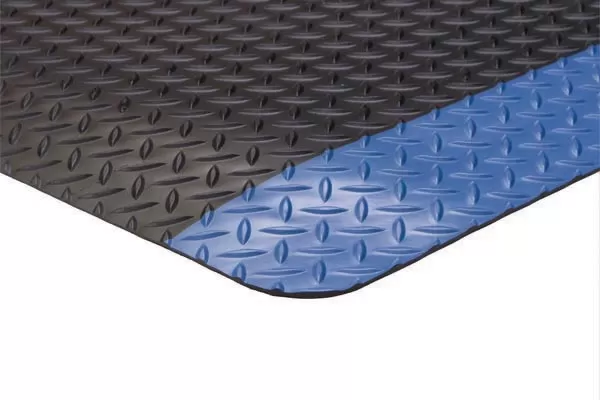 The mat features a diamond plate surface to maximize traction for increased worker safety. Additionally, beveled edges make for a smoother transition onto and off of the mat and the surrounding floor, helping to prevent tripping.
This mat is spark resistant and features colored borders for improved visibility. It's made in the USA and is backed by a limited three-year warranty against wear and delamination.
Rubber - Wearwell 24/Seven GR Perforated Mat
The Wearwell 24/Seven GR Perforated Mat is a rubber anti-fatigue mat. Made of more than 50% recycled rubber material, it's an eco-friendly choice.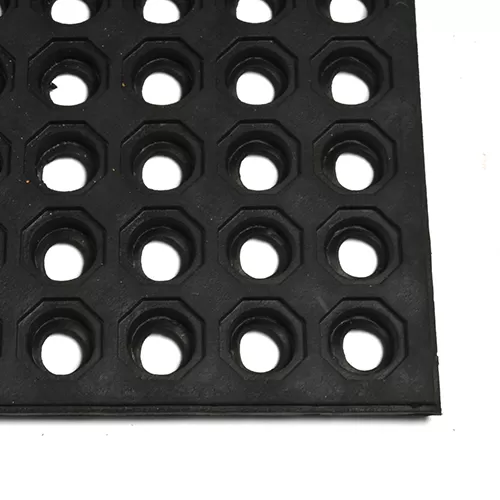 This mat features a perforated design, so it can be used in areas with water or dry debris. It's also grease resistant, making it suitable for use in workstations and assembly lines.
Since the mats won't absorb liquid, you can use them in spaces where you might have standing water. The mats measure ⅝ inch thick, so they can help to keep workers' feet up and out of the water.
Each mat measures 3x3 feet, making it easy to move and install. The mats feature hidden interlocks, so you can create an area of anti-fatigue flooring that's customized to your workspace's dimensions and needs.
PVC Plastic - Comfort Matta 20x20 Inch Solid Black Tile
The Comfort Matta Tile is a highly durable tile made of PVC plastic. It's manufactured using recycled materials, making it an environmentally friendly flooring choice.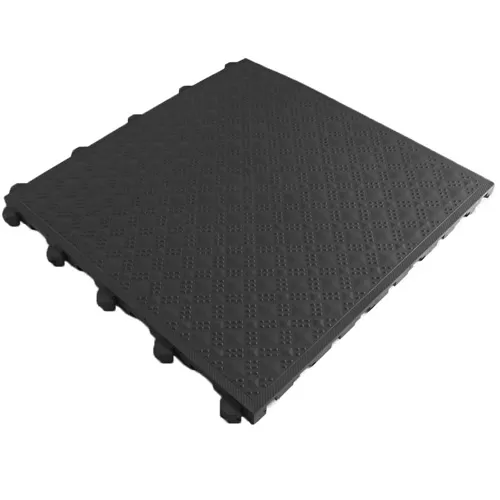 The tile offers both ergonomic and anti fatigue properties, helping to maximize comfort whether used behind a workstation or desk. The diamond shield tread helps to maximize traction, and the tile also offers sound dampening properties to make a work environment more enjoyable.
Since the tiles are raised, they offer valuable drainage. A locking lug connection system makes installation easy, and the tiles can be uninstalled if needed.
Durable and strong, these tiles are suitable for use in kitchens, lobbies, playgrounds, gyms, patios, and more. They are backed by a five-year limited warranty.
PVC Plastic - Floorline Matting
Made of PVC plastic, Floorline Matting is a versatile light duty anti fatigue flooring. It delivers hollow cushioned support to maximize your comfort, and is suitable for use in bar areas, restaurants, poolside settings, and more.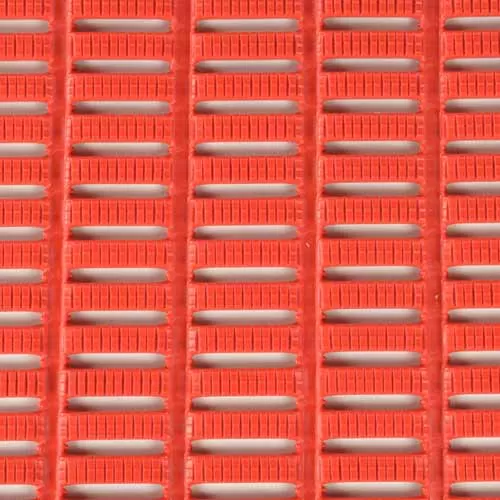 The matting's open grid system allows liquids to quickly drain away, while also keeping workers up and above the liquids. The material is resistant to chemicals, oils and acids.
This matting is designed to maximize traction, whether wet or dry, and is certified split-resistant. It will contour to uneven surfaces and can be dry laid, so you can use it in many different settings.
Since this product is delivered as a roll, you can easily clean it and roll it up for storage when not needed. It's suitable for both indoor and outdoor use, and you can cut it to fit the dimensions of your workspace.
The matting is backed by a one-year manufacturer's warranty. It is also UV treated for durability and is available in five different colors.
PVC Plastic - StayLock Tile Bump Top
The StayLock Tile Bump Top is a PVC plastic flooring tile that offers anti fatigue properties. The tile has the durability of rubber, yet it also offers the cushion of foam, so it can keep you comfortable even when used in a high-traffic environment.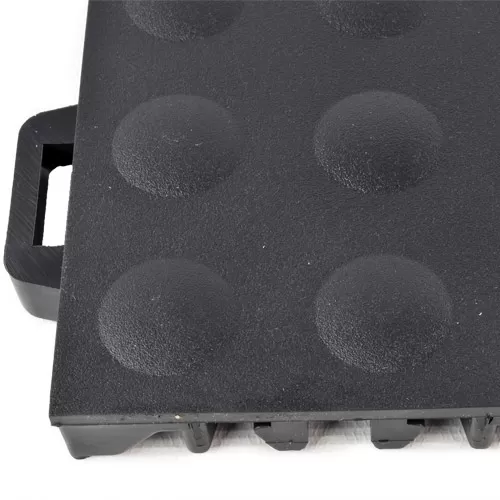 The tile is suitable for use in homes, gyms, and more. It's waterproof and resistant to most acids and oils, and it's an ideal choice for industrial settings, too.
The tile is made entirely of recycled material, so it's an environmentally friendly choice. It can be dry laid over carpeting, concrete, wood, or tile, and is a highly versatile choice.
Thanks to the tile's active locking connector system, you can easily lock the tiles together and they won't separate during use. There's no need to use an underlayment, which can save you on installation costs and time.
Ramped borders are also available separately, and they can smooth the transition as employees step onto and off of the tile.