What Types of Flooring Can Be Installed Over Vinyl?
By Kyle Schurman Created: June, 2021 - Modified: October, 2023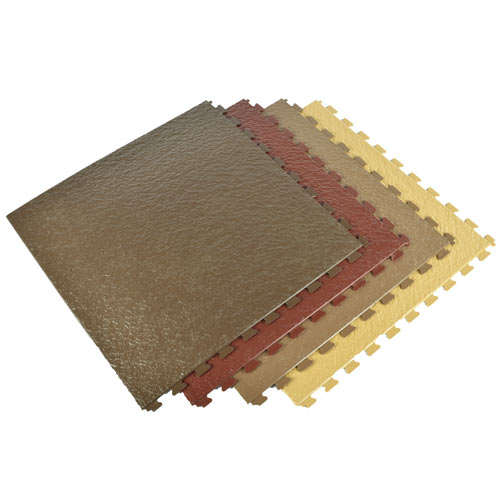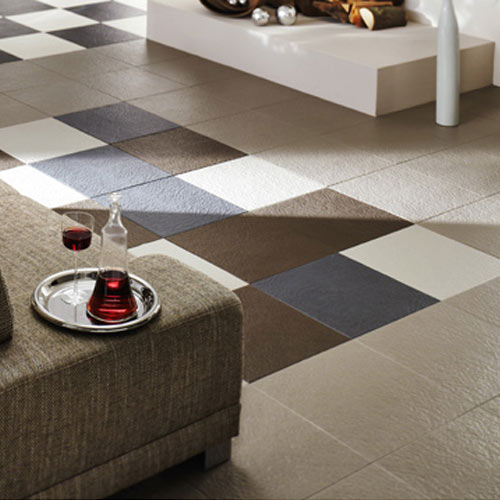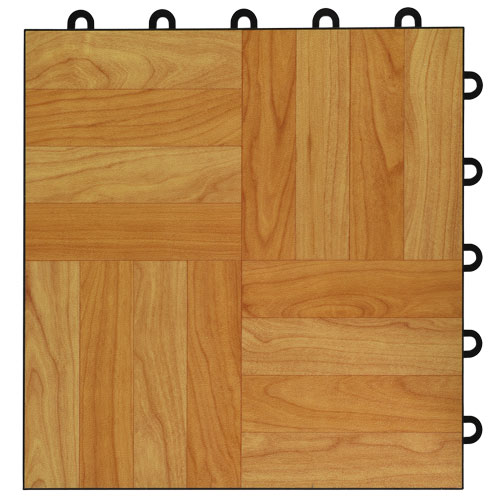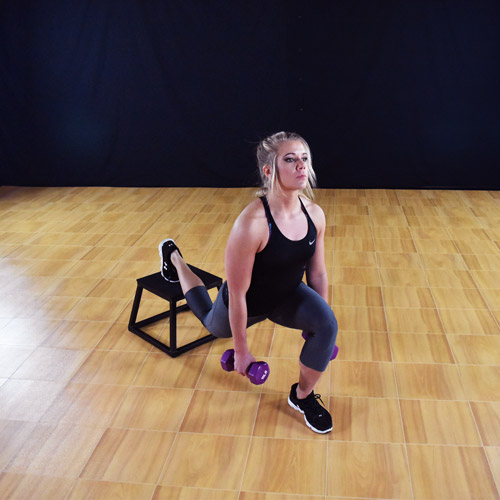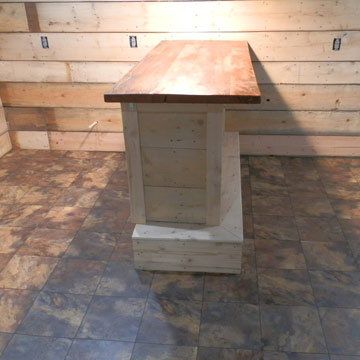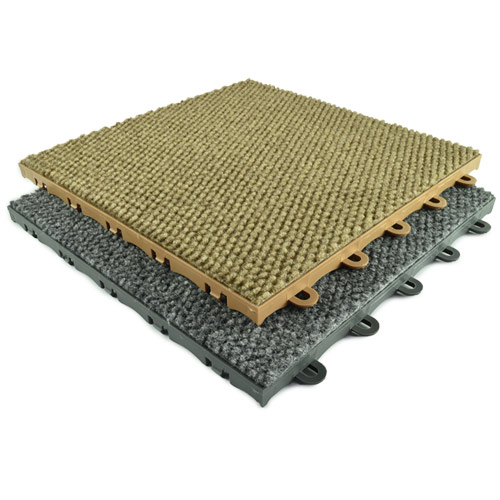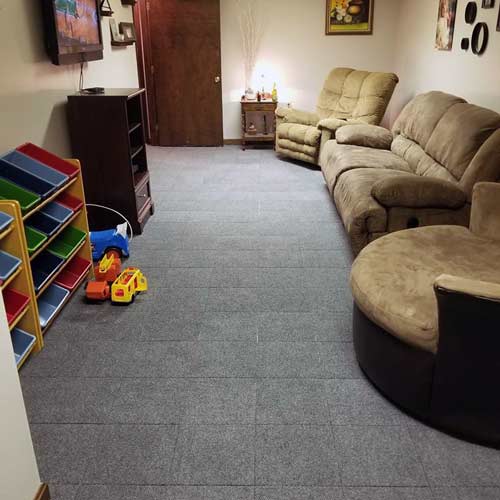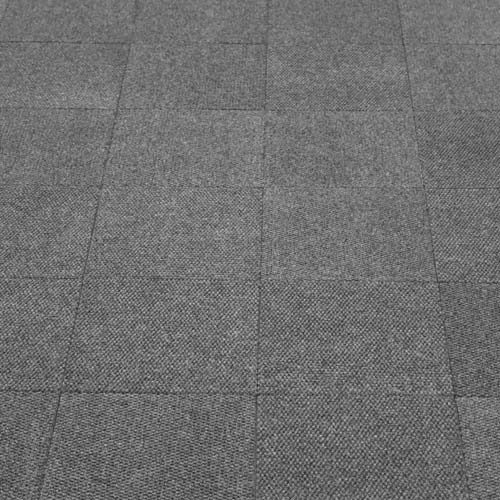 When looking to put new flooring over vinyl, multiple options exist.
Interlocking modular tiles
are among the most popular choices for this use case.
Some of the flooring over vinyl options include:
Faux wood vinyl on a plastic tile base

PVC plastic tiles or rolls

Polypropylene plastic tiles

Carpet tiles or rolls

Laminate tiles or sheets

Hardwood planks

Ceramic tiles

Cork flooring rolls
There are a few keys to installing these types of flooring over vinyl.
How Do You Prepare the Old Vinyl for a New Flooring Installation?
When going over the top of an existing vinyl floor with a new type of flooring, a little bit of preparation work will give installers the best chance at long-term success.
If installing a thin roll of the floor over the existing old vinyl, any imperfections may be visible. Any damage in the subfloor or areas with dips or uneven spaces may cause a problem when going over the top of the old vinyl.
Start by cutting out any sharp areas, loose areas, or areas that protrude from the existing vinyl. For low spots or to fully level the floor, apply a skim coating or an embossing leveling compound to create a fully level surface.
Installers will want to remove baseboards and cut any door molding to allow for the thickness of the new flooring over vinyl.
Depending on whether the existing vinyl has moisture problems, the installer may want to place a thin layer of underlayment or a moisture barrier product over the top of the old vinyl.
Should You Rip Up the Existing Vinyl Instead?
If the existing vinyl floor is in extremely poor condition or will pull up from the substrate easily, removing it is the best solution.
However, if the old vinyl has a tight glue-down installation, attempting to remove it could damage the substrate. This may create a huge mess, requiring a lot of expense to fix, so deciding to install new flooring over vinyl may be a better choice.
For those who plan to tear up the old vinyl in the future, but who want new flooring installed as a temporary option until then, going over the existing vinyl with a floating floor is a smart choice.
Placing interlocking modular tiles over the old vinyl means the installer won't need to use glue. The installer can disassemble the floating floor tiles later if they decide to tear up the old vinyl.
How Do You Install Carpet Flooring Over Vinyl?
Selecting carpet to go over old vinyl is a popular option in homes or commercial buildings. The carpet creates a warm feel versus the existing vinyl.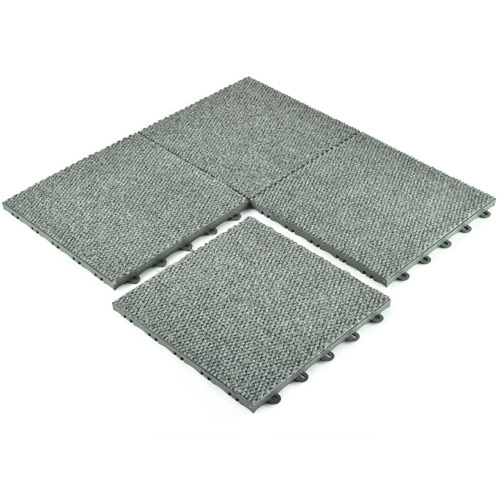 Although placing a roll of carpet over the vinyl will work, selecting carpet tiles may be the better choice. Tiles are easy to install, meaning they'll work for a DIY installation that saves quite a bit of money versus hiring a professional.
Look for an interlocking carpet modular tile that makes use of a plastic base with the carpet attached to the top. The tiles snap together easily.
When the plastic base has a hidden interlocking edge, the interlock system will not be visible. This creates a sharp-looking installation that can enhance the appearance of any room.
Can You Create a Faux Wood Floor Over an Existing Vinyl Floor?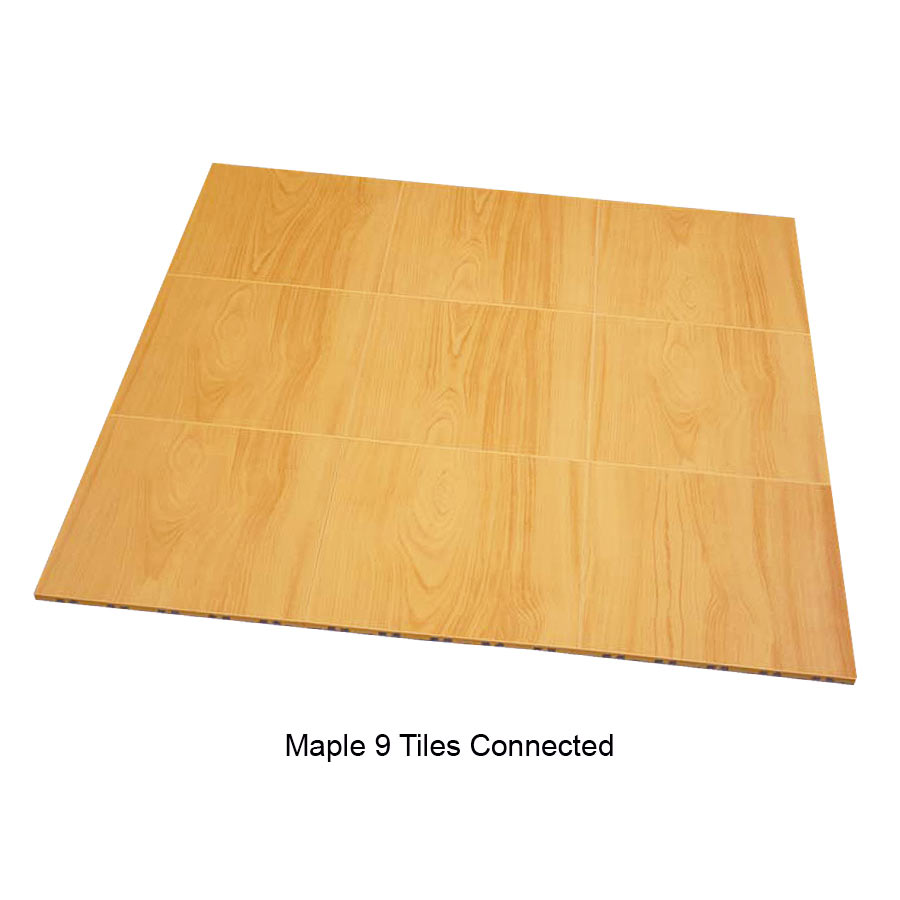 It may seem silly to install a vinyl tile over the top of an old vinyl floor, but this is another popular use case. When the new vinyl tiles have a faux hardwood finish, they can create a fresh look for the room. They're also easy to install.
Look for a tile that has a plastic base with a hidden interlocking system on the edges. After completing the installation, the interlocking edges will not be visible.
The top of the tiles will have a thin vinyl layer that looks like actual hardwood. They also will have a wear layer that allows them to stand up to regular foot traffic without showing wear and tear.
Can You Install a Floor That Looks Like Slate Over Old Vinyl?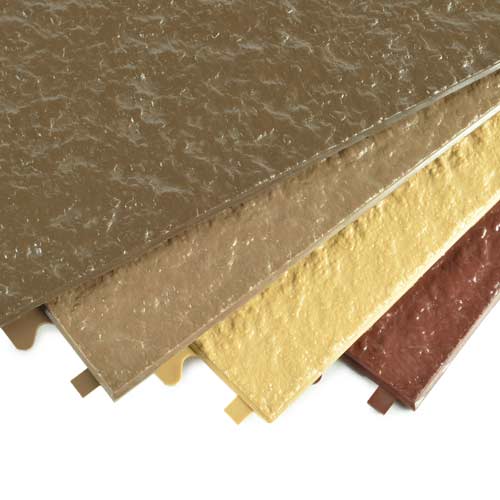 For another floating floor option to go over an existing old vinyl layout, consider PVC plastic tile. Manufacturers can create PVC plastic that looks like more expensive styles of flooring, such as slate, using a texture on top of the tile to simulate the slate.
PVC plastic is a durable type of flooring that also has some anti-fatigue properties. It's usable in high foot traffic locations and areas where workers must stand all day.
With many types of PVC tiles, the edges will contain a hidden interlocking edge or a puzzle-style edge, which simplifies the installation process. This tile will work for a DIY job, which saves money over a professional installation.
These tiles pop together tightly without the need for adhesive. This means that the installer can disassemble them later if desired.
A faux slate flooring consisting of PVC tiles will deliver a bit of traction in the textured layer, limiting the chances of slipping on a wet floor.