Top 5 Trade Show Carpet Tiles for Booths
By Julia Nass Created: July, 2017 - Modified: October, 2023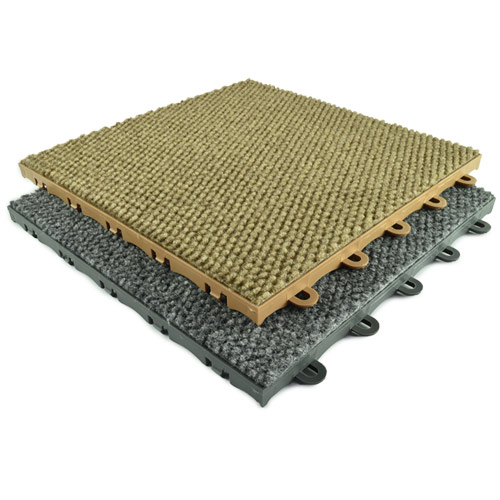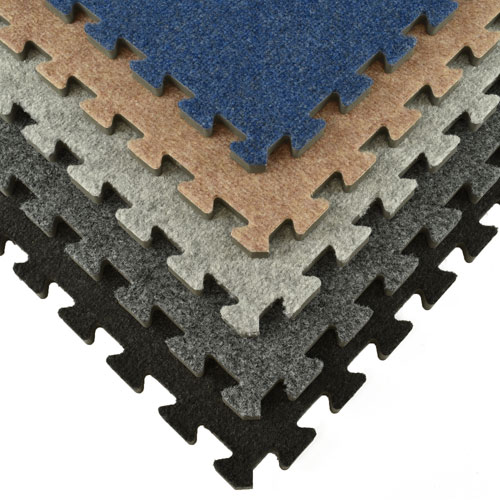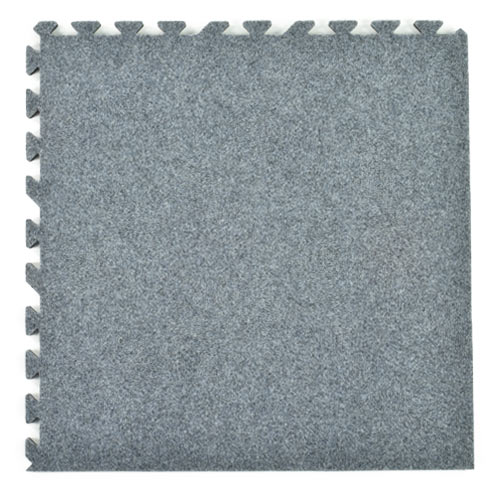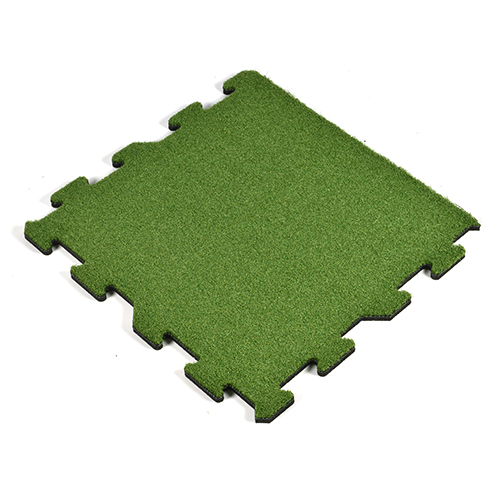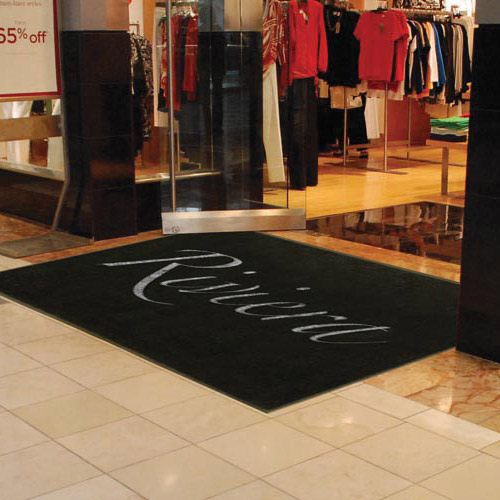 Carpet is a classic choice for a trade show floor, as it provides a certain homey, inviting aesthetic to any trade show booth. That being said, it can be difficult to find carpeting that looks professional and is easy to transport and handle.
5 Carpet Tile Options for Trade Shows
Forget the fraying, tedious, clumsy carpet rolls and opt for easy, lightweight carpeting tiles. To make the pick simple, Greatmats presents its top five carpet tiles for trade shows.
1. Load Bearing: Carpet Tiles Modular Squares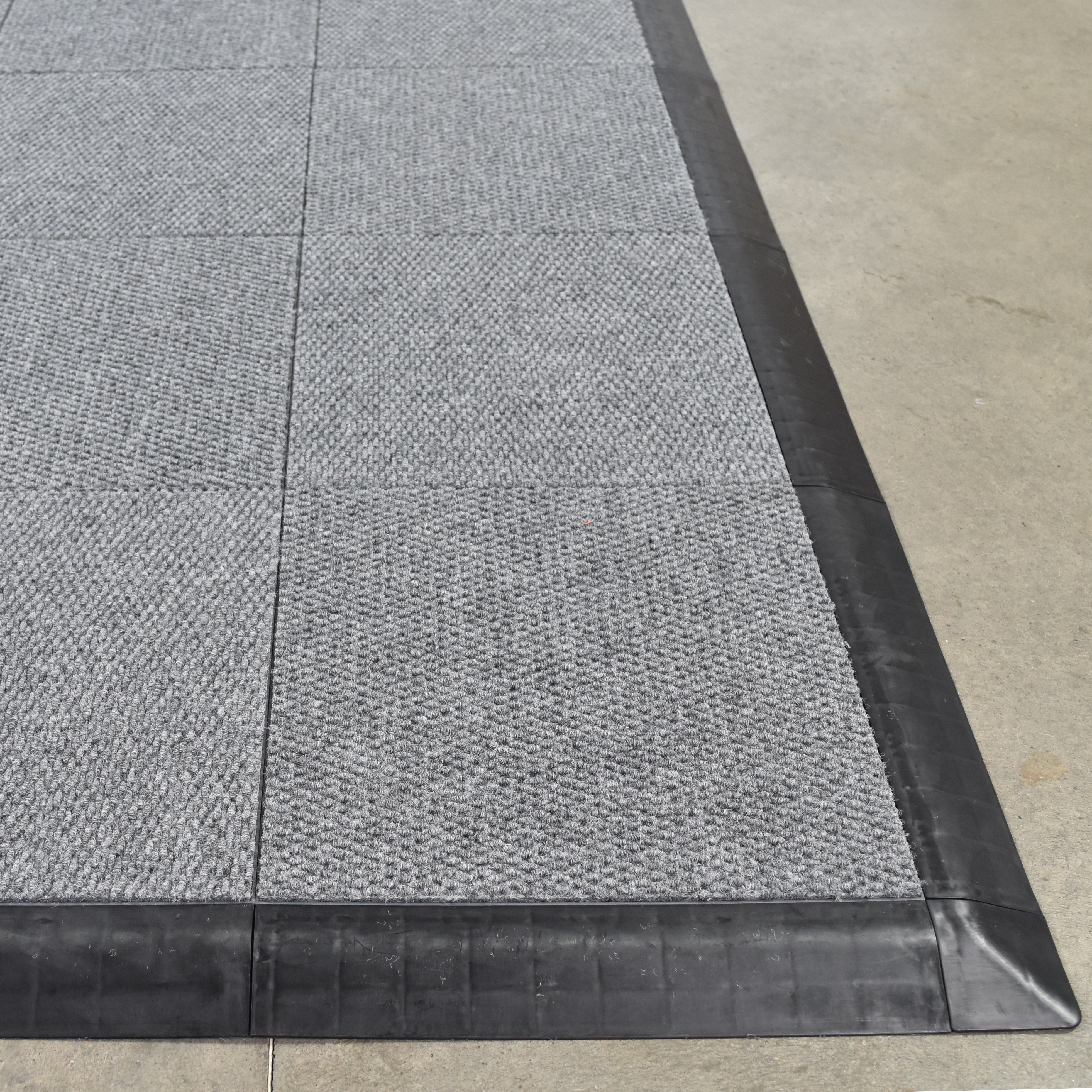 For a trade show booth carpet that can stand up to a significant amount of weight, choose Carpet Tiles Modular Squares. These interlocking carpet tiles for trade shows are designed with a durable polypropylene base that will not snap or become damaged under big loads. What's more, tiles are made with such a tight-fitting, solid connection system that they will not shift or separate over time. These trade show carpet tiles are highly recommended for booths that feature heavy furniture or displays.
To install these tiles, simply lay the tab portion of the tile over the loop portion, align, and step on the tile to interlock together. Disassembly is just as simple. With such a straightforward process, these interlocking carpet tiles for trade shows lessen set up and take down time in a major way. For maintenance, just vacuum tiles as needed.
2. Most Trusted: Royal Interlocking Carpet Tile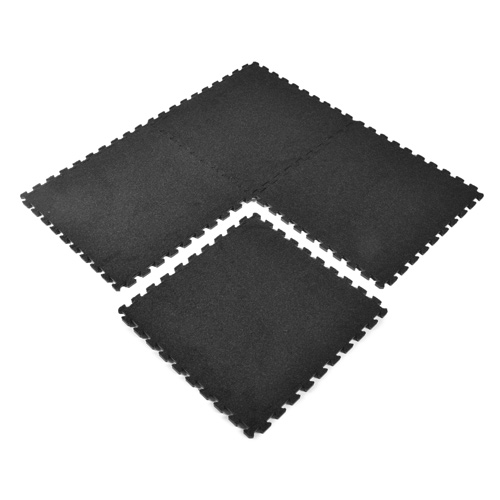 Royal Interlocking Carpet Tiles are Greatmats' most trusted carpet tile and for good reason. These trade show carpet tiles are made with a soft, abundant carpet surface bonded to a cushioned EVA and polyethylene foam base. Many interlocking carpet tiles out there are made with fibrous, burlap-like fibers, whereas Royal Interlocking Carpet Tiles feature a far nicer and more luxurious surface. The inviting top material with the cushioned foam underlay gives Royal Tiles all the comfort, warmth and support possible in a trade show booth carpet.
Another part of what makes these tiles so popular is how easy of a product it is to handle. These interlocking carpet tiles for trade shows are lightweight and uncomplicated to install. Tiles are 2 x 2 feet and weigh only 1.4 pounds each, so they are super simple to handle and transport. Because of the foam material, these carpet tiles may become temporarily indented underneath heavy furniture, so it's best to use furniture coasters.
3. Finished Edges: Comfort Carpet Tile (10 x 10 Foot Kit Beveled Edges)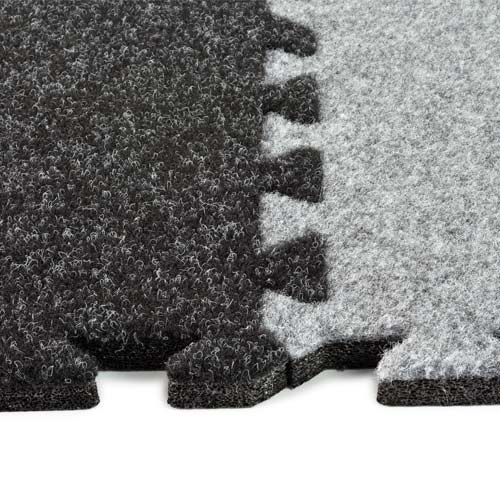 For a trade show booth carpet with beveled edges, choose Comfort Carpet Tiles. The beveled edge of these trade show carpet tiles is a handy (and sometimes necessary) flooring characteristic for many reasons. First and foremost, beveled edges increase safety and decrease tripping hazards. Second, they make flooring accessible to wheeled devices such as wheelchairs and hand carts. Finally, Comfort Carpet Tile beveled edges help flooring achieve a complete, polished look that will never fray.
Comfort Carpet Tiles come in a convenient 10 x 10 foot kit. The commercial grade, short hair carpeting is a high-quality and long-lasting solution for trade show booth needs. The carpet surface comes atop a padded foam base that is still dense enough to withstand common foot traffic, tables, chairs and other furniture. Unlike other types of foam flooring, high heels will not puncture Comfort Carpet Tiles.
4. Texture Options: RageTurf Rally Tiles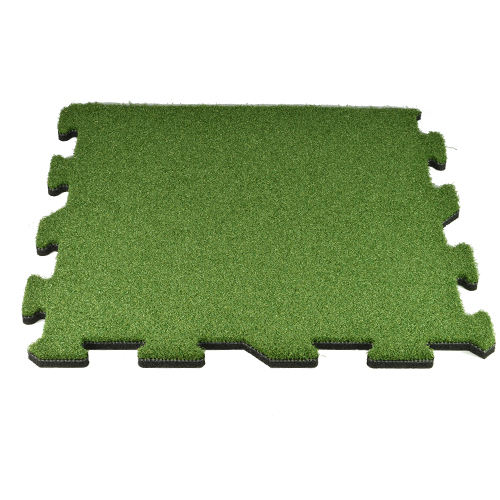 Give your trade show booth floor a unique texture with the indoor gym turf RageTurf Rally Interlocking Tiles. These interlocking turf tiles are great options for sports or outdoor themed trade shows and come in 4 different colors, black, blue, gray and green.
RageTurf Rally Interlocking Tile 24 mm x 23x46 Inches is designed for indoor fitness training it can stand up to the riggers of speed and agility foot work drills, so it will be extremely durable for a trade show. RageTurf is made from dense textured polyethylene, and the backing is composite vulcanized rubber, for strong interlocking turf tile.
5. Branding: Apache Carpet Logo Mat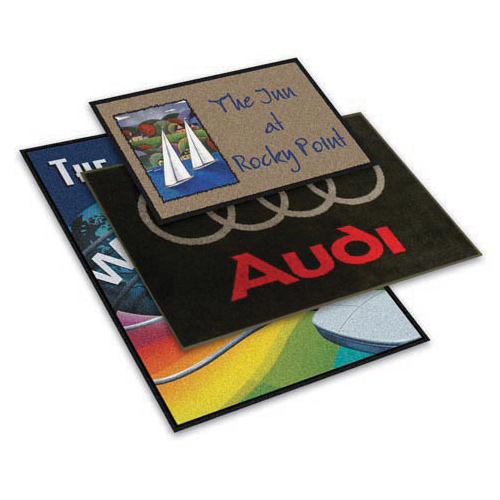 Create a space that is unique through and through with Apache Logo Mats. These carpet mats can be custom designed with any graphic in over 186 colors. Apache Logo Mats allows you the opportunity to boast your brand in a professional and pleasing way. Make a lasting impression with these custom carpet mats.
Apache Logo trade show booth carpet is created with a durable rubber backing that does not allow the mat to slip or shift. Mats are wear resistant and made in the USA. There are absolutely no artwork or setup charges and pricing is per square foot. Mats are available in any size from 2x3 feet to 5x 20 feet.
Further Reading
Visit greatmats.com for a full list of trade show booth flooring products. As magnificent as carpet tiles are, it's only the beginning of trade show flooring options, which can be found in numerous styles and materials at Greatmats. Feeling wary of the multitude of products out there? Let Greatmats customer service guide you in choosing the very best trade show booth flooring you could ever want.