Top Basement Man Cave Ideas & How To Implement Them
By Paige Cerulli Created: January, 2022
Basements are so often underutilized spaces, but with a little creativity and elbow grease, you can make your basement into a desirable room. Renovating your basement and making it into a man cave can help you to make the most of the space.
Top Basement Man Cave Ideas
If you're thinking of turning your basement into a man cave, consider these popular ideas. They're suitable for both small and large spaces and are sure to see plenty of use.
Sports Junkie Haven
One of the best and most popular man caves, the sports junkie haven lets you have plenty of fun with designs and your decorating skills. Whether you want to represent your favorite sports team or transform the room into a space where you can enjoy games year-round, there are endless possibilities for this kind of space.
When it comes to your floor, consider a tile with a wood grain finish for a classic look. Alternatively, a faux turf tile can give you the feel of being right on the field, yourself, adding a uniquely authentic touch that's sure to become a talking point. Greatmats even has carpet tiles that display the logos of your favorite college and professional sports teams.
A TV - or, ideally, multiple TVs - is a must, as is a bar. Think about comfortable seating and make sure that every seat has a great view of the game.
There are also plenty of options for wall decor. Consider framing jerseys, buying posters and photos of your favorite teams or venues, or of even mounting your own sports gear on the wall.
Luxury Bar
Transforming your basement into a luxury bar-themed man cave means you'll always have a cool place to relax with friends. When creating this space, think modern finishes and conveniences.
The bar will be the focal point of the room, so spend a little extra on something that's finished with a more luxury style. Rich, polished wood and plenty of accent lighting will add to the piece.
Make sure that the rest of the room is enjoyable, too. You'll want plenty of comfortable seating and places where guests can put their drinks.
Movie Theater
If you turn your basement into a movie theater, it's not only a great man cave, but also makes one of the best spots in the home for the whole family to gather. You can opt for a large screen TV, or use a projector and screen if you want to save some money.
Splurge on recliners if you want a truly comfortable viewing experience, and consider using basement carpet tiles so you get the feel of a movie theater while still using flooring that's safe for the basement.
If you want to go for the full theater experience, then add in a small popcorn machine and some snack foods so guests don't have to go upstairs for refills.
Rustic Retreat
You can use your basement's natural finishes to create a rustic yet cozy retreat. Unfinished surfaces, like brick, become focal points when you bring in additional decor and accent pieces with wood and brass finishes.
A rustic retreat might be the most simple option when it comes to transforming your basement, and it's a great low budget option, too. You can pick up furniture and accent pieces at yard sales and thrift stores for minimal investments.
If you're handy, consider getting some reclaimed wood and making pieces, like a bar or coffee table, yourself. A floor tile with a wood grain or stone finish will complete the look.
Bringing Your Basement Man Cave Ideas to Life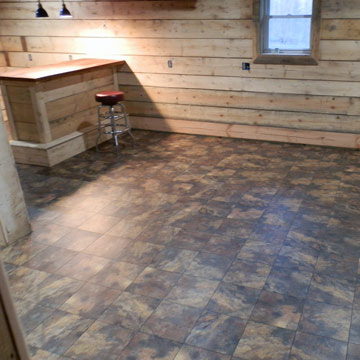 As you start to plan out your man cave, think carefully about the type of flooring that you'll use. The flooring will need to withstand the foot traffic the space will see, and it also needs to be suitable for use in a basement.
At Greatmats, we offer a wide assortment of
basement flooring
. These products are durable and easy to install, so you can save money on the cost of a professional installation.
We've also chosen products that can withstand the challenges that come with a basement installation. Many of them are waterproof, and we also offer tiles with raised bases that allow air and moisture to freely circulate beneath them.
You'll also find flooring at a variety of price points, including cheap options to keep you working within your budget.
Once you've planned out your flooring, you can focus on planning the other elements that will go into your man cave. If you're looking to save money, try to buy items that are on sale, check thrift stores and yard sales, and think about how you might redecorate and repurpose items that you already have.
When you get the basics of the man cave in place, including your flooring, painting, and lighting, you can gradually gather the rest of the elements, like your decor and furniture. Chances are you'll continue to add to and enhance your man cave for years to come.