The Most Affordable Wood Grain Interlocking Foam Floor Mats
By Kyle Schurman Created: June, 2021 - Modified: October, 2023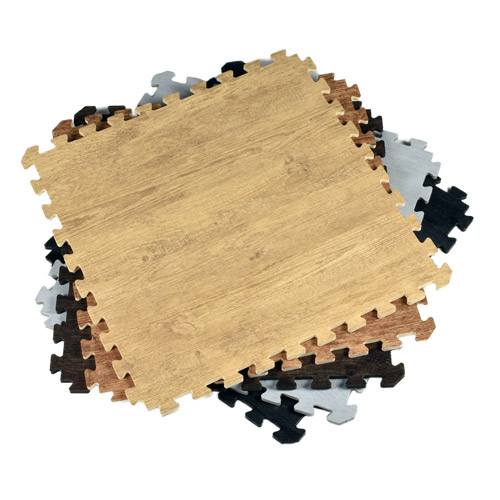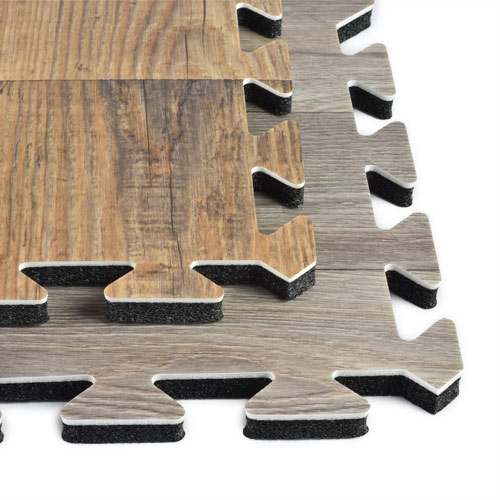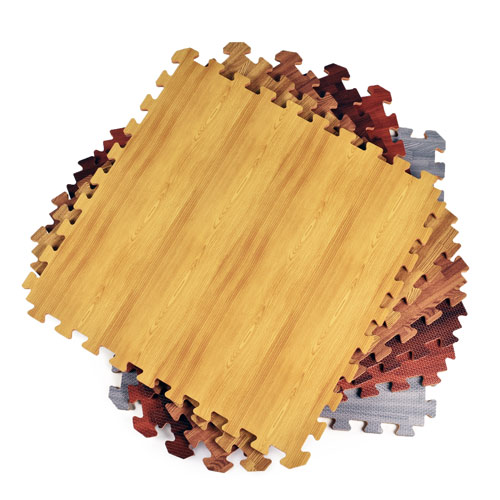 Real hardwood floors are pricey and tricky to install. That's what makes wood grain interlocking foam floor mats such a popular choice among homeowners and business owners.
These soft puzzle tiles look great, but they have multiple other benefits as well.
Low cost. Wood foam mats create a realistic looking hardwood flooring at a fraction of the price of the real thing. Additionally, foam doesn't need refinishing and regular care like actual hardwood, which increases the cost of using it.

Waterproof. Excessive moisture can cause warping or staining for real wood floors. EVA foam matting does not soak up water, making it safer to use in a basement or mudroom, where moisture is common.

Cushioned surface. For exercise areas, the soft configuration of fake wood mats protects the lower body joints of people using them. Hardwood floors don't work well for exercising sessions.

Ease of installation. Wood Grain foam mats will use either interlocking puzzle style edges or a tab and loop connecting system. These interlocking tiles go together with very little effort.
What Material Are Wood Foam Tiles Made of?
With the
Foam Tiles Wood Grain
product, the tiles consist of EVA foam with a wood grain patterned laminate top. EVA is a closed cell type of foam, which means it doesn't soak up water. It's also highly durable and is available for around $1.40 per square foot.
By sticking with EVA foam versus a softer, highly cushioned foam, these tiles provide the firmness needed for general flooring. People walking across the tiles will only sink into the material a tiny fraction of an inch, walking easily with good support for the feet.
Another option is the
Rustic Wood Grain Foam Center Tiles
product. This 2x2 foot tile consists of a PE foam base with a firm vinyl top layer. The manufacturer prints the grain of the wood on the vinyl layer, which creates a realistic effect, resembling real hardwood. This product will be towards the opposite end of the price spectrum for wood grain interlocking foam mats, coming in around $5.85 per square foot.
How Durable Are Wood Grain Foam Tiles?
Even though these tiles make use of a foam material, they are far more durable than many people think they would be. EVA foam tiles deliver excellent firmness, and they have a long-lasting design. PE foam, while not suitable for a finished surface alone, makes a great fatigue relieving base layer for the durable vinyl surface on the Rustic Wood Grain tiles.
Many times, these tiles will have a slightly textured surface, which is scuff-resistant and will not show wear over time. This gives wood foam tiles an ability to work well in busy places, such as in a trade show location, in a kids' playroom, or in a workout space at home.
For those who need the look of realistic wood in a tile that also has the option of providing an extremely high level of scuff resistance, the
Wood Grain Reversible Foam Tiles
are a strong EVA foam product priced around $1.75 per square foot.
These tiles feature multiple wood grain patterns on one side and a scuff resistant tan-colored surface on the other side. When installers want the beauty of the wood grain colors, just install the tiles with this side showing. Flip the tiles over when needing a greater level of scuff resistance.
Understand that EVA foam mats could puncture if exposed to sharp objects. Dog nails will scratch and puncture these tiles if using them in a dog agility space, for example.
If using a reversible style of tiling, make sure the subfloor is free of protruding nails, screws, or other sharp objects, as these could puncture the foam, damaging one side. Even if punctured, this flooring continues to perform.
How Much Do Foam Tiles Look Like Real Wood?
One of the best things about these types of flooring is how much they provide a look that resembles an actual wood floor.
Undoubtedly, someone who is inspecting the look of the tiles up close is going to realize they aren't a real hardwood product.
However, at first glance and when viewed from across the room, these tiles will definitely have a realistic look that resembles hardwood for a number of reasons.
Stain colors. These foam tiles make use of colors that mimic the most popular wood stain colors. Whether seeking a light brown or dark brown wood stain, or even a grey or a non-traditional color, tiles exist to fit these color choices.

Realistic grains. Manufacturers introduce patterns on the tiles that resemble the actual grain that is visible in hardwood floors. These lines and knots in the faux wood appear to be random, which enhances the realistic look.

Plank patterns. Manufacturers add lines to the surface layer that give them a resemblance to actual planks. Whether the installer wants to simulate a wide plank, a thin plank, or a parquet pattern, foam tiling is available to produce this look.
While Interlocking Wood Grain Foam Floor mats all have puzzle style edges, most also come with border strips for a finished edge.
When using a puzzle style edge, once the installer has the tiles tightly connected, the puzzle edge seems to disappear, allowing the wood grain to look natural between adjacent tiles.
Although wood foam mats are a popular selection for those seeking a faux wood floor, foam isn't the only option. An alternative faux wood flooring option is plastic snap together tiles and plank that feature a wood grain patterned vinyl top. These tiles and planks will have a hidden interlocking edge. This creates straight lines between each tile. Many even create a parquet style floor.
Vinyl is another highly popular choice. Contact Greatmats for any questions about receiving the look of premium wood without the cost and difficulty of hardwood installation.