What Is The Significance of Red Kitchen Mats?
By Paige Cerulli Created: June, 2022 - Modified: November, 2023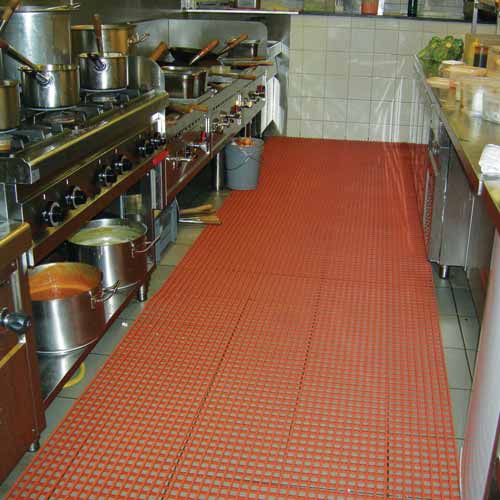 As you shop for kitchen mats, you've probably noticed that the mats come in black or red. The differences between these mats isn't just about color, though, and red kitchen mats have very specific applications.
The Significance of Red Kitchen Mats
Red kitchen mats are often designed to be grease resistant or grease proof, which is particularly important in kitchen settings.
Grease can irreparably damage the rubber flooring that is used in and around kitchens. Grease can cause rubber to break down, leading to bubbling, damage, and products that start to break apart.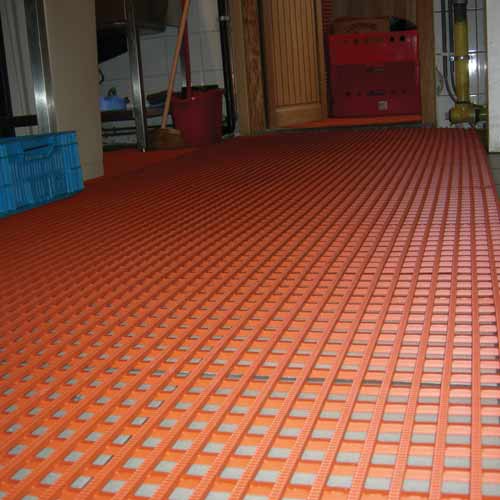 In a commercial kitchen, grease is everywhere, and it's hard to contain. Grease gets onto staff's shoes, and is then easily tracked through the building.
Grease also gets into the mop and the mop water while cleaning the kitchen, which can further spread it around and damage flooring beyond the immediate area of the kitchen.
Red kitchen mats are the answer. These mats are designed specifically to withstand grease, and they won't break down like traditional black mats will.
Qualities to Look for in Red Kitchen Mats
As you shop for kitchen mats, consider what other qualities you need in your kitchen. Most kitchens benefit from slip resistant textures, and if your kitchen is often exposed to liquids, then you will want a mat that maximizes drainage.
Mats that feature cushioned surfaces and anti-fatigue properties are also particularly helpful in kitchens. The anti-fatigue design can help to keep your staff comfortable, so they stay more productive.
It's also important to consider where you'll be installing the mat and what dimensions work for the space. Some mats can be easily cut to fit an area, while others are available in specific dimensions so you can just dry lay them in the space.
Red Kitchen Mats for Sale
At Greatmats, we have several red kitchen mats for sale that are designed to withstand grease. They're ideal for use in kitchens, around sinks, and more.
VIP Topdek Junior Red Mat
The VIP Topdek Junior Red Mat is ideal for light grease applications in areas like bars, assembly lines, and prep areas. This mat features perforations that let water drain through, and the anti-slip surface helps to maximize staff safety.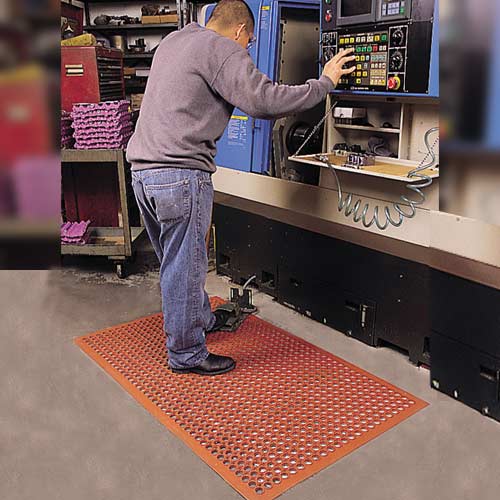 The mat also offers anti fatigue benefits and slight cushion, helping to keep staff comfortable. It needs to be cleaned on both sides regularly, but is designed to withstand light grease exposure.
The mat can be dry laid and is backed by a one-year manufacturer warranty.
VIP Red Cloud Anti-Fatigue Mat
The VIP Red Cloud Anti-Fatigue Mat is a grease proof mat that is designed for use in dry areas. The mat helps to maximize staff comfort, and its anti-slip textured surface helps to prevent falls.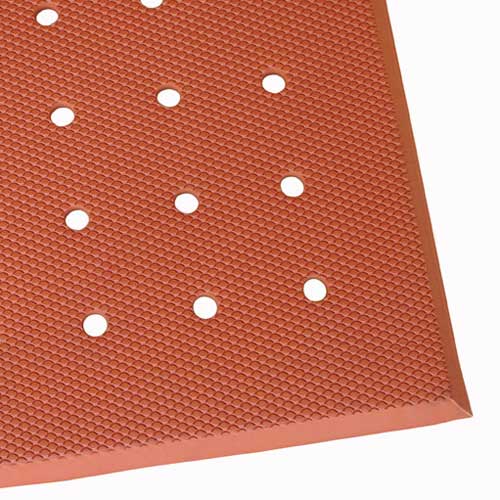 The mat is made of non-absorbent closed-cell nitrile rubber and weighs just 14 pounds, so it's easy to move from station to station as needed. Its closed cell design resists most liquids, and the mat can withstand spills.
Perforations in the mat allow liquids to flow through, and while the mat is resistant to grease or oil, it does need to be cleaned regularly. It's backed by a five-year limited manufacturer warranty against breakdown due to exposure to grease.
VIP Deluxe Heavy Duty Red Mat
The VIP Deluxe Heavy Duty Red Mat measures a full ⅞ inch thick and provides excellent drainage. The thicker design helps to keep staff up and out of water, and the mat's grease proof design maximizes its lifespan.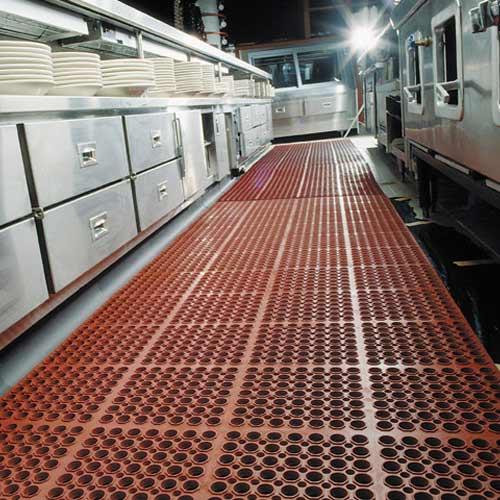 Designed for heavy duty applications, this mat is ideal for cafeterias, fast food preparation, and manufacturing settings. It features an anti-slip surface and anti-fatigue properties to help keep staff comfortable and safe.
The mat features a five-year guarantee against breakdown due to exposure to grease, so you can buy with confidence.
Herongripa Slip Resistant Matting Roll
The Herongripa Slip Resistant Matting Roll is ideal for commercial kitchens, cafes, food processing areas, and other spaces. This PVC floor mat has animal fat resistance, making it a durable choice for your kitchen.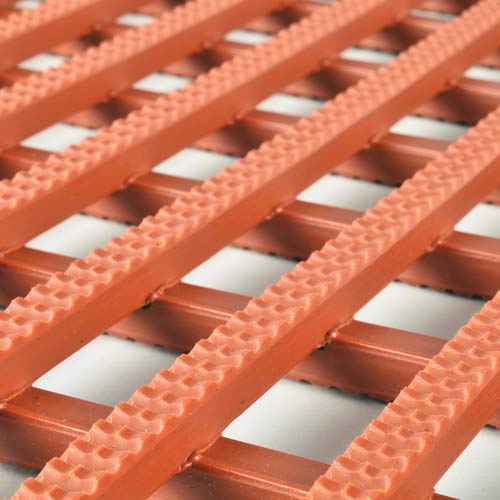 The mat's perforations quickly drain liquids away, and it's also resistant to chemicals and oils. The mat is light enough to roll up for your daily cleaning routine.
This mat has been treated with anti-bacterial and antifungal additives. You can also easily cut it on site to fit your kitchen.
It's easy to clean and also contours to uneven surfaces.
WorkStep Red Mat
The WorkStep Red Mat is a lightweight rubber drainage mat that resists oils and most common chemicals, so it's ideal for kitchens, restaurants, bakeries, and more. The mat is water repellant and wear resistant.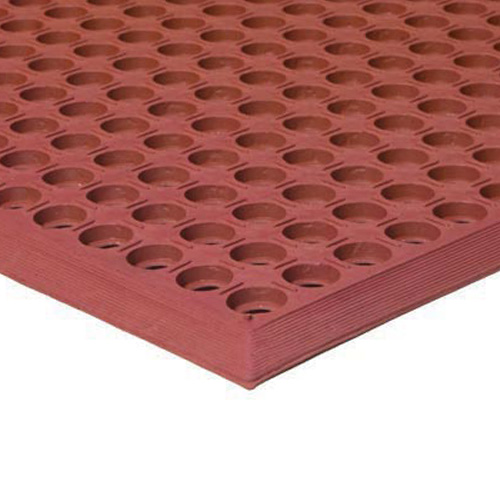 Its beveled edges help to maximize safety, and the anti-slip traction helps to prevent falls. This mat is grease-resistant and offers valuable anti-fatigue properties to support staff comfort and productivity.
This mat features large perforated holes that quickly channel liquids away so they don't pool on the surface. The mat's underside directs liquids underneath it and into a drain hole, contributing to the safety of the kitchen.
The mat is washable and can be dry laid. Its generous size makes it a great choice for kitchens and large spaces.