WorkStep Red Mat 3x15 Feet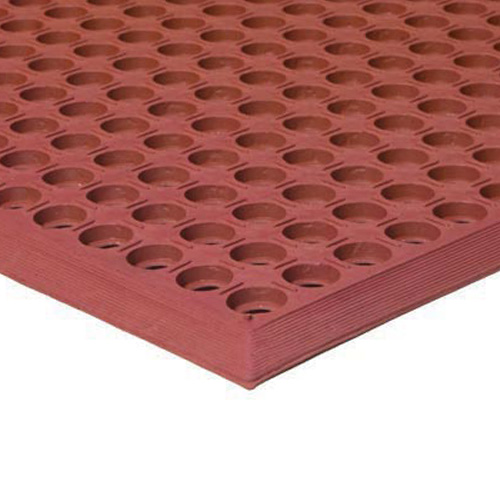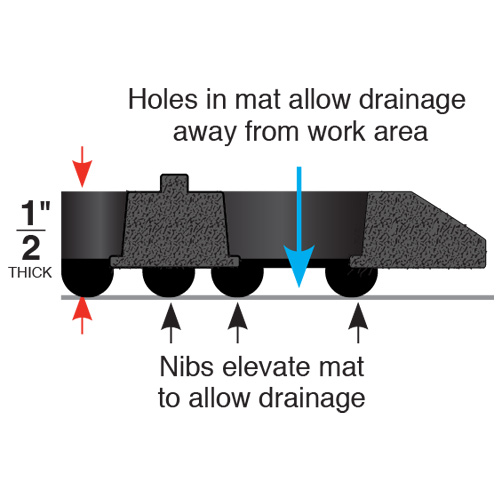 Comfortable anti-fatigue design with molded beveled edges
Available in a grease-resistant red or general purpose black color
Anti slip traction
Handling Time Estimate: 4-6 Working Days
Comfortable anti-fatigue design with molded beveled edges
Available in a grease-resistant red or general purpose black color
Anti slip traction
Water repellant
Anti fatigue
Wear resistant
Custom configurations
Washable
Industrial, Kitchens, Service Counters, Restaurants, Bakeries, Machine Shops, Shipping and Packing
NOTE: This item is a custom order and is not returnable.
This lightweight rubber drainage mat, WorkStep Red Mat 3x15 Feet is low maintenance and easy to clean. The 1/2 inch thick mat is designed to resist oil and most common chemicals. Mat has molded beveled edges for increased safety in wet areas. Contact Customer Service for more information.
Red WorkStep Rubber Kitchen Comfort Mat, 3x15 Feet

Our Red WorkStep Rubber Kitchen Comfort Mat Runner delivers a number of benefits for the busy commercial kitchen, industrial setting, factory setting, or restaurant kitchen. It will give employees protection against slips and against sore lower body joints, promoting a safer environment for everyone.

This is a long rectangular kitchen comfort mat, delivering 45 square feet of coverage in a rubber mat that measures 15 feet in length. The configuration of the mat is ideal for situations where employees will be working across a large space.

The rectangle anti fatigue mat for sale gives the employee the freedom of movement to reach ingredients and supplies along a long counter space without having to step off the mat.
Anti Fatigue Benefits and Comfort for Employees
Rubber provides natural cushioning in areas where employees must stand and work for longer periods of time during the day. In a busy restaurant kitchen, those preparing food often must work for a few hours at a frantic pace during lunch and dinner rushes.
Having our kitchen comfort mat in place makes this process safer for the employees in a few different ways.
Non Slip Properties
Rubber provides traction for people walking across it or standing on it. Even when spills occur on the rubber, it should continue to provide a safe space for employees, reducing the slip hazard.
The perforations in our kitchen comfort mat allow water and other spilled liquids to drain through to the subfloor. This keeps the moisture and oil off the shoes of employees, meaning they're safer when they step off the mat and walk elsewhere in the cook's room.
Anti Fatigue Properties
Standing for long periods of time can lead to aches and pains in the lower back, ankles, hips, and knees of employees. These pains are especially difficult to deal with when the employee is standing on a firm surface, such as cement or vinyl flooring.
Rubber provides the ideal mixture of cushioning and firmness to support the body when standing. Employees will continue to feel fresher throughout the day when working on top of our rubber flooring, meaning they can perform their duties more efficiently and with a reduced level of pain.
Eliminating Trip Hazards
In areas where people often will be walking, the lip of an oil resistant mat can create a tripping hazard. Our 1/2-inch thick mat uses beveled edges around all four sides that reduce the possibility of stumbling.
This is especially important in areas where people may be carrying large items and cannot watch their feet or cannot see what is going on at floor level.
Efficient Drain-Away System
The large perforated holes in our rubber matting allow spills to quickly flow away from the surface of the mat and fall through to the subfloor. This reduces the possibility of moisture remaining on the top of the mat and pooling.
Additionally, the design of the underside of the mat ensures that the liquid will have a path to move toward a floor drain. The bottom of the mat contains nibs that measure a fraction of an inch in thickness.
These nibs hold the bottom of the mat just off the subfloor, creating space for liquid to move and flow. These nibs yield natural channels for water flow, making the process of draining spilled liquids more efficient.
The nibs do not affect the integrity of the mat, so people using the mat should not notice unusual instability as they stand and work. The nibs should contribute to the anti fatigue properties of the mat as well, as they allow the mat to have a little more give than a rubber mat that is flat to the subfloor.
Restaurant and Bar Commercial Mat Specifications
Width: 3 feet

Length: 15 feet

Thickness: 1/2 inch

Coverage: 45 square feet

Weight: 68 pounds

Color: Red

Texture: Perforations
Maintenance and Care
Cleaning this non slip rubber mat runner is an easy process, which makes it a popular selection in a busy restaurant or bar setting. This is a Made in the USA mat that offers water repellent and waterproof capabilities, so customers can be certain it will stand up to repeated cleanings without suffering damage.
If the mat receives exposure to greases and oils in an industrial setting or in a kitchen, customers will want to clean it regularly. The cleaning process should remove these slippery substances, allowing the 3x15 kitchen comfort mat to maintain its anti slip properties.
Start by scrubbing the mat with a deck brush or a scrub brush and warm water. If water alone does not remove the soil, customers can add a mild detergent to the warm water. Avoid using any cleaners that contain bleach or chlorine.
Because of the perforations in this galley mat, customers should always clean both sides of the mat. As oil, grease, and other soils flow through the holes, they may cling to the underside of the mat, necessitating cleaning both sides. Place the rubber runner upright to allow both sides to air dry.
Shipping
This Product Ships UPS Ground, FedEx Ground and/or Freight.
Please review our shipping disclaimer.
| | |
| --- | --- |
| SKU# | A305-39-378-3x15 |
| In Stock | Yes |
| Product Type | Mat |
| Material Type | Rubber |
| Product Edging | Straight |
| Thickness | 1/2 inch |
| Width | 3.00 feet |
| Length | 15.00 feet |
| SF per Item | 45.00 |
| Weight | 68.00 lbs |
| Packaging | Cartons |
| Number of Pieces per Package Type | 1 |
| Non Absorbent | Yes |
| Special Adhesives | No |
| Universal Interlock | No |
| Interlock Loss | 0.00 feet |
| Interlocking Connections | No |
| Made In | USA |
| Surface Finish | Drainage holes |
| Surface Design | Solid color |
| Installation Method | Lay flat |
| UV Treated | No |
| Reversible | No |
| Border Strips Included | No |
| Floor Score | No |
| Green Label | No |
RELATED PRODUCTS