Axe Throwing Rubber Flooring - Craft Axe Throwing Testimonial
By Brett Hart Created: February, 2018 - Modified: January, 2020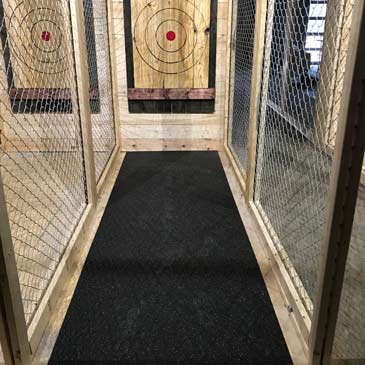 The atmosphere of creating an entertainment driven experience for friends and family is at the heart of what drove co-owner Jake Jensen to open Craft Axe Throwing in Greenville, South Carolina.
''We ran into the idea of axe throwing and thought it would be a natural fit into our market - offering something unique,'' Jake said.
In what can be described as an over-sized game of darts, players hurl 12- to 17-inch throwing axes, with sharp 3- to 4-inch-long blades, end-over-end at a large wooden target with scoring circles and a bullseye. Throwing lanes are encased in chain link ''cages'' with rubber flooring for safety that are designed for up to four people to play at a time.
The Need for Proper Axe Throwing Flooring
''As we were building out the concept, we started seeing different components that we wanted,'' Jake said. ''We set up a concept in our warehouse and just had plywood flooring. We saw it taking a toll and a beating not only on the plywood, but on the axes as well. We wanted a softer floor for the axes to land on to ease that drop.''
That's when he turned to Greatmats and spoke with Eric about rubber flooring. Eric directed him to
3/8-inch thick regrind confetti rubber flooring rolls
.
''At first I was a little bit concerned about confetti,'' Jake said. ''I didn't want it to look like a child's play area.''
Jake also had a 1/4 inch thickness in mind initially.
Eric reassured him that the mulit-color flecks of regrind confetti blend in the the primarily black composition, making them not overly noticeable and advised that with a 3/8 inch thickness, Craft Axe Throwing would get a much longer lifespan out of its lane flooring.
''Once I pulled it out and laid it out, it was perfectly described by the pictures and what the website said,'' Jake said. ''I'd recommend the confetti. It turned out real nice.''
''I'm really glad we went with the 3/8 instead of the 1/4,'' he added. ''The quality and thickness works perfect for our application.''
Jake has found that the 3/8-inch thick axe throwing rubber flooring has not only done a good job of protecting the axes, but also dampening the noise, and added, ''The black down the lanes helps divide the wood from the target and the floor.''
At the end of those black
rubber axe throwing lanes
are red throwing boxes for the participants to stand in.
''The floor striping (to mark throwing boxes) adhered very well onto the mats, and it looks real sharp,'' Jake said.
Craft Axe Throwing, which is preparing to open its doors around March 1, will be open for online booking and walk-in participants as well as leagues and tournaments at its 10-lane facility in Greenville.
Jake also has plans to open at least six new Craft Axe Throwing facilities in the Midwest and Colorado.
Jake Jensen
Craft Axe Throwing
Greenville SC 29601