Recycled Rubber Flooring Sheet Rolls - 4x10 feet
By Paige Cerulli Created: March, 2017 - Modified: January, 2021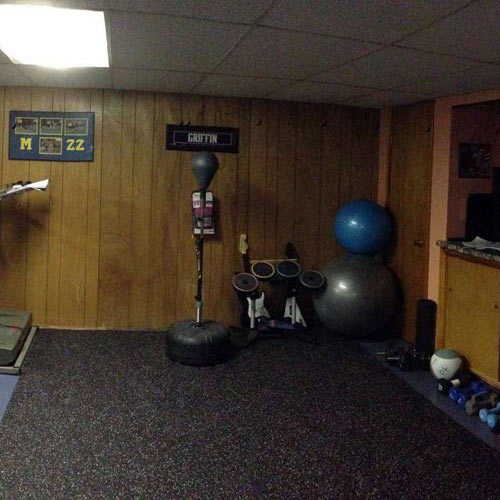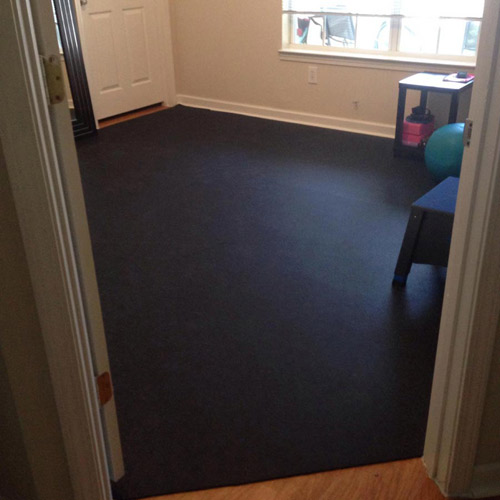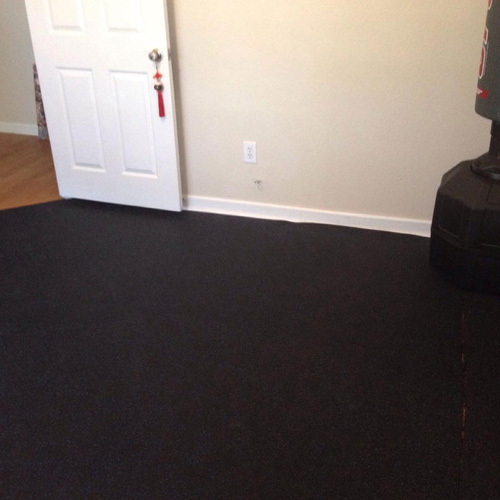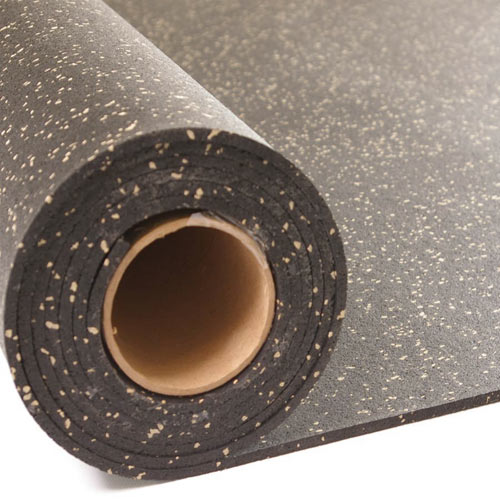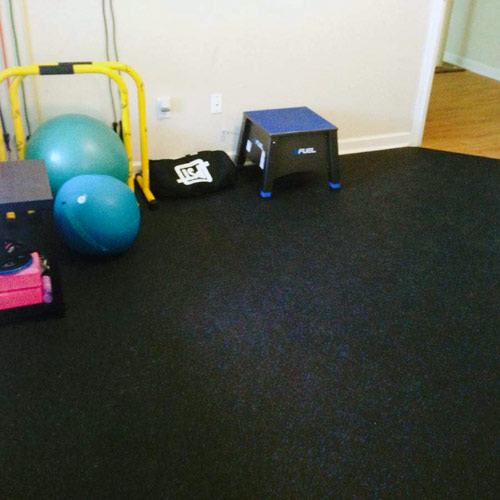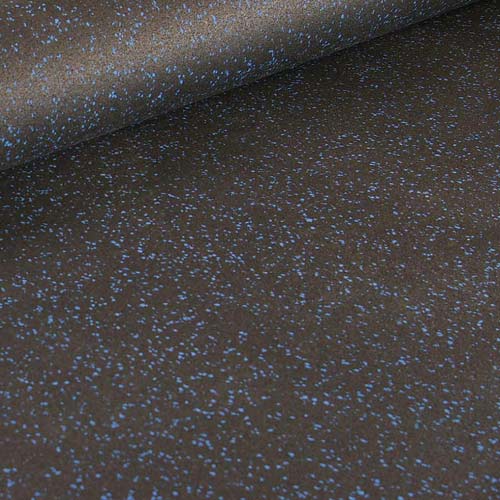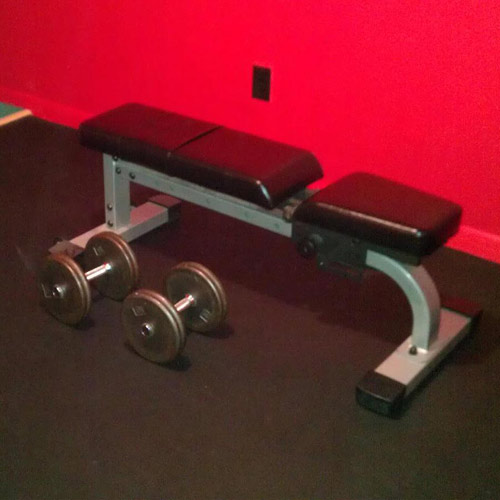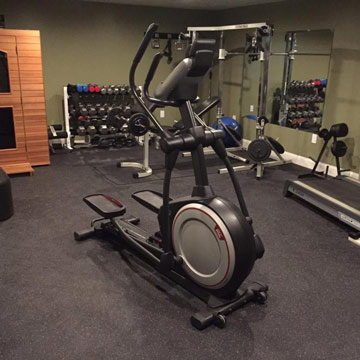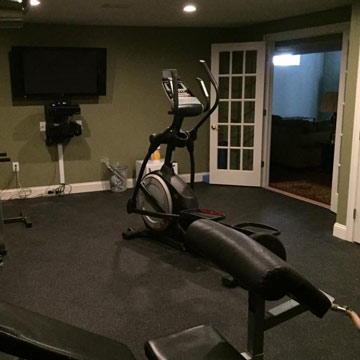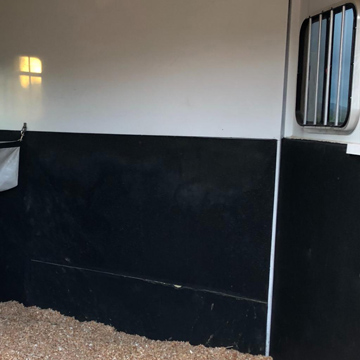 If you're looking for a durable, economical flooring solution for your home gym, basement, or exercise area, Greatmats'
Rubber Flooring Rolls 1/4 Inch 4x10 Ft Colors
is a great choice. These versatile rubber rolls are available in five different color fleck options, or in a 100% black design. The rolls contain approximately a 10% color fleck density against the black flooring base, so the color doesn't overwhelm the base color. Color flecks are available in red, blue, eggshell, green, and tan, so you can customize your home gym with a color of your choice.
Each ¼ inch rubber sheet measures 10 feet long and weighs 60 pounds, so you can easily roll it up and remove it after a workout. Alternatively, you can create a more permanent installation, transforming your space into a dedicated workout space.
Our recycled rubber flooring rolls are made with high-quality recycled rubber content, so you can feel good about this environmentally-conscious purchase. Buying recycled rubber sheets and rolls can also be more economical than purchasing individual rubber tiles, giving you more bang for your buck, especially when you're installing flooring in a larger space.
Any gym flooring solution needs to be easy to clean and maintain. Because rubber is largely non-absorbent, it's a good choice for gyms where you might spill a water bottle or basements where the flooring might be exposed to moisture. To keep the flooring looking fresh, you can sweep it or vacuum it as needed, then use a neutral pH cleaner for a more thorough cleaning.
Easy to install, store, and clean, rolled rubber is highly durable, making it an ideal choice for use with gym equipment. It withstands shock and impacts well and creates a durable layer on top of your subfloor. Rubber is also strong enough to support gym equipment without being damaged or dented.
Ways to Use Greatmats Rolled Rubber Flooring
You can use these versatile flooring rolls almost anywhere. They're an economical way to convert a garage or basement into a home gym. These rolls provide protection to your subfloor, acting as a barrier between the floor and heavy exercise equipment, like hand weights. This rubber flooring could help to prevent a crack or chip in your cement floor that would result if you dropped a weight.
While this
rolled rubber flooring
is plenty strong and durable for most home gyms, it does measure 0.25 inches thick. If you use extremely heavy weights for powerlifting, then we recommend upgrading to a thicker rubber flooring roll that offers more protection to your subfloor.
Rubber flooring is not only ideal for many home gyms, it's suitable for many other applications, too. They can convert a basement into a play room for children, making cold cement floors much more kid-friendly. Alternatively, you can use this flooring to cover plywood flooring in attics or other spaces, making the areas safer and more comfortable.
Cement floors in utility rooms or mud rooms can be slippery when wet, and it also tends to be cold. A few rubber flooring rolls can make the room safer and more welcoming.
How do you cut rolled rubber flooring?
You can easily cut your rolled rubber flooring to fit your installation area. Carefully measure your flooring twice, then use a straight edge to guide your cuts. Start by running a sharp utility knife across the flooring's top surface to score it. Repeat the cut, working your way down through the material. Be sure to position a piece of plywood or other durable material underneath the flooring to avoid cutting down into your subfloor.
We also offer custom cut lengths at no additional cost. Please contact customer service to learn more about our custom cut lengths and the option to order a custom cut rubber mat by the foot.
How long does rubber flooring last?
Our heavy duty rubber flooring rolls are some of the most durable types of flooring that you can buy. Many factors affect the flooring's lifespan, including its thickness, its installation, how well you maintain it, and how you use it. The Rubber Flooring Rolls 1/4 Inch 4x10 Ft Colors are backed by a five-year manufacturer's warranty.
Is recycled rubber flooring resilient flooring?
Recycled rubber rolls are highly resilient. Rubber is extremely resistant to shock and impact, making it a top choice for exercise and gym flooring. Rubber has the strength to support gym equipment, and it's also resistant to scuffing and scratches. Because rubber is water-resistant, it can be cleaned with a neutral pH cleaner and is a good choice for basements and garages where it might be exposed to moisture.
Are rolls of rubber eco-friendly?
Greatmats' recycled rubber mats and rolls are made with recycled rubber material, making them an environmentally-friendly flooring choice. Our Rubber Flooring Rolls 1/4 Inch 4x10 Ft Colors also carry LEED points, a benefit for commercial gyms.