Rolled Rubber Pacific 1/4 Inch Black Per SF
Shock and sound absorbent
Made in the USA
Easy to install and maintain
Handling Time Estimate: 5-7 Working Days

Black
Roll Calculator
Note: Material Width for this Product is 4' wide
Rolls are cut to 15 ft minimum
Option 1

Option 2

Custom Roll Length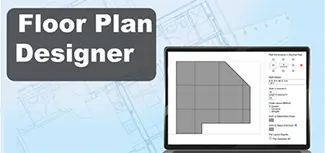 Shock and sound absorbent
Made in the USA
Easy to install and maintain
Mold and mildew resistant
Great for rubber gym flooring
Unique design makes for a seamless floor surface
Excellent traction even when wet
MAS Certified Green

Rubber Gym Flooring, Weight Rooms Floors, Retail Stores, Entrance Ways, Warehouse Flooring, Golf Courses, Indoor Ice Rinks, Industrial Floors, Trade show and Event Flooring
NOTE: This item is a custom order and is not returnable.
Rolled Rubber Pacific 1/4 Inch Black Per SF
Rolled Rubber Pacific 1/4 Inch Black Per SF is a high quality flooring that is used by some the most well known fitness centers, colleges, universities and arenas. Our 1/4 rolled rubber flooring is a durable, high quality flooring that can take the abuse of heavy traffic with years of use.
Rolled Black Rubber Sheet, 1/4 Inch Thick

When customers are seeking a highly versatile type of floor for a workout space or a pet area, our Rolled Rubber Black 1/4 Inch Pacific Per SF sheet is a popular selection. This material provides durability, a nice level of cushioning, and traction.

At 1/4 inches thick, the rubber is sturdy enough to stand up to almost any kind of workout. Our black rubber sheet of flooring will even work in weight rooms, as long as large barbells and significant amounts of weights are not in use. (For these types of workouts, a thicker rubber would be a better option.)


Versatile Natural Rubber Flooring

When engaging in athletics, the rubber provides a solid footing for athletes, allowing them to make the quick and sure movements required to gain the most benefit from a workout. Rubber insulates the athlete from a cold cement subfloor, making the workout space more comfortable for on-the-ground workouts.

Additionally, rubber naturally has sound insulating properties. This cuts down on the noise that workout sessions can generate. When the workout space is inside a strip mall with neighboring businesses or in a home, having a flooring that reduces noise is a significant benefit.

Rooms that will host workout classes, such as spin classes where noise is common, can make use of the rubber flooring to cut down on excess sound. The traction available with the surface of the rubber will hold the workout machines in place, even when they're under stress.

Beyond use in a workout space, our customers sometimes install this black rubber sheet in areas where they need to protect the subfloor from tracked-in soils or from sharp items.

Golf pro shops and ice arenas sometimes use a roll of rubber to protect the subfloor from golf spikes or ice skate blades. Schools may place the rubber in a locker room where athletes are wearing football, soccer, baseball, or softball cleats.

Some customers use this roll at the entrance of a building, giving visitors a place to wipe shoes. If the visitors' shoes have rain or snow on them, it could create a slip and fall hazard when stepping onto a linoleum or vinyl floor inside the building. The rubber makes the entrance safer in this situation.

The all-black roll of rubber will hide soils better than other types of flooring colors, which is another benefit to using it at the entrance of a building.
Easy Installation Option
Some of our customers think this roll of black rubber sheet will be difficult to install. However, this is one of the easiest flooring options for performing a self installation.
Each roll measures 4 feet in width, and customers can order a custom length. At about 1.3 pounds of weight per linear foot, most people can handle moving a small roll around without the help of a professional.
Installers should allow the rubber material to acclimate to the room where the installation will take place for at least 72 hours beforehand. Clean the subfloor and allow it to dry. It can go over the top of concrete and wood.
Customers do need a flat subfloor over which to lay the roll. The rubber will cover slight imperfections in the subfloor, but the installer should fill in major cracks or indentions before performing the installation.
A dry lay installation is not possible with this roll of rubber. Installers will need to use adhesive or tape to adhere the roll to the subfloor. Apply a silicone based adhesive or a similar type of glue to the subfloor and then place the back of the roll of black rubber sheet over the top of the glue.
Sport Floor Recycled Rubber Roll Specifications
Width: 4 feet

Length: Custom cut by the foot

Thickness: 1/4 inches

Weight per linear foot: 1.3 pounds

Color: Black

Texture: Smooth
Maintenance and Care
After installing this black rubber sheet in a commercial or residential setting, it will not need much maintenance or regular care. This is a significant advantage of this style of flooring for a busy fitness center or rec center.
For simple cleaning every day or every few days, customers can sweep the area with a broom. They also can use a dry mop or a vacuum cleaner. Removing dust and debris from the surface of the strip of rubber should reduce the need for more frequent cleaning processes down the road.
When it's time to remove stubborn soils from the surface of the roll, customers can use a neutral pH cleaning solution and a wet mop. If this doesn't remove the soils, it is possible to run an auto scrubber on the top of the material.
After applying the cleaning solution to the floor, customers can allow it to air dry. For areas where there's a puddle of cleaning solution on the floor, use a wet/dry vac over the top of the puddle to remove the excess water.
This roll represents a good value and will last a long time, as it carries a 5-year limited manufacturer warranty.
Order rolls by the square foot.
This can be used for slip-resistant production and distribution floors, but is not resistant to chemicals, oils, and acids.
Maintenance
Sweep or vacuum daily. Scrub with deck brush and neutral pH cleaner. Remove solution with a wet/dry vacuum.
Shipping
Shrink wrapped on pallets.
This Product Ships Freight Only.
Please review our shipping disclaimer.
| | |
| --- | --- |
| SKU# | RR.25-Blk |
| In Stock | Yes |
| Product Type | Roll |
| Material Type | Rubber |
| Product Edging | Straight |
| Thickness | 1/4 inch |
| Width | 4.00 feet |
| Length | 1.00 feet |
| SF per Item | 1.00 |
| Weight | 1.30 lbs |
| Packaging | Shrink Wrapped on Pallets |
| Number of Pieces per Package Type | 1000 |
| Non Absorbent | Partial |
| Special Adhesives | Yes |
| Interlock Loss | 0.00 feet |
| Material Hardness | Shore A 65 |
| Interlocking Connections | No |
| Made In | USA |
| Surface Finish | Smooth flat |
| Surface Design | Solid Black |
| Installation Method | Tape or glue down on hard, flat surface |
| UV Treated | No |
| Reversible | No |
| Border Strips Included | No |
| LEED Points | Yes |
| Manufacturer Warranty | 5 year limited |
RELATED PRODUCTS