What Type Of Flooring Is Good For An Outdoor Tent Wedding
By Paige Cerulli Created: June, 2022
Outdoor tent weddings are highly popular, and with a quality floor, guests can celebrate just as they would indoors. But an outdoor tent wedding floor needs to meet several requirements to be a successful and desirable choice for wedding venues.
Essential Qualities for Outdoor Tent Wedding
As you explore different outdoor tent flooring products and ideas, it's important to choose products that have certain qualities.
Location
Consider where you will be installing the flooring. It's best to choose a product that's highly versatile and that can be installed over multiple common surfaces, including concrete, dirt, and grass.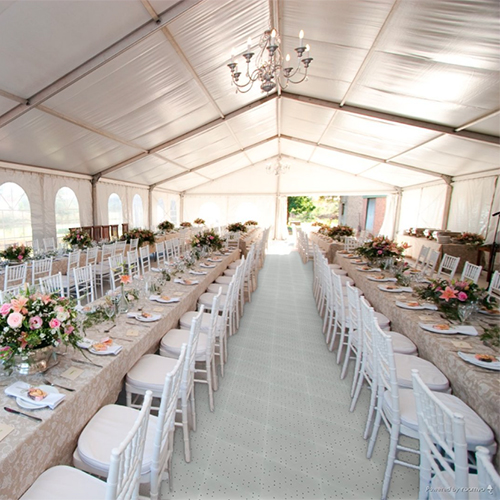 Weather Resistant
You will also need to choose flooring that's weather-resistant. Even if you plan to install the floor under a canopy or tent, it will still be exposed to at least some of the elements, including UV light.
Choosing a product that's designed to withstand fluctuating temperatures, moisture, and UV light means you'll get more use out of that product, as well as more value. A product that's waterproof and that has perforations in its surface can channel water away, helping to prevent a dangerous slipping hazard.
Surface Texture
Consider the surface of the product, too. You will want a floor that maximizes traction to prevent slips and falls, and that's also firm enough to allow for use as a dance floor.
You might find it helpful to use your flooring as a base and to then lay a Marley roll over the top of it to convert it into a dance floor.
Appearance
Aesthetics matter when it comes to weddings. Generally the product you choose should be available in white or a light grey. This creates an attractive floor that fits in with all of the other decor.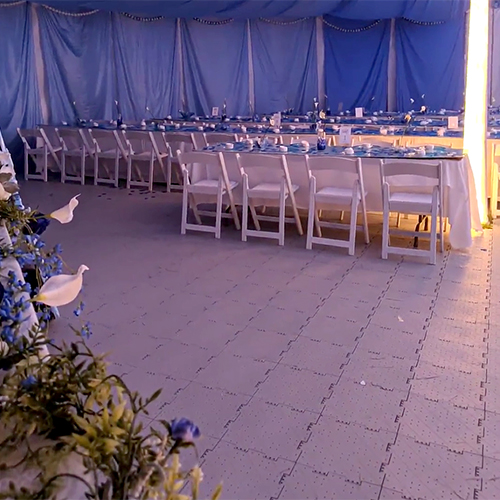 Installation & Take Down
Consider how easily the floor can be installed. Look for a product that your maintenance crew can easily maneuver and store away after an event.
Most wedding flooring products are available as interlocking tiles, which can speed up an installation. If you're working with smaller tiles, consider whether they can be removed and stored in larger sections, which can help to reduce the installation time for future events.
Durability
Don't forget to make sure that the product you choose is durable enough for how you plan to use it. Look for a commercially rated product that is designed to withstand multiple installations and removals, so your venue or rental business can use it repeatedly.
Top Outdoor Tent Wedding Flooring
At Greatmats, we sell several types of
event flooring
that can be used for outdoor tents and wedding receptions. One of our most popular products is the
Portable Outdoor and Tent Tile
.
The Portable Outdoor Tile is ideal for weddings for multiple reasons. It is available in gray and black, so you can choose the aesthetic that you're looking for.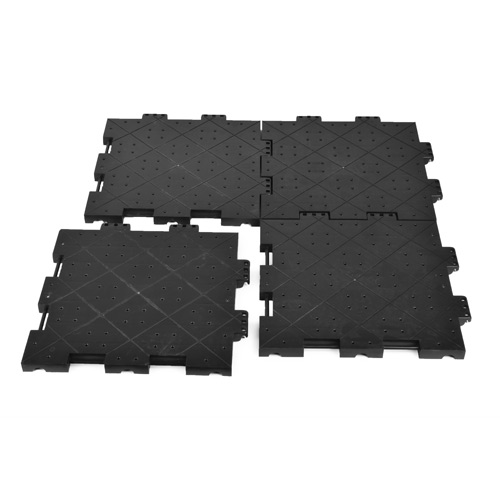 The tile's heavy duty construction makes it suitable for multiple installation options. You can place it over dirt, grass, gravel, concrete, blacktop, or pavement, so there's no need to worry about preparing the site or limiting your tent's location based on the ground type.
Made of a durable polypropylene plastic, these tiles can serve multiple purposes. You can install them as walkways as well as tent flooring, so they're a versatile addition to an
event venue or rental facility
.
The tiles feature an anti slip texture that helps to maximize the safety of all attendees. There are also drainage holes to let liquids through, so rain won't pool on the tiles.
The tiles measure just 0.81 pounds each, and their 1x1-foot measurement means they're conveniently sized and easy to transport and store. When uninstalled, the tiles can be easily left in 2x2- or 3x3-foot segments, which can save you time on the next installation.
Installing the tiles is simple, too. They feature interlocking segments that simply pop together with pressure.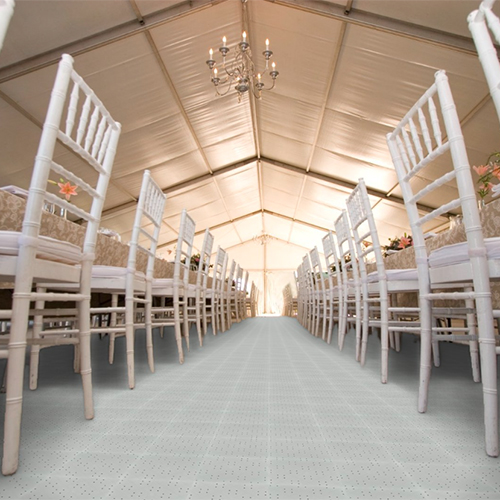 The interlocks are hidden once the tiles are connected, contributing to a clean, finished look of a professional floor. When it's time to uninstall the tiles, they can be easily popped apart.
If you're looking for a more permanent installation or need to trim the tiles to fit around tent supports or other obstacles, you can cut them to fit using a power saw.
Once the tiles are installed, you don't have to worry about inclement weather. They're highly durable and are designed to withstand rain, so you can use them underneath tents as well as outside of the tents.
Because the tiles are raised, they allow water to flow freely through and underneath them. This promotes faster drying and helps to keep your event location safe and accessible.
The tiles are easy to maintain, too. You can use a pressure washer or a garden hose and a non-metal scrub brush.
Your own maintenance crew can maintain the tiles with the tools and supplies that they already have, helping to keep maintenance costs at a minimum.