Where Can I Find Purple Floor Tiles?
By Kyle Schurman Created: October, 2022 - Modified: October, 2023
Purple flooring may not be the most common option that our customers select, but this can be a fun color to pick to create flooring that clearly stands out from the crowd.
At Greatmats, we have a few different purple floor tile options that are easy to install and that will deliver great value.
Purple Carpet Tiles
One option for creating purple flooring is through the use of carpeting, specifically
purple carpet tiles
. One advantage of using carpet as your purple floor tile is that it has a design made to stand up to heavy foot traffic without showing wear.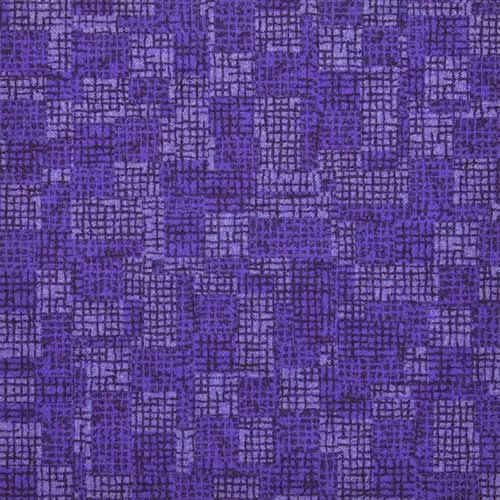 When installers want the purple color to be a little more subtle than bright, purple carpet tiles are an ideal selection. They often make use of multiple shades of purple in a single purple floor tile.
For example, our purple Prism Carpet Tile uses shades of violet, light purple, and dark purple, all in a pattern that appears random.
Some people may even use these carpet squares inside a layout with other colors, creating a multicolored flooring that is unique.
An advantage of carpet tiles is that if one of the tiles becomes damaged or soiled beyond the ability to clean it, the installer can swap out the damaged tile for a new one, which is not possible with a roll of carpet.
Purple PVC Tiles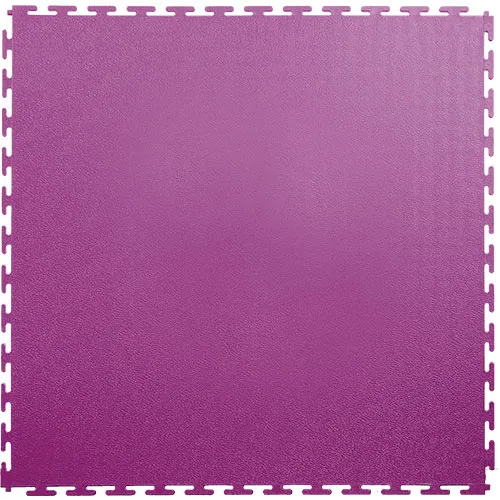 For a highly durable type of purple floor tile that is resistant to nearly any kind of liquid spill, our Smooth Top PVC Interlocking Color Tile is a popular choice. It makes use of a T-shaped interlocking edge, which allows novices to install the tiles themselves without needing to hire a pro.
This is a smooth surface type of flooring tile, which greatly simplifies the cleaning process.
PVC works well for both commercial and residential locations, yielding high-quality flooring that provides many years of performance while continuing to showcase the eye-catching color.
PVC is a highly rugged type of flooring, which makes it usable in warehouses, automotive showrooms, industrial locations, and basements. Because it is able to resist oil, gasoline, and many kinds of solvents, it is usable in a working garage as well. It can go directly over concrete.
Harsh temperatures or difficult environmental conditions don't affect the integrity and performance of PVC tiles. Using them in a warehouse that has large doors that open outdoors could leave them exposed to weather or temperature extremes, for example, but PVC stands up well to these types of conditions.
Purple Rubber Tiles
When customers are seeking rubber material in purple floor tile, this is a little more challenging. Rubber flooring does not appear in a solid purple color very often.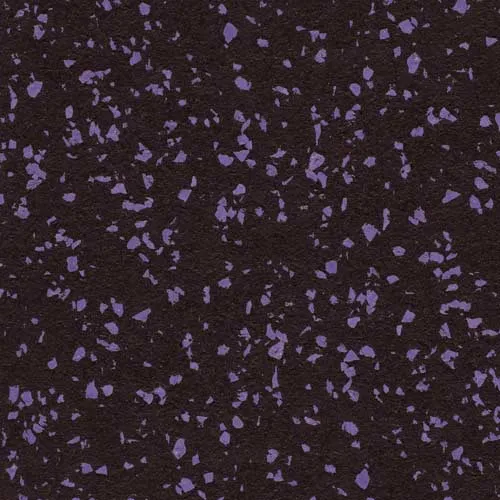 Instead, it's far more common to select a rubber tile with purple color flecks. We offer the Interlocking Rubber Tile 10% Premium Color product for this use case.
These tiles have a black base color, and the manufacturer embeds the rubber purple color flecks directly into the black base rubber color. Yellow, blue, and green are also available as color-fleck options.
With this tile, the color flecks appear in a 10% concentration against the black color. The purple color stands out nicely against the darker base color, creating a fun look that's far more interesting than a black-only rubber tile.
These tiles consist of recycled rubber crumbs, which makes this an environmentally friendly type of flooring.
Purple Foam Tiles
For a kids' room or for a playroom at home, one of our most popular options is the Foam Kids and Gym Mats Premium Tile.
These tiles are available in more than a dozen colors other than purple, so you can find the perfect look if you don't want to use a purple floor tile. Or you can mix and match colors to create a fun pattern in the final layout, as all colors of these foam tiles use the same interlocking edge design.
Foam is a cushioned surface, which ensures that children who fall down while playing will stay safer than falling down on a hard type of floor. Foam tiles are easy to install and cut to fit tight against a wall.
At 24x24 inches, these tiles cover roughly four times as much space as tiles measuring 12x12 inches, which makes installation go far faster.