What To Use For Gravel Driveway Containment
By Lisa Hobbie Created: October, 2021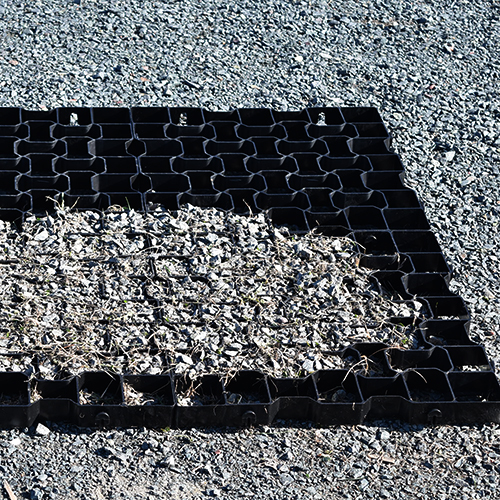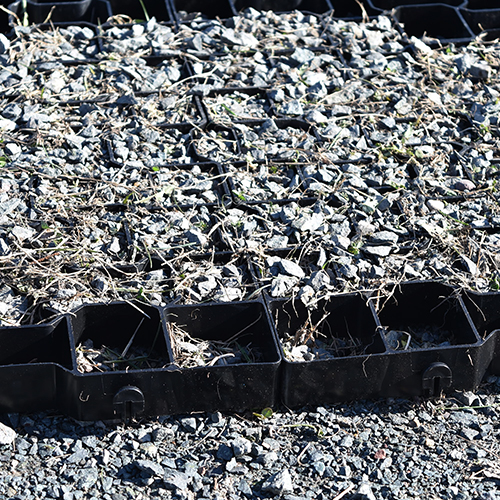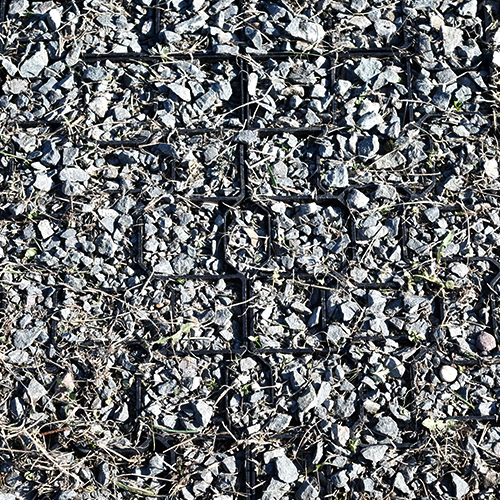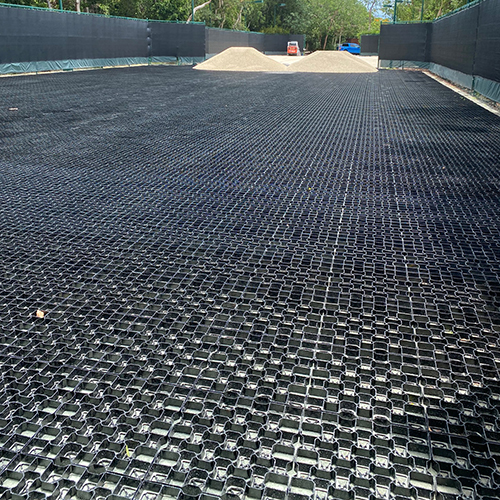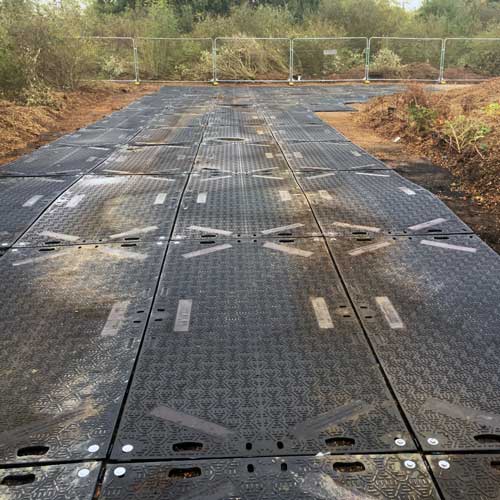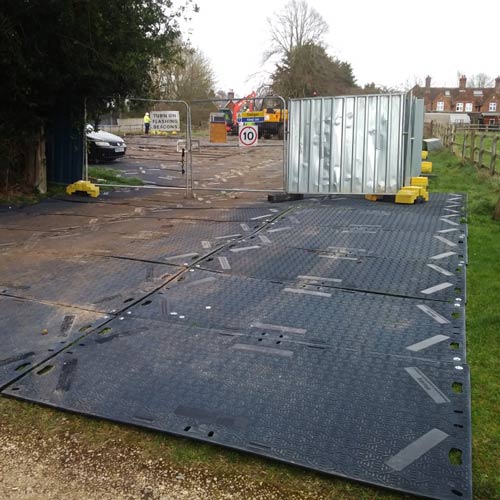 A containment system is used to prevent a gravel driveway from suffering damage caused by erosion or washout from storms or a heavy spring rain.
If you have a gravel driveway or parking lot, mud, migrated gravel, holes, and divots are likely the last things you want to deal with. The best way to prevent these annoyances is to employ the use of a gravel driveway containment system.
Greatmats offers the very best gravel driveway containment products in the country, with the following two options representing the most popular choices:
If you have been wondering how to maintain the integrity of your gravel surface, utilizing one or both of the featured products is a great way to create stabilization while preserving the integrity of your driveway or parking lot. It will prevent high cost, future maintenance procedures like constant regrading or even resurfacing, and it will help eliminate potentially hazardous issues.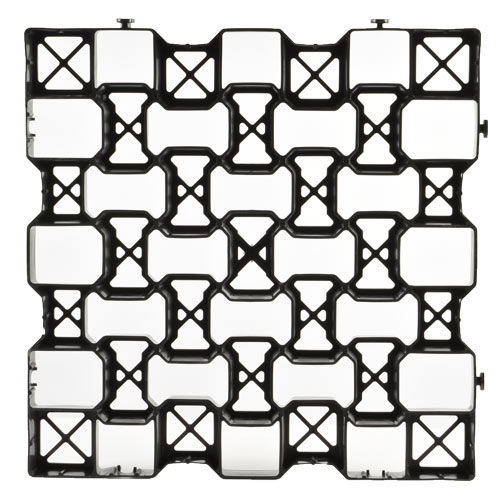 GeoGrid Cellular Paving System is a viable solution for a parking lot, access route, gateway or entrance area, equine area, fire or emergency route, private driveway, golf buggy route, landscaped area, work site, or paver patio. It's one of the very best gravel driveway containment systems available, anywhere.
With a honeycomb-like, cellular grid design, the dispersion of moisture from rain or floods is efficiently enabled. This dispersion works to keep gravel in place where it is intended to be, instead of washing away and causing unsightly problems. The GeoGrid system also helps with dust from gravel driveways and surfaces and promotes effective air circulation, which reduces heat on the gravel surface.
This effective product is made in Europe from premium 100 percent recycled HDPE and utilizes an effective interlocking design that provides a DIY installation. The grids arrive on pallets as pre-assembled, 11 square foot sections which can easily be lifted off and installed as is.
This product is capable of enduring loads of up to 350 tons per square foot and a patented design that allows for expansion and contraction. It does a fabulous job managing the effects that rain water, flood water, and traffic could potentially have on gravel driveways and soft ground surfaces. The grids can equal or better the axle or point load performance of other currently available 1.6 or 2 inch cellular geo pavers, as well.
This product can be used long term in areas where the
Greatmats Ground Protection 4x8 Ft Mat
can also be used. They are eco-friendly, attractive, and a great way to protect your gravel driveway from erosion long term.
This product used as part of a containment system is waterproof, weatherproof, and resistant to heavy equipment or machinery that may be crossing or working on your driveway. It's also resistant to acids, alkalis, and solvents, so it's a viable solution for virtually any environment.
This is a temporary solution for those extra abusive and high traffic situations.
To clean the system, just use a pressure washer or garden hose to rid it of unwanted dirt and debris, and a non-metal scrub brush to remove stubborn debris.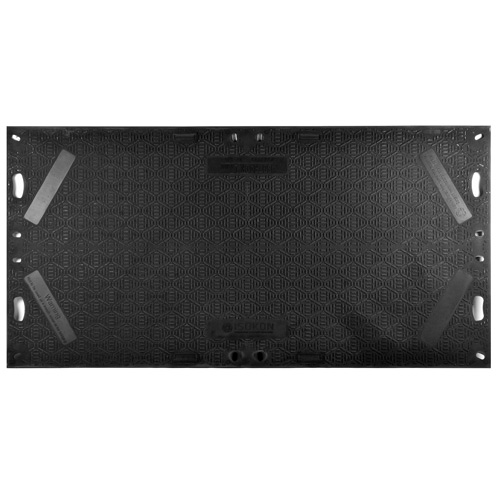 The Greatmats Ground Protection 4x8 Ft Mat can be temporarily used alone, or, over the permanent GeoGrid system. It's designed to support the weight of vehicles and equipment weighing up to 160,000 pounds, or 80 tons. It's a 77 pound mat with built-in handles that is relatively easy to maneuver into place, and it's made of high density polyethylene.
These mats provide superior traction and grip for forward moving vehicles, without causing divots, holes, and other damage to a gravel driveway or soft surface. Their strategically positioned set of handles assist when you go to lift them off of a truck, loader, or pallet. Once in place, they will protect your gravel driveway from heavy equipment, and they offer ease of motion over it.
They will never become waterlogged, so they can be pressure washed, as needed.
Greatmats - For the Best Gravel Driveway Containment Products
Whether you are in need of a gravel driveway containment system for a driveway, parking lot, landscaped area, or other surface, the featured products would look great, perform well, and prevent maintenance and hazardous issues. They are affordable, eco-friendly, versatile, durable, and very reliable.
If you would like more information on where, when, and how to use a containment system, the staff at Greatmats is available to help. They can answer any questions you have, provide you with more details, and assist with ordering. They will guide you every step of the way to give you the confidence you need when making this kind of investment.
No matter which product you choose, you can be confident in the fact that you will be getting the very best service, quality, and pricing available anywhere. When you let Greatmats go to work for you, you will not be disappointed.