Cost Factors When You Build a Pool Deck: Pool Deck Floor Pricing
By Paige Cerulli Created: May, 2018 - Modified: April, 2023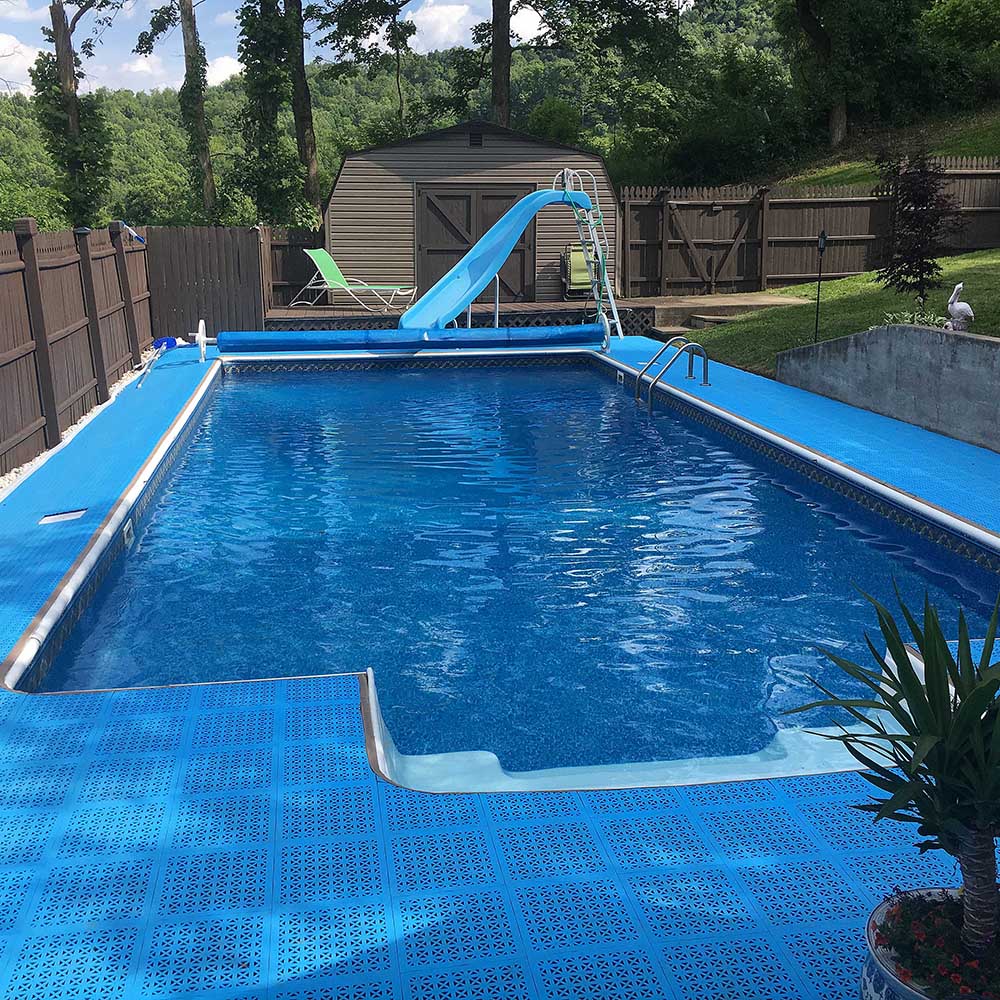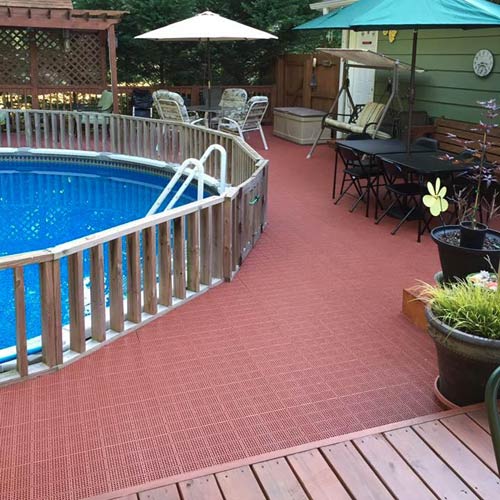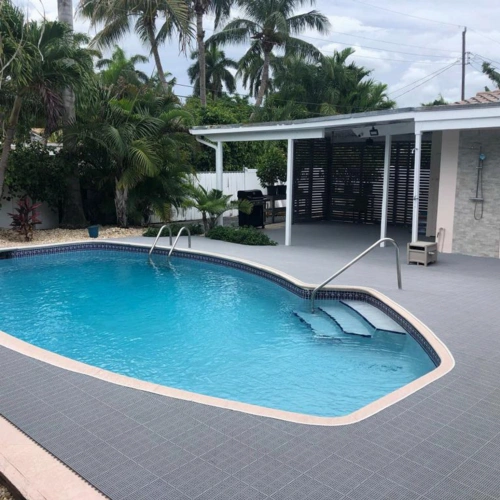 There's nothing better than spending quality time with your family enjoying your backyard pool in the summer. It's the perfect gathering spot for parties and gatherings, it will keep kids entertained for hours, and it's just a great place to relax at the end of a long day.
A quality pool deck creates a welcoming place to enjoy your pool, but it also provides valuable safety features, such as a forgiving surface and increased texture to minimize falls. If you're thinking of building a new pool deck, the cost may shape the design that your project takes.
While there's no simple answer to how much it will cost to build a pool deck, we can give you some general price estimates.
General Costs of Pool Decks
According to Home Advisor's member survey, the national average cost to build a pool deck is $7,086. Projects typically ranged from $4,050 to $10,130. The lowest costing projects came in at $1,800, with the higher end projects costing $17,000.
That's a wide range of costs, but let's take a look at some of the factors that can affect the overall budget for your pool deck project.
Size of the Deck
One of the most significant factors that will impact the cost of your deck is the overall size of the deck that you want to complete. Simple, smaller decks will be more affordable, while larger complete pool surround decks offer a more impressive finish, but at a higher price tag.
Materials
The materials that you use for your pool deck construction will also affect your budget. Many pool owners opt to go with some sort of wood as a deck base, and then install pool deck mats on top of the wood to create a safer surface. Different woods offer different appearances, but you'll find a large variation in their costs.
However, wood is far from your only option when it comes to deck materials. Composite options, like polypropylene and PVC, are increasingly popular. While they're a bit more expensive than wood, these options require little to no maintenance. If you opt for wood decking, then you'll need to regularly stain or seal the wood in order to preserve it.
While it may be tempting to go with whatever material happens to be a cheap pool deck flooring, this can be a mistake that costs you more in the long run. Many common materials, like composite decking options or pressure-treated wood can last for years without needing to be repaired or replaced. Cheap pool deck flooring, on the other hand, won't hold up nearly as well and you may find yourself needing to replace much of the flooring after just a few years of use.
Site Preparation
The location where you'll build your deck can also increase the cost of your project. If you need to significantly grade or level the land, you'll be looking at an increased project cost. Other factors, like the need for a poured foundation or stairs, can also drive up the cost.
Extras
There are many extras that you may want to include, though these will also affect your budget. Railings, fencing, gates, lighting, landscaping, heaters, and even misting systems are all add-on options that can add plenty of character to your deck - but at a cost. If you're working with a tight budget, you may be able to forego some of these add-ons until a later date, spreading out the cost.
Taxes and Insurance
Don't forget to factor in the fact that your pool deck will add value to your property, and will increase your taxes, in turn. The exact implications that the deck will have on your property taxes will depend on the deck itself, and on how much you spend to build it. You should contact your local assessor's office with any questions, and be sure that you can handle the long-term tax implications that your project has.
Additionally, your desk will need to be covered under your homeowner's insurance policy, so give your insurer a call to make sure that they'll provide coverage.
Professional or Self-Built
Depending on the complexity of your pool deck and your own construction experience, you may want to take on the project of building the deck yourself. This can save you money, though you need to consider whether it's worth the time commitment that it will require.
Professional contractors can provide you with valuable peace of mind about your deck's construction. A contractor knows how to design a pool deck so that it has proper support, meets your local building codes, and is built safely. Your contractor should be able to attain any building permits needed, and will also know how to get a final Certificate of Occupancy for the deck, which will allow you to have a certain number of people on the deck at a time. Most professionals can also complete your project faster than you would be able to on your own, so you can enjoy your pool and your new deck space sooner. Often, hiring a professional is well worth the cost.
Pool Mat Flooring
Installing pool deck mats can increase the cost of the project, but they also increase the versatility and safety of your pool deck. Typical pool deck flooring materials, like wood, are hard underfoot, slippery when wet, and unforgiving in the case of a fall. But there are plenty of pool deck coverings that can not only make these surfaces more comfortable and safer, but that can even help to preserve the life of your pool deck.
At Greatmats, we offer pool deck mats in many different designs and at many different price points. This makes them accessible for any project, no matter what type of budget you're working with. Here are a few options you may want to explore and factor into your project budget.
Patio Outdoor Tile
The most economical option suitable for pool surrounds is our
Patio Outdoor Tile
. This pool mat flooring is both waterproof and slip resistant, and is also UV stable, so the color won't fade out. These tiles have a drain-through design that keeps water from pooling on the surface, and are comfortable underfoot. They're made of PVC and easily snap together.
StayLock Perforated Tiles
StayLock Perforated Tiles
are a great pool mat flooring if you want to maximize the safety of your deck. These tiles offer a 20-inch ASTM fall height rating, meaning they can help to prevent injuries in falls from a 20-inch height or less. These tiles are waterproof. They're non-slip and highly durable, and their perforated surface quickly drains water away. The tiles fit together easily, so a DIY installation is simple. They won't separate over time, are available in a variety of colors and feel great underfoot.
Before You Build Your Pool Deck
A pool deck can be a valuable addition to your property, but like any construction project, you need to go about building the deck the right way. Do plenty of planning and budgeting to make sure that you're ready for the project. It's a good idea to spend some time looking at various deck design options so you get a sense of what you really like and want for your property.
When it comes to pool mat flooring, please give our customer service team a call anytime. We'd be happy to talk about the various pool deck mats and pool mat flooring options that you can choose from, and can even help you to find the product that's right for your project.