Playground Safety Tiles: Thick Rubber Flooring
By Paige Cerulli Created: July, 2017 - Modified: October, 2023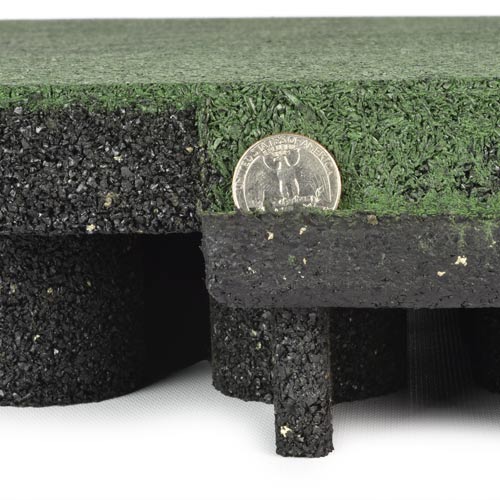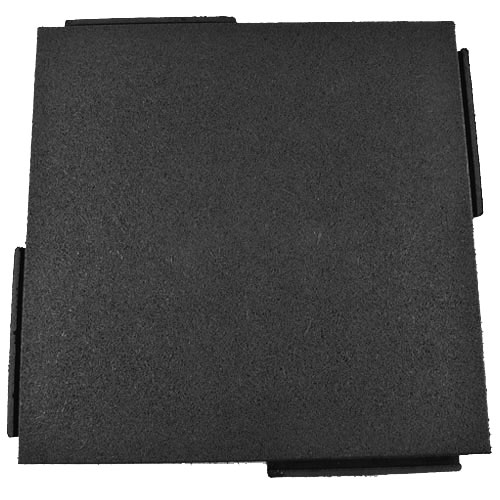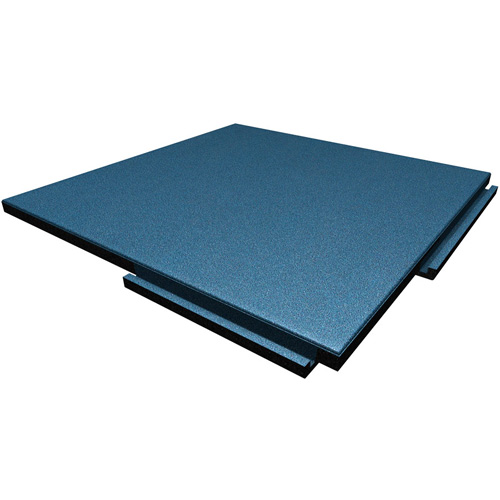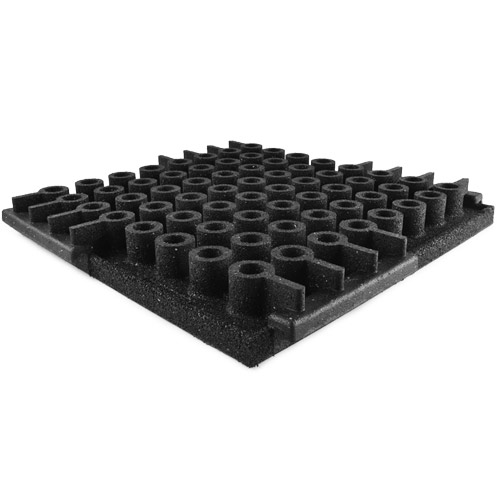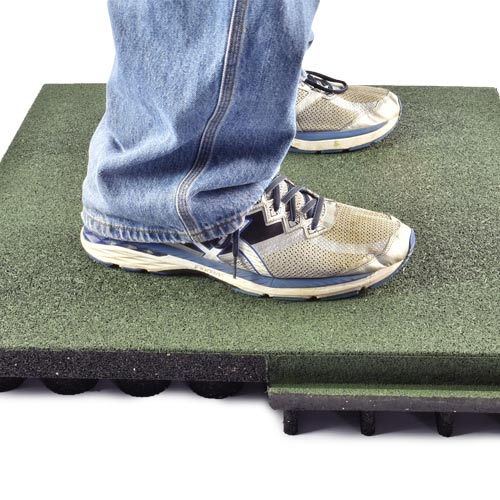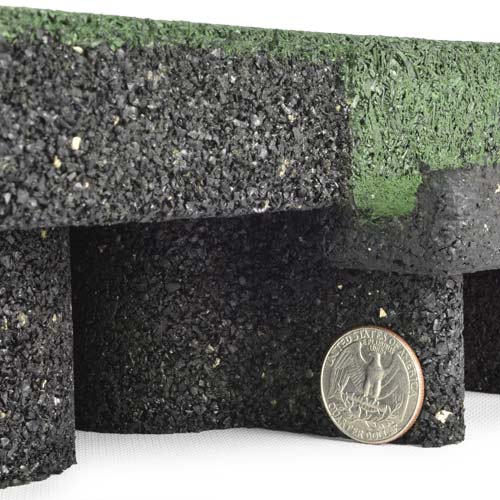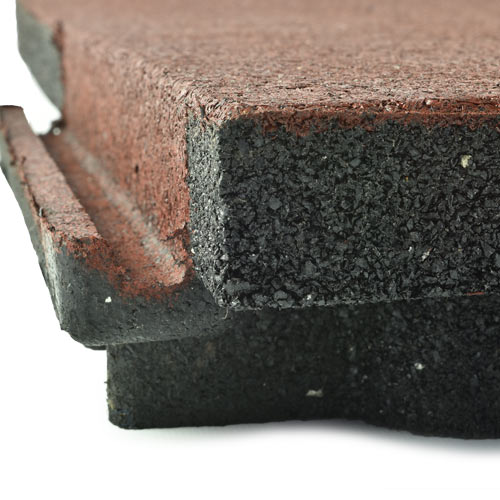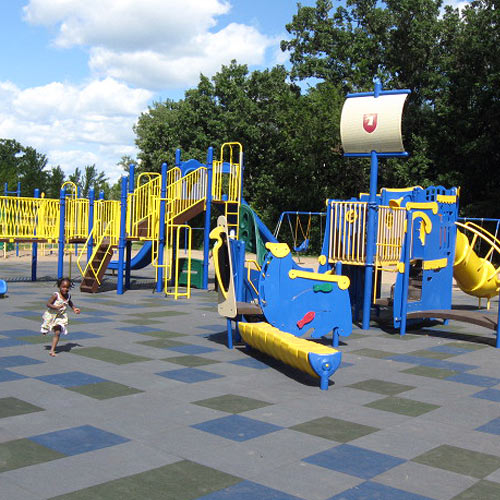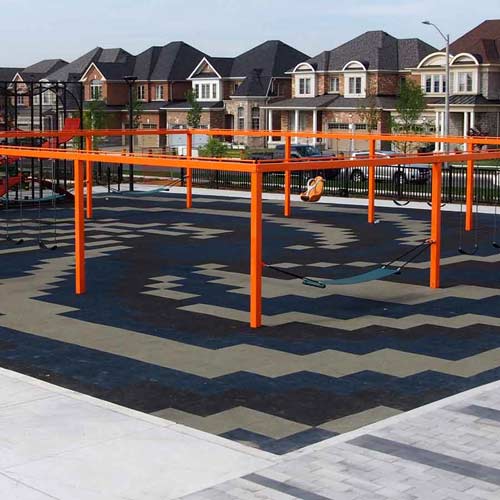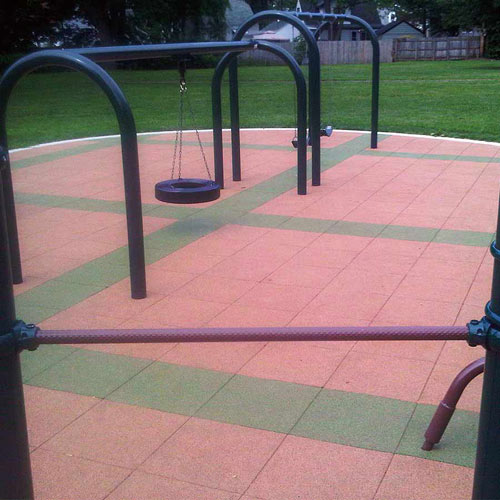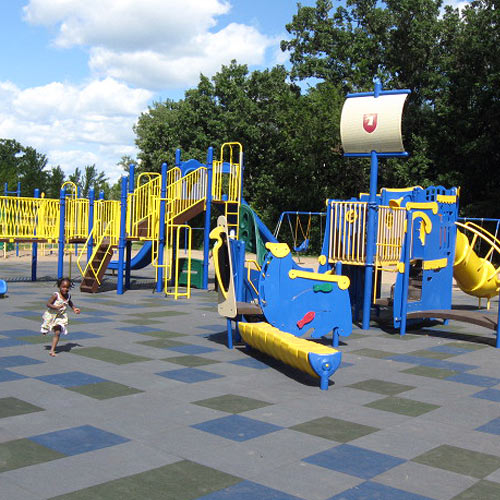 Playground safety tiles come in many thicknesses, but they all offer the advantage of providing shock absorption and an easy installation method. Because the tiles interlock, they'll form a cohesive surface that stays in place well. Their tight seams won't rise up or separate when installed properly, so these tiles can help to prevent serious tripping hazards.
When choosing the right flooring for your playground, it's important to consider the types of activities that kids will be doing. Sterling playground tiles offer different fall height ratings depending on their thicknesses. Always measure the highest equipment that will be present in your playground when determining the fall height rating that's appropriate for your space.
Rubber tiles offer several distinct advantages over other playground flooring types. Unlike loose flooring, like crumb rubber, rubber tiles won't hide sharp objects or other dangers. These tiles create a firm yet forgiving surface that helps to maximize traction, even when it's wet. This surface can help to make playgrounds handicap accessible.
There's also less maintenance associated with rubber playground tiles than you'll see with a loose fill. Loose surfaces are easily kicked out and worn down in areas, leaving high-traffic spaces nearly bare if not completely bare. Rubber tiles provide a consistent, durable, and even footing that can contribute to child safety. Maintenance staff won't have to focus on your flooring so much, and can instead focus your maintenance budget and time on other issues that may need to be addressed.
When you use playground flooring tiles, you can replace any tiles that become worn, rather than having to replace all of the flooring or a major section of the flooring. This makes maintaining the playground much more practical and affordable.
High-traffic areas, like around swings, can benefit from additional playground safety mats. For instance, playground swing mats usually laid over a loose playground flooring to create to prevent displacement of the fill or erosion of the ground when playground tiles are not in place. These mats can protect against dragging feet and other repetitive motions.
Greatmats offers several rubber commercial-quality playground flooring tile options. Here are some examples:
Sterling Playground Tile 2.25 Inch in Terra Cotta
Sterling mats are available in several color options and thicknesses. The 2.25-inch tile offers a 4-foot fall height rating. It is suitable for use as school and park playground surfaces.
The tile is made with recycled materials, so it may contribute to your playground's LEED points. It is designed for outdoor use and is highly durable. These playground surface tiles are backed by a limited lifetime warranty.
The tiles' interlocking design makes for an easy DIY installation. The interlocking style creates a single, cohesive surface. Once installed, the tiles can be compressed from three different directions for optimum shock absorption and safety.
Sterling Playground Tile 3.25 Inch Green
The 3.25-inch tile offers a 6-foot ASTM Critical Height Impact rating, meaning it is well-paired with many common playground equipment options.
Sterling Playground Tile 4.25 Inch in Blue, Gray, or Brown
The 4.25-inch Sterling tiles offer an 8-foot fall height rating. They're available in multiple colors and are backed by a limited lifetime warranty.
Sterling Playground Tile 5 Inch in Black
If you're looking for increased safety and shock absorption, the 5-inch Sterling tile offers a 10-foot fall height rating. It's safe for commercial installations, and is highly durable. The tiles measure 24 x 24 x 5 inches thick.
What's the advantage of interlocking playground tiles?
Interlocking playground tiles offer many benefits over pour-in or loose playground flooring. These tiles allow for a DIY installation, meaning you can save time and money over having to hire a professional. Because the tiles create one cohesive piece, there aren't any hidden dangers, and they don't shift and develop areas without enough flooring, like you'll face with loose fill.
If a tile is damaged, you can replace that one tile. There's no need to worry about constantly raking or replacing loose fill that's been kicked out of the area.
Just like other forms of commercial playground flooring, interlocking tiles still provide fall protection and can contribute to kids' safety.
Will safety tiles work as park playground mats?
Some safety tiles can work as playground mats, but it's important to verify the tiles' suitability. Consider whether the tiles were designed for outdoor use, since harsh temperatures and UV light can degrade some tiles. You'll also want to check the tile's fall height rating. Many playground tiles were designed to support falls heights of multiple feet, but safety tiles might not offer this same protection. Lastly, determine which surfaces the tiles were designed to be installed on.
Can I install playground surface tiles myself?
Yes, playground surface tiles and mats are easy to install. Before installing the mats, verify that you have the subsurface that the manufacturer recommends. Always follow the installation instructions provided for the specific product that you're using.